As an exploration of 18th-century class structures Le nozze di Figaro is a timeless classic which no number of revivals will diminish. With its thumb-nosing at society's upper echelons, it's no surprise that Beaumarchais's original play La Folle Journée ou Le marriage de Figaro was banned by King Louis XVI in 1784, or that Napoleon Bonaparte considered the play to have been 'the first step towards the French Revolution'. Mozart, of course, treats Lorenzo da Ponte's critique of prevailing social values with lacerating humour, and this revival of David McVicar's 2006 production still manages to tickle a few ribs with its political satire and slapstick comedy.
McVicar updates Figaro to a French château belonging to the 1830s. Within Tanya McCallins's vast set, with its almost preposterously high windows and cavernous spaces (atmospherically lit by Paule Constable), one might think characterisation could be lost. Not so here. From the bustling overture, busy domestic staff, variously bottom-pinching and conspiring, make their own mischief in a sort of mini-drama that could be the inspiration for Downton Abbey – the Musical. Events are neatly anticipated, and nobody laughs more heartily than this second night Covent Garden audience at the hands-on physicality between an insatiable Count and the sassy young servant Susanna. How refreshing to see contemporary concerns with sexual politics largely muted.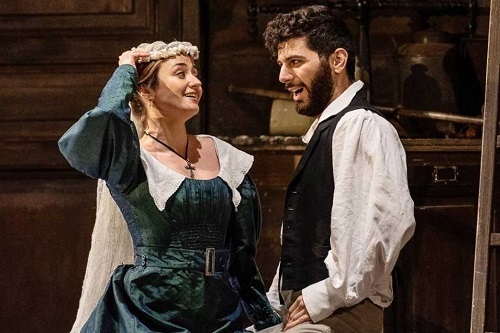 Amongst the young, and mainly Italian cast are some well-defined performances. As Susanna, Giulia Semenzato has a natural stage presence, impressing in her feisty no-nonsense wife-to-be role, and almost stealing the scene when introduced to Figaro's long-lost parents. She took a while to project the voice over the orchestra and was not helped by unclear diction in her opening duet, but her lilting Act 4 aria 'Deh vieni' was beautifully rendered, proving beyond doubt her Mozartian credentials. Figaro – her husband to be – is sung by a dependable and mahogany-toned Riccardo Fassi with a resolutely delivered 'se vuol ballare'. Their partnership as young lovers is mostly convincing if it didn't always balance vocally.
Argentinian Germán E Alcántara as the predatory Count looks every inch the Spanish nobleman, yet his stridently nasal baritone offers little more than a cardboard villain, barking his way through his Act 3 rage aria with explosive force rather than any real sense of menace. At present his characterisation is work in progress and undermined, arguably, by him being shorter than his wife – the emotionally crushed Countess. Her unhappiness is marvellously conveyed by Federica Lombardi's creamy soprano. In particular, her lament for lost love that opens Act Two is touching for its depth of feeling, with Mozart's cantabile lines finely etched. There's no over-produced singing here and she holds the audience in thrall. An impressive house debut.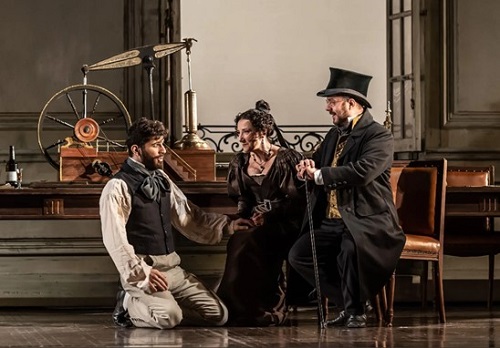 Hannah Hipp is a suitably boyish Cherubino with bags of charm and a winning smile. She superbly imitates a hip-swinging gait when dressed as a woman while supposedly being a boy. A pity her voice initially sounded occluded, but 'Voi che sapete' won me over for its musicality. Of the smaller roles Helen Withers (replacing Alexandra Lowe) is an assured Barbarina and Monica Bacelli holds the eye for her scheming then motherly Marcellina coming into her own with the 'Mia Madre' number in Act 3. Equally compelling are Gianluca Buratto's booming Dr Bartolo (it's a voice that could be reined in), Gregory Bonfatti's dapper Don Basilio and the only English male voice in the shape of the Covent Garden stalwart Jeremy White as the elderly but beady-eyed gardener Antonio.
In the pit Antonio Pappano (also playing the fortepiano) directs a polished Royal Opera House orchestra, pushing them along with style and accumulating verve. A taut wedding scene and finely judged pacing of the last act ensures this Figaro is an exhilarating evening out. Ensemble numbers and singing from chorus are uniformly excellent.
David Truslove
Figaro – Riccardo Fassi, Susanna – Giulia Semenzato, Count Almaviva – Germán E Alcántara, The Countess – Federica Lombardi, Cherubino – Hanna Hipp, Dr. Bartolo – Gianluca Buratto, Marcellina – Monica Bacelli, Don Basilio – Gregory Bonfatti, Barbarina – Helen Withers, Antonio – Jeremy White; Director – David McVicar, Conductor – Antonio Pappano, Designer – Tanya McCallin, Lighting – Paule Constable, Movement – Leah Hausman, Chorus and Orchestra of the Royal Opera.
Royal Opera House, London; Tuesday 11th January 2022.
ABOVE: Germán E Alcántara, Giulia Semenzato, Riccardo Fassi, Gianluca Buratto, Monica Bacelli (c) ROH/Clive Barda