London's Barbican Centre is 40 years old. Its inaugural concert back then for the official opening of the Barbican Centre – given on the 3rd March – had been played by the London Symphony Orchestra conducted by Claudio Abbado, and even by those day's standards might have been considered exceptionally impressive programming: Ashkenazy in Beethoven's Fourth and Yo-Yo Ma in the Elgar Cello Concerto with Wagner's prelude to Act I of Die Meistersinger von Nürnberg and Ravel's La Valse completing the concert.
Forty years later, and almost to the day, the BBC Symphony Orchestra, would play this anniversary concert which included two of those same composers – Elgar and Ravel. Abbado was not noticeably associated with much English music – even Holst's The Planets seems to have been absent from his repertoire – that particular performance of the Ma/Abbado Elgar concerto is one of my favourites of the work. Abbado could be an indifferent and remote conductor in pieces he had little sympathy with but that wasn't the case here – or, perhaps, he was just inspired by Ma's exceptional playing of it, again something you could never be certain of in an Abbado performance since he was often indifferent to his soloists as well. Here the stars really did align, however.
I'm not sure the Finnish cellist Senja Rummukainen enjoyed quite the same support in her performance of the Elgar from Sakari Oramo and the BBCSO. It had its moments, but if any work for this instrument – an astonishing piece to have emerged from the destruction and slaughter of the First World War – lacked the one thing it should – an element of solemnity – it was this performance. It isn't enough in this piece to just assume it works for the sheer beauty of its writing, and its introspection, a narrative that is considerably less imposing than the one which Elgar brings to his great violin concerto. I didn't find fortissimos powerful enough, nor the pizzicatos in the Moderato especially clear enough either. When the cello played solo a little inhibition crept in. There may have been a Norwegian wintriness to the closing pages – certainly little of the soaring intensity you got with Yo-Yo Ma.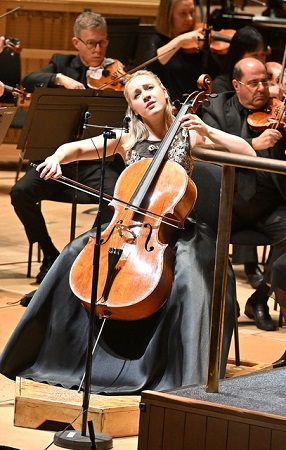 Judith Weir's Concrete (a motet about London) was the most obvious work on the program to reflect the history of the Barbican. The Centre has had a controversial history over the years, although now its brutalist architecture is viewed very differently than it was in its very early days. If hardly loved – the concert hall, despite numerous attempts to improve its acoustics – it is still a problem for some. During Abbado's last years with the LSO he programmed ambitious concerts which challenged it – Mahler, Vienna and the 20th Century Festival would be his last in 1985 – and if not sealing his departure from the orchestra certainly did mean he rarely returned to the Barbican. On my very first visit to the Barbican I was so disoriented by the sloping floor it took several visits to get used to it. The flats are so square and perpendicular that any effort to place anything other than furniture that is also meticulously square, and has 90 degree angles, leaves an impression that is simply bizarre. Weir's title might well refer to 'concrete' in its literal term – and the work is largely about how the Barbican and the surrounding area is about decay and rebirth. Go beyond the concrete and the world is largely one of glass. The reality is somewhere between the two, I think. Once we wanted to knock this monstrosity down; I think now there is much to appreciate about it (even if LSO and BBC concerts always seem to inconveniently coincide with library hours closing at 5.30pm rather than 7.30pm).
Weir's work incorporates pieces that celebrate London – its poetry, its literature, fragments from diaries and even the architectural plans that were the basis of the Barbican itself. It could be dry; it isn't. Running through the work, unifying it is John Evelyn's description of the Great Fire of London. An intellectual – and gardener – and like Samuel Pepys a diarist, he would write about the most famous of all fires to destroy ­– but also give rebirth – to London in 1666. It is one of the central themes of Weir's Concrete that from decay comes the building of something fresh and modern – and it is a timeless phenomenon that is centuries old.
For orchestra, chorus and narrator it begins with ancient texts from Celtic and Saxon river gods – London, of course, being a city that is defined by the river that runs through its entire landscape, shapes and often divides it. Liturgical Latin courses through the second movement reminding us that churches are scattered throughout the area – St Paul's Cathedral the most celebrated, the third movement a hint that London is a diverse city of many races and creeds, the fourth the sombre description of the smoking ruins the day following the fire itself and the final movement the development plans for the building plans of the design of the Barbican Centre from 1952.
Weir's music is warm and approachable and this performance was perfectly played in that way. Nothing was out of place, the BBCSO, as it always is in contemporary music, exemplary in its brilliance of precision with beautifully crafted balances between the orchestra and the chorus. And here we had a passionate understanding of how Weir interlinked the texts, almost sung in the way of oratorio. The skilful shift in colour between the female and male choruses was subtle.
If there was concrete to be had it came in the form of Jamie Parker's Speaker. Formidably powerful, his voice projected in a kind of staccato, block-building way – it sometimes felt rigid, the lack of colour designed to be precisely monolithic, granitic. It was the kind of performance in its power of identity and destiny that had been slightly lacking in the Elgar.
Ravel's complete Daphnis and Chloe was the final work. An out-and-out masterpiece, and originally conceived as a ballet, it is most often performed in its shorter suite. The work is a problem in only one sense – and that is if you have heard it as your first experience in a truly magnificent performance of it. Like many Ravel works it is dynamic and intensely rhythmic but it is also amongst the most sheerly beautiful works in the western canon. After I heard a Celibidache performance – with that conductors absolutely unique ear for inner detail and colour – Daphnis and Chloe never sounded quite the same again. And I'm afraid no matter how hard the BBCSO tried, how far Oramo tried to push the orchestra to delve into their reserves, no matter how beautiful the BBC chorus sang I found the performance lacking finesse in the strings, languid phrasing in the woodwind, a golden sheen in the brass and a magical haziness and evocativeness in the chorus.
You can describe shimmering – as the music tends towards at the end of it – in multiple ways in this score. Here the orchestra felt bright with a glimmer to its sound (lighter strings); it should, I think, have a more nocturnal feel to it. What I think was missing was a combination of warmth, as in encroaching darkness, and a burnished weight in the strings. But that great choral representation of daybreak is majestic no matter how short it fell on this occasion – and it was only slightly so. Perhaps the orchestra had been a touch overshadowed by the chorus but this is a work in which its beauty often makes you forget about slight shortcomings in its performance.
And this may well sum up this concert. Some shortcomings; but some very special moments.
The concert is available for 30 days via BBC Sounds.
Marc Bridle
Judith Weir – Concrete (a motet about London); Sir Edward Elgar – Cello Concerto in E minor; Maurice Ravel – Daphnis and Chloe.
Senja Rummukainen (cello), Jamie Parker (speaker), Sakari Oramo (conductor), BBC Symphony Orchestra
Barbican Centre, London; 4th March 2022.