Does the release of a second live evensong album from this celebrated choir reflect a growing interest in the music and ritual within our great cathedrals and collegiate chapels? Whatever the case, there is little doubt that congregations at evensong have increased in recent years, or so we are reliably informed. It's a rise in popularity taken up by the media in headlines such as 'Evensong sees a surge even as British church attendance declines'.
Whatever the reasons in recognising that evensong is a precious gift, we might ponder that a recorded service enshrines a moment in time for a particular choir and its director – a snapshot of words and music to be cherished by listeners and participants alike. In this instance, the forthcoming Eastertide recording from the Choir of St John's College, Cambridge (due for release on April 15th) will also be a reminder of changes in biblical usage. The modern translations of the lessons, drawn from The New Revised Standard Version Bible, may not appeal to traditionalists. 'We shall all be changed in a flash' from 1 Corinthians jarred for this listener.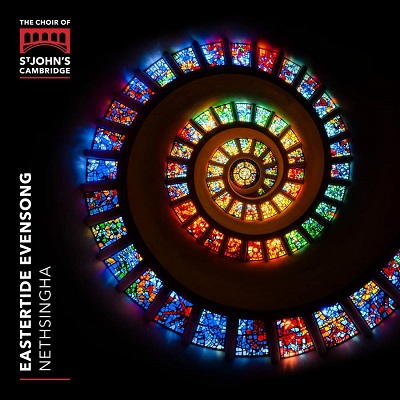 Of course, no matter how many times you listen to a recorded evensong you'll be unlikely to experience the same visceral or emotional feeling encountered by attending an actual service. For those unable to join a live service, and ignoring the proliferation of worship via zoom, these performances come close to an equivalent experience. This service takes psalms for the second evening of the month (12, 13 and 14) with chants by John Goss, Charles Hylton Stewart and Charles Villiers Stanford. Despite all their polish, with crystal-clear diction and sensitive organ accompaniment, I was disappointed that each of the psalms were sung full throughout, rather than verses being delivered alternately by decani and cantoris voices. I was intrigued by the subtle word stresses of the 'Gloria' to each psalm with the elongation of both its first syllable and the lengthening of the second word within 'is now and ever shall be'. Not a form of delivery that feels entirely natural to me, but it's one of the great idiosyncrasies of psalm chanting across the land.
Howells' 'Gloucester Service' is the second of some 14 evening canticles conceived by him for various British cathedral or collegiate choirs. Collectively, they form a variable group with some securing regular performances and amongst these is his popular Gloucester setting. Nethsingha judges tempi to perfection. Balance and blend too are faultless, yet he allows voice parts to bloom, notably in the 'Magnificat' with the first appearance of the tenors, the altos at 'he hath filled the hungry with good things' and the basses at 'as he promised to our forefathers'. Best of all is the surge of energy in the two Glorias at 'As it as in the beginning', the expressive lines somehow replicating the soaring arches of Gloucester Cathedral and nowhere better illustrating art imitating art. The boys here are just outstanding. And within the organ part it's rewarding to hear Glen Dempsey soloing out phrases in the 'Nunc Dimittis' and continuing them near the start of the 'Gloria'. Altogether these are first rate performances and the choir's commitment to word and meaning wonderfully ardent.
Earlier there's Julian Anderson's atmospheric setting of My beloved spake, one of 44 anthems included in the Choirbook for the Queen. His wedding anthem (2006) using words from The Song of Songs is very far removed from the harmonically lush and aspirational setting by Patrick Hadley. While it is unlikely to replace Hadley's in the affections of church musicians, Anderson's work has a directness of expression that may appeal to choirs looking for a modern setting of this celebrated text. From the opposite end of the sacred repertoire continuum is John Taverner's Dum transisset Sabbatum, regarded as one of the finest examples of 16th-century English polyphony.  Designed with alternating polyphony and plainchant, its long-breathed lines carry the narrative of the three women arriving at the empty tomb on Easter morning bringing spices to anoint the body of Jesus.  The choir brings much refinement to this much-recorded motet.
The CD closes with a splendid account of Charles-Marie Widor's Finale from his Symphonie VI, first performed at the inauguration of a Cavaillé-Coll organ at the Palais du Trocadéro in Paris on 24 August 1878 and part of the Paris World Exhibition. It's a marvellously uplifting end to these Easter celebrations. For all devotees of choral evensong, this is an indispensable disc.
David Truslove
The Choir of St John's College, Cambridge, James Anderson-Besant (organ tracks 1, 3-5, 14) Giles Dempsey (organ tracks 7 & 9), Andrew Nethsingha (director)
Anderson – My beloved spake; Leighton – Preces & Responses; Goss, Hylton Stewart & Stanford – Psalms 12 -14; Howells – Gloucester Service; Tavener – Dum transisset Sabbatum; Charles-Marie Widor – Finale Symphonie VI.
Signum CD707 [57:07]