In food terms this was a programme comprising starter and main course, a well-designed menu beginning with a romantic comedy and followed by a picaresque meditation on fate with much to nourish the ears, eyes and mind. By combining The Telephone and Miss Fortune, director Martin Lloyd-Evans and designer Anna Reid wished to explore aspects of the isolating effects of modern urban life. It was a concept that worked well on paper, but the contrasting styles and libretti of Gian Carlo Menotti and Judith Weir – one charming and unpretentious, the other angular and banal – felt mismatched musically and made for an uneven night. Despite the lively productions and well-defined characterisations, I was disappointed by the poor diction and overbearing orchestral support in Miss Fortune.
The evening began with a compelling staging of Menotti's frothy score, a romantic two-hander with music somewhere between Broadway and Italian verismo and first performed in the UK at the Aldwych Theatre in 1948.  Originally intended as a curtain-raiser for Menotti's The Medium, the work'salternative title, L'Amour à trois, refers to the rival claims of a telephone that incessantly interrupts Ben's attempts to propose marriage to Lucy before he catches his train.  Set within 'Bayview Developments', an exclusive estate agents (where clients are assured of no social housing) we meet the sales girl and chatterbox Lucy, Segomotso Shupinyaneng, and the ever-patient and earnest Ben, Jonathan Eyers. Both portrayals were wonderfully convincing musically and dramatically, each singer having an easy stage presence and voices that hold the ear with roundness of tone and crystal-clear diction. Menotti's parade of operatic models – coloratura showpiece, rage aria and lament – were effortlessly pointed up and the rapport between the singers was communicated with both tenderness and impatience.  Frustration, frivolity and humour were all brilliantly served with a ready spontaneity that, with the chamber orchestra's crisp playing, made this a delightful hors d'oeuvres for the darker humour of the evening's main event.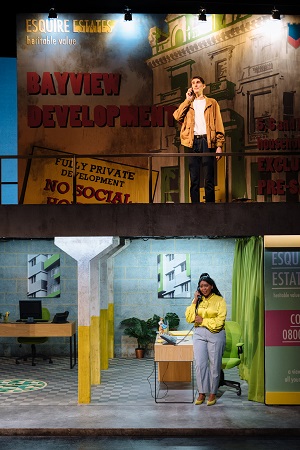 Judith Weir's Miss Fortune did not have a favourable reception when it premiered at Covent Garden in 2012, considered by some ill-suited to the Royal Opera House and lacking the musical engagement of her previously melodically rich operas and a decent libretto.  If nothing has changed musically, this small staging worked well, at least in dramatic terms with terrific visuals and spot on acting.  Miss Fortune is a reinvention of a Sicilian folk tale in which the comfortable life of Tina (Erin Gwyn Rossington), the wealthy daughter of Lord and Lady Fortune (Jacob Harrison and Amy Holyland), nosedives after a financial catastrophe.  Thereafter, she encounters various low wage earners – sweatshop workers (a chorus of seamstresses), a fast-food vendor (Florian Panzieri) and a laundrette owner (Laura Fleur).  Her struggles are closely shadowed by Fate sung by counter-tenor Kieron-Connor Valentine.  A chance lottery win enables her escape from poverty, and like all good fairy tales, she goes off into the sunset with the handsome prince, Jack Holton whose paean to a freshly laundered shirt made one of the few amusing moments.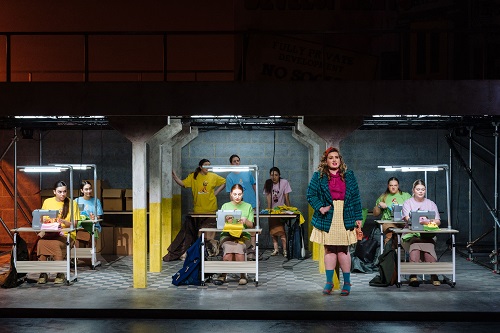 The upper floor of The Telephone's split staging neatly morphed into Miss Fortune's roof top balcony where Harrison and Holyland made their mark as the nouveau riche parents of Tina.  Expressive of face and voice this champagne-quaffing pair fulfilled their roles with suitable vulgarity.  Hoodies and drug dealing delineate subsequent reversal of fortune for Tina whose seamstress colleagues (vocally in fine fettle) provided an opportunity for some highly effective choreography.  Florian Panzieri as the kebab seller Hassan impressed with his clear tenor and mezzo-soprano Laura Fleur as Donna brought verisimilitude to her scenes at the laundrette.  Had Kieron-Connor Valentine's Fate been more malevolent his encounters with Erin Gwyn Rossington's Tina would have had more emotional impact.  But with few exceptions Weir has created cardboard characters that neither claim our attention nor engage our sympathy.  It didn't help that the singing from Rossington and Valentine lacked clarity and I had to second guess some of their dialogue.  In places, where the orchestral score was particularly busy, some of the singing felt forced, with students pushing their voices beyond reasonable limits.  Never louder than lovely would have been welcome for Weir's contorted vocals lines. But at least all other elements of this colourful staging coalesced into something that intermittently held my attention.
David Truslove
Gian Carlo Menotti – The Telephone
Lucy – Segomotso Shupinyaneng, Ben – Jonathan Eyers
Judith Weir – Miss Fortune
Lord Fortune – Jacob Harrison, Lady Fortune – Amy Holyland, Tina – Erin Gwyn Rossington, Fate – Kieron-Connor Valentine, Hassan – Florian Panzieri, Donna – Laura Fleur, Simon – Jack Holton; Director – Martin Lloyd-Evans, Conductor – Dominic Wheeler, Designer – Anna Reid, Lighting – Anthony Doran, GSMD Orchestra.
Silk Street Theatre, Guildhall School of Music & Drama, London; Monday 28th February 2022.
ABOVE: GSMD, Miss Fortune (c) Helen Murray