Any new recording from Semyon Bychkov is to be eagerly anticipated, not least the launch of this first disc in a new Mahler cycle, a recent collaboration with Pentatone. Judging by this cherished account, it's an auspicious start as the Czech Philharmonic seem to have Mahler's Fourth Symphony in their bones. Orchestra and composer have a long association extending as far back as the world premiere of his Seventh Symphony by the Czech Philharmonic in 1908. In a recent interview, Bychkov believes the players' 'sensibility and the kind of sound that they produce is just ideally suited to Mahler's music and to Czech music'. And given it's over forty years since the orchestra last recorded the composer's symphonies, then under the legendary Václav Neumann, this disc is more than welcome.
Bychkov has been chief conductor of the Czech Philharmonic since 2018 and early on made his mark with them with his 7-CD Tchaikovsky Project begun two years earlier. Admittedly those performances had mixed reviews, but on the evidence of this recording made in 2020 at Prague's Rudolfinum, where Pentatone's engineers have created miracles of clarity and balance, Bychkov is evidently an affirmed Mahlerian. He's clearly in awe of the work: 'It's like having a very precious object that you're afraid to touch in case you break it, and that's what kept me away from the piece for many years.'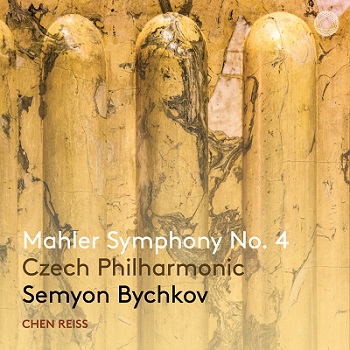 He takes his time over the opening movement, a leisurely affair, but not without having a sense of underlying fundamental tempo. Bychkov's attention to detail (colour and rhythm nicely defined) is admirable and he coaxes playing of distinction and dedication, ripe woodwind writing especially cherished. There's a certain spontaneity too, and near the start a gentle kick for those dotted rhythms. Strings are exceptionally polished whether carousing or yearning, and dynamics and chamber sonorities are kept in balance within the broad arch of the movement. Its trajectory unfolds with accumulating momentum until a splendidly secure solo horn and a pregnant pause prompts a real pianissimo before the closing flourish.
Bychkov unveils Mahler's sinister evocation brilliantly in the second movement, its mood demonic rather than impish from the scordatura violin and chattering woodwind. Well-placed timpani add to the ghoulish atmosphere, as too, later, does the piccolo. The ländler style trios are beautifully poised – horns especially refined and violins 'singing' with a marvellous sense of uniformity. Strings purr in the idealised Eden of the slow movement; not as slow as some performances, but its heart-easing poise, nonetheless is affecting. Playing is variously idyllic, elegant and impassioned – the brief blaze of glory a case in point and the rapture that follows is exquisite.
No less freshly minted is the closing movement where the orchestra are wonderfully supportive collaborators to Israeli-born Chen Reiss.  From the off, relaxed clarinet and flute contributions seem to mirror the Wunderhorn text where 'there is no worldly tumult in Heaven!'  And the vernal-sounding Reiss (unsullied by any distracting vibrato) brings a combination of wide-eyed joy and unbridled vigour, sometimes even a little impetuous.  But her voice sails over the players like a summer breeze and the fruits of paradise are affectionately outlined.  She later brings a lovely simplicity to her sound, perfectly matching the warm embrace of E major with which Mahler closes the work.  It's a more rounded interpretation than her 2017 Proms performance with the Royal Concertgebouw Orchestra under Danielle Gatti, though here, as then, she convincingly transports us to the heavenly vision so central to the work.  Mahler asked for a soprano 'capable of singing with a naive, childlike expression, and with particularly good diction!'.  Reiss does all that with style and brings this handsome account to a sublime conclusion.
Overall, a warmly responsive performance that gets to the heart of the work and owes much to the players' sense of kinship with the composer. Bychkov's undoubted devotion is readily apparent too. Why else would he believe that 'Discovering Mahler's music is akin to discovering life itself'?
David Truslove
Mahler: Symphony No.4 in G major
Chen Reiss (soprano), Semyon Bychkov (conductor), Czech Philharmonic
Pentatone: PTC5186972 [56.00]