This London Handel Festival performance at St George's Hanover Square was billed as 'Fernando, re di Castiglia: A Handel Premiere'. Well, not quite, one might say: the first staged revival in the UK was by Unicorn Opera, at Abingdon in September 1970. But, as Opera Settecento's Artistic Director, Leo Duarte, points out, Michael Pacholke's new edition for Bärenreiter presents all of Handel's original intentions for the opera, restoring excised recitative and eliminating later revisions to some of the arias, so it was indeed a premiere of sorts.
Fernando wasn't actually performed in Handel's lifetime. Essentially, it's the discarded draft of the opera that was presented at the King's Theatre on 15th February 1732 as Sosarme, re di Media. Midway through the compositional process, when Handel had already set the text up to the twelfth scene of the second act of a libretto anonymously adapted from Antonio Salvi's Dionisio re di Portogallo, he decided to transfer the action from 13th-century Portugal to the ancient kingdom of Lydia in Persia, changing the names of all the characters, cutting some of the recitative (mainly from the first Act) and restructuring some of the arias.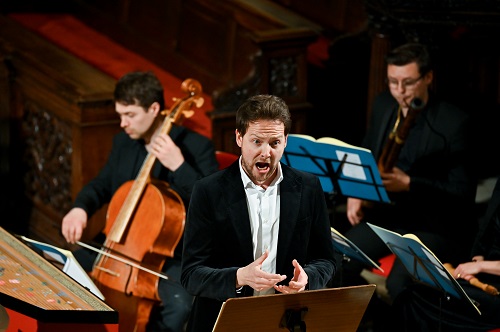 Speculations as to the causes of the change of plan are numerous. The other opera presented in the 1732 season, Ezio, had been a disastrous flop, so there was a hole in the schedule to be quickly filled and, given that it was Ezio's lengthy recitatives that had displeased London audiences, Handel was probably keen to avoid a repeat failure. Moreover, there were changes of personnel in his company that may have necessitated some re-portioning of the vocal load bearing. Then, Fernando's libretto presents a dynastic struggle between a Portuguese King and his rebellious son which is remedied by a royal Castilian intermediary – not very tactful subject matter when the Anglo-Spanish War, during which Gibraltar had been besieged, had ended only three years previously and the Portuguese were England's long-standing ally. There were potential tensions closer to home, too: with King George II at loggerheads with Crown Prince Frederick Louis, the Prince of Wales, a dramatic account of a rift between a royal patriarch and his son might have been a bit too near the mark – better to set the action somewhere neutral, and geographically and temporarily distant.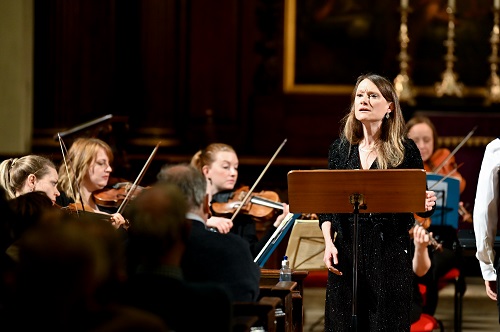 Whatever the impetus, Handel's instinct proved correct and when Sosarme was presented, with Senesino in the title role, it was a great success and ran for eleven performances. And, no wonder: beautiful arias tumble after one another and there are two exquisite duets. At St George's, Handel's music shone and charmed. Leo Duarte didn't so much as conduct the score but danced it. He would be a terrific choral conductor. Sometimes his gestures seemed a little flamboyant given the small forces at his disposal, but he garnered stylish, engaging playing from his musicians, who really did play as an 'ensemble' and were clearly all having a terrific time. The body of instrumentalists was small and sometimes a fuller string sound would have been welcome, but the tone was sweet and warm, and there was both elegance and spirit, as the music required. The continuo, always tastefully expressive, comprised just David Gerrard's harpsichord and Jonathan Rees's cello; perhaps a theorbo might have added richness and drama to the recitatives, though the singers were uniformly accomplished in this regard. The da capo arias were colourfully ornamented (sometimes a little too lavishly?), though trills were notable by their absence, and the soloists sang the short choral parts, as they would have done in Handel's day.
Whether it mattered if we were in medieval Portugal or ancient Persia is moot, given that the action of Fernando and Sosarme is identical, though in the former the drama is prematurely curtailed.  In any case, I doubt, in the darkness of St George's, there were many in the audience who could follow the translation printed in the programme in 0.001 size font (and did we really need Italian, English and German versions?).  But, the cast did a fine job of conveying character and conflicts, and the general gist was clear as the treachery and turmoil unfolded.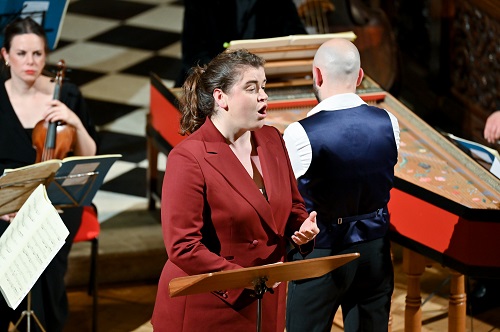 Fernando is, as so often with opera seria, a Freudian soap opera. There is a tangle of dynastic, political and romantic intrigue, and much capriciousness, anger and torment. Dionisio, King of Portugal has besieged the city of Coimbra which is held by rebels led by his eldest son, Alfonso. The latter has been made jealous of Dionisio's illegitimate son, Sancio, by the manoeuvrings of the dastardly counsellor, Altomaro, who is seeking to put Sancio on the throne, regardless of the latter's disinterest. Dionisio's wife Isabella and daughter Elvida – who is betrothed to Fernando, King of Castile – are held in the Royal Palace in Coimbra. When Alfonso and Dionisio meet in single combat Fernando plays peacemaker and all is resolved.
Dramatically the characters are one-dimensional but, as ever, Handel's music brings them to life. In Handel's first cast there were two castrato roles; here they were shared between a countertenor and a female alto. As Alfonso, Charlie Morris sang with intensity and focus, making clear the force of Alfonso's hostility to his father, and the exchanges between son and mother at the end of Act 1, when Isabella tries to prevent Alfonso from challenging his father in combat, were fiercely committed. The programme (which omitted to identify the two oboists in the ensemble) credited Owen Willetts in the title role, but it was in fact performed by Chinese countertenor Meili Li. Li moved freely and easily across the registral shifts in 'Il mio valore', and confidently essayed some extravagant elaboration at the close of the B section, demonstrating fine tone and strength at the top. He was accompanied by some excellent horn playing (Pierre-Antoine Tremblay, Christopher Price) in 'Alle sfere', and displayed agility and evenness through the tricky passagework.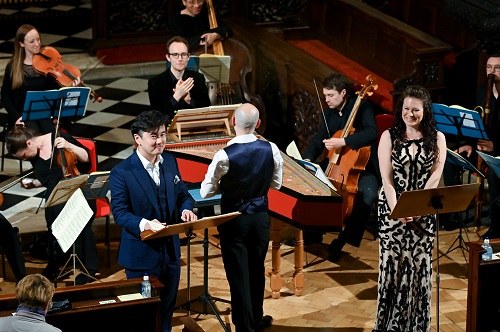 The two duets for Fernando and Elvida were highlights. 'Per le porte del tormento' lilted beguilingly. It's a long sing but both Li and soprano Susanna Fairbairn had the stamina to sustain a firm line, and their voices intertwined melting in the winding phrases of the close. Fairbairn conveyed Elvida's tenderness and innocence from the first, urging her mother to wipe away her tears in a serene 'Rendi 'I sereno al ciglio'. The passagework in 'Vola l'augello' was clean and accurate, and her tone throughout was velvety and rich.
The conflicting loyalties of Ciara Hendrick's Isabella were palpable. Hendrick made one feel every ounce of the Queen's dilemmas and determination in a superb vocal portrait of maternal anguish. 'Due parti del core' was beautifully expressive and accompanied by some lovely string conversations, led by Julia Kuhn, while the floridity of 'Forte inciampo al suo furore', in which Isabella rages against Alfonso's filial disloyalty, was delivered with power and punch, while always controlled and finely phrased. Sancio is really a bit of a wimp, but Jess Dandy imbued the role with a melancholy dignity. 'Si, si, minaccia' was notable for its strong line and convincing feeling, Dandy's wide range serving to substantiate the rather flimsy characterisation.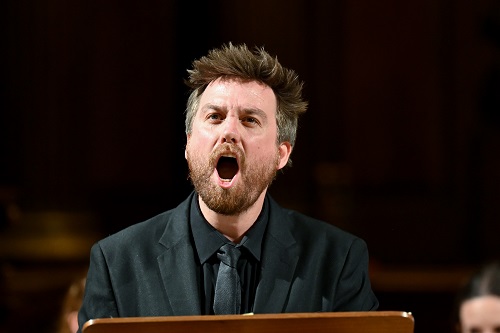 The role of Dionisio was written for the tenor Giovanni Battista Pinacchi and it's a challenging part. Nick Scott used his lovely vocal tone and easy lyricism to communicate a wide emotional palette in 'Se discordia ne disciolse', and the revenge aria 'La turba adulatrice' surged strongly forwards through the running lines. Scott was also particularly impressive in the recitatives which were vividly dramatic. Fred Long relished playing the baddie, even evincing a ghastly chuckle of evil glee mid-aria at one point. Altomaro's three arias (which were written for the bass Antonio Montagnana) are surprisingly ear-pleasing, given the villainy of their executor, but Long used his appealing bass effectively to capture the Machiavellian councillor's craftiness and had no trouble encompassing the expansive registral scope.
Some of Handel's concertos were written for performance in the intervals of theatrical events. For example, the HWV 289-294 Organ Concertos were composed to fill the intervals at performances of Handel's oratorios at Covent Garden in the 1735-36 season, and the Op.6 Concerto Grossi of 1739 were similarly designed for performances of masques and oratorios during the 1739-40 season at the Lincoln's Inn Fields Theatre. We know, too, that concertos often entertained audiences during the intervals of spoken dramas in the capital's theatres. I couldn't find any evidence that Handel's own operas had features such interval-pleasures, but Leo Duarte – in his more customary musical role as an oboist – revived the general practice by performing Handel's Oboe Concerto No.3 in G minor (HWV 287) at the start of the second part of the performance – thereby partially 'correcting' the imbalance between Fernando's long opening act and the incomplete remaining part, and demonstrating the engaging range of his musicianship.
And, we weren't denied a chance to hear Fernando's supplanter, either. With the action of Fernando left dangling in Act 2, Duarte and his singers brought the evening to a consoling close with the final chorus from Sosarme, 'Dopo l'ire sì funeste'.
Claire Seymour
Handel: Fernando, re di Castiglia (world premiere)
Opera Settecento:Leo Duarte (director), Meili Li (Fernando), Susanna Fairbairn (Elvida), Ciara Hendrick (Isabella), Frederick Long (Altomaro), Jess Dandy (Sancio), Nick Scott (Dionisio), Charlie Morris (Alfonso)
St George's Hanover Square, London; Wednesday 6th April 2022.