Estimable Pacific Opera Project (POP) does not always take such bold, bald chances as it has with producing the West Coast staged premiere of Tchaikovsky's long one act, Iolanta.
Far more often than not, POP Artistic Director Josh Shaw picks well-known titles, marries them to intriguing staging concepts that have especial commercial appeal to the "opera curious," and successfully (and shamelessly) markets the product with an audacity that would make P.T. Barnum blush.
Not so with Iolanta. Here is an opera that no one really knows. And a Russian opera at that, at a time that most things Russian are not in favor (who could have predicted?). There are no famous "tunes" to market. The "traditional fairy tale" staging strives for no attention grabbing extra-musical effects like The Magic Flute's Mario Brothers sensibility, or 'COVID' fan tutte, with its outdoor riff on golf course romance. And speaking of the pandemic, POP presented Iolanta at the Aratani Theatre in Little Tokyo, at a time audiences are still feeling their way back indoors to a "new normal."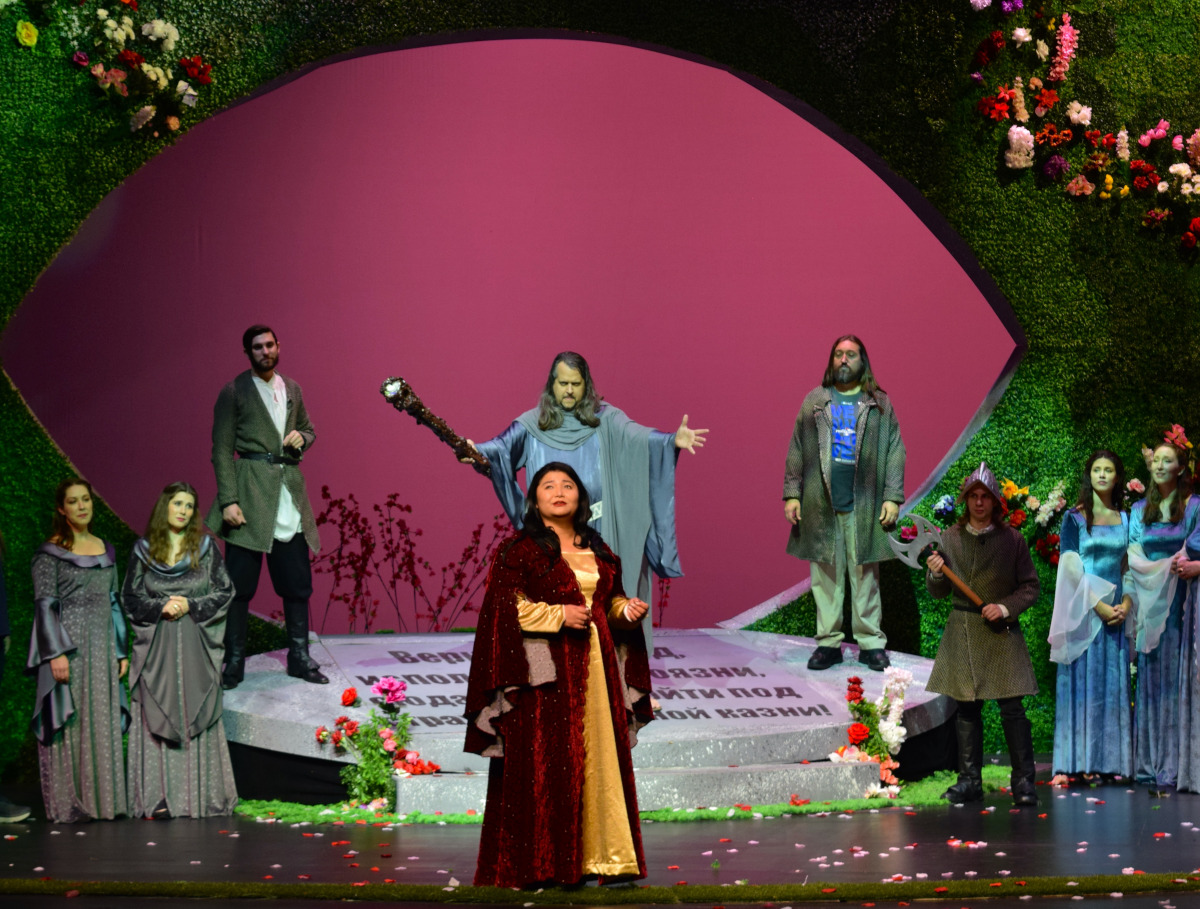 So, the question is: How did it all work out? Actually, quite uncommonly well.
The plot is about as convoluted as Il trovatore (if ultimately cheerier), but the twists and turns allow for some engaging arias and set pieces for a large cast of soloists. The title character of Iolanta, is a blind princess whose father, King René of Provence, is keeping her in isolation in a walled garden. To protect her from learning about her sensory limitation, the King has posted a "Do-not-enter-the-garden-under pain-of-death" sign.
Ibn-Hakia, a famed Moorish physician, tells the King that Iolanta can be cured, but the physical correction will only work if she is psychologically prepared by being made aware of her own blindness. The King resolutely refuses the treatment. Subsequently, Duke Robert of Burgundy arrives to commiserate about his binding pledge in marriage to Iolanta, since he is secretly in love with Mathilde (whom we curiously never meet). His colleague, Count Vaudémont, however, is so mightily intrigued by the secrecy surrounding Iolanta, that he ignores the stern warning sign and falls instantly in love with the sleeping princess, who awakens to reciprocate by becoming enamored of Vaudémont's sweet talk.
Vaudémont unintentionally makes Iolanta aware that she is not like others and cannot see. Although they have fallen in love, the King sentences Vaudémont to death, prompting Iolanta to desperately succumb to Ibn-Hakia's treatment to correct her sight. As this procedure happens (frustratingly) offstage, the King benevolently releases Robert from his betrothal to Iolanta, and pardons Vaudémont. Iolanta, no longer blind unites with her newfound love amid general rejoicing.
While this provides the impetus for some pleasant, characterful, lush Tchaikovsky writing, it can't be said that Iolanta is yet poised to join the masterpieces, The Queen of Spades, Eugene Onegin in the operatic canon. Nevertheless, it is a minor bonbon from a Master, very enjoyable in its own right to newcomers and connoisseurs alike.
Cristina Jones promotes herself as "The Blind Soprano" and she very capably assumed the title role, showing off a fine, well-schooled instrument that met all the part's significant vocal demands. While her tone is pleasantly dusky, especially in the lower reaches, Ms. Jones can summon up silvery ping and potent power in the upper register.
Her stage deportment is fluid and sincere, and her blindness does not impede her successful music-making in any way. Indeed, the added dramatic resonance of this limitation was perhaps more notable in the marketing than in the theatricality. Since Iolanta is such a rarity, most, if not all of these singers are likely doing these roles for the first time. While Cristina's acting is straight forward, I hope that in future outings she might further develop a bit more emotional under-pinning to her accomplished singing.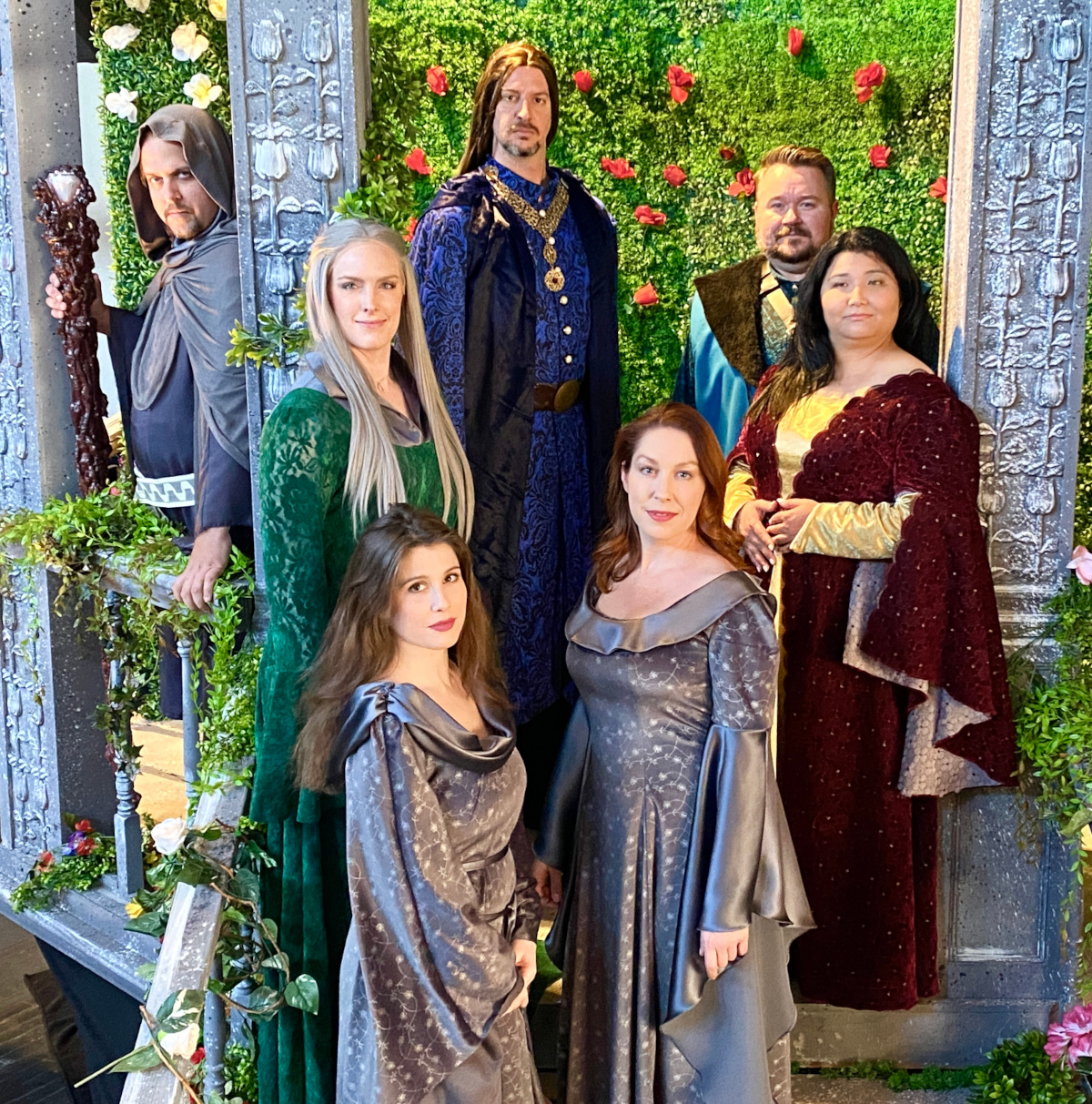 As her lover, Vaudémont, Benjamin Werley sported a bright, meaty tenor that recalled all the vocal assets of a young Chris Merritt. Mr. Werley also has a boyishly appealing presence, and his lavish outpourings of arching singing in the love duet, matching his Iolanta note for note in radiant lyricism, made that extended passage one of the show's real highlights.
King René's music called upon every resource of Andrew Potter's considerable bass capabilities, and he mastered them all. This is a powerhouse of a role, and Mr. Potter nailed it. His long scena about being diligent of his daughter's ignorance of her sightlessness was a model of impassioned anguish, and notable for his even vocal production and heartfelt nuance throughout the very rangy aria.
Andrew Allan Hiers was the mysterious "physician," Ibn-Hakia, deploying his lustrous bass-baritone to fine effect. Mr. Hiers ably infused his malleable singing with color and meaning, allowing us to revel in his sinuous musicality, while wondering if he is shyster or healer. Megan Potter was luxury casting in the feature role of Martha, her plummy mezzo-soprano and sympathetic acting contributing much pleasure to the proceedings.
Also "deluxe" casting was the duo of Brooke Iva Lohman and Danielle Marcelle Bond as Iolanta's two friends. As Brigtta, Ms. Lohman gifted us with a delightful silvery soprano, paired with Ms. Bond's rich, vibrant mezzo as Laura. Joel Balzun's sizable, warm baritone made every note count as Bertran, and William Grundler's lean and poised tenor made for a well-voiced Almerik.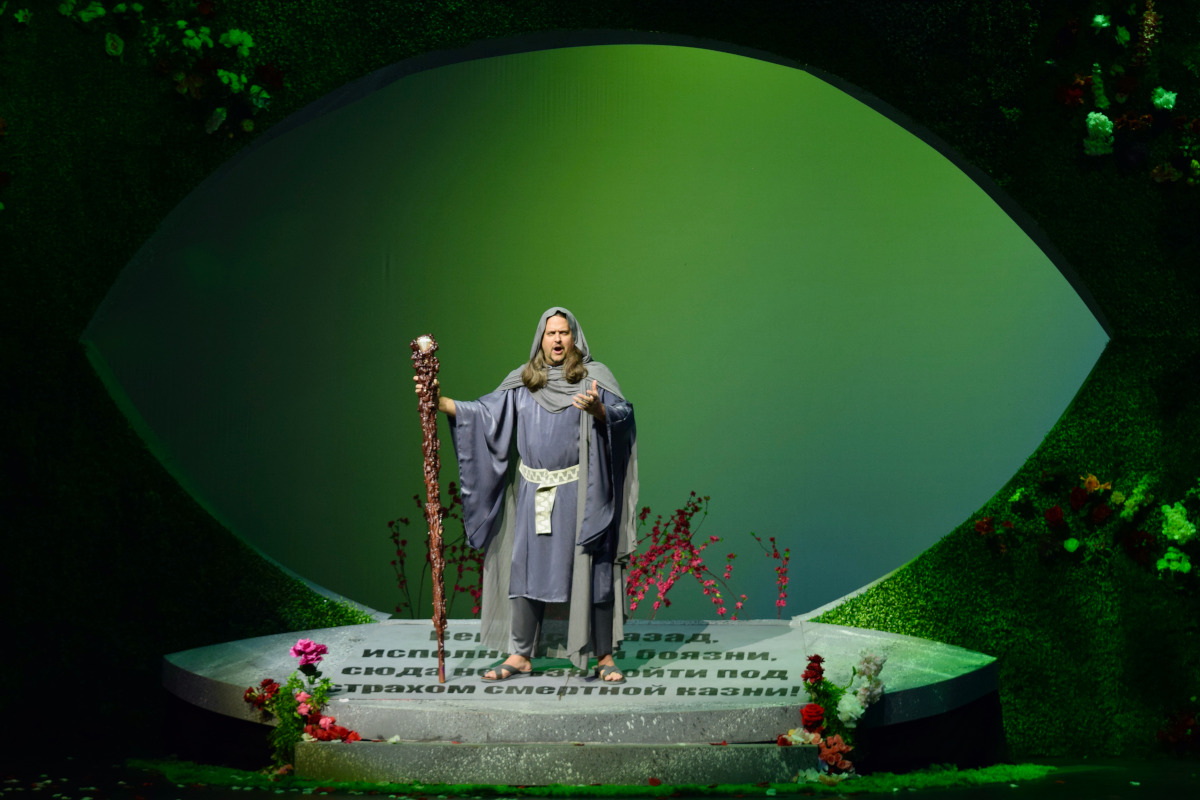 If there was anyone who "owned" the performance, it was baritone Simon Barrad with his take-no-prisoners performance of Robert. His commanding demeanor, robustly virile sound, and laser-focused musico-dramatic intent stopped the show with his thrilling rendition of Robert's dramatic aria. First among equals, he alone was well worth the price of admission.
In the pit, Isaac Selya's assured conducting got the best possible results from cast and orchestra, even though the excellent players were a bit small in numbers to fully encompass the scope of Tchaikovsky's scoring. Sometimes the full-throated ensemble sections overbalanced the instrumental contribution. Nonetheless Maestro Selya masterfully elicited a stylish, varied, well-paced performance, marked by his exceptional success in sensitively partnering a Blind Soprano. The musical preparation, including the excellent choral work, was first rate.
Set Designer Josh Shaw created an attractive, atmospheric unit set, fanciful and engaging. He was ably abetted by Maggie Green's many-hued, picture book fairy tale costumes, which greatly enhanced the performers' communication of the characters. The uncredited lighting was also notable for its good use of areas and color washes. Director Shaw kept the stage pictures effectively varied and he used all areas of the stage well, although some of the movement seemed motivated only by the desire to change how a soloist was framed by the set.
Pacific Opera Project is to be applauded for persevering against many odds during a restrictive pandemic that is still ongoing. Having seen POP's Madama Butterfly in the Aratani Theatre with a sold-out house, I have to report that for Iolanta, it was perhaps a third full.
The company seems to have nurtured a core of fiercely loyal supporters, and indeed on this occasion those POP-arazzi were out in force, screaming their enthusiasm with the mere beginning of the curtain speech! The well-deserved outbursts of approval continued until well after the curtain came down. Bravi tutti! May POP continue to "persevere" with their special, popular, accessible brand of performances.
James Sohre
Above: Benjamin Werley (Vaudemont) and Cristina Jones (Iolanta)
All photos by Pacific Opera Project