On the surface this new disc from the Choir of King's College Cambridge presents mainly standard repertoire for Holy Week and Easter. Some might consider the compilation a little too safe, but you cannot argue with impeccable performances, however unadventurous the selections might seem. The disc's spiritual trajectory links Christ's entry into Jerusalem on Palm Sunday (Ingrediente Domino) to his Resurrection on Easter Sunday (Christus Vincit). This is coupled by a parallel journey with music rooted in ancient plainsong, passing through William Byrd, Victorian and Edwardian anthems and on to 20th– and 21st-century compositions. However familiar you may be with much of this seasonal music there could be a few surprises which elevate this collection above the ordinary. New to me were the descants for the four traditional hymns (accompanied by organ scholar Paul Greally) which add a certain frisson to each of the final verses.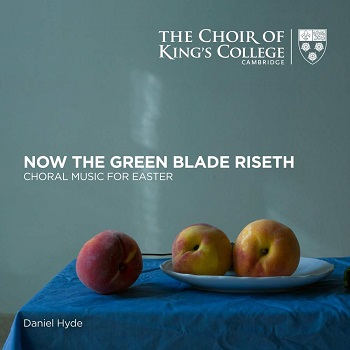 What's absent, of course, is any congregational singing, and while one might miss the special atmosphere generated by the great wash of sound from a hundred plus voices, there's compensation in the clarity and poise of the King's Choir with its incomparable blend and refinement. They are qualities that continue to characterise this choral foundation under Daniel Hyde whose fourth CD compilation this is since assuming the role of Director of Music in 2019.
Among the disc's several standout features include Matthew Martin's uplifting organ fanfare preceding George Malcolm's setting of Ingrediente Domino.  It's an arresting curtain-raiser with bright reedy sounds evoking the pageantry befitting the occasion.  That said, maybe it's time for a new setting of the sung text which now sounds humdrum – though perhaps that's a case of familiarity breeding contempt.  Some texts have become defined by their musical setting such as John Ireland's Remembrance-tide anthem Greater love hath no man (originally intended as a Passiontide meditation) and Samuel Sebastian Wesley's Blessed be the God and Father, the latter conceived for Hereford Cathedral and first performed on Easter Sunday 1834 when only trebles and a single bass were available.  It's a pity that even with seven basses listed here amongst the King's choral scholars there's such an indistinct low F at the end of the second recitative-like passage beginning with the words 'For all flesh is as grass'.  It's an otherwise favourable, if not wholly exciting rendition.
Both anthems are mainstays of the cathedral repertoire, and such is their popularity that it's difficult to imagine an alternative musical version where there is already a perfect marriage of text and music.  Gioacchino Rossini's O salutaris Hostia is one of dozens of settings though perhaps not from composers renowned for opera.  Its single-verse text by Thomas Aquinas (usually associated with Eucharist) is wrapped in four-part chordal textures and is sung here with no less commitment for its kinship with the hymn genre.  Its combination of the confessional and the opera house is well realised in this performance, especially the vivid contrast between the mystery of the opening bars and the abrupt fortissimo a few bars later.  Foes pressing in on every side ('Guard us, guard us now from our foes' in John Rutter's translation) has seldom sounded more pugnacious with the initial chord at 'Bella premunt hostilia' startlingly incisive.
The traditional text Now the green blade riseth is often sung as an Easter Sunday hymn and is most often associated with the tune 'Noel nouvelet'. Bob Chilcott forsakes this idea to fashion an original setting yet with echoes of the ancient French carol which he underpins with a sparkling organ part. Modal flavourings anchor tune and harmony to suggest something timeless and numinous.
One fine example each from English Tudor polyphony and the Italian baroque are represented by William Byrd's Civitas sancti tui and Antonio Lotti's Crucifixus à 6, stylistically worlds apart and both efficiently sung. Boys and men rise to occasion for the grandeur of Elgar's Light of the World, its stirring unisons raising the emotional temperature with no 'jarring sound' from the trebles who sing under a swelling organ (courtesy of Matthew Martin) with all their full-throated fervour, none more thrillingly than at 'Thy light may shine unto thy perfect day'. The pacing of this final chorus from The Light of Life is also terrific.
There are thrills too in the closing track – a transcription by Maurice Duruflé of the Choral Improvisation sur le 'Victimæ Paschali' by Charles Tournemire. It's a magnificent reimagining of the medieval sequence for Easter Day: its spiritual intensity is abundantly recognised and truly life affirming.
David Truslove
The Choir of King's College, Cambridge: Daniel Hyde (Director of Music), Matthew Martin and Paul Greally (organ)
George Malcolm, fanfare Matthew Martin – Ingrediente Domino; Winchester New – Ride on! ride on in majesty! (desc. Philip Ledger); Duruflé – Ubi caritas; Rossini – O salutaris Hostia; S.S. Wesley – Wash me throughly; Byrd – Civitas sancti tui; William Horsley – There is a green hill far away; Lotti – Crucifixus à 6; Ireland – Greater love hath no man; Stainer – God so loved the world; Miller – When I survey the wondrous cross (desc. George Guest); Old French Traditional arr. Bob Chilcott – Now the green blade riseth; S. S. Wesley – Blessed be the God and Father; T. Frederick H. Candlyn – King of glory, King of peace; Lyra Davidica – Jesus Christ is risen today (desc. Philip Ledger); Elgar – Light of the World; Laudes Regiae arr. Martin Baker – Christus vincit; Tournemire, trans. Duruflé – Choral Improvisation sur le 'Victimæ Paschali'.
KGS 0065 [77.05]