In one sense, Donizetti's Don Pasquale hinges on a slap.  In a fit of pique, Norina lashes out at the eponymous wealthy, stubborn old man whom she's duped, when he disinherits the idealistic nimby-pamby nephew Ernest – whom she plans to wed – and accuses her of being a shameless hussy.  The action thus far in the opera may have left a slightly acerbic taste: Malatesta, Pasquale's faux-friend and 'doctor', has connived to contrive a bogus marriage between the old fool and his convent-educated 'sister', Sofronia, and she is now proving a harridan from hell – spending his money, snubbing his authority, and spinning around town with her young 'escort', Ernesto.  But, when Norina adds assault to affront, the insalubriousness of the deceptions thus far is exposed as not merely cheeky but downright cruel.  The accomplices have robbed Don Pasquale of not just his dimes but also his dignity.  'Poor old chap – why are they tormenting him?' we wonder.
A lot depends on the next few moments. If this is when Don Pasquale recognises his foolishness, how does he react? Is he enlightened and pragmatic, deciding immediately to forgo his former romantic aspirations? Or is he broken, his vulnerability laid bare? And, what of Norina? Is she shocked by Don Pasquale's declaration, in the third-person, "E finita!": "It is over, Don Pasquale: you are absolutely broken! There is nothing left to do now but to crawl away and die." Norina admits that she feels pity for him, and perhaps thus regrets the slap, but now is not the moment for sentimentality: their stratagems are, after all, coming to a climax. Do the characters laugh at themselves? Do we laugh with them or at them? Or, do we flinch at their frailties, both bitter and belittling?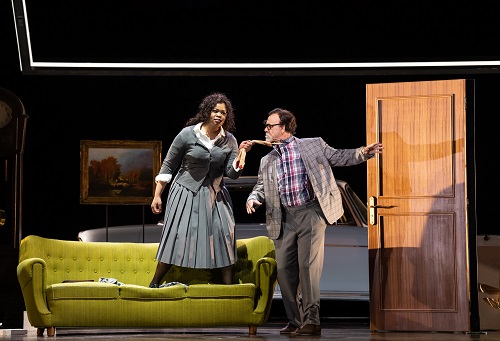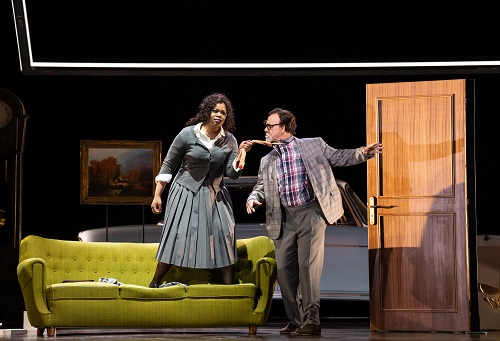 The opera thus treads a tightrope between comedy and callousness, and it's a rope stretching back to the commedia dell'arte origins of the opera buffa genre. In the former, lecherous old men such as Pantalone prevent young love flourishing and, in denial of their decrepitude, seek out amorous adventures of their own. Wily women such as the impudent Columbina conduct calculated conspiracies in the name of the true love that their Inamoratos eloquently declaim. And, scoundrel Scapinos duck and dive, slipping into different guises and masks. To some extent, Donizetti is simply following tradition: it's natural that Pasquale would want to protect his family's fortune, after all. But, the composer also follows Mozart in imbuing his buffa 'types' with genuine humanity and their dramas with a more tender spirit.
In an article in the programme book accompanying this first revival of Damiano Michieletto's 2019 Royal Opera House production of Don Pasquale, while allowing for the buffa traditions with which the opera engages Professor Francesco Izzo of Southampton University suggests that the opera is remarkably 'modern' and 'forces us to think about … matters of great significance in the present day, from gender, class and family relations to the all-important question of old age'. Perhaps such matters have informed Michieletto's vision, for the director appears to view Don Pasquale as neither a harmlessly charming comedy nor a charmingly human domestic drama, but rather a sharp psychological study into human vulnerability and viciousness, showing little sympathy for the former, nor censure for the latter.
The psychological flaws of the characters are exposed: some are ridiculed, others celebrated. When it comes to Don Pasquale and Ernesto, it's 'like uncle, like son': both are psychologically arrested – Ernesto needily clutches his teddy bear, Pasquale nostalgically embraces the sepia portrait of his mother. Malatesta (literally 'sick-head') is blithely amoral; Norina's mania for minimalist interior design seems to reflect her negligible emotional empathy.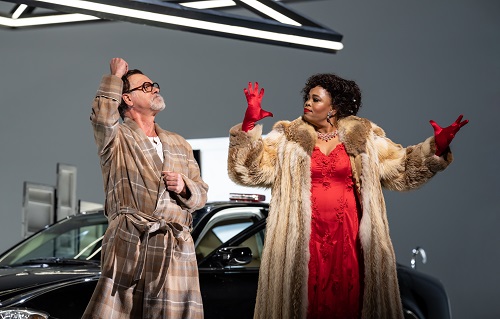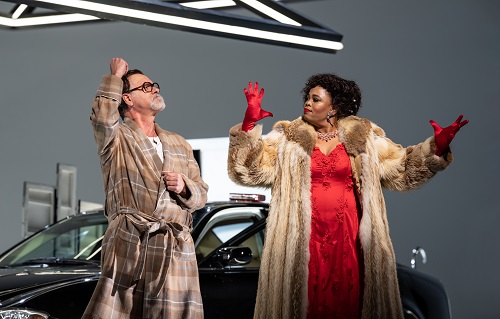 Paolo Fantin's Act 1 set reveals Don Pasquale's delusions. It's not just that he has not, neither in mind nor materiality, left his childhood home – the various clocks signal his desire to hold back time, in order both to keep his feet firmly in the past, and to prevent his progress into a future which will bring only decline and despondency – but, more than this, his house has no walls. There's nothing holding up the edifice other than his own fantasies, and the falsity of the latter is exposed by the artificiality of lighting designer Agostino Cavalca's neon-strip roof, and by the lurid green glow that bathes the stage when the ghosts of past and future – Pasquale's former self, asleep, as his mother reads him bedtime stories, and the imagined brood of offspring that will recreate his own childhood idyll – visit his deluded present.
In this context, Lucio Gallo is, initially at least, a surprisingly robust and resilient Don Pasquale. It's partly the baritonal weight and colour of his voice, partly his vocal and physical agility. Certainly, when Norina abuses him for his decrepitude – a man so fat and so repulsive, could never in all decency escort a girl in public – her complaint seems distinctly unjust. However, the converse effect of Gallo's elegant, accurate singing, and the spring in his step, is that it's not difficult to believe that there's still a love-beat pounding in his heart. Indeed, there's little attention in this production to the Don's infirmity, such as requires frequent visits from his 'doctor'. Even his first glimpse of Norina, when the convent lass removes her veil, prompts no more than the need for a brief sit-down on his scruffy sofa, rather than an "explosion inside my bosom" which leaves him breathless, begging for his doctor's assistance, "I cannot get the words out, sweating … and shivering … I'm dying!"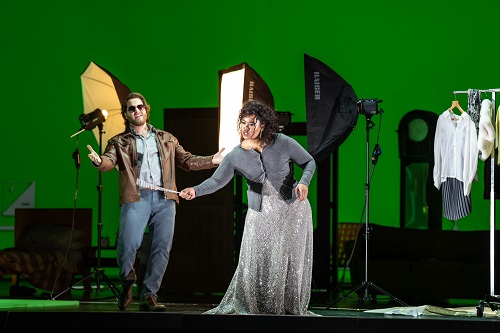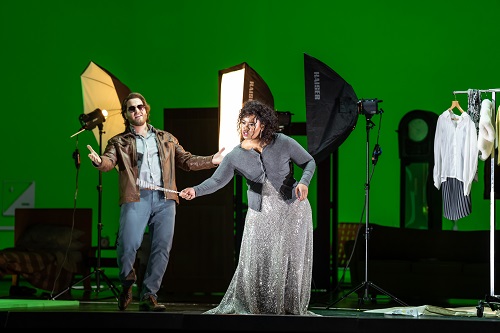 Pretty Yende's vocal radiance and lovely tone, and her terrific acting, do much to soften the steely heartlessness of this production's Norina. A studio assistant, Norina relishes the opportunity – when the shoot is over – to linger in the costume department, slip into the silver lamé (after a few ironic tussles with the zip), and pose before the closed camera-shutters. It's no wonder she's so willing to play the roles that Malatesta assigns to her! Nor that she's so good at them. Her laughter sparkles and the coloratura bubbles up with natural effervescence. Her 'screen test', which we witness magnified on a green back-screen, is a drama of fluttering mascara and pouting lipstick. She kneels at her prayer cubicle, before bible and candle, with the devotedness of a Carmelite, yet swings her gold-chain crucifix as if it's a show-girl's feather boa. It's no surprise that this drama queen will prove cold-blooded and manipulative. When the slap has been delivered, there's little sympathy for her victim and the hard lesson he has learned, though as she turns her back, shakes her stinging hand and winces, perhaps there's a hint that she recognises her own recklessness.
As Ernesto, Xabier Anduaga negotiates the high-lying tenor role confidently and suavely, ardently aggrieved – against Pasquale's grumblings – when lamenting his loss of Norina (perhaps a bit too ardently), and self-pityingly doleful in 'Cerchero lontana terra' when departing for distant lands.  (There's an oddity about the direction here: why, when he's throwing Ernesto out of his house, does Pasquale empty the contents of his nephew's packed suitcase onto the floor?  Because he can't resist the opportunity to bully?  And, while we're on the matter of inconsistencies, why is Ernesto glued to his stuffed bear – surely it should be this mother-fixated Pasquale who's obsessed with cuddly toys of yore?)  This Ernesto perks up in Act 3, though, and throws himself gleefully into the intrigues.  It's a more mature young chap, though not necessarily a 'nicer' one, who sings so beautifully in the serenade, 'Com'e gentil', and the glorious duet with Norina, 'Tomami a dir'.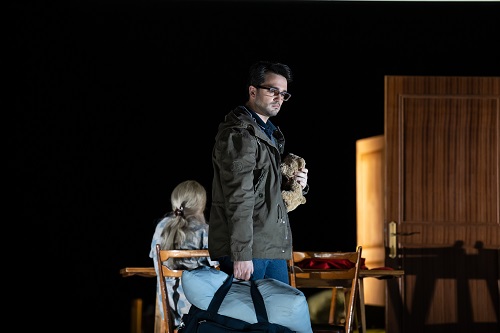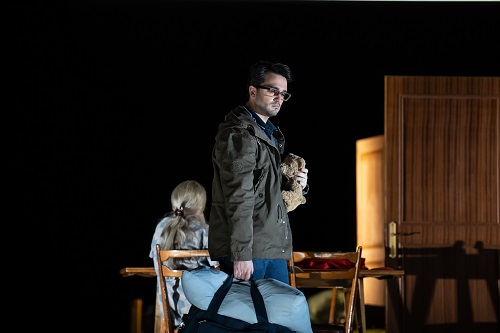 Andrzej Filonczyk's Malatesta has polish and poise, though there's little about him that suggests proficiency in medical matters. But, Filonczyk's bright tone and relaxed delivery emphasise Malatesta's seductive ease: it's not difficult to see how he's able to convince everyone that he's their 'friend', though what's 'in it for him' is a little less clear. The Act 3 patter-duet for Pasquale and Malatesta neatly conveys the former's misplaced confidence and the latter's self-confident machinations, the puppets that the singers wield only emphasising who's pulling the strings here. The tongue-twisting is taut and tidy, but there was no reprise of the final section on opening night.
Thomas Barnard was effective as the Notary, a small role which provides evidence of Michieletto's attention to detail: the bored Notary munched on popcorn as he waited to be summoned to oversee the 'nuptials', and was then rewarded by Pasquale for his trouble with a cup of espresso. Jane Evers isn't credited in the programme, but as Don Pasquale's sole servant she adds much irony via physical comedy: perhaps, much like Jacob Rees-Mogg's nanny, the presence of the elderly housekeeper convinces the old dote that the past persists in the present, but he surely doesn't reckon that, as his nephew pours motor oil over his prized car while he's sleeping, his housekeeper will forage in his pockets and fleece him.
Conductor Giacomo Sagripanti seemed rather tentative initially: the overture was competent but didn't sparkle. The musical temperature heated up, though, and the dance-like spirit of the score subsequently enchanted. The role for the Chorus is small, and confined to the final Act, but the ROH ensemble were well-marshalled furniture-removers, fine of voice and brawny of biceps.
Norina has the opera's last words: the moral of this story is clear, she says – if you're old and fall for youth, your troubles are just beginning. Donizetti's opera buffa has been described by some critics as Mozartean, but the human qualities on display in Michieletto's production don't invite our sympathy. There is little human dignity. And, at the close, little of the laughter that would bring victim and victor together, assuage indignities, suggest a necessary enlightenment and bring about concord. Instead, Don Pasquale is a vulnerable figure, wheelchair-confined, bound for the nursing home, as the back-screen's monochrome image of the lonely old-age that awaits him attests. We're not invited to warmly mock human imperfection; nor to cast a sympathetic glance at human vulnerability. What's the 'moral' of Michieletto's production? I'm not sure, but it's certainly not comedically comforting.
Claire Seymour
Gaetano Donizetti: Don Pasquale
Don Pasquale – Lucio Gallo, Norina – Pretty Yende, Ernesto – Xabier Anduaga, Malatesta – Andrzej Filonczyk, Actors (Peter Cooney, Rain De Rye Barrett, Chris Edgerley, Jane Evers, Jamie Francis, Irene Hardy, Jamal Lowe, Tom Levermore, Luke Murphy, Lockhart Ogilvie, Suleiman Suleiman, Hollie Sullivan); Director – Damiano Michieletto, Conductor – Giacomo Sagripanti, Revival Director – Daniel Dooner, Set designer – Paolo Fantin, Costume designer – Agostino Cavalca, Lighting designer – Alessandro Carletti, Video designer – rocafilm, Chorus and Orchestra of the Royal Opera House.
Royal Opera House, Covent Garden, London; Tuesday 3rd May 2022.
ABOVE: Don Pasquale (c) ROH 2022. Photographed by Bill Cooper.