The myth of Orpheus and the story of opera are inextricable. Gifted the first musical instrument, the lyre, by his father, Apollo, Orpheus and his art represent man's need to create: to control the physical world through song, unifying music and word and so bringing about earthly order and harmony. No wonder composers have been drawn repeatedly to Ovid's tale, from Peri, Caccini and Monteverdi at the start of the seventeenth century, to Rossi, Gluck, Stravinsky and, in more recent times, Glass and Birtwistle.
French composers have joined in the musical myth-making.  Offenbach used Ovid's myth to satirise contemporary Parisian society.  Berlioz, enthralled by Gluck's operas, arranged and re-orchestrated the latter's Orfeo ed Euridice so that the role of Orpheus could be sung by the mezzo-soprano Pauline Viardot.  Rameau composed a cantata, Orphée, for soprano, violin, viol and continuo, though Debussy's projected Orphee-Roi remained one of music's might-have-beens.  However, Marc-Antoine Charpentier (1643–1704) set the tale not once but twice, composing a cantata Orphée descendant aux enfers in 1683 and following this with an opera on the same subject a few years later.
For 17 years, Marc-Antoine Charpentier lived as a courtier in one of the grand guest rooms of the Hôtel de Guise, the opulent home of Marie de Lorraine de Guise, his patron and protector. His compositions for Marie were largely sacred works, in which he himself often performed as an haute-contre tenor, but he wrote secular works too, including a number of miniature operas, the last of which was La descente d'Orphée aux Enfers (1686). The manuscript contains just two Acts and leaves the action incomplete, with the heart-broken Orphée about to leave the Underworld just as Pluton's intransigence begins to soften. Some scholars believe that Charpentier did complete a third Act; others have speculated that the composer abandoned the work because Marie's death in March 1688 meant that there was little chance of the opera being performed.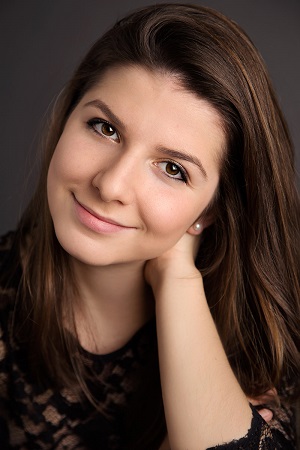 Charpentier's La descente d'Orphée aux Enfers is not a frequent visitor to the opera house, but audiences will have an opportunity to hear the opera later this summer when it is presented as part of the third Vache Baroque Festival, which takes place at The Vache near Chalfont St Giles in Buckinghamshire, an estate set in an Area of Outstanding Natural Beauty and which was previously owned by King James II.
When I ask Betty Makharinsky why she and her co-founder Jonathan Darbourne decided to launch a Baroque music festival in the summer of 2020, in the middle of a global pandemic, she answers with what I quickly realise is characteristic modesty, "Well, the opportunity presented itself: the owners of the house are great supporters of classical music, and it would have seemed a waste not to grasp the chance. They really encouraged us and their generosity and 'can do' spirit were crucial, as was the hard work of the brilliant team we assembled. They all helped us to overcome any challenge that came up and the result was two sold-out and critically acclaimed performances of Purcell's Dido!" They took the plunge in June 2020 and had just twelve weeks' preparation. "I wish we had started earlier," Betty laughs.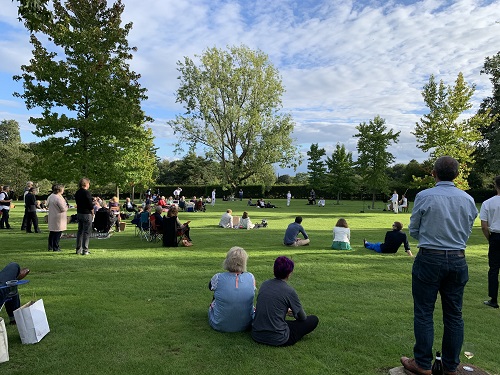 The spring 2020 lockdown had disrupted Betty's professional singing activities, and while she had carried on practising and teaching online, she was getting "itchy feet". "It was frustrating not to be able to perform and collaborate. Jonathan and I did two small garden concerts in south-east London, and this gave us some experience of performing safely outside during the pandemic. When we started planning the inaugural Vache Baroque Festival, we just approached each step as it came. We didn't know what to anticipate, which was a blessing really! Since then, the work has been challenging but so varied and interesting. It's been a steep learning curve and I have loved every moment of working with new colleagues and advisers. In spring 2021 Vache Baroque became a registered charity and we've now a Board of eight brilliant Trustees."
The Vache estate is a unique setting, and a particularly 'helpful' venue for outside performances, as Betty explains. "There is a rolling bank, which makes a natural raised platform for the stage. And, the house itself serves to reflect the sound, creating – so our audiences have told us – a really good acoustic. There are magnificent trees, including some enormous dark copper beeches; there are also parts of the estate that are more 'wild' – winding paths, wonderful rhododendrons, an orchard, and a small lake with an island. One can spend a whole day wandering around and enjoying the grounds. Indeed, that inspired us to programme additional mini performances and things to explore around the grounds, before the main opera."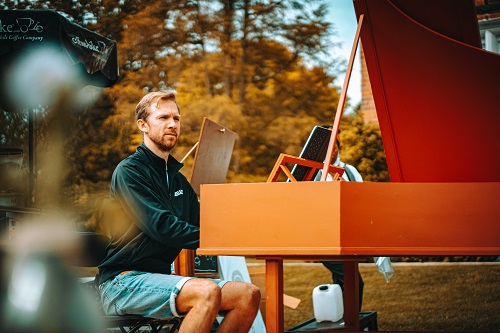 "So, we have pre-show pop-ups, which give our chorus and instrumentalists a chance to perform as soloists and help to create a real 'festival vibe' for our audiences. There are also sound installations which explore the themes of the main opera and develop it further. We're really keen to expand our work across art forms and to collaborate with creatives in other fields. For example, the sculptor Bill Woodrow, who created work exhibited on the fourth plinth in Trafalgar Square, generously loaned us his 'Self Portrait in the year 2089' a three-metre-high skull in gold on a stick, which resembled a tree. This was a perfect piece to stand centre stage for Paradise & Pandemonium, our production which wove Milton's Paradise Lost and Paradise Regained into cantatas by J.S. Bach, J.C. Bach (the elder) and Heinrich Schütz, and which starred Evelyn Miller as the narrator and Simon Callow as Satan." I'm keen to know more about P&P and Betty explains that it was researched and devised by her co-founder, Jonathan. "Milton's Cottage is situated in Chalfont St Giles; and it was the 350th anniversary of Paradise Regained. We really want to develop local connections, and this was an ideal opportunity."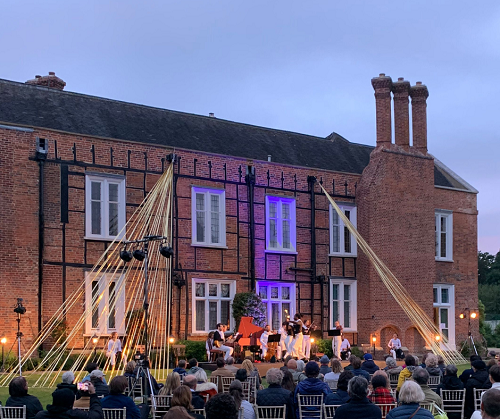 From the first, one of the missions of VBF has been to take risks. In the Festival's inaugural year, Purcell's opera Dido and Aeneas integrated dances performed by BirdGang Ltd dancers Laura Braid and Ajani Johnson-Goffe. "There are obviously set dances within the score, but director Thomas Guthrie and choreographer Ukweli Roach expanded the dancers' involvement to other moments in the drama. Ukweli incorporated a lot of contemporary movement – flossing, leaps, lifts – into the choreography, as well as some more traditional moments." I ask Betty if the intention is to continue performing outside. She confirms that that is the case at present, though the stage itself is now covered. "The first year without our stage cover was rather touch and go. The audience will remain uncovered, though. Performing in a marquee would not result in a very satisfying acoustic. And, it's lovely to experience the performance in natural surroundings, with the freedom of the air, the trees, the sunset … the pros outweigh the cons and risks."
The central operas presented at each VBF thus far have all been fairly short works. Is this also something that will continue to characterise VBF? "Well, cost was, of course, initially a factor," comments Betty, "and shorter works present fewer challenges when staging outside. But, also, we think that shorter works are more appealing to those who are 'newbies' to opera. We're absolutely committed to developing new, and younger, audiences – we have an under-35 discount scheme – and hope that as we build up a loyal following our audiences will develop as we do."
Another element which is absolutely central to VBF's mission is music education. Betty describes last year's VBF Children's Choir, which will happen again later in 2022, with evident passion: "Twelve children, at no cost, had the opportunity to work with two animateurs, in workshops which led them towards the music of Bach. They performed alongside a professional orchestra, choir and actors, and we hope that this project motivated them to continue on their musical journey. We want to provide a platform for young artists to work with and be inspired by leading industry professionals. I'm really proud of what we achieved last year: one parent told me that their child had been inspired to learn German by their experience singing with the Children's Choir! We've worked hard to develop connections with local primary schools and we've been very lucky that our endeavours have coincided with formation of Buckinghamshire Culture and of Young Creative Bucks which works to connect schools and arts organisations in the county."
The second VBF in 2021 was event-filled and featured Coffee Baroque, immersive performances of Bach's comic mini-opera about coffee addiction; the aforementioned Paradise & Pandemonium; a staging of Handel's Acis and Galatea; and, Purcell Reimagined, a competition for young composers and arrangers. The casts and professionals involved have been of the highest calibre, including singers such as Katie Bray, Rowan Pierce and James Way. I tease Betty by asking if, as a singer, she's been relying on her little black book. She indulges me and explains, "Well, Jonathan has a wealth of experience as a musician and director, and an extensive musical network. And, yes, our musical friends and colleagues have been excited about VBF and keen to be involved. It's terrific when experienced singers work alongside those who are just leaving conservatoires and setting out on their careers: there are manifold benefits for all."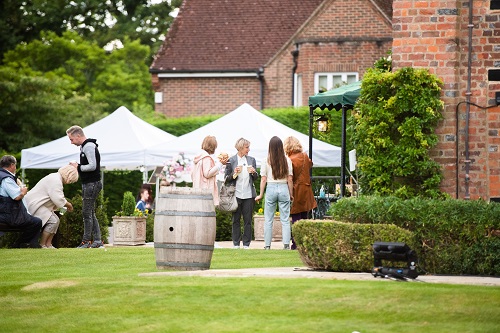 The cast for this year's Charpentier opera includes Samuel Boden in the title role, Henry Waddington as Pluton, Lauren Lodge-Campbell as Euridice and Alexander Chance as Ixion.  "Sam has been singing lots of French Baroque repertoire, including with Emmanuelle Haïm's Le Concert d'Astrée, and he's a native French speaker.  So, we're hugely excited that he's involved," says Betty.  She and Jonathan were eager, now that VBF is in its third year, to present something different to what they'd done thus far, and feel that La descente d'Orphée aux Enfers will be intriguing for audiences too.  "And, James Bowman, our Patron, loves Charpentier," adds Betty.  "We feel that the Orpheus myth is one for the ages and that its themes – choices, promises, love, trust – are very relevant today.  Charpentier's opera is terrific drama, its length is digestible and there is not a single dud moment musically – it's brilliant!  In the second Act there is a trio of viols that is absolute magic."
This summer's Vache Baroque Festival runs from 26th August to 4th September. La descente d'Orphée aux Enfers will be performed on 2nd and 4th September.
Claire Seymour