There's something wholly satisfying when an opera is allowed to breathe its own magic without overworked directorial interference. This new production of Siegfried – originally planned for 2021 – forms the third instalment of Amy Lane's Ring cycle, begun in 2019 and intended to appear as a complete traversal in 2024. Lane's mostly non-interventionist approach avoids concepts or riffs on contemporary mores and gives us Siegfried pretty much exactly as it 'says on the tin'. Music and action unfold without distractions enabling an immersive experience much enriched by magnificent singing and authoritative direction from Anthony Negus, regarded as one of the finest Wagnerian conductors in Britain today. Once again, Longborough's Wagner credentials are brilliantly served.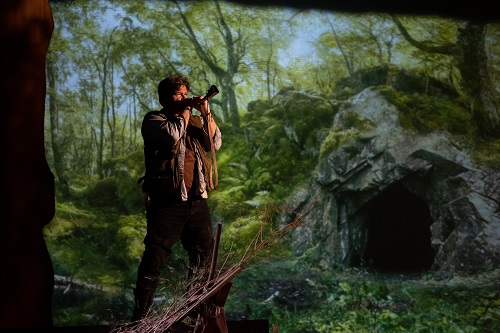 Rhiannon Newman Brown makes the most of Longborough's modest stage facilities and her sets provide all that's necessary to conjure cave, woodland and rocky enclosure that define each of the three acts. The whole is atmospherically lit by Charlie Morgan Jones and enhanced by the clever use of video projections by Tim Baxter where images of forests, distant mountains and the Rhine (even the bear in Act One) variously reflect the narrative. There's plenty to hold the eye in the chaotic cavern: forge, makeshift kitchen and assorted packing cases enable a range of movement for Mime and Siegfried, most effectively when the latter fashions the sword, and an apron-clad Mime, complete with toque, prepares a concoction of fruit and vegetables for his poisonous broth. It's one of several relationships within scenes where Amy Lane points up felicitous detail, none more happily so than with the Woodbird. Dressed in evening tails, she incessantly scribbles in a notebook as if reporting on or predicting events. One might have reservations about Fafner whose first entrance on crutches (presumably to suggest a four-legged creature) doesn't quite summon a dragon but, nonetheless, it's an imaginative stroke. Less convincing is the clumsy encounter when Brünnhilde is 'discovered' sleeping on the rock having been led there earlier by the Wanderer.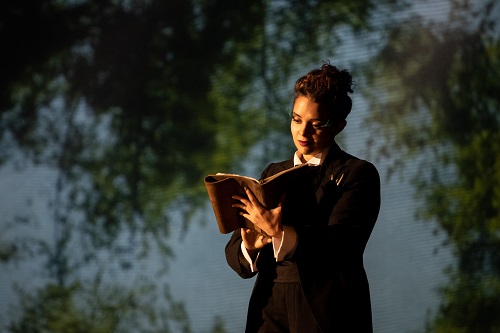 No matter, since her portrayal by Lee Bissett is one of the most compelling of the evening. Fabulously communicative in voice and movement, she is a natural Wagnerian whose ardent tones soar over the orchestra, her hymn to the sun magnificent. No less captivating is Julieth Lonzano's chirpy Woodbird, sung with youthful zeal; pleasing to the eye and refreshing to the ear. A richly sonorous Mae Heydorn as the earth Goddess Erda is marvellously matriarchal. While her rear stage position isn't ideal, her brief appearance provides answers to the question of Siegfried's uncertain parentage.
Australian tenor Bradley Daley in the title role is heroic in voice, finding his form half-way through Act One and looking much more at ease while forging the sword and interacting with Mime. His is not an especially sympathetic character (just as Mime isn't) with his three-part mix of ungrateful orphan, innocent at large and uncouth jack-the-lad, yet someone to whom we must respond to with warmth by Act Three when he has matured and discovered some humanity. Somewhat stolid in his portrayal, there's no mistaking his stamina and there's still plenty of heft at the end of what is an exceptionally demanding role. Adrian Dwyer's Mime is a multi-faceted characterisation, at times approaching caricature and almost stealing the show with his blend of campery, menace and skulduggery, drawing our compassion as the underappreciated 'nanny' to Siegfried. His ringing tenor never overshadows Daley, and he handles the wide-ranging vocal part with considerable skill.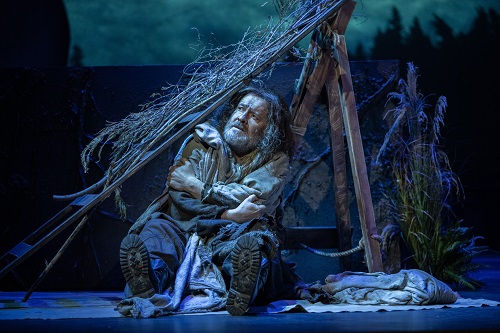 Elsewhere, Mark Stone's dark tones impress as the vengeful Alberich and a stentorian Simon Wilding does ample justice to Fafner. But it is Paul Carey-Jones as the Wanderer (Wotan in disguise) who consistently provides an anchor to this production, both imposing in voice and stage presence, a Gandalf-like figure who on each appearance brings nobility and power of communication – notably so with the riddle scene with Mime and his meeting with Erda.
Most crucial to the success of this production is Anthony Negus's sure-footed direction of the Longborough Festival Orchestra and his control of dramatic tension. Notwithstanding a reduced scoring by Alfons Abbass, this Siegfried was vividly detailed and the transcendent final scene unforgettably moving. Little wonder this 500-seat theatre at Longborough is regarded as England's Bayreuth.
David Truslove
Richard Wagner: Siegfried
Siegfried – Bradley Daley, Mime – Adrian Dwyer, The Wanderer – Paul Carey-Jones, Alberich – Mark Stone, Fafner – Simon Wilding, Waldvogel – Julieth Lonzano, Erda – Mae Heydorn, Brünnhilde – Lee Bisset; Director – Amy Lane, Conductor – Antony Negus, Sets – Rhiannon Newman Brown, Costumes – Emma Ryott, Video Designer – Tim Baxter, Longborough Festival Orchestra.
Longborough Festival, Moreton-in-Marsh, Gloucestershire; Wednesday 1st June 2022.
All images (c) Matthew Williams-Ellis.