Dismissed by Beethoven and Wagner, it has taken nearly two centuries for Così fan tutte to emerge from society's censor and for Mozart's genius for expressing human nature through sublime music to be fully appreciated.  In 1873 a review in The Times produced a full summary of the opera because the critic declared it 'is now so rarely heard that the dramatic plot … has in all probability been forgotten by nine amateurs out of ten'.  Thankfully, in the 1930s a more enlightened Sir Thomas Beecham regarded this romp of sexual manipulation as 'a long summer day spent in a cloudless land by the southern sea'.  That description virtually captures word for word this recent staging at Garsington Opera, its sixth presentation since the company was founded in 1989.  Of course, Garsington is nowhere near the sea, but Lorenzo da Ponte's Bay of Naples is vividly conjured as an intermittent backdrop and, to my mind, summoned Raoul Dufy's The Bay of Angels, Nice.
Nice is very much suggested in this reboot of John Cox's 2004 staging, originally conceived two year's earlier for Monte Carlo's opera house.  That its building is shared with a casino is neatly mirrored in the opening scene's gaming table, set within an opulent seaside hotel (think Downton-on-sea) just before the outbreak of war in 1914 – a dramatic irony which makes this staging swing cruelly between comedy and tragedy.  Furthermore, the gambling scenario deftly links the wager that Don Alfonso makes with Ferrando and Guglielmo regarding the fidelity of their respective fiancées, and on which the whole operatic structure evolves.  The two friends allegedly go off to the war, return as bearded Albanian sailors, before entering into a bogus marriage contract to the sisters Fiordiligi and Dorabella, an arrangement settled tellingly around the gaming table.  Thereafter, the lads, now a little wiser, wave their belles goodbye and without any marital resolution go off to war, this time for real.  It makes for a chilling conclusion to an otherwise wholly entertaining production in which Robert Perdziola's colourful sets dazzle the eye in his stripey beach huts, sun loungers and a twingling harbour all gloriously lit by Paul Pyant.  Our perception of this sun-soaked setting is deepened when the beach huts morph into hospital dressing stations.  It's the Mediterranean to be sure, but with wartime shadows lurking in the background.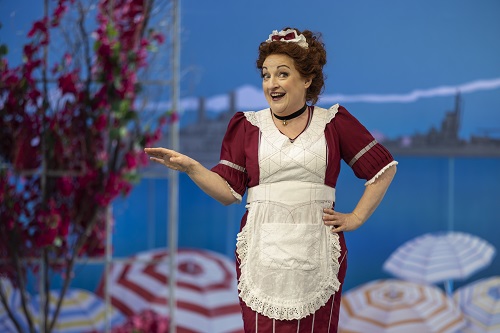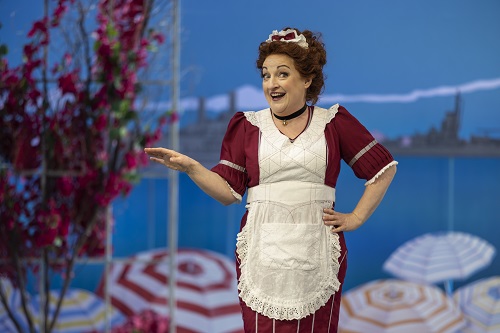 The set almost steals the show and catches the eye fractionally more than the singing from a mostly young cast holds the ear. That said, casting is secure with enough convincing chemistry to generate all the necessary humour. Ailish Tynan as the opportunistic servant Despina is superbly conceived and captivates with a strongly defined performance rooted in a flair for comic timing. Her 'I'll do anything for money' line is just perfect. Whether as Dr Mesmer (with outsized trench coat and tin helmet) or the notary, Tynan gives a masterclass in acting and singing, brilliantly addressing the sisters on how to treat members of the opposite sex in her Act Two aria. Henry Waddington, another seasoned performer, commands attention as a smoothly manipulative croupier/hotelier, initially overbearing but drawing our sympathy when the situation he sets in motion goes beyond his control.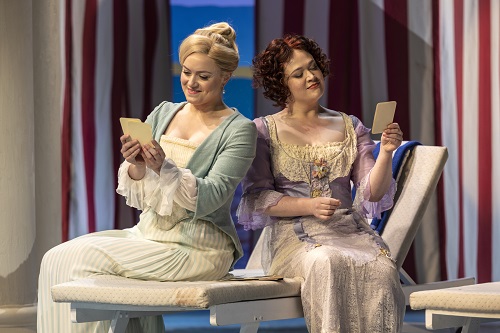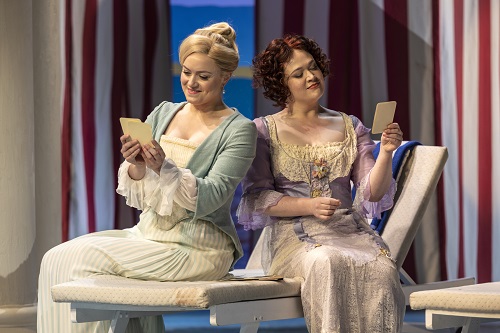 Amongst the four young lovers, Camilla Harris is an impressively steadfast Fiordiligi, only rarely breaking into smiles. Her 'Come scoglio' really sounded as if 'this lady's not for turning', confidently dispatching the aria's demanding leaps and rising admirably to the challenge of 'Per pietà', even if its emotional depths remained unexplored.  Polly Leech was a feisty Dorabella, showing what a drama-queen she could be in a fruity-voiced 'Smanie implacabile', and clearly enjoying herself throughout, unable to avoid looking at her would-be suitors without a cheeky gleam in her eye.  Gavin Ring's poet Ferrando made heavy weather of 'Un' aura amorosa', but formed a persuasive partnership with Seán Boylan, whose swaggering Guglielmo rang out compellingly in his chauvinistic ditty that is 'Donne mie la fat a tanti a tanti'. Ensemble numbers were well executed, pleasingly so in Act One's Farewell Quartet and both extended finales where the twenty-strong chorus showed their mettle.
In the pit Tobias Ringborg, directing from the fortepiano, keeps a tight rein over period instrument ensemble The English Concert, drawing out the score's felicities with crisp, characterful playing and giving much to enjoy from Mozart's generous writing for woodwind. Overall, it's a stylish production that foregrounds oodles of charm and some memorable acting.
David Truslove
Fiordiligi – Camilla Harris, Dorabella – Polly Leech, Ferrando – Gavan Ring, Guglielmo –Seán Boylan, Don Alfonso – Henry Waddington, Despina – Ailish Tynan; Director – John Cox, Conductor – Tobias Ringborg, Designer – Robert Perdziola, Lighting Designer – Paul Pyant, Associate Director – Bruno Ravella, The English Concert, Garsington Opera Chorus.
Garsington Opera at Wormsley, Stokenchurch; Saturday 4th June 2022.
ABOVE: Gavan Ring (Ferrando), Seán Boylan (Guglielmo) © Craig Fuller