Carmen was the last opera I saw before the end of the world. Not necessarily what I would have chosen; for many of my friends it was Fidelio, whose absence from my truncated Beethoven Year I regretted deeply. But then none of us chose pandemic, lockdown, death, misery, and the rest. It was good, though, to have opportunity to exorcise another pandemic ghost, albeit in different guise. Cecilia Stinton's new Holland Park production has little in common with Martin Kušej's staging at Berlin's Staatsoper Unter den Linden; nor did Lee Reynolds' traversal of the score, in his own, skilful, new reduction correspond to my memories of Daniel Barenboim.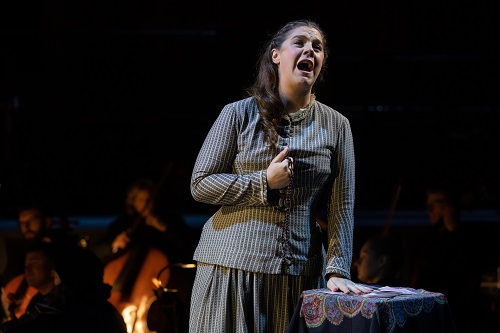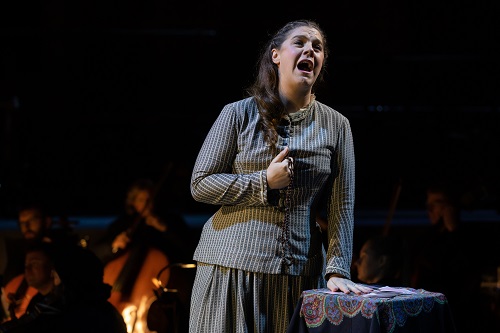 Different strokes …? Doubtless, yet I could not help but regret the lack of rethinking, especially in staging. There are half-hearted nods to a feminist turn, which in context come across more as odd than enlightening, for ultimately what we see is highly conventional, permitting of little to say other than what it is not. We lacked, thank goodness, Francesca Zambello's notorious donkey; otherwise, this was a 'period' tale, in uniforms and frocks. It all looks a bit like a school play. Dmitri Tcherniakov's radical decentring of Carmen could not be more distant; the unremitting intensity of Calixto Bieito's much 'straighter' retelling in Franco's Spain seems a world away too. There is some 'colourful' dancing and other musical comedy-style 'business'. Children hand around postcards advertising Escamillo's fight. Don José elicits strikingly little directorial interest, but it would be difficult to say any of the characters was fully treated. And that, bar a peculiar role reversal at the opening, is more or less it. It seems odd that anyone might need a course in orientalism at this stage, but there we are.
Reynolds's conducting has none of Barenboim's revisionism either, yet proves more compelling. The City of London Sinfonia is on sharp form, clearly in sympathy with its conductor's carefully gauged balance of drive and lyricism. If I missed the sense of numbers contributing to a sum that is greater than their parts, that is often the case here—and I realise, especially in the 'authentic' opéra comique version, that I could readily be accused of wanting to turn the opera into something (more Austro-German, Nietzsche forbid) than it is. Reynolds and the orchestra support the cast and lead the action where necessary and appropriate. No one could or should reasonably be disappointed, save for the inevitable reductions in scale of a chamber orchestration. Even then, different balances—not least, more prominent woodwind—have one reconsider one's position on the work: no bad thing, given its ubiquity.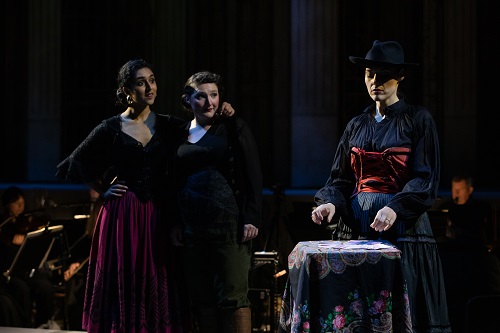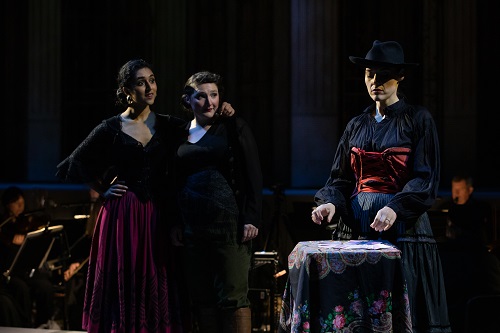 Kezia Bienek fully inhabited the title role, insofar as the production permitted. Hers was a Carmen, quite rightly, not inclined to take any prisoners, yet far from one-dimensional. Vocal delivery was well centred on the text as a whole (that is, words and music) and stage presence fitted the bill splendidly throughout. If the staging seemed rather to leave Oliver Johnston to fend for himself, he proved well able to do so, giving us an intelligently sung Don José. Thomas Mole's dark tone was just the thing for Escamillo, in another intelligent reading. Micaëlas rarely disappointed, but that is no reason not to celebrate Alison Langer's performance, beautifully and touchingly sung. A fine supporting cast and excellent performances both from the Opera Holland Park Chorus and pupils of Cardinal Vaughan School compensated in good measure for what I—though not, I think, the audience as a whole—perceived as lack of ambition in the production.
Mark Berry
Carmen – Kezia Bienek, Don José – Oliver Johnston, Escamillo – Thomas Mole, Micaëla – Alison Langer, Frasquita – Natasha Agarwal, Mercédès – Ellie Edmonds, Zuniga – Jacob Phillips, Moralès – Jevan McAuley, Le Dancaïre – Themba Mvula, Le Remendado – Mike Bradley, Director – Cecilia Stinton, Set designer – takis, Lighting – Johanne Jensen, Choreography – Isabel Banquero; Conductor – Lee Reynolds, Children's Chorus from Cardinal Vaughan School, Opera Holland Park Chorus (chorus director: Richard Harker), City of London Sinfonia.
Opera Holland Park, Kensington, London; Friday 10th June 2022.
ABOVE: Kezia Bienek as Carmen and Oliver Johnston as Don Jose in Carmen at Opera Holland Park 2022 © Ali Wright