Verdi's operatic makeover of Shakespeare's Scottish play was given a highly charged staging at the Grange Festival when I caught up with it on its second night. From the Preludio's dark premonitions, with its wriggling woodwind, through to the slaying of Macbeth, this new production seethes with dramatic tension, and is blessed with finely judged performances from both chorus and principals. Galvanised by the impressive Francesco Cilluffo, the Bournemouth Symphony Orchestra musicians relish Verdi's opulent scoring, brass seemingly baying for blood. What's more, they really pack a punch in the relatively small auditorium of the Grange's neo-classical mansion which, coincidentally, occupies similar proportions to the Teatro della Pergola in Florence where Macbeth was premiered in 1847.
Making a striking impact is Madeleine Boyd's set, lit by Matt Haskins. No barren wilderness here to evoke the blasted heath, instead a dilapidated two-tiered library complete with spiral staircase and dusty tomes lining the walls. Centre stage emerge witches clad in fishnets, a coven of circling goths with arms and legs flailing riotously (how better to suggest emotional turbulence?), the whole conjuring St Trinian's terrorising Hogwarts. It may not be chilling or supernatural, but director Maxine Braham's ancient structure – one step away from Glamis Castle – provides all the necessary atmosphere where superstition and violence can concoct a deadly brew. It's perfect for the Bard's intense exploration of ruthless ambition.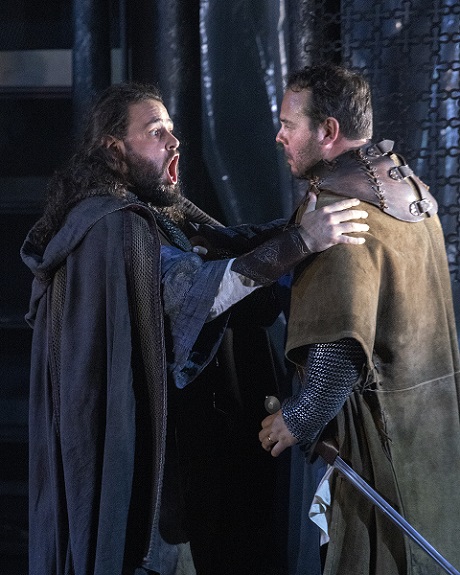 The forces that drive ambition are marvellously encapsulated in Judith Howarth who makes her role debut as Lady Macbeth. Verdi famously declared that he wanted the singer playing this femme fatale to have a "harsh, stifled dark timbre" and "the voice of a devil". Not flinching from moments of unvarnished and occasionally shrill tone, Howarth embodies the character with a blood-freezing intensity fearlessly making good on the composer's formidable demands, richly dark below the stave and commanding when delivering a piercing high D flat in her 'Una macchia è qui tuttora!' Only in the sleep walking scene did I fail to sense a mind spinning out of control and (to borrow from Julian Budden's memorable phrase) a figure "rotting inwardly, like a diseased elm". But from her first imperious entry she owned the stage and gave an electrically charged opening cavatina amid a flood of letters from Macbeth that seemed to take inspiration from Harry Potter.
As her co-conspirator, Albanian bass Gezim Myshketa inhabits the role of Macbeth with ease, his conflicting emotions are handled well, as is his capacity to sing with an assured Verdian legato. While initially sounding forced, as if over excited by the witches' portents, his "Pietà, rispetto, amore" is finely spun and prompts no small degree of compassion. His internal dilemmas and growing misery are movingly expressed while sitting at the front of the stage confiding to the audience his fears and undoubted humanity, intimate scenes that are quietly touching.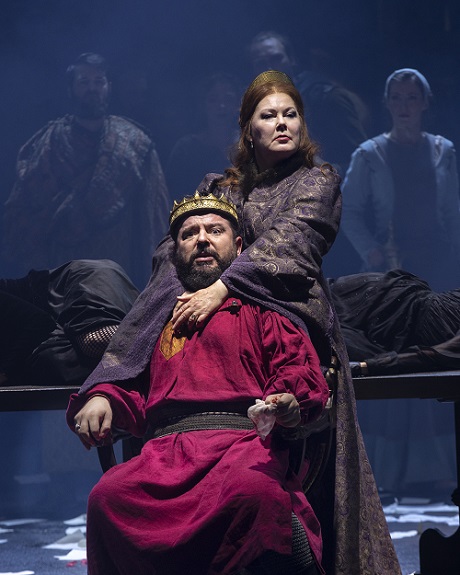 Beyond these well-defined characterisations, bass Jonathan Lemalu is a suitably noble Banquo, his early duet "Due vaticini" with Myshketa (both attired in mediaeval tunics and chainmail) warmly delivered in a solid, if short-lived partnership.  Grange Festival 2017 Singing Competition winner Samuel Sakker delivers a remorseful Macduff, his jewel-like tenor folding itself around "Ah, la paterna mano" with superb assurance, his guilt for not protecting his children palpable. The smaller tenor role given to Malcolm is nicely taken by Andrés Presno, and cameos by Katie Lowe as the lady in waiting and Timothy Dawkins as the doctor are well filled too.
One shouldn't forget Verdi's assertion of the witches being one of the three main roles in the opera. Notwithstanding any reservations one might have for the rumpty-dum music assigned to them, the witches revel in their scenes, not least when ripping up spell books or cavorting around a suspended cauldron in Act Three. This is an imaginatively conceived episode with witches dressed in protective lab coats and with one giving birth to the apparitions. There's full-blooded vigour from the men of the chorus variously as assassins and Scots clansmen who generously respond to Verdi's stirring music, thrillingly so and with an ideal slancio at Birnam Wood and in the closing victory chorus.
Honours too for the BSO under Francesco Cilluffo (already credited previously at the Grange for his Falstaff and Manon Lescaut), who fashions an unbroken dramatic line from first bar to last, while allowing soloists plenty of space for their moments in the sun and yet sustaining momentum with some hard driven, but exciting tempi. In short, a terrific production – not to be missed.
David Truslove
Macbeth – Gezim Myshketa, Lady Macbeth – Judith Howarth, Banquo – Jonathan Lemalu, Macduff – Samuel Sakker, Lady-in-Waiting – Katie Lowe, Malcolm – Andrés Presno, Doctor – Timothy Dawkins, Servant to Macbeth – James Wafer, Assassin – Tiziano Martini, Three Apparitions – Pedro Ometto, Isabel Maria Araujo, Grace O'Malley, Duncan, King of Scotland – Xavi Monreal, Fleance, son of Banquo – Kai Patel, Director & Choreographer – Maxine Braham, Designer – Madeleine Boyd, Lighting – Matt Haskins, Bournemouth Symphony Orchestra, Conductor – Francesco Cilluffo
The Grange Festival, Hampshire; Saturday 11th June 2022.
ABOVE: The Grange Festival Chorus (Witches), Gezim Myshketa (Macbeth) (c) Simon Annand