The last couple of times I have reviewed Lise Davidsen at the Barbican – who is beginning to feel at home in this hall as Birgit Nilsson once did at Carnegie Hall – her programmes have been closely associated with her core repertoire; this one felt a little different. But this one differed, too, in that she shared the stage with the young British-Italian tenor Freddie De Tommaso – although in the second half of their programme she really gave much of the recital up to him.
Davidsen and De Tommaso are, interestingly, two singers who started their careers in a different vocal range than they sing now and that was perhaps one reason why this recital offered such a beautiful degree of colour, even to music with which we are familiar. The tenor is not always a powerful instrument and many would sound strained and under pressure set against such a magnificent soprano such as Davidsen's. Huge voices need to be set in harmony – a Nilsson needed a Vickers, an Eileen Farrell needed a James King – and it was striking how in harmony Davidsen and De Tommaso were. But it wasn't just this; it was the instinct of the artists to create something truly compelling, and that rarest of things chemistry.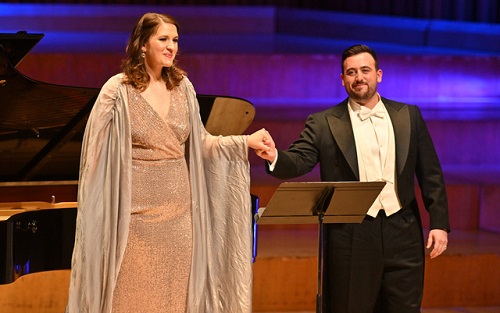 It was the two arias which began the second half of this recital which proved to be the most fascinating of the whole evening. Lise Davidsen, in 'Vissi d'arte' from Tosca was fabulous – indeed, it was slightly hard to imagine that the same soprano who had given us such power and iron in 'Dich teure Halle' from Tannhäuser could bring this towering instrument into anything close to the very definition of Puccinian restraint. And yet, it was glorious with incandescent attention to phrasing. No one would pretend that the voice was Italianate, that it had any real sense of warmth, but it hardly mattered when what she did sing was so clearly interpreted with such depth and intensity. Somehow it felt a little unfair for De Tommaso to have to follow this – and yet his 'Lamento di Frederico' from Cilea's L'arlesiana was staggering – impassioned, and with razor-sharp top notes. Everything we had been told about his voice since his acclaimed Cavaradossi at Covent Garden was there – and it was entirely spellbinding.
Davidsen's 'Ave Maria', from Otello, and coming towards the end of the first half, had been devotional, a consecration that was pure and sublime in its beauty. Some of De Tommaso's Verdi was on the rarer side: 'La mia letzia' from I Lombardi but it was the songs by Paolo Tosti which dominated the second half of the recital. Tosti rarely sounds innovative enough in his music for my taste, and De Tommaso didn't really correct that impression for me with each of the three songs eliding into one another. However, De Tommasso does have reserves of power that he was able to maintain over their lengthy range and that mix of lyrical top notes and a rich, bronzed low register makes for a rich combination. The technique is rock solid enough that he need worry only about the music and there is never a second thought to what his voice can and can't do. It's impeccably controlled and the interpretations were rich on detail.
When Davidsen and De Tommaso were singing together – in 'Teso io sto' and 'Morrò, ma prima in grazia' from Un Ballo in Maschera – it was a beautiful match. Neither voice sounded outsized, neither struggling over the other and with that commonality of a mezzoish and baritonal depth still evident in both singers this was Verdi with a darker edge to it. It perhaps worked slightly better in the two arias from Tchaikovsky's Queen of spades. Here the tortured love of Liza and Hermann came across as uncommonly tormented and pitch-black.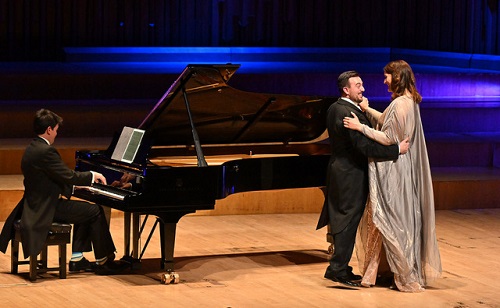 Davidsen has always broken up her recitals with lighter music and here we got some Loewe and Lehár. I'm never entirely sure whether I warm to sopranos of Davidsen's timbre taking on Loewe – especially a song like 'I could have danced all night'. It never felt heavy or turgid but it didn't seem to catch fire either. Whilst at her last recital she had brought a wonderful smokiness to some French Piaf songs here it just fell short of being ideal. The Lehár, however, 'Lippen Schweigen' from The Merry Widow' ­– which became a brief waltz, rather tentatively requested by De Tommaso, I should add – was superb. Two singers just enjoying each other's company and vocally exceptional.
Throughout the evening James Baillieu had been an exceptional accompanist. A pianist of unusual empathy with both his soloists here there was a lot that was remarkable about his playing. Pianists in recitals can so often fall into the background but that is not the case with Baillieu – he has a wonderful range of keyboard colour, superb command over the sound he makes (his pedals are immaculately controlled) and a very distinctive understanding of how the voices blend with the textures of the piano. Never does he over-balance the instrument.
Lise Davidsen had earlier joked that when in London she tends to take over James Baillieu's flat when she stays here – they have, I think, a bond that goes beyond the music and that probably makes this musical partnership so very special. It's sometimes difficult to allow a third person into such a happy arrangement and De Tommaso could have been a destabilising influence – in fact, he was not at all this. Trios of this kind and quality are rare today – and this recital oozed quality.
Marc Bridle
Lise Davidsen (soprano), Freddie De Tommaso (tenor), James Baillieu (piano)
Wagner – 'Dich teure Halle' (Tannhäuser); Verdi – 'La mia letizia infondere' (I Lombardi), 'Teco io sto' and 'Morrò, ma prima in grazia' (Un ballo in maschera), 'Cielo pietoso rendila' (Simon Boccanegra), 'Ave Maria' (Otello); Giordano – 'Amor ti vieta' (Fedora); Puccini – 'Vissi d'arte' (Tosca); Cilea – 'Lamento di Federico' (L'arlesiana); Tchaikovsky – 'Uzh polnoch' blizitsya' and 'Akh! istomilas ya gorem' (The Queen of Spades); Ernest Charles – 'When I have sung my song to you', Landon Ronald – 'O Lovely Night'; Tosti – 'L´alba separa dalla luce l´ombra', 'Non t'amo piu', 'Ideale'; Salvatore Cardillo – 'Core'ngrato'; Loewe – 'I could have danced all night' (My Fair Lady); Lehár – 'Lippen Schweigen' (The Merry Widow)
Barbican Hall, London; Tuesday 31st May 2022.