Composer Tobias Picker and librettist Aryeh Lev Stollman have created an emotional rollercoaster of an operatic experience with Awakenings, yet another world premiere by the enterprising Opera Theatre of Saint Louis.
Based on the compelling true story, in a Bronx hospital, patients with a decades-long sleeping sickness, Encephalitis Lethargica, exist on the fringe of consciousness. Dr. Oliver Sacks proposes treating them with the new drug, L-DOPA. Over the initial objections of his superior, Dr. Podsnap, Sacks experiences success at "awaking" first one, then several patients to "normal" behavior and awareness.
The dynamic of "awakening" also applies to Sacks himself, as his publicly heralded momentary breakthrough reverses course, and the patients revert to their pitiable prior conditions. The doctor must reckon with not only his own limitations, and his vanity in having been enamored with his own publicity; but also must confront his closeted homosexuality. An attractive young nurse, Mr. Rodriguez, is drawn to the doctor, and although it is mutual, Sacks cannot yet "wake up" to such a relationship. This is a second opera informed by gay identity that OTSL had on offer during Pride Month, the other being Wallace and Korie's Harvey Milk.
Mr. Stollman's taut libretto is quite a vibrant and informative construction, marked by incisive character development and well-defined relationships. Based on the book by Oliver Sacks, M.D., Picker actually met with Sacks, first because he is afflicted with Tourette syndrome, and he sought out the doctor's insights. They were then joined in conversation by Picker's neuroradiologist husband (and librettist) and discerned many unique insights to the doctor's life views that helped inform their writing. The character delineation was also furthered by musical 'identities' that are marked by empathy and specificity.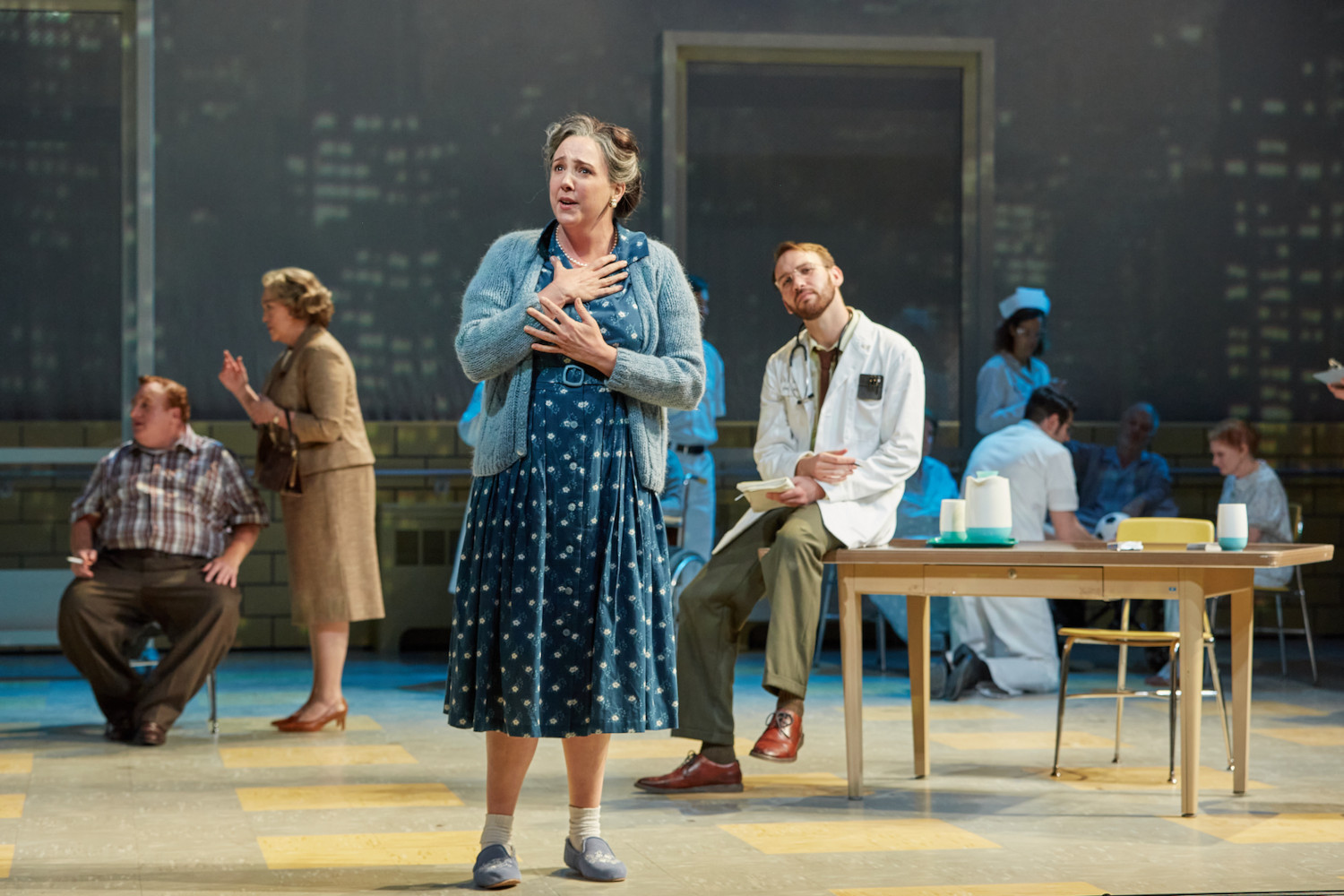 A choral piece frames the opera with a telling of, and commentary on, The Sleeping Beauty. The analogy of a princess being trapped in a castle frozen in time resonates poetically with the plight of human beings being trapped in their barely conscious bodies. When the commentary returns at opera's end, the metaphor is unutterably poignant.
Mr. Picker utilizes any number of recurring motifs that are catchy Ohrworms, snippets that linger in your ear only to make a welcome return. The musical writing has an underlying supernatural effect, as banks of layered instruments trade statements, and players break free in solos to comment on a character's mental state. The overall arc surges from the initial depths to joyous heights with increasingly animated phrases. It was notable how effectively Picker often utilized a droning ostinato to create multiple fine dramatic effects, just as it was striking how much of the writing was noticeably in triple time.
Indeed, it is at a celebratory party, when the waltz music that was being danced to was abruptly swapped out for something disjointed, that the tragic relapse was triggered. Unable to continue smoothly gliding together in a waltz, characters severally and together broke down into tics, neuroses, twitches, and renewed immobility.
It is after the transitory jubilation in the opera's middle that the composer finds his most profound voice, creating a soundscape of helplessness and stern, even cruel introspection for the "well" characters, and most especially for the deflated Sacks. The writing here just aches, pulsing with pathos.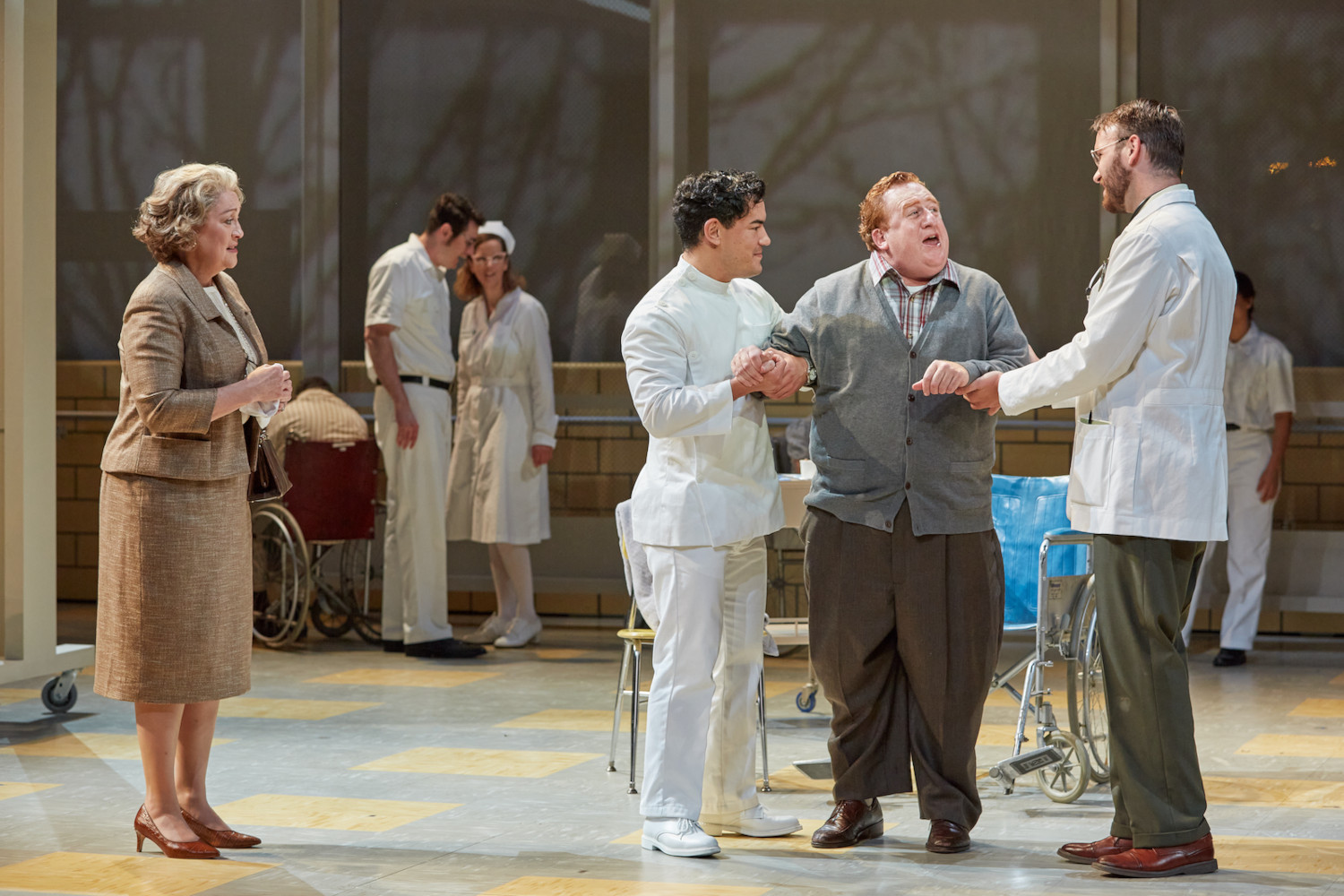 Roberto Kalb exerted complete mastery in his clear and concise conducting, which inspired superior music-making from his cast and orchestra. This is a very demanding score, and Maestro Kalb managed to withdraw the highest level of accomplishment from the members of Saint Louis Symphony in the pit. He was also a sensitive and conscientious partner to the singers on stage, cuing them tirelessly through the knottier passages, and evoking meaningful musico-dramatic commentary with a skillful baton technique. Kevin J. Miller's chorus of Gerdine Young Artists covered themselves in glory, not only for singing with accuracy, heartfelt emotion, and excellent diction, but also for executing the many complicated set changes without a hitch.
Set almost entirely inside Beth Abraham Hospital in the Bronx in the middle of the past century, Allen Moyer's main set is a handsome tiled institutional back wall in front of which a series of rolling acrylic room dividers, disparate furniture, wheelchairs, and medical paraphernalia are often in motion with choreographic precision. Although the muted hospital look was required to establish the correct atmosphere, Mr. Moyers, lighting designer Christopher Akerlind, and video designer Greg Emataz found myriad ways to engage our eyes with subtle inventive effects.
While Mr. Akerlind's lighting struck a moody tone at the start, as the news got better and better, he winningly injected incremental brightness and color to the story. Mr. Emetaz has devised some diverse and eye-catching projections, capitalizing again and again on scrolling (or still) projections of medical texts, frequently looming over the entire process, a very effective dramatic addition. As the story crescendoed to the good news of "the cure," a visit outside the walls into a spacious garden was treated to stage-filling projections of an overpowering riot of colorful flowers.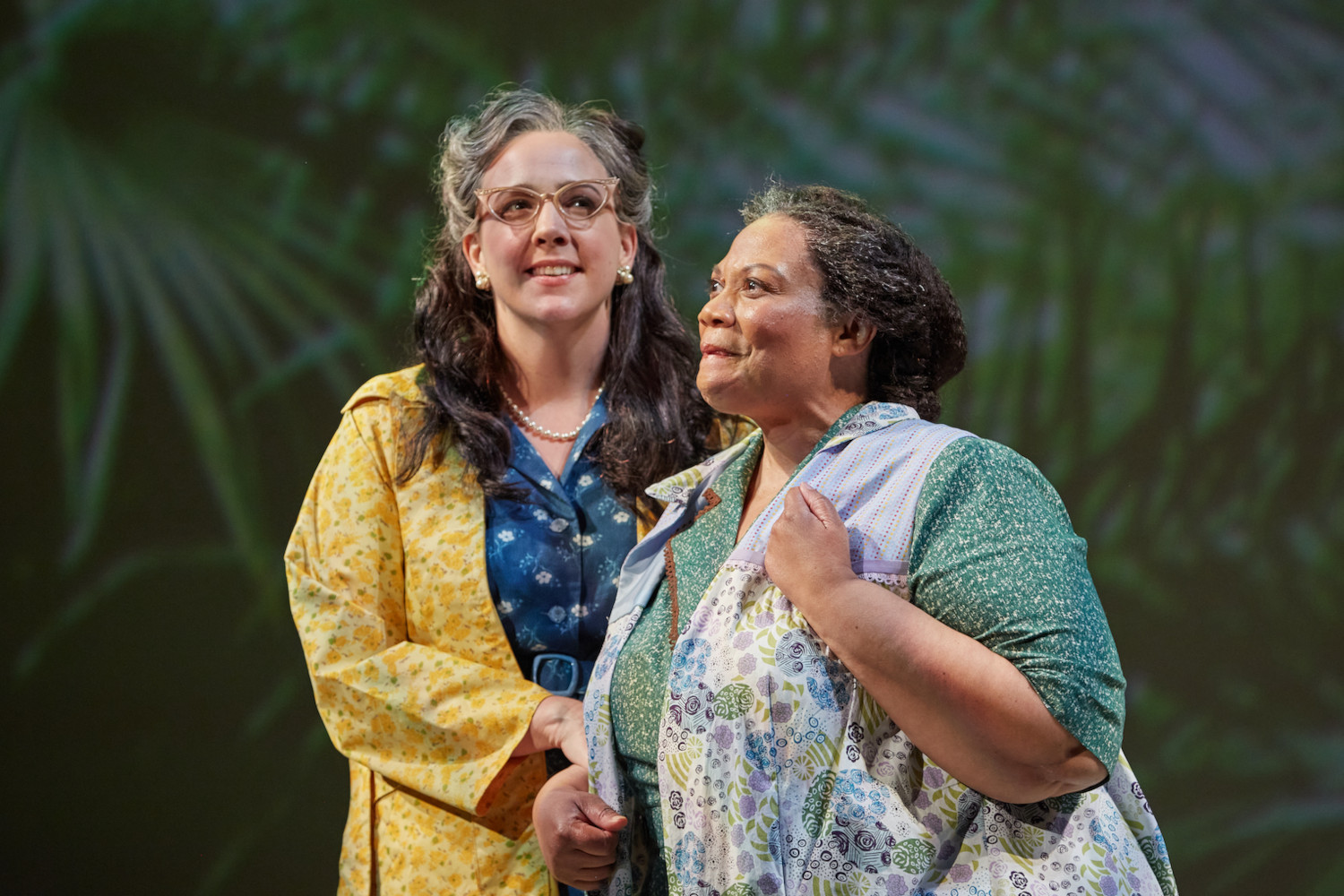 Director James Robinson thrives on the process of making new operas "sing," and Awakenings benefited from his expertise in the flowing style with which he infused the staging. He has managed to convey the comings and goings of a working medical establishment, with subtle crosses, unobtrusive entrances and exits, and well-calculated regroupings. He also knows how to point up solo moments of focused stillness.
Mr. Robinson's greatest success with this piece is arguably the nonpareil character development, and the physical manifestation of each patient that is on display. There was a discernible journey that was manifest in each character which was very affecting. James Schuette's spot-on costume design and Tom Watson's equally effective wig and makeup were also of the usual high standard that always marks their work at Opera Theatre of Saint Louis and elsewhere. With all this excellence from the writing and creative side, it is a pleasure to report that the singing could hardly have been bettered.
First among equals are the three principle institutionalized characters. As Rose, soprano Susanna Phillips does not so much sing her music as embody it. There is not a moment that is not laser-focused on showing us this is a person who, once released from her affliction, is aching for her long-gone love to return, when they will gaily waltz. Oh, how she loves to dance, and once she is able, Ms. Phillips floats and spins in an infectious joyous abandon.
And she sings, too! She is possessed of a ravishing instrument that is meticulously controlled in all registers. Whether riding the orchestra in dramatic outbursts or caressing a loving phrase with the apparition of her lover (nicely sung by Manfred Anaya), she is in complete command of her resources, and our hearts. The composer has given Rose some important duet moments with Miriam, the latter taken in a powerful role assumption by soprano Adrienne Danrich.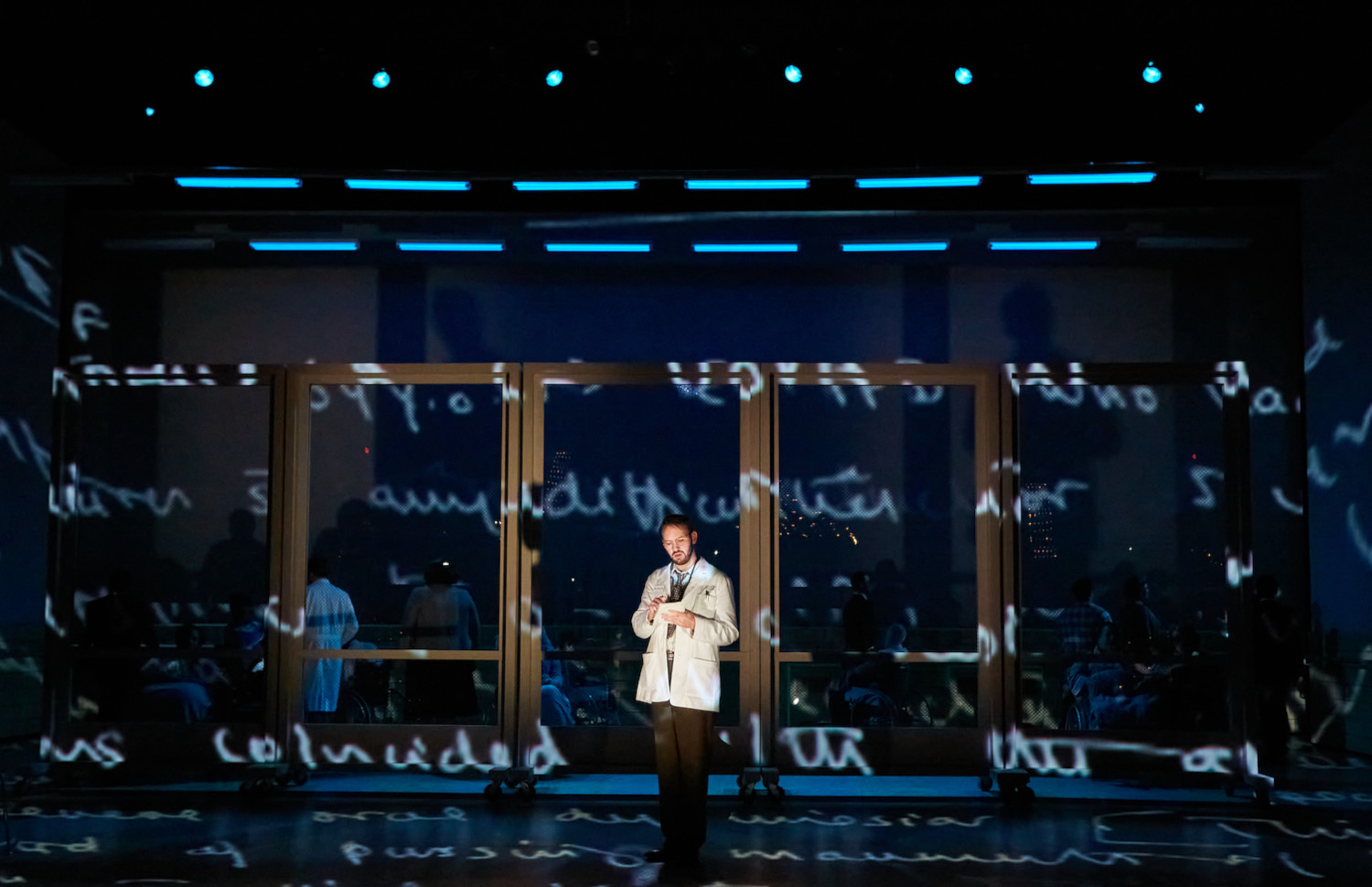 It is revealed that Miriam has not only a daughter, but granddaughter, who were told she was dead to spare them the need to know their mother was not lucid. As Miriam recovers, the family is reunited, and Ms. Danrich, who starts out muttering in lower registers, inexorably raises her searing soprano, first in joy, later in outraged self-pity that she has been robbed of time with her kin. Hers is a potent, full-throated vocal production, and when she rides the orchestra at some tumultuous climaxes, it is an exhilarating, pin-your-ears-back effect. As Miriam's daughter Lily, Melissa Joseph's soprano fairly glows with a radiant tone married to commendable musicianship.
You would never know that tenor Marc Molomot came late to the production process to portray the (at first) sympathetic; then later, bitter incarnation of Leonard Lev. As he "awakens," Mr. Molomot is a combination of lovable nebbish and pitiable gay man. His tenor deftly meets the initial lyrical demands of the role, but it is when he gets riled to defiance and short-lived self-assurance that he unleashes a potent, Mime-like, laser-focused projection that is rock solid in its delivery.
As his long-suffering, devoted mother, Katherine Goeldner was luxury casting in this featured role. While wishing this fine artist had a bit more to sing, she lavished her material with sincerity, and a plush, experienced mezzo. That fine seasoned pro, David Pittsinger was another unexpected treat, and he used his meaty, poised bass-baritone to excellent effect in bringing the contrarian Dr. Podsnap to the stage. Andres Acosta is perfect casting as Mr. Rodriguez, the nurse who rebuffs Lev, and is rebuffed by Sacks. He looks good, and his fresh, shining tenor conveys coltish charisma.
In smaller parts, Rachel Blaustein's crystalline soprano provided much pleasure as the social worker Ruth. Daniela Magura may have been physically tied to her walker as the patient Lucy, but her enchanting soprano was far from earth bound, it soared. Angel Azzara and Jared Esguerra shone in their exchanges as a speech therapist and her charge. Once they have proceeded to the "cured" segment of the story, Ms. Azzara's confident soprano, and Mr. Esguerra's substantial tenor were unleashed to fine impression.
In a pivotal flashback scene, student Sacks is celebrating his admission to Oxford with his parents, well taken by Keith Klein and Elissa Pfaender. Mr. Klein's pleasing bass-baritone, and Ms. Pfaender's mellifluous mezzo begin the scena in rolling conversational tones, but once mother prods Sacks to admit he is homosexual, she hurls an invective at him with chest tones of chilling power, and father spews out a potent and rangy denunciation that shows a voice of considerable size.
Last, but not least, the central figure of Dr. Oliver Sacks was well-served by baritone Jarrett Porter. His suave, attractive vocal production is put in complete service to accomplishing this very Big Sing. Mr. Porter is lanky and appealing, and his truthfulness, thorough preparation and suitability for the assignment are always apparent. While his voice blooms in mid- and upper-range, it has to be said that he husbands it sensibly in lower passages, where it is more soft-grained. In the few instances the orchestration got dense during his lower pitched singing, I found myself searching out the words from the projected text.
In Porter's big last extended scene, in which Sacks soberly assesses his life's work, he clearly commanded every nook and cranny of the moment. But while Jarrett's voice communicated well in the house, I felt his acting sometimes stopped at the footlights. He already has the voice, the technique, the looks, and the intellect, which he generously shared with us. Now I would urge him to surrender to the idea of more demonstratively sharing his soul.
Awakenings is a touching, resonant, important new piece of lyric theatre. May it have many more productions.
James Sohre
---
Awakenings
Music by Tobias Picker
Libretto by Aryeh Lev Stollman
Cast and production personnel:
Rose: Susanna Phillips; Miriam: Adrienne Danrich; Dr. Oliver Sacks: Jarrett Porter; Leonard Lev: Marc Molomot; Iris: Katherine Goeldner; Mr. Rodriguez: Andres Acosta; Dr. Podsnap: David Pittsinger; Ruth: Rachel Blaustein; Ms. Kohl: Angel Azzarra; Frank: Jared Esguerra; Lucy: Daniela Magura; Rose's Fiance: Manfred Anaya; Lily: Melissa Joseph; Dr. Samuel Sacks: Keith Klein; Dr. Muriel Else Landau: Elissa Pfaender; Conductor: Roberto Kalb; Director: James Robinson; Set Designer: Allen Moyer; Costume Designer: James Schuette; Video Designer: Greg Emetaz; Lighting Designer: Christopher Akerlind; Wig and Makeup Designer: Tom Watson; Kevin J. Miller, Chorus Master; Choreographer: Seán Curran
Top photo: Dr. Oliver Sacks (Jarrett Porter), Frank (Jared Esguerra), Dr. Podsnap (David Pittsinger), Beth Abraham physician 1 (Manfred Anaya), Beth Abraham physician 2 (Mishael Eusebio), Beth Abraham physician 3 (Rachel Blaustein) in Tobias Picker's Awakenings. Photo © Eric Woolsey 2022