First unveiled in 2016, this second revival of Jan Philipp Gloger's Così fan tutte remains self-consciously preoccupied with the question, 'What is theatre?' While his interview in the souvenir programme with the dramaturg Katharina John is intellectually rigorous, this over-thought academic approach spills over onto a staging that is so concept-driven it ultimately obfuscates a comedy of manners, supplanting what could have been an hilarious evening for an exercise in theoretical ideas. It's one thing to explore a fresh approach to the mischief-making within Mozart's opera and to re-examine the nature of its relationships, but to burden this with an inquiry into the meaning of meta-theatre is something else altogether.
This staging is conceived as a series of time-travelling tableaux. From Mozart's own time, an elegant façade lifts away to reveal a railway station platform (associations with Brief Encounter?), closely followed by a glitzy 1960s cocktail bar. Thereafter, we encounter the Garden of Eden (with a serpent winding itself round a solitary tree to conjure a loss of innocence), a woodland glade (Arcadia) and a below stage dressing room. Each of Ben Baur's sets suggest film or theatre stages and each is given location-specific costumes by Karin Jud. So far so good, and not beyond our wit to understand the universality of love and all its complications.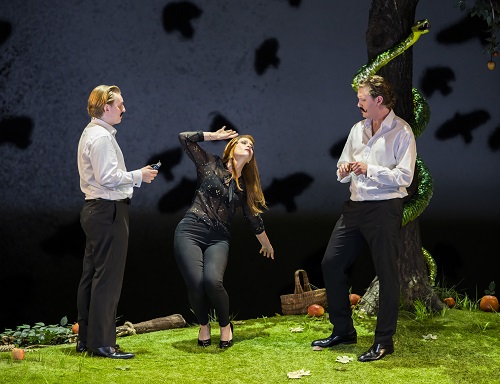 But, before the opening scene Gloger introduces the first of his concepts by starting the production not at the beginning but at the end with all six principals in period costumes taking curtain calls in front of the stage during the overture. The director prompts the question, what would happen if this Così fan tutte were to take place after a performance of Così? It's an idea that turns the whole artifice of theatre performance on its head: perceptions are inverted, and the audience invited to reconsider the reality of its experience. When Mozart's two couples emerge from the auditorium dressed as members of the audience we suspect Gloger wants us to believe we are watching ourselves on the stage, and see our own deceptions unfold. 'How honest are human emotions?' he seems to ask. At one point, a spotlight searches the audience as if to insinuate, 'This could be you'.
His second notion is to ridicule the idea that we would not recognise our nearest and dearest in disguise. Fair enough. Gloger up-ends Da Ponte's masquerade by creating the least discernible disguise for Ferrando and Guglielmo so that Dorabella and Fiordiligi knowingly swap partners, thereby generating a double bluff of intrigue and an opportunity for each to understand more about human nature and themselves. Whilst challenging the original libretto, it's an idea reinforced by the opera's alternative heading 'La scuola degli amanti' ('The school for lovers').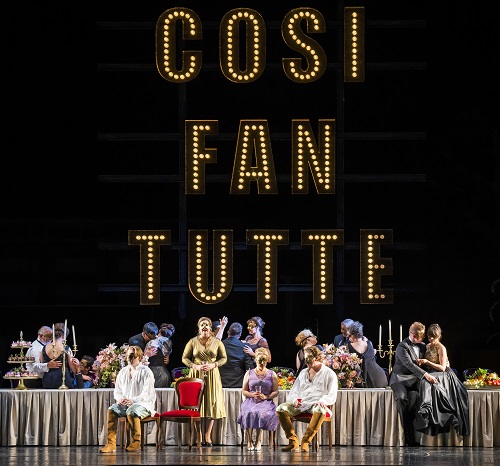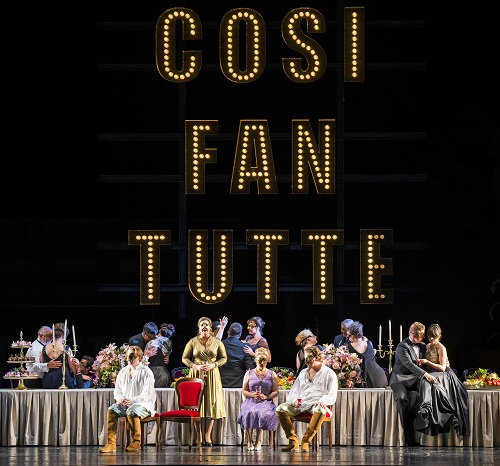 Fortunately, Covent Garden's school for lovers is a credible class of singers, not exactly A-starred candidates, but all solidly dependable voices who can blend well, if not melt hearts individually.  Whether in pairs or larger groups, ensemble singing is mostly first class.  Act One's farewell quintet (accompanied by slow motion waving from a mute chorus on the station platform) and the trio that follows, 'Soave sia il vento', are especially gratifying.  Amongst the solo arias, Jennifer Davis (Fiordiligi) made clear her unwavering loyalty to Guglielmo in a technically secure, if not feisty 'Come scoglio', while Bogdan Volkov (Ferrando) brings suitable ardour to the heart-easing 'Un'aura amorosa'.  But there was nothing in either rendition to make us believe either singer was irrevocably in love or had the vocal chops to demonstrate it.  Gordon Bintner, a confident Guglielmo, and Julie Boulianne, a sassy Dorabella, make attractive contributions, as does Serena Gamberoni as the conspiratorial good time girl Despina.  Her episodes as Dr Mesmer and the notary are humorous, but don't yet tickle any ribs.  Lucio Gallo brought considerable experience to bear with his suave Don Alfonso.
Beneath the stage-within-a-stage (if you see what I mean) Julia Jones kept a steady arm on the tiller, coaxing characterful playing from the Orchestra of the Royal Opera House and drawing out efficient singing from the Chorus. But these solid performances only just keep this Così from imploding on too much smoke and mirrors. Surely the art of good theatre is the capacity to enable us to suspend our disbelief?
David Truslove
Fiordiligi – Jennifer Davis, Dorabella – Julie Boulianne, Ferrando – Bogdan Volkov, Guglielmo – Gordon Bintner, Don Alfonso – Lucio Gallo, Despina – Serena Gamberoni; Director – Jan Philipp Gloger, Revival Director – Katharina Kastening, Conductor – Julia Jones, Designer – Ben Baur, Lighting Designer – Bernd Purkrabek, Dramaturg – Katharina John, Orchestra and Chorus of the Royal Opera House.
Royal Opera House, Covent Garden, London; Tuesday 28th June 2022.
ABOVE: Julie Boulianne (Dorabella), Jennifer Davis (Fiordiligi), Bogdan Volkov (Ferrando), Gordon Bintner (Guglielmo), Serena Gamberoni (Despina) © ROH / Tristram Kenton