In a notable departure from the complete works presented in past festivals, Des Moines Metro Opera adventurously programmed a mere fragment of an intriguing "work in progress," American Apollo.
To make this a satisfying fleshed out "event," DMMO created a Three Act presentation: Introductory lecture/slide show by Dr. Nathaniel Silver, Isabella Stewart Garner Museum Curator of "Boston's Apollo;" Performance of American Apollo; Panel Discussion moderated by Dr. Naomi André, DMMO Scholar-in-Residence.
There is no question about the abundant talent and imagination on display from composer Damien Geter and librettist Lila Palmer. Mr. Geter's work is justifiably capturing ample notice on the national scene, with numerous premieres that are being received with enthusiastic admiration. His biography posits that the composer "infuses classical music with various styles from the black diaspora to create music that furthers the cause of social justice."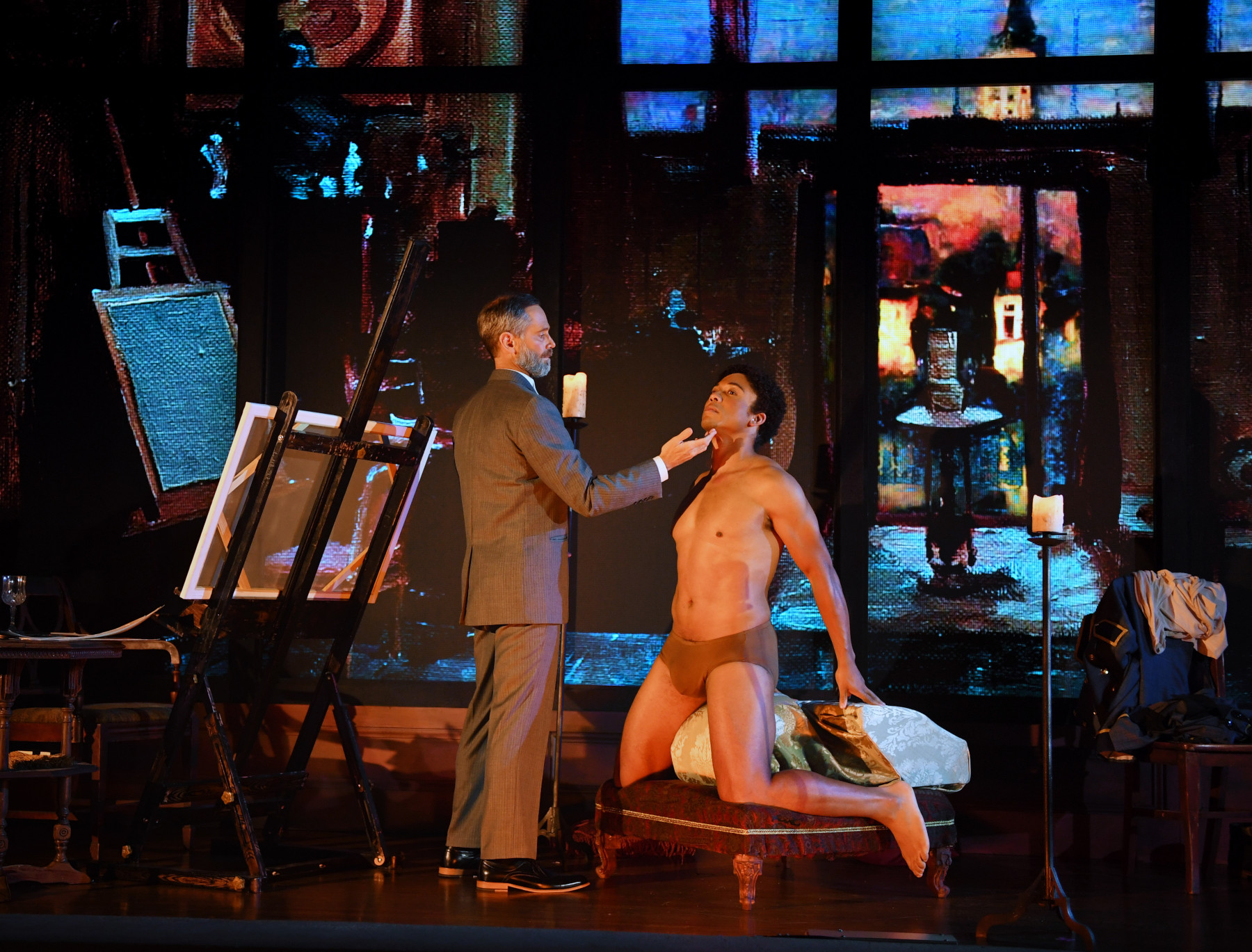 Based on this brief sampling, I do not recall very much that was aurally drawn from any particular ethnic influence. What I did experience was a readily accessible, usually tuneful, emotionally satisfying pastiche of operatic styles up to and including bel canto coloratura. Although there are eclectic hints of Britten, Torke, Stravinsky, and even Ricky Ian Gordon, Geter's sound palette is very much his own distinct voice, and invigoratingly fresh.
The underpinning of social justice fell more to Ms. Palmer's succinct and poetic writing. That she has fashioned some very affecting, witty, and informative interactions by the four characters on stage is commendable, given there is not all that much known about Thomas McKeller (1890-1962). He was discovered to have been the African American model for painter John Singer Sargent (1856-1925), who is considered the foremost portraitist of his generation. The two men struck up a chance acquaintance which led to Sargent's hiring of McKeller, who became the artist's principal model in this country.
Curiously, Sargent used him as a body model which he "lightened" for white gods and allegories, notably in murals at Boston's Museum of Fine Arts, and Harvard University. It is ironic that Sargent painted the head of A. Lawrence Lowell, President of Harvard University, from a sitting with Lowell, but that the torso beneath the robes was subsequently modeled by McKeller. Lowell was a well-documented bigot and racist.
Was there another dynamic to the relationship between the two men? Knowing that Sargent was homosexual and considering some of his explicit nude drawings and paintings of McKeller, it is intriguing to think so, especially given the social constraints of the period.
It is somewhat hard to assess the twenty-minute performance on display, without any context of where it might fit into an expanded product. The four distinctive scenes offered stylish impressions of moments in McKeller's life, but they are not linear. We are introduced to Sargent and McKeller in the first studio scene which asks more questions than it answers. The modelling session finished, McKeller wanders in the street baring a bit of his soul in a concise and emotionally charged aria.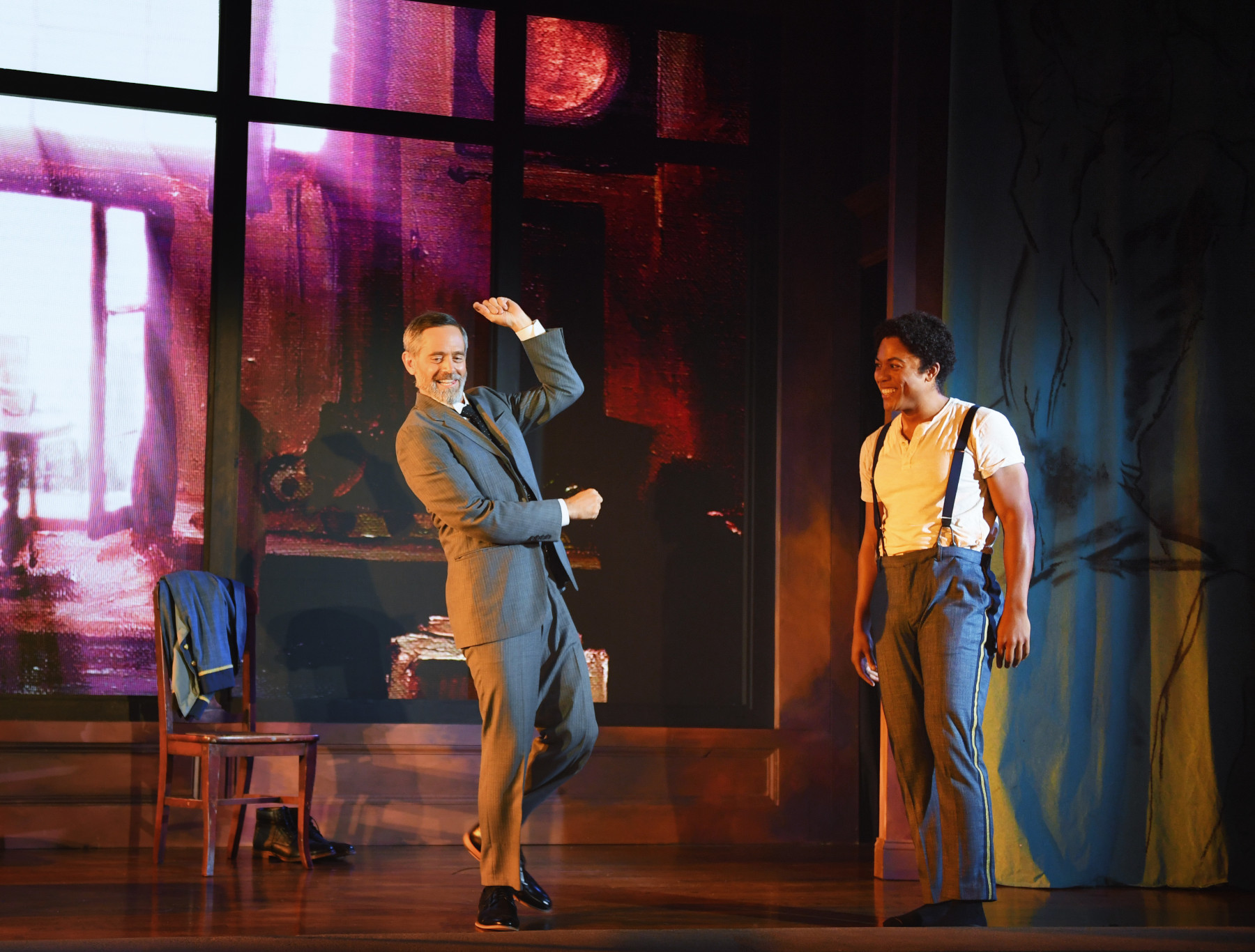 Subsequently, the two men are paid a studio visit by friend and arts patron Isabella Stewart Gardner and her chauffeur, Jimmy. Mrs. Gardner founded the museum named after her, which houses a number of Sargent's works. In the end we are gifted with a moody 'finale,' which makes us want to know far more about circumstances that resulted in the titillating nude of McKeller that Sargent created.
In toto, this Three Act morsel was part art lecture/demonstration, part backers' audition, and part community engagement. It definitely left me wanting more. During the lively and cogent Q&A, expertly and affectionately moderated by Dr. André, when asked how this nucleus might be incorporated into a fuller experience, Mr. Geter coyly chirped, "Stay tuned."
There was nothing "fragmented" about the fully realized staging which was superlative. Calvin Stara created an imposing backdrop that looks like huge windowpanes in a handsome wooden frame, which are initially outlined with a halo of blue lighting imbedded in the piece. He also dressed the set with meticulously chosen period pieces, and shrewdly covered the 'canvas' Sargent was painting with see through material so the house right audience wouldn't lose sight of him behind the easel.
Soon enough, the massive "panes" become the receptacles of some atmospheric and vividly colorful projections, designed by David Murakami. The historic photos, video collages and close-ups of oil paintings are all highly effective, especially the vivid impact of the telling final nude.
Bridget S. Williams provided a workable lighting design, and even area isolation, no mean feat given she was working with only twelve lighting instruments on four towers. Harry Nadal's character specific period costumes and Kellen M. Eason's apt make-up and hair design were all one could wish.
Director Kimile Howard worked miracles with an extremely shallow and constricted playing space. Although movement was almost "blocking by the inch," Ms. Howard found variety in her staging, created meaningful relationships, and telegraphed important emotional beats to the audience. Even in this very short kernel of the promised work that is to come, she presented singing actors who had knowledge of their characters.
DMMO certainly did not scrimp on the casting. Justin Austin was riveting and charismatic as Thomas Keller. Mr. Austin's physique du role and burnished baritone were a perfect match to embody Keller's enigmatic personage. Whether in playful conversation, impassioned outbursts, or intimate exchanges, Justin's suave, poised singing was a consistent pleasure to hear.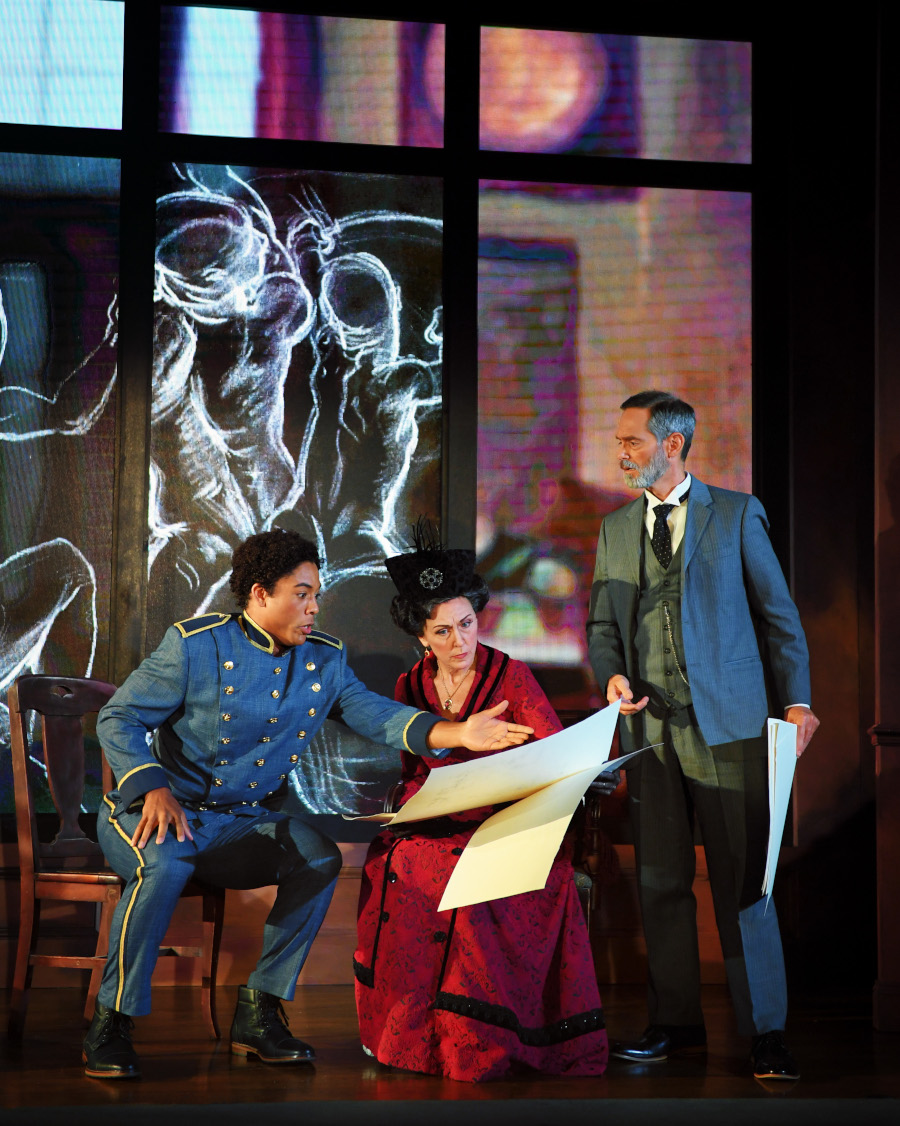 Second among equals was the deluxe casting of Mary Dunleavy as Isabella Stewart Gardner. Ms. Dunleavy's shimmering soprano has graced many of the world's great stages, and how blessed we were that on this occasion, she came to rest in the Des Moines Art Center auditorium. Her singing was an utter delight, marked by pristine, effortless delivery that encompassed coloratura flights of abandon and conversational repartee with equal distinction. Further, her down-to-earth Grand Dame doesn't take herself seriously, and she accounted for many chuckles in an otherwise earnest proceeding.
Tenor Thomas Glenn did everything that was required as John Singer Sargent, but as of now, not quite enough is required to give him a chance to be as appealing as the other two principal roles. That said, Mr. Glenn showed off a gleaming, secure lyric tenor of considerable sheen and beauty. His dramatic commitment and vocal excellence were commendable. In the cameo role of Jimmy, Jason Zacher holds his own as an overly protective chauffeur, serving notice with his handful of vocal exclamations that he possesses a well-focused, forceful bass-baritone.
Conductor David Neely is a champion of new work, and he made an excellent case for the future of American Apollo, leading a small, gifted orchestra with obvious care and enthusiasm.
While the instrumentalists were placed on a landing up to the right, directly adjacent to the audience, Maestro Neely effortlessly partnered with his singers on the stage up front, and meticulously maintained a proper balance.
It will be fascinating to discover where this journey, now begun with such promise, will lead when DMMO presents a production of the completed opera in 2024. To be sure, there is much to be done. Without Dr. Silver's comprehensive pre-show presentation, we would have been quite lost to understand the story or the people in it. It is now Ms. Palmer's charge to make her libretto set up and tell the story on its own. As for Mr. Geter, I would hope for a clearer musical identity for Sargent for a start.
Based on the appeal of this initial sampling of American Apollo, I will indeed "stay tuned" with eager anticipation.
James Sohre
---
American Apollo
Music by Damien Geter
Libretto by Lila Palmer
Cast and production staff:
Thomas McKeller: Justin Austin; John Singer Sargent: Thomas Glenn; Isabella Stewart Gardner: Mary Dunleavy; Jimmy: Jason Zacher; Conductor: David Neely; Director: Kimile Howard; Video/Projection Design: David Murakami; Scenic Design: Calvin Stara; Lighting Design: Bridget S. Williams; Costume Design: Harry Nadal; Make-up and Hair Design: Kellen M. Eason
Above image: Mary Dunleavy as Isabella Stewart Gardner, Justin Austin as Thomas McKeller.
All photos by Duane Tinkey.