kaleidoscope (OED): 'an optical instrument containing pieces of coloured glass which may be rotated into constantly altering, brightly coloured, symmetrical figures and reflections; a constantly changing group of bright colours or coloured objects; anything which exhibits a succession of shifting phases'.
Fatma Said's new recording, Kaleidoscope – which follows the Egyptian soprano's first, multi-award winning debut disc, El Nour – presents a cross-cultural, multi-genre programme, the phases of which shift from opera to operetta, from cinema to tango, from music theatre to pop. She's accompanied by the Orchestre Philharmonique de Monte-Carlo, conducted by Sascha Goetzel, and also by Quinteto Ángel, vision string quartet, and other independent musicians. In the introductory note to the disc, Fatma describes her recital as 'just one singer who is breathing life into all the personalities made to sing and dance through this album, so as you move through these selections, you'll be presented with a kaleidoscopic rendering of my voice, turning and changing as it inhabits these different characters and situations with shifting colours and varied themes inspired by dance'. It's a montage of songs each of which has its own story to tell, through melody but, perhaps more importantly, through rhythm.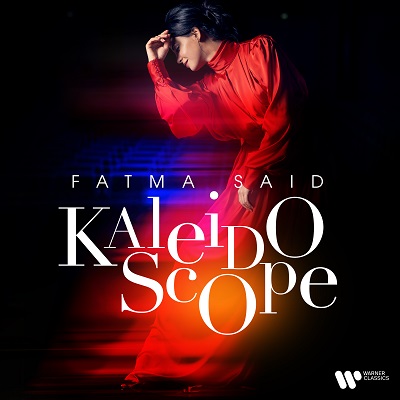 In conversation, Fatma tells me that this diversity represents the music that she has always listened to. "My influences didn't come from classical music, but from pop, Latin, chansons from the 1960s to the 1980s – singers such as Chris de Burgh, Elton John, Britney Spears, Beyoncé, Shakira, Mariah Carey. Music is music. It's universal." Dance is the common element which brings these styles together. "They all have rhythm, a beat. So, I start with classical music and then take the listener on a journey, through bolero, tarantella, tango, swing, chanson and on to pop."
When I suggest that Fatma seems to respond to music in a very instinctive, physical manner, she agrees. "Yes, I have a strong physical response to music. I feel it rather than intellectualise it, though of course in song the words are extremely important. But, audiences don't interpret music intellectually, they connect intuitively to a performance, an interpretation. I'm not diminishing an intellectual engagement with music, and I love preparing, studying and gaining knowledge about my repertoire, but for me music exists in one's ear and body, it's about connecting all the senses." Given Kaleidoscope's wide range of genres and styles, I wonder who Fatma imagines the audience for this disc will be? "I want to bring listeners together, to connect very different audiences. And, this is my aim in recitals, too – to speak to all people, to do something different and to introduce classical music to new audiences."
Fatma's own musical career began in her home city of Cairo when, aged 14, she took singing lessons with the Egyptian soprano Neveen Allouba. Subsequently, she moved to Europe – first, in 2009 to study at the Hanns Eisler School of Music in Berlin, and then to Milan where she was awarded a scholarship to study at the Accademia del Teatro alla Scala. In 2016, she became a BBC Radio 3 New Generation Artist, and in 2019 an exclusive Warner Recording Artist. In recent years Fatma has performed in many major international concert halls and opera houses. I ask her whether the opera arias with which she opens her Kaleidoscope recital represent roles that are especial favourites?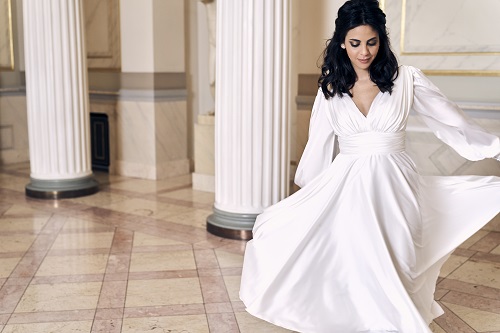 "I would love to sing Juliette, and Manon would be a dream role. But these roles are so demanding on the voice. I want to take my time and sing them at a later stage in my career, not now. I am very careful – I take time to study a role, and don't jump from one role to another, because I need to do a lot of psychological preparation to really understand a role. I sing different things to other singers who are my age. I want to find myself, and not compare myself with others. For example, next season I am singing Vitellia in Mozart's La clemenza di Tito on a tour of Germany, Luxembourg, Switzerland, Belgium and France, which is an extremely demanding role that some sopranos say they will never do! But, I feel ready for it."
In her introductory note, Fatma writes of finding an 'authenticity' in "the way I respond and adapt vocally to the manifold souls of these pieces without limiting my voice stylistically and technically to one specific way of singing", and of embodying the wide-ranging personas – "women so very different from each other in their personalities, backgrounds and lives lived in various personal circumstances, parts of the world and historical eras" – with her voice: "Each of them sings with her own voice and in an individual style that conjures precisely who and where they are." She explains to me that she wanted to give each of the arias its own "vocal soul". "I didn't want to sing them all with the standard 'Fatma voice'. I always try to give an individual colour to each aria. For example, the Juliette of Act 1 and Act 3 are different, her character develops. So, I sought to adapt my vocal capabilities to the diverse personas."
Which character was the hardest to embody in this way, I ask? Fatma pauses and reflects. "Well, Manon was very challenging. She is young, like Juliette, but Manon feels deeper. She is very mature, a smart, intelligent woman – it's not a 'light' aria, she knows her destiny and has planned everything carefully." Indeed, listening to Fatma's performance of this aria, 'Obéissons quand leur voix appelle', one hears a brightness in the voice which seems direct and confident, especially when set against the low, sparse string pizzicatos with which Manon's gavotte begins. And, while Manon may declare a desire to take advantage of days of youth and spring, to love, laugh and sing unceasingly, Fatma's subtle rallentandos seem less an embodiment of coy flirtatiousness and more suggestive of self-awareness and self-belief. When the melody leaps to a high B, and pauses, there's a very centred focus and control, evident even more strongly when the melody dances with crystalline vigour up to top D, belying Manon's carefree declaration that she is still only twenty years old. There's a real empathy with the character being portrayed, who may have made some wrong choices but who here seems full of joy and strength.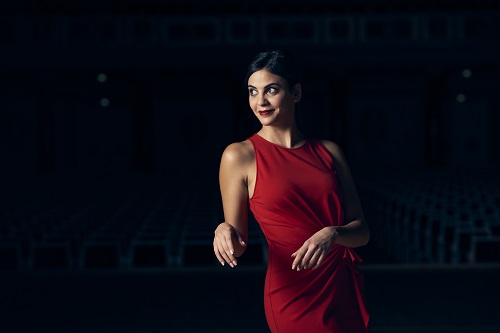 In her waltz-song 'Ah! Je veux vivre', Gounod's Juliette responds to others' talk of marriage with the assertion that she wishes to live inside her dream, where it is eternally spring. Here, Fatma's soprano seems no less crystalline but there's a softer, fresher hue. That Juliette is intoxicated by her dream, almost not daring to believe in its enchantment, is suggested by the silky chromatic descent with which the aria begins – it's a delicate, pensive sigh of a bliss barely understood. Gently fluttering acciaccaturas, judicious nuance of the melody's palpitating falling motifs and sweet portamentos suggest a blend of delight and discovery. While her recognition that youth passes all too soon is imbued with a soft wistfulness, as the aria proceeds this Juliette gains an appreciation of how her passion empowers her, and the scalic runs gain in momentum and power, culminating in a series of shining trills which glow with desire. It's impossible not to be swept up in Juliette's rapture.
Kaleidoscope sashays smoothly from opera to operetta and on to zarzuela. There are well-known songs, such as 'Ich spür es … das Wiener Blut!' from Johann Strauss II's Wiener Blut – sung by Fatma with sophistication and opulent radiance, brilliantly capturing Countess Gabriele's excitement – and Franz Lehár's 'Meine Lippen, sie küssen so heiß' from Giuditta – in which, in the absence of her soldier lover, Octavio, the eponymous heroine entertains the clientele in a night-club in North Africa. Fatma sings Lehar's seductive song with terrific flair: there's dusky exoticism in the lower register, flashes of fire and luminosity at the top. Her soprano fairly ripples through the melody and the beautifully shaped portamentos are now sexy rather than sweet. Alongside these perennial favourites, there's less familiar fare such as Mercédés's song, 'Il est danse les nuits espagnoles' from André Messager's La fiancée en loterie, a bolero which fuses Spanish sultriness with French grace, and 'La tarántula é un bicho mú malo' from the zarzuela La Tempránica by Gerónimo Giménez, which has a Bernstein-like sassiness and showcases Fatma's linguistic dexterity and authenticity.
Fatma explains that there was one item on the album that she found particularly challenging: Eliza Doolittle's 'I could have danced all night' from My Fair Lady. "One might think that it is easy for an opera singer to sing musical theatre. But, we recorded this song and when I listened to the take it seemed the most boring Eliza! I couldn't find her soul. So, I took a break, and I watched the film – and cried! The acting revealed her true self, her vulnerability. It inspired me so much, so I was thinking and reflecting rather than simply re-singing over and over. The crucial word is 'me', in the line 'I only know when he began to dance with me I could have danced, danced, danced all night.' With me, not with my sister or my mother. So I had to build through the sentence, to convey this sense – she has so much soul and love."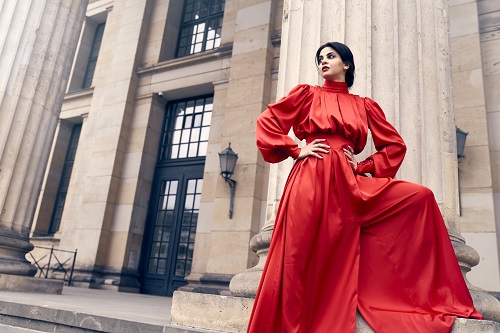 Fatma's love of film is also reflected in Kaleidoscope which includes Friedrich Schröder's 'Ich tanze mit dir in den Himmel hinein' from the 1937 German comedy film Sieben Ohrfeigen and Irving Berlin's 'Cheek to Cheek' from Top Hat. The latter is a delicious mix of smooth-as-silk coolness and insouciant engagement with the text. But, it is tango which is Fatma's real passion. "I've always danced, and learned different styles, such as ballroom and Latin, but tango opened up a whole new world and I dived into it. It's an 'immigrant' dance, which moved from Africa and other regions to South America, and I think that's why it speaks to me. In dances like the waltz there are straightforward steps, but tango is more of a walk – you can go forwards, backwards or side to side, and it's about communication and connection with your partner. You can say yes, or no; you don't have to follow, you can take a different action. It's like being in love, you have to be sensitive to the other person and your body has to activate the communication. Also, in other dances the woman has to follow but in tango she has a voice: she can say no, and her partner has to try again. In tango you have to be balanced. You find your own balance and then you can enjoy dancing with your partner. I feel, as a woman, this is like a relationship: you don't rely on a man, you need to nurture yourself and find a wholeness – the balance of the dance. I think the tango is very philosophical!" Fatma laughs.
Kaleidoscope presents 'Por una cabeza' by Carlos Gardel from the 1935 film Tango Bar and Astor Piazzolla's 'Yo soy María' from the tango opera María de Buenos Aires, but also, and intriguingly, 'Ad Ay Sa'ab' ('I'm up to any challenge') which is a version of Angel Villodo's 'El Choclo' with new lyrics by Tamer Hussein. "I've always loved the melody of that tango," says Fatma. "I discussed the text with Tamer and I wanted lyrics that did not conform – not another song about romance or heart-break – because the melody seems to me to be about liberation and communication. So, it's a song about a woman who is empowered and up to any challenge. Even if things don't go exactly to plan, she sticks to her dreams. So, it's a happy, positive song. It's about belief, courage, determination, rising up again – resilience." Fatma really 'inhabits' the language of the song, its hues, textures and shapes, not afraid to bend and 'roughen' her soprano to capture the feisty self-belief of the song's persona.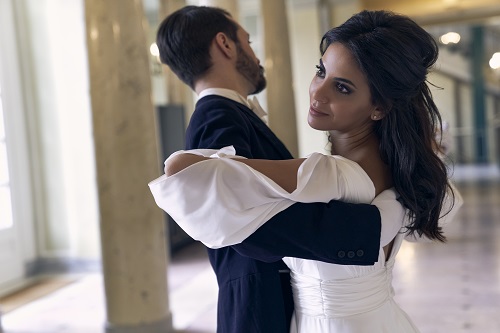 I suggest to Fatma that Kaleidoscope is a very honest album. "Yes," she replies, "I'm saying, 'This is me'." And, popular song is a part of that 'me': the final sequence of songs comprises Serge Gainsbourg's 'La javanaise', 'Senza fine' by Gino Paoli and, lastly, 'I Wanna Dance with Somebody', made famous by Whitney Houston. "I wanted to end with that song," explains Fatma. "I find the lyrics so sad. I didn't want to sing it like Whitney – I couldn't, and I adore her, she's an enormous influence. Instead, I wanted the listener to hear the song from a different perspective. My sister said to me, 'You've taken my favourite party song and turned it into the saddest song in the world.' But, it is a sad, lonely song, so I wanted to find the colour of loneliness. It is a philosophical song: she wants to dance but with someone she loves." The tempo is slow and the unresolved sevenths and ninths of Tim Allhoff's delicate arrangement for piano and string quartet establish an elegiac quality. Initially, there's a fragility, a wispiness, the vocal phrases slightly tapered, expressing vulnerability and need, but it's a need that is communicated with ever deeper power and when the melody rises, urgently, searchingly, rhapsodically, in the final chorus it's hard to keep the lump from one's throat. At the close, the music dissipates and there's just a single sung word – an embodiment of hope and longing.
I ask Fatma if she feels that opera will be the 'dominant' genre in her career in future. "I don't think one style of music will be dominant," she replies. "I want to sing all the music that I instinctively 'feel', that makes me happy. When I'm studying a song that I'm passionate about and can register in my whole body, then I can learn it in half a day, but it can take me months if I don't have that intuitive feeling. I take things day by day. I do want to continue to sing art song, at Wigmore Hall and the Schubertiade for example, and to retain the quality in my voice to sing art song. I'm passionate about the words, and especially Schubert and Schumann. Art song is why I started singing. And, I don't think I will be singing on Broadway! But, I want to sing the music I love."
I suggest that, given the commitment and focus needed to sustain a career in music, in whatever genre, Fatma might need several lives to fulfil all her many passions. She shrugs and laughs, "But, if we don't meet different people and go to different places how can we know what to say in our music? Perhaps we all need several lives to do all we would like to do. We just have to take our opportunities, and choose our moment, and maybe that is enough."
Which brings me back to the title of Fatma's disc or, more specifically, to the OED's definition of the verb, 'to kaleidoscope'. It seems a perfect representation of Kaleidoscope's achievement: 'to present the appearance of a brightly coloured and constantly changing pattern; to cause to come together or coalesce with pleasing results.'
Kaleidoscope is released by Warner Classics on 2 September. Fatma Said performs a programme of French song with pianist Malcolm Martineau at Wigmore Hall on 20 September.
Claire Seymour