Idomeneo, said to be one of the great operas of all times in a magnificent production at Pierre Audi's Aix Festival. Though the Mozart opera seria itself had been filtered through a maze of cultures and histories and traditions that stripped it of its charm and humanity and relevance.
Not that that is a bad thing.
The production is signed by Japanese metteur en scène Satoshi Miyagi, artistic director of the Shizuoka (a city 100 miles south of Tokyo) Performing Arts Center. Significantly for us, in recent years Mr. Miyagi has staged production's at Olivier Py's Avignon Festival (50 miles up the road from Aix) notably Mahabharata in 2014 at a nearby rock quarry, and Antigone in 2017 at the Cour d'Honneur of the papal palace as well as at Mr. Audi's Park Avenue Armory in New York.
Japanese architect Junpei Kiz imagined the settings for Mr. Miyagi's Avignon productions, as he has for this Aix Idomeneo. It is an abstract city, its sky made of eight huge, sometimes transparent screens, its buildings made of screens that form structures, transparent blocks that serve as pedestals on which the opera's protagonists stand to proclaim its happenings. And as you know, things were dire indeed in twelfth century BC Crete.
Idomeneo îs the king of the island Crete, the surrounding sea inhabited by Neptune himself who proclaimed through a vintage record-player situated atop a block that Idomeneo must yield his throne. The sea's turbulent waters were danced by the chorus, their bodies strewn on the floor when it was calm.
We greeted Knossos as a city in perpetual motion, its buildings and sky soundlessly propelled by humans partially hidden inside or behind the structures. When movement was not needed (the opera is built, primarily of 14 arias) the buildings sometimes became shadow puppet screens sometimes reflecting an aria's content. (See lead photo. All photos © Jean-Louis Fernandez, courtesy of the Aix Festival).
If you ask a European or an American to identify a city destroyed by vengeance as was Idomeneo's city, Dresden of WWII or New York City of 9/11 might be mentioned. Ask a Japanese, surely Hiroshima will be the answer. It was for Mr. Miyagi, his coup de théâtre was the turning of the huge sky screens to reveal a gigantic reproduction of the Fire panel (the second of fifteen) of the Hiroshima Panels at Japan's famed Maruki Gallery. It was a powerful, symbolic gesture to mark this rare moment of spectacle in Mozart's opera.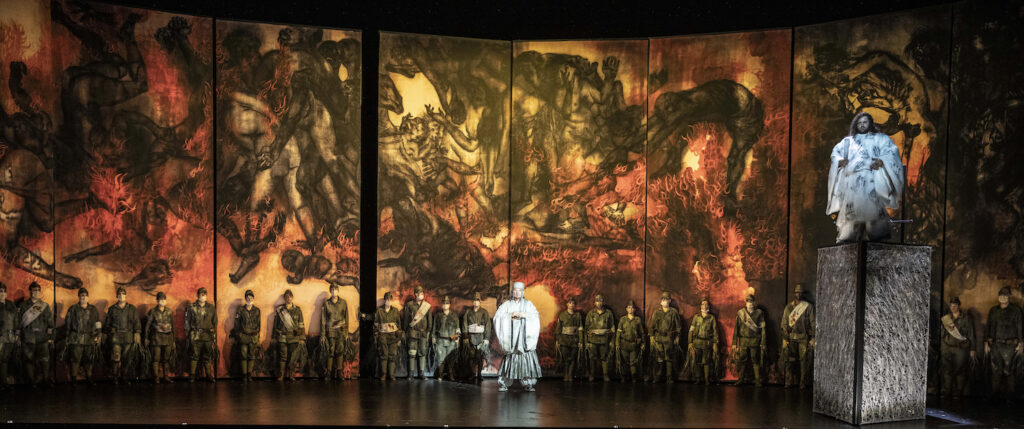 Messieurs Miyagi and Kiz have created an abstracted theatrical language based on Asian theatrical traditions and histories onto which Aix imposed the equally abstract language of opera seria [a succession of virtuoso arias until Gluck added choruses, happy endings preferred]. Opera seria was the sole tragic art form, perpetual and universal, that dominated the great European centers throughout the entire eighteen century. It is itself superimposed on Greek myths, Roman myths and histories, and biblical stories — Idomeneo itself is a mythification of the biblical Jeptha!
Mr. Miyagi's theater does not confuse the audience with the stage. Idomeneo was not our story or stories, or an elaboration of our feelings. Rather, it was a ceremony of the understanding of a civic disaster, and certainly it was a purging of our collective guilts. Mozart ends his opera seria with an orchestral postlude, harmonically cementing the king Idomeneo to his history and his destiny. The Aix Idomeneo ended with the spectacular ascension of four huge, magnificent silver scrolls under which the city, its sky and sea, and its inhabitants disappeared, having been absorbed into the telling of this tragic tale.
The singers, powerless to overcome the ceremonial quality of the staging, gave themselves wholeheartedly to the production's intentions. American baritenor Michael Spyres, in beautiful, powerful voice, stood confidently and regally on his pedestal, declaring, never enacting his dilemma. His "Fuor del mar" was terrifying, effectively representing the virtuosity of Baroque opera seria singing. As if that were not enough vocal high drama, the spurned Elettra, sung by American soprano Nicole Chevalier, delivered, outraged, her final "D'Oreste, d"Apace ho in seno i tormenti" floor level, and then stormed off the stage though the delighted-at-last audience. Such moments of a felt humanity had been in very short supply indeed.
Another of the few dramatic moments of Mr. Miyagi's staging occurred when the once estranged lovers Ilia and Idamonte finally were able to declare their love. Atop their pedestals on opposite sides of the stage they actually turned to look, steadily, at one another for the opera's only duet "Principessa a'tuoi sguardi se offrirmi ardisco ancor – Spiergarti non poss'io." French soprano Sabine Devieilhe cut a fine figure in the spectacular costumes by Tokyo based designer Kayo Takahashi Deschene, as did her lover Idamonte, sung by Italian mezzo-soprano Anna Bonitatibus. Both singers are especially endowed performers of the Baroque repertory, Mme. Bonitatibus a pants role specialist.
Of special note, and of rare, momentary wit, was the Arbace, a counselor to Idomeneo sung by Dutch tenor Lizard Vrielink, who late in the opera came onstage from the audience to deliver his "Se colà ne' fati è scritto" floor level, wishing to sacrifice himself to save Idomeneo's kingdom. We too, the audience, were certainly willing to spill a little blood to bring this performance to its conclusion.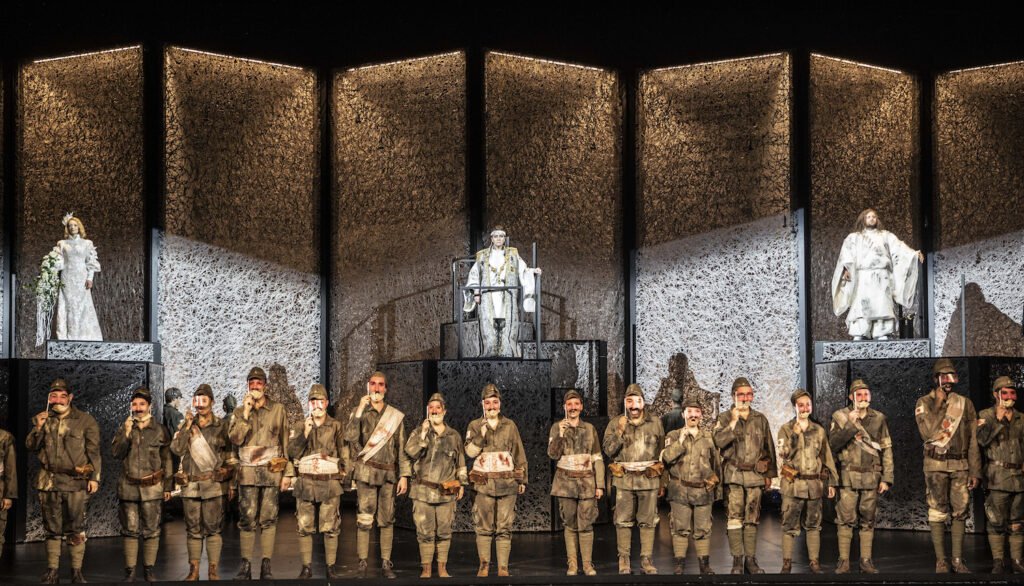 Conductor Raphaël Pichon let his famed orchestra of period instruments, Pygmalion, in a fully informed opera seria reading of Mozart's 1781 score. The Pygmalion chorus executed the opera's expansive chorus role with enthusiasm and finesse, individual voices often penetrating the choral voice to individualize its participation in the action [à la Gluck reforms].
The musical values of the evening were absolutely splendid, placing opera seria on equal footing with Mr. Miyagi's finely wrought, if abstract and highly ceremonial Asiatic theater. It was an evening of extraordinary artistic interest.
Finally, is possible that we, the audience, did experience a sort of catharsis, though one of great complexity. Beyond confronting a real, classical tragedy, we had coped with, endured, and survived this quite magnificent production. Having collectively succeeded, we warmly applauded Mr. Miyagi's bow, though amidst a modicum of very loud boos.
Michael Milenski
Cast and Production staff:
Idamante: Anna Bonitatibus, Ilia: Sabine Devieilhe, Elettra: Nicole Chevalier, Arbace: Linard Vrielink, Gran Sacerdote: Krešimir Špicer, Voce di Nettuno: Alexandros Stavrakakis, Crétoises et Troyens: Adèle Carlier, Anaïs Bertrand, Clémence Vidal, Constantin Goubet, René Ramos Premier, Danseuses et danseurs: Sophie Blet, Idir Chatar, Apolline Di Fazio, Anaïs Michelin, Yumi Osanai, Ken Sugiyama. Chœur: Pygmalion, Orchestre: Pygmalion. Conductor: Raphaël Pichon, Mise en scène: Satoshi Miyagi, Décors: Junpei Kiz, Costumes: Kayo Takahashi Deschene, Lumière: Yukiko Yoshimoto, Chorégraphie: Akiko Kitamura. Théâtre de l"Archevêché, Aix en Provence, July 8, 2022)