In May 1608, the English traveller and eccentric, Thomas Coryat (c.1577-1617), set off on a continental tour of Europe which would take him, often on foot, through France and Italy to Venice, and home via Switzerland, Germany and the Netherlands. Three years later he published a mock-heroic narrative of what he had seen and heard, Coryat's Crudities: Hastily Gobled Up in Five Moneth's Travels.
His idiosyncratic account affords music historians elaborate details about the performances and polychoral innovations of the progressive Venetian School. Coryat heard 'much good musicke in Saint Markes Church', and also attended 'three very solemne feasts … not commessations [indulgent, uproarious eating] or banquets, but holy and religious', the third of which took place on 6th August at the Scuola Grande di San Rocco, on which occasion he enjoyed more than three hours of lavish polychoral and instrumental music by Giovanni Gabrieli, Bartolomeo Barbarino and others, 'the best musicke that ever I did in all my life both in the morning and the afternoone, so good that I would willingly goe an hundred miles a foote at any time to heare the like'.
Describing the performance by multiple choirs – vocal and instrumental – and virtuosic soloists, Coryat seems concerned to emphasise the enormous emotional power of the music, which ravishes and stupefies, translating the listener to a state of transcendence and rapture in accordance with the humanistic doctrine of the affections: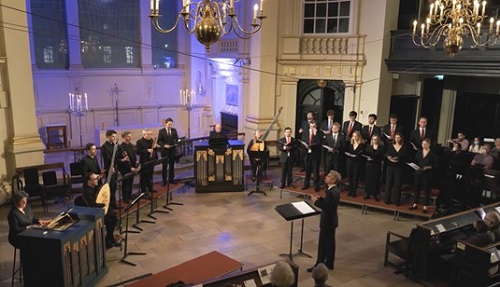 'This feast consisted principally of Musicke, which was both vocall and instrumental, so good, so delectable, so rare, so admirable, so super-excellent, that it did even ravish and stupifie all those strangers that never heard the like. … Sometimes there sang sixeteene or twenty men together, having their master or moderator to keepe them in order; and when they sung, the instrumentall musitians played also. Sometimes sixteene played together upon their instruments, ten Sagbuts, foure Comets, and two Viol de gambaes of an extraordinary greatness; sometimes tenne, sixe Sagbuts and foure Comets; sometimes two, a Comet and a treble violl. Of those treble viols I heard three severall there, whereof each was so good, especially one that I observed above the rest, that I never heard the like before. Those that played upon the treble viols, sung and played together, and sometimes two singular fellowes played together upon Theorboes, to which they sung also, who yeelded admirable sweet musicke, but so still that they could scarce be heard but by those that were very neare them.'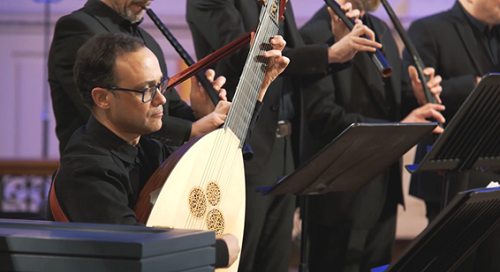 During the opening weekend of VOCES8's Summer 2022 Live from London festival, Robert Hollingworth and I Fagiolini – alongside the Choral Scholars of St Martin-in-the-Fields, HeartEdge Manchester Choral Scholars, and the English Cornett and Sackbut Ensemble – recreated Coryat's 'discovery of Europe' and invited us to imagine what it must have felt like to have been at such a musical feast, presenting a programme (recorded at St Martin-in-the-Fields in March this year) which started and ended in early 17th-century Venice, though travelling even further than Coryat, to Germany, Catalonia, Mexico, and making space for a detour to Coryat's home patch, England.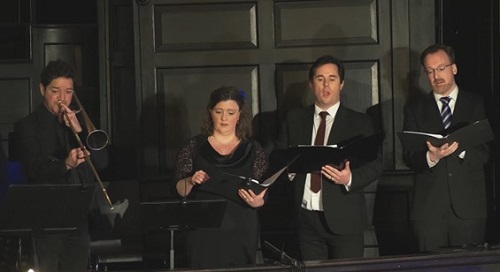 This was a programme that balanced splendour with subtlety.  The Missa Batalla of the Catalan church musician composer Joan Cererols (1618-76) represents the former.  Cererols went to the monastery of Montserrat, in the mountains around Barcelona, as a choirboy and seems to have spent his whole life there, latterly directing the musical life of the monastery.  His Mass may allude to the organ stop, 'Trompeta de Batalla' or to Jannequin's La Bataille de Marignan – and even if he had never heard the latter, composed over a century earlier, Cererols was surely aware of other Battle Masses that were based on Jannequin's composition.  The three choirs (SSAT soloists, SATB small choir and SATB large choir) are each accompanied by an instrumental ensemble and in I Fagiolini's rendering there was a joyfulness about the antiphonal dialogues.  The 'Kyrie' began with flowing calm, however, a gentle river of melody.  Tenor Nicholas Molroy reached out from the solo quartet, initiating a gradual expansion, but there were refreshing retreats and renewed revelations of the solo voices.  The 'Gloria' danced vibrantly, changing pulses, imitative intensity within the quartet – "Gratias agimus tibi propter magnam gloriam tuam" (We give thanks for Your great glory) – and the tumbling layers of the full ensemble emphasising Jesus's redemptive power, "qui tollis peccata mundi".  Hollingworth united the disparate parts in a flexible, light canvas, despite the large forces and the complexity of the motivic interplay.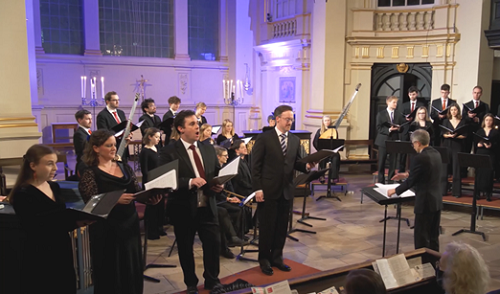 Juan de Araújo (1646-1712) was born in Villafranca, Spain but moved to South America early in his life, working in Bolivia and Peru.  He completed his education at the University of San Marcos in Lima, studying composition with Tomás Torrejón y Velasco; in 1676, he moved to Cuzco cathedral, and four years later to the cathedral of La Plata where he served until his death.  He is best known for his villancicos, and his extant Latin output is fairly small, but his 11-voice Dixit Dominus for three choirs is one of his most significant essays in the latter genre.  The solo STT trio of Martha McLorinan, Nicholas Mulroy and Matthew Long were precise and punchy, rising above the choral textures whose lively rhythms invited the instrumentalists to join in the fun. 
Sometimes it felt as if the overall effect was a little too 'refined', though. We know that at Sucre Cathedral, Araujo's instrumentalists and singers were 'supplemented by native Americans and African slaves', and native, secular musical influences can surely be felt within the forthright rhythms. Hollingworth did encourage rhythmic freedom, but he could have let his performers off the leash with more abandon. That said, he had a sure sense of the structure and drama. Caesuras did not linger, and momentum was sustained. The choral repetitions, "propterea exaltabit", were given extra drive by Mulroy's flamboyant but absolutely accurate upward flourishes of exaltation. In the closing 'Gloria Patri', striking harmonies and slow suspensions, smoothly delivered, gave way to a foot-tapping conclusion, the theorbos riffing like modern guitars and the cornetts sealing the jubilation with fervent elaborations.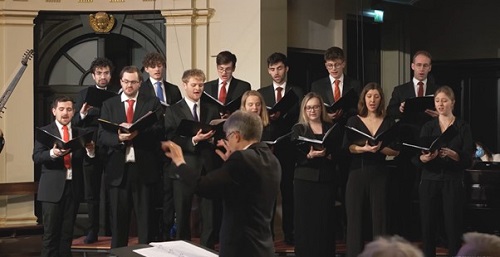 Edmund Hooper's O God of Gods for solo voices, two choirs and instruments is surely as grandly theatrical as anything heard in St Mark's, Venice, but probably served both a religious and political purpose, celebrating as it does the accession to the English throne of James VI of Scotland in 1603.  The brassy opening, the brightness of McLorinan's solo, the vigour of the massed voices and the accrual of solo and instrumental contributions created a muscular tapestry of joy – a rainbow of sound.
'O intemerata' by Alessandro Grandi (1586-1630), who had been a chorister at St Mark's and worked as Monteverdi's deputy, was one of the more intimate offerings.  This lovely Marian motet flexibly combines elegance and virtuosity, and Mulroy's agile, smooth tenor was impressively expressive, the figures cleanly articulated, the strength sustained, the breath control consummate.  Mulroy's sensitivity to the text was notable: the slight emphasis, "singularis", when emphasising the Virgin's unique qualities; the lightening, as if in awe, "atque incomparabilis Virgo"; the airy, agile melismatic praise, "Dei genitrix, Maria".  There was much madrigalian grace and intensity, exploiting the anaphora – "O quam pulchra, o quam suavis, o quam decora, o quam amabilis (O how beautiful, O how sweet, O how comely, O how amiable) – an almost sensuous worshipfulness, followed by a vocal fall of awe, "beatissima Maria".  Mulroy's closing entreaties of intercession, as the organ's inner voices engaged in elaborate decorations, were powerfully expressive.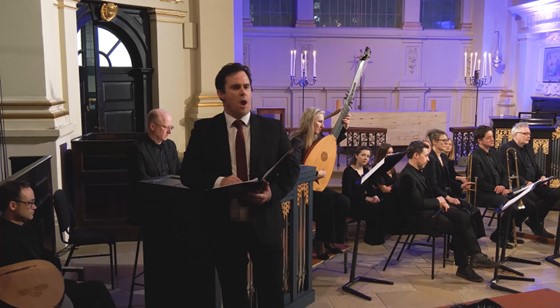 Giovanni Battista Bovicelli was a boy-chorister and later castrato soprano at Milan Cathedral. His 1594 treatise, Regole, Passaggi, sets out contemporary 'rules' of musical division and ornamentation – rules exemplified by his arrangement of Palestrina's Ave verum corpus which adds a virtuosic voice, one which is integral to the expression rather than decorative, around the polyphonic core. Here, the florid cornetto part assumed an ethereal air – inspired, free, flamboyant – around the smooth but emotive ensemble of Nicholas Mulroy, Matthew Long, Greg Skidmore and Frederick Long.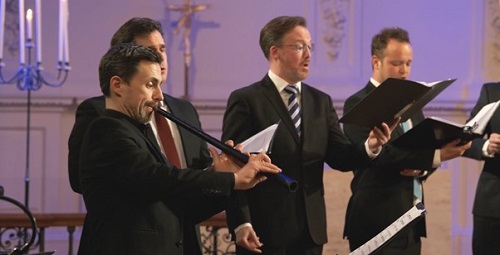 The latter had his moment to shine in the beautiful sacred concerto 'Fili mi Absalon' by Heinrich Schütz (1585-72), a work which brings small forces and grand ambitions into unity, in the form of a lament for bass voice and four trombones.  Schütz had only recently returned from a trip to Italy when he published his Symphoniae sacra in 1629 and in his setting of the Lament of King David in the Book of Samuel – focusing on the moment David leams of the death of his beloved son, Absalon – the composer makes use of the musical innovations that he had gleaned from the Venetians to conjure a sense of epiphany.  The pained Old Testament text is presented by voice and four trombones with organ continuo, the latter played sonorously and comfortingly here by Hollingworth.  Though brief, the work presents David's despair with the gripping intensity of a Monteverdi arioso.  The grain of Fred Long's bass was replete with human feeling, "ut ego moriar pro te!" (would God I had died for thee), and the performers exploited the repetitions and surprising harmonic discursions to the full.  The almost desperate crying of Absalon's name at the close prompted the trombones to echo the voice in touching empathy.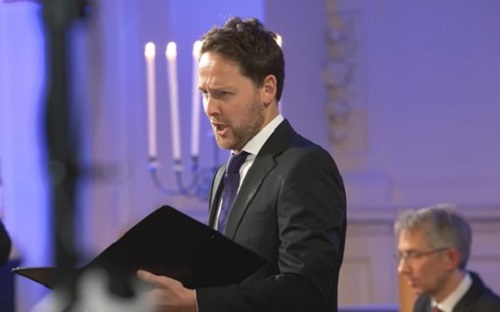 I Fagiolini framed these varied delights with two of the best-known and finest glories of the Venetian polychoral repertoire – large works for large forces, performed with exuberance and lavish resonance. Buccinate in neomenia by Giovanni Gabrieli (c.1557-1612) releases four choirs to celebrate the text's avowal of the power of music in praise of God: "with the sound of the trumpet, rejoice in the Lord our help. Alleluia. Rejoice in God with strings and organ, with drum and in chorus." Positioned in the nave and galleries of St Martin-in-the-Field, the choirs sent forth a sumptuous surfeit of sound and colour, theorbo, organ, dulcian, recorders, shawms, sackbuts and cornets creating a thrilling kaleidoscope, which Hollingworth held together tautly but with rhythmic dynamism, the thundering organ – urged by Hollingworth to an ever greater roar at the close – bringing to mind the 'seven faire padre' of organs which gave Coryat such cause for wonder.
The concert finale was Gabrieli's In Ecclesiis à 14 for four choirs, in Hugh Keyte's edition which expands the choir of cornetts, sackbuts and two solo voices to two groups of five voices and instruments. Hollingworth and his singers and musicians revelled in the opulence. Perhaps in 1608 the treble solo would have been taken by the esteemed falsettist Bartolomeo Barbarino (1593-c.1617), but here it was McLorinan who soared easefully, prefacing the massed forces' fanfared Alleluias. Hollingworth emphasised the diverse textures, antiphonal conversations and changes of meter. Unexpected expansion of the forces for the final Alleluia, continuing instrumental invention, and tantalisingly delayed cadences pressed home the meaning of the text, "Deus adiutor noster in aeternum", as if to emphasise that "God is our helper for ever".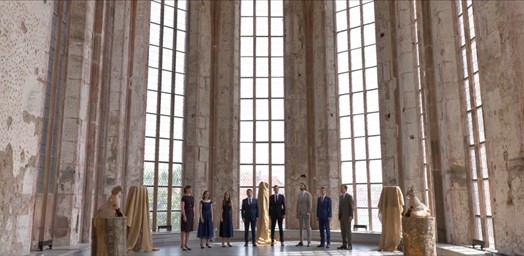 This was a concert which made one feel that however 'full' one was, room could be made for 'more'. And, VOCES8 offered an aperitif to I Fagiolini's musical feast, introducing the Baroque banquet from Linz and presenting a performance (recorded in June at Les Dominicains de Haute-Alsace in Guebwiller) of Anton Bruckner's sacred motet 'Locus iste', which Bruckner composed in 1869 for the dedication of the Votivkapelle (votive chapel) at the New Cathedral in Linz where he had been a cathedral organist. It whets the appetite for the remainder of the Summer 2022 LfL festival, which includes performances by VOCES8 alongside the VOCES8 Scholars, at Milton Abbey, and with the South African choir, TUKS Camerata, in Christ Church Spitalfields.
Summer '22 — Live from London continues until 28th August. This concert by I Fagiolini will be available to watch on demand until the end of Sunday 18th September.
Claire Seymour
I Fagiolini, Robert Hollingworth (director), Choral Scholars of St Martin-in-the-Fields, HeartEdge Manchester Choral Scholars, English Cornett and Sackbut Ensemble
Giovanni Gabrieli – Buccinate in neomenia, Joan Cererols – Selections from Missa Batalla, Alessandro Grandi – O intemerata, Juan de Araújo – Dixit Dominus à 11, Giovanni Gabrieli – Beata es, Giovanni Pierluigi da Palestrina/Giovanni Battista Bovicelli – Ave verum corpus, Edmund Hooper – O God of Gods, Heinrich Schütz – Fili mi Absalon, Giovanni Gabrieli (completed H.Keyte) – In Ecclesiis
Live from London, St Martin-in-the-Fields, London (live stream); Sunday 24th July 2022.