Rossini at the hand of a non-Rossinian, stage director Tobias Kratzer, to the baton of a real Rossinian, conductor Michele Mariotti.
At the downbeat it was pure Rossini, Mo. Mariotti establishing the rhythmic vitality that animates voices to find the joy of singing. The great Rossini comedies and the great Rossini tragedies are filled with characters who have much to say and much to feel, always expressed with a virtuosity of voice that is meant to thrill.
That was it for Rossini.
But this is France. Rossini had made his Neapolitan Mose in Egitto into the French grand opera Moïse et Pharaon. Here it how it happened just now in Aix:
German stage director Tobias Kratzer gained much fame from his charming, off-the-wall Bayreuth Tannhauser. His now established formula integrates cinematic sequences within standard operatic storytelling. The interpolated movies, real or imagined, are intended to be a distraction, let us say a relief from far-fetched opera plots. That Wagner profited, i.e. did not suffer from such shenanigans, may be attributed to Wagnerian mythical abstractions that can wear many cloaks.
On the contrary, Rossini's situations are very specific, derivative of Baroque opera's "affections," a specific emotion (love, hate, desire, joy, sorrow) and how beautifully such emotions could be expressed. And specifically to Rossini, when individuals are not holding forth, one is confronted with a Rossini ensemble, the most complex examples of musical and emotional mechanics ever imagined.
For this Rossini mise en scène stage director Kratzer obviously worked backwards, his off-the-wall coup de théâtre was his staging of the opera's conclusion — it was a Tel Aviv beach, its content sunbathers hardly interested in the biblical tales that got them there. Not that that had much mattered to Herr Kratzer either. [See featured image where police are clearing the beach for the final tableau. All photos copyright Monica Rittershaus, courtesy of the Festival d'Aix.]
All of Kratzer's locations have the sharp focus of cinematographic images, though he indulged in a real movie for the Egyptians drowning in the Red Sea — real suit and tie guys overcome by a real ocean, amazing, forget the poetry of biblical myths. It was however puzzling that the Israelites donned life vests and pulled out rafts to cross the sea when all they had to do was walk across it.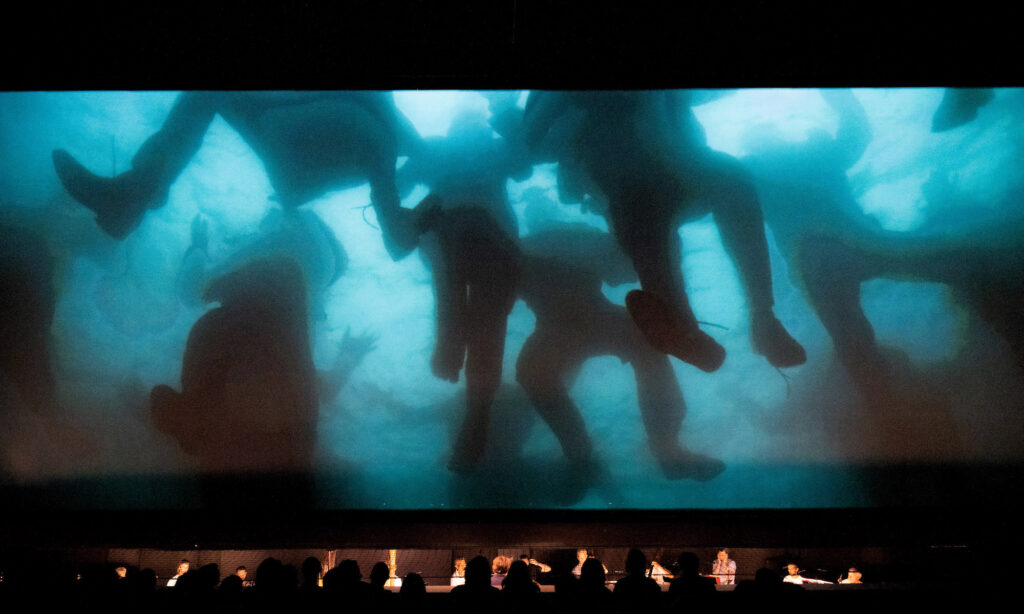 French grand opera is indeed about spectacle, maybe tricky cinematography is too easy.
The initial setting of the opera was schizophrenic, the stage divided exactly in half, the Israelis in a refuge camp of makeshift tents on the left, the Egyptians in a chic, modern office environment on the right. There was but one ancient reference — Moses, alone, in biblical get-up including the obligatory staff.
Though Rossini's story telling is straight forward, this staging confused happenings to the degree that by act III everyone on stage had to take a break. They arranged themselves in rows of chairs to watch French grand opera ballet, and catch their breaths maybe.
Belgian choreographer Jeroem Verbruggen construed a destruction of all that ballet ever was, in keeping with Herr Kratzer's take that Rossini could not possibly have known what he was doing. Seven excellent dancers executed choreographed slips, falls and collapses in amazing movements that delighted those sitting on the stage far more than those of us who had paid to see the performance.
The Aix Festival's casting for this production was of some sophistication, given its crude grand opera perimeters. Italian bass Michele Pertusi sang Moses. Once an esteemed Rossinian Mr. Pertusi is now known as a Verdian, thus he added imposing vocal authority to his Rossini resurrection rather than relying on Rossini's vocal diplomacy. His was a gruff, no nonsense Moses in keeping with the narrow dramatic focus of the production, whatever it was.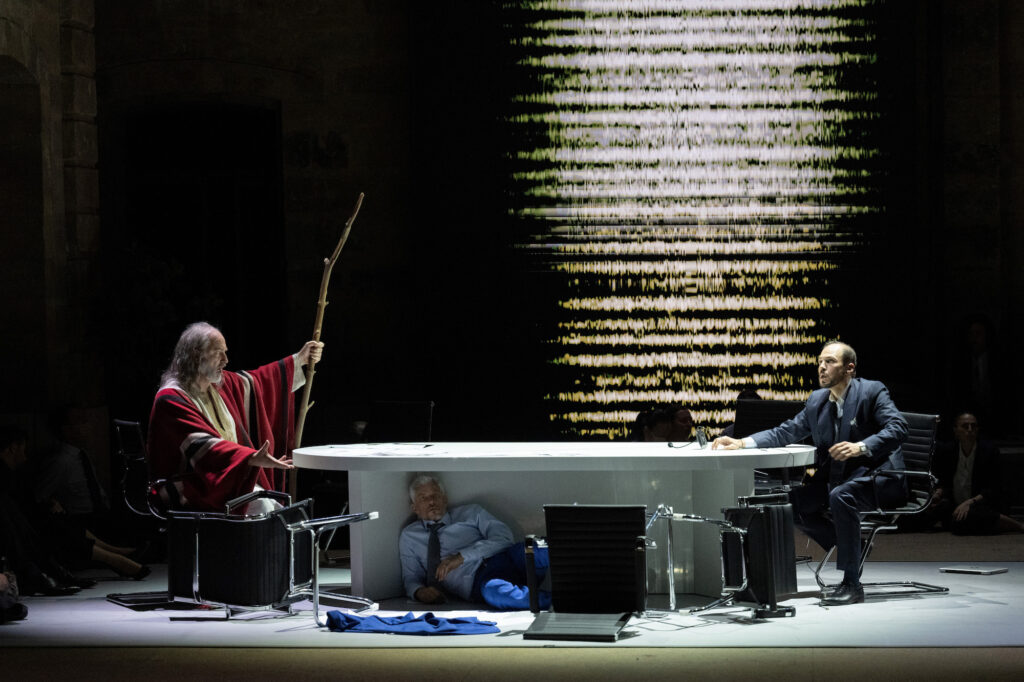 Though a viable Rossini singer, if of small scale, Romanian bass Adrian Sampetrean as the Egyptian Pharaon was costumed in an unremarkable business suit and staged anonymously among the Egyptian bureaucrats, perhaps we saw his face among the drowning governing elite as they attempted to cross the Red Sea (there was of course no army). Rossini had made the Pharaon's role much bigger for the French version, hence the addition of his name to the title. The role virtually disappeared in the Kratzer production.
Of much more presence was Russian mezzo soprano Vasilisa Berzhanskaya as the Pharaon's wife Sinaïde. She has the spectacular Act II aria and scene "Ah d'une tendre mère" which earned her the sole [!] intra-act ovation of the performance I attended.
Samoan tenor Pene Pati (San Francisco finished) sang the Pharoah's son Aménophis, forsaking any possible pretense that Mr. Kratzer's production had anything to do with Rossini. Though Mr. Pati is a wonderful singer within his fach he does not have the sound or agility of a Rossinian. Much the same may be said of Aménophis' love interest in the biblical plot, Anaï, the role sung by Trinité-et-Tobagoian soprano Jeanine De Bique. This wonderful young singer does have amazing fioratura (and important credits in the Baroque repertory), but she does not possess the forward, brighter sound of a Rossini heroine.
Casting of the smaller roles enhanced the stylistic whateverness of the Kratzer production. French mezzo soprano Géraldine Chauvet, a Carmen at the Arena di Verona, assumed considerable presence as Marie, Anaï's mother. French-Irelandese baritone Edwin Crossley-Mercer, a Guglielmo in Aix and Zurich, sang the high priest Osiride in beautiful voice. Turkish tenor Mert Süngü assumed the role of the Pharaon's brother Éliézer though without establishing the importance of this character.
Michael Milenski