Set within acres of verdant parkland and a lake, Garsington's glass-sided auditorium surely makes the perfect location for Britten's chamber opera, especially when dusk approaches on the Wormsley Estate. As shadows lengthen outside, ghostly shadows within darken Christopher Oram's handsome set, its decaying mansion ingeniously lit by Malcolm Rippeth. Opaque towering windows loom over an empty stage to evoke the remote country house at Bly imagined by Henry James in his eponymous 1898 novella.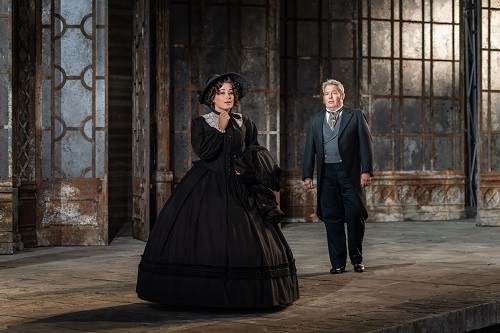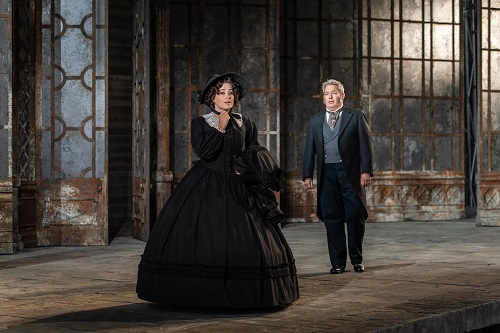 Louisa Muller opts for a period setting and costumes, pretty much playing the opera straight with little in the way of extraneous furnishings – in fact, a comfortless space except for accumulating and seemingly innocent additions including a pram, toy theatre and tricycle. But, a narrow water channel at the front cleverly blurs the line between where the stage begins and ends, and provides an entry point for the ghostly Miss Jessel and an exit for the Governess. It's a space without a boundary and neatly reflects the absence of borders between innocence and knowledge, and the margin between real or imagined ghosts in the mind of the Governess. Does she leave the stage at the end to join Miss Jessel or is her departure merely a farewell? This is one of Muller's probing directorial additions, as too is her decision to present the Governess, Mrs Grose the housekeeper and Jessel (all sopranos) as three facets of the same person, dressed identically in black-hooped skirts. At one point the Governess and Mrs Grose appear like a couple of pawns on a chess board. Perhaps just a figment of my imagination, but it suggested to me a vulnerability in the limited options a pawn is given.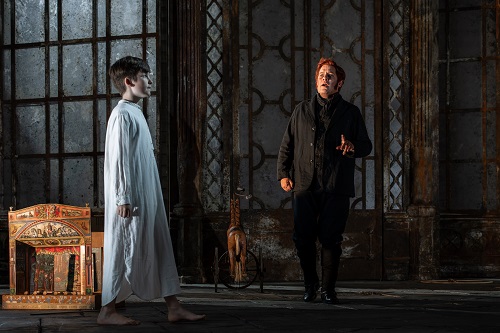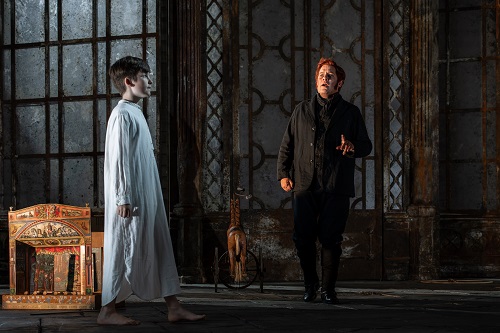 But what really makes this production zing are the brilliant performances that grip from Robert Murray's (Prologue and Quint) opening lines, "It is a curious story…". With singing and acting so convincing as here, one hardly needs to have solid representations of a school room or bedroom. The body language of the six singers provides everything we need. Verity Wingate, the 'anxious girl out of a Hampshire vicarage' brought a finely nuanced traversal to the Governess, dispatching with ease her nervous excitement, tender care and growing inner turmoil. Her "Lost in my labyrinth" was a defining moment in a powerful characterisation delivered with fulsome and grateful tone.
Carolyn Holt (replacing an indisposed Susan Bickley and notwithstanding being slightly on the young side for an 'old housekeeper'), was no less convincing as Mrs Grose. Her reluctance to assume the worst of the children and ease of chemistry with Wingate (considering she was an understudy) was superbly achieved. Her voice shone with a maturity perfectly matching the role. Helena Dix prowled around the stage as a terrifying Miss Jessel, singing with a rich, Wagnerian timbre that brings assurance and disquiet in equal measure no more tellingly in her "Ceremony of innocence" episode with the malevolent Quint – delivered with chilling clarity. Murray set the standard vocally early on with a burnished account of the Prologue, Britten subsequently, and tellingly, accompanying Quint's yearnings for Miles with bright celeste tones which simultaneously appeal and repel.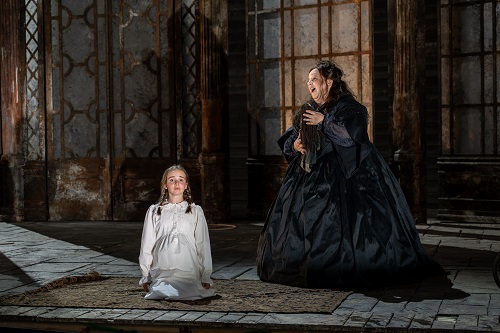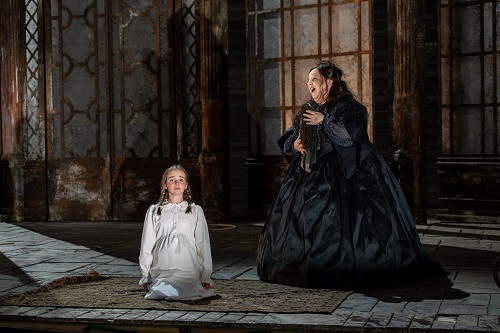 Both children were mature beyond their years.  Ben Fletcher's Miles was a flawless portrayal of sustained credibility – vocally secure, abundantly musical and bringing a fine balance between outward charm and sinister undertow.  While sitting bolt upright as if possessed, his unearthly "Malo" was beautifully shaped and well projected.  Even more remarkable was the synchronicity between his 'piano playing' and the real sounds from the pit.  A clear-toned Maia Greaves as his sister Flora matched his talent in every way; they blended like cathedral choristers in the "Benedicite". She was at her most disturbing when addressing her doll with "For nothing shall stay the same", just before drowning it. Previous productions I've encountered have cast an adult in the role of Flora.  This performance really made a case for using young singers whenever possible.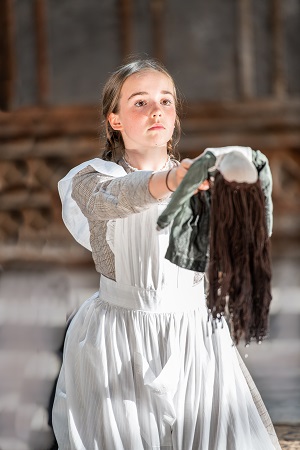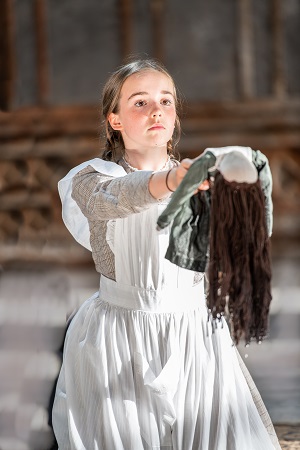 Making his Garsington debut was conductor Mark Wigglesworth who drew wondrous sonorities from the thirteen players of the Philharmonia. Alert to Britten's resourceful and ever-changing instrumental palette, he turned the screw of each variation with much distinction allowing soloists their moments of glory, yet always scrupulously observing a fine balance. This first revival, following its 2019 unveiling, is without doubt another triumph for Garsington Opera. An excellent cast and eerily thought-provoking direction make this a must-see production.
David Truslove
Britten: The Turn of the Screw
Governess – Verity Wingate, Mrs Grose – Carolyn Holt, Prologue/Quint – Robert Murray, Miss Jessel – Helena Dix, Flora – Maia Greaves, Miles – Ben Fletcher, Director – Louisa Muller, Conductor – Mark Wigglesworth, Designer – Christopher Oram, Lighting Designer – Malcolm Rippeth, Members of the Philharmonia Orchestra.
Garsington, Wormsley; Saturday 2nd July 2022.
All images (c) Julian Guidera