La Gioconda (1876) is a rare visitor to opera stages in the UK and this Grange Park Opera production, originally scheduled for the 2020 season, offers a welcome opportunity to enjoy Amilcare Ponchielli's gorgeous score and gargantuan vocal demands in The Theatre in the Woods.
Of the many operas that Ponchielli composed, only La Gioconda survives in the repertory.  Ironically, it's probably best known for its Act 3 ballet 'Dance of the Hours' – which Walt Disney's Fantasia turned into an animation of frolicking ostriches, hippopotamuses, elephants and alligators – than for its vocal glories. But, for all the implausible inanities of the libretto, which was written by a genuine 'one-opera composer', Arrigo Boito (under the pseudonym Tobia Gorrio), the opera is a veritable singers' feast and Wasfi Kani, GPO's founder and CEO, has assembled a stellar cast at West Horsley.  It's an important opera, too, for Ponchielli (1834-86) bridges the gap between Verdi's lyrical expansion of Italian bel canto and the verismo evolution of Mascagni and Puccini – composers who, among others such as Cilèa, Giordano and Catalani, came under Ponchielli's tutelage and influence at the Milan Conservatory where he was a professor from 1881 until his death.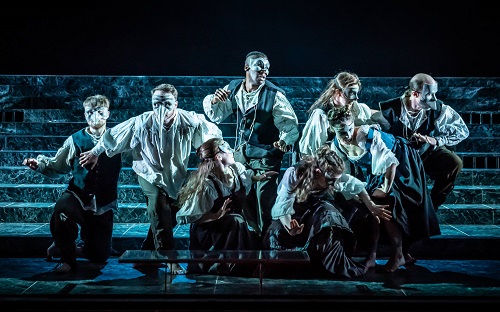 Boito's drama, based on Victor Hugo's five-act 1835 melodrama Angelo, Tyrant of Padua, is fuelled by a chain of unrequited love. Boito transplants the action from 16th-century Padua to 17th-century Venice. Barnaba, a 'false' beggar and spy for the Inquisition, lusts for La Gioconda, a street-singer, who in turn loves Enzo Grimaldo, a Genoese prince in disguise as a sailor and the lover of Laura Adorno who is married to, but does not love, Alvise Badoero, the leader of the Venetian Inquisition. Barnaba schemes to lure La Gioconda into his grasp, using her blind mother to manipulate and torment her.
The action of Hugo's play takes place largely inside a Paduan palace. Boito's adaptation gives Ponchielli the opportunity to musically colour various elements of the myth of Venice – its bacchanalian Carnival, its solemn religiosity, the canals and lagoons which are paradoxically the source of both the city's beauty and its corruption. Director Stephen Medcalf retains the Baroque setting, but designer Francis O'Connor presents neither the dream-like mystery nor the riotous opulence of Venice, the cool marble steps that dominate the set eschewing sumptuousness and embraced by a wintry darkness alleviated only by a wall of carved faces, one of which swallows Barnarba's treacherous revelation of Laura's plan to elope with Enzo. At the front of the stage a low table supports dramatic symbols: first Barnaba's black lute, then a votive offering surrounded by candles, finally a large vial of poison.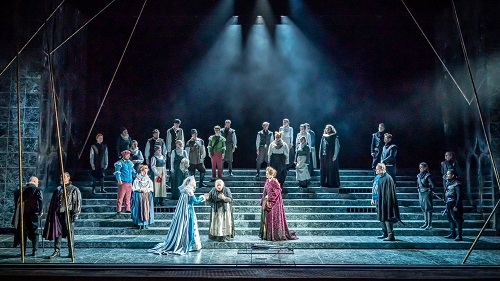 The steps part to reveal the portholes of Enzo's brig in Act 2 and the city's prison dungeons in Act 3. There are some nice visual and scenic touches. The gondoliers' oars that criss-cross the stage-frame in Act 1 are complemented by the rigging of Enzo's ship in the following act, the latter in turn evolving into a threatening spider's web of taut steel, symbolic of Barnaba's malicious machinations. Simultaneously, Tim Mitchell's lighting shoots shafts of icy light into the darkness, intensifying the lattice network. The self-sabotaging conflagration that sinks Enzo's ship is a dramatic injection of colour and heat that spills over into Act 3, where Alvise's palace is literally a 'House of Gold', a wash of spangling gold curtains and cushions. Blood-red floods the final Act's climax of murder, suicide and hell.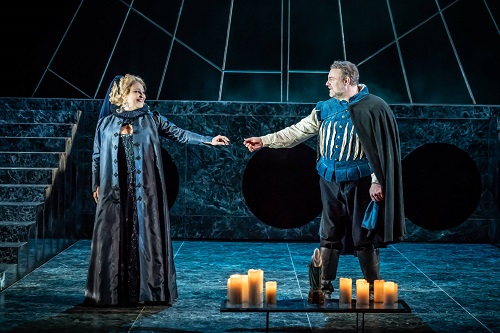 Medcalf's direction takes few risks – perhaps he felt that there were sufficient improbabilities in the libretto without adding to them.  The set inhibits some of the blocking, particularly of the Chorus in Act 1, who, though they sang with vigour throughout, looked cautious as they climbed up and down during the regatta and whose later carnival furlana was somewhat tame.  And, given that the plot is driven by the confrontations of the protagonists' desires in a cat's-cradle of dreams and aspirations, there are some odd decisions which place characters at a distance from each other, or push them to the rear.  Thus, unfathomably, Enzo and Laura sing the climax of their Act 2 duet, 'Laggiù fra le nebbie remote', from opposite sides of the stage. 
La Gioconda is really all about the singing, though, requiring six soloists with the skill and stamina to negotiate the score's treacherousness. Of the eponymous heroine, Ponchielli remarked that the role was 'all rage, suicide, jealousy, poison and hell' and, making her debut at Grange Park Opera, the South African soprano Amanda Echalaz had the necessary vibrancy to convey the emotional excessiveness of the drama. If at times melodrama trumped melodic flow, then La Gioconda is no idealised romantic portrait and Echalaz impressively held and dominated the stage. The role is an assault course which requires a singer to leap and zig-zag high and low, and to juxtapose emotions which flash from raging jealousy to tender self-sacrifice, often in successive phrases. Echalaz easily surmounted the dense chromatic orchestration as she embodied the explosive self-contradictions. The muscularity and impassioned weight were impressive, but what was perhaps lacking was the ability to cohere the volatile emotions into a smooth melodic sweep: there was thrilling drama but not real eloquence, or the sort of vocal tenderness that would make her love for Enzo palpable, although her Act 4 'Suicidio!' was gripping.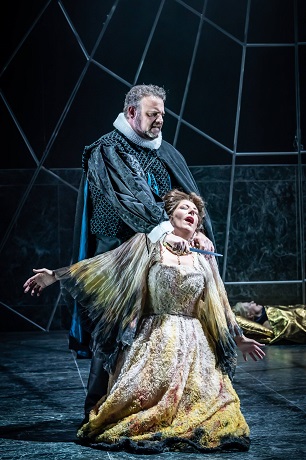 Joseph Calleja had begun the run recovering from Covid, but there was little sign of any negative after-effects at this performance, which the Maltese tenor delivered with a characteristic blend of heroic ring and cantabile lyricism.  His hefty entrance music, 'Assassini!', presaged a bitter confrontation with Barnaba and the volatile exchanges with La Gioconda in Acts 2 and 4 were fittingly hot-blooded, as he spat out his anger at the woman he cursed as a 'grave-grubbing hyena'.   'Cielo e mar!' was confident and secure, while Calleja's leading of the wonderful ensemble that closes the third Act was terrifically exciting. Perhaps there might have been a bit less fortissimo forthrightness at times, and that lovely floating mezzo forte rather more frequently deployed, but Enzo's duet Act with Laura was still a highlight of the performance.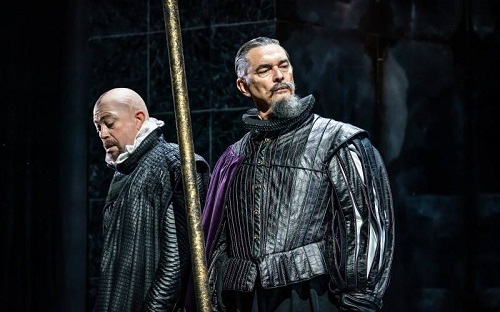 David Stout's Barnaba stalked and scuttled like a poisonous beetle, a cross between Rigoletto and Iago, with a nod towards other twisted verismo villains such as Scarpia or Leoncavallo's Tonio. Stout's dramatic baritone is a terrific instrument, reliable and robust but also sophisticated and subtle. He pumped unctuousness into his dark tone, his voice oozing the spy's spite and iniquity, every inch the voice of the reprobate described by Hugo in his preface as an alienated outsider who seeks to destroys social order and human love, the enemy of all that is noble. Dramatically, though, Medcalf encouraged Stout towards caricature and there was a danger that Barnaba's perversions might slip into pantomime.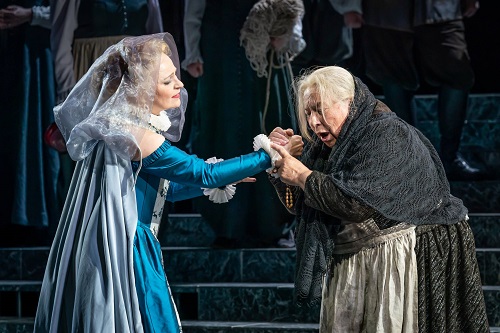 The Hungarian mezzo-soprano Ruxandra Donose didn't quite have the weight and punch, especially at the bottom, to serve as an equal adversary to Echalaz, but her lyricism and flowing line were welcome, and the serene prayer for protection from those seeking to prevent her elopement, 'Stella del marinar', another highlight. As La Gioconda's mother, La Cieca, Elisabetta Fiorillo displayed beautiful contralto richness, and if at times the sound was a bit spread then this did convey the elderly blind woman's vulnerability, and her aria, 'Voce di donna o d'angelo', was expansive and compelling. The Italian bass Marco Spotti was a haughty Alvise, his inky black tone and the viciousness of his vengeful decrees embodying the cruelty of the Inquisition, though his Act 3 aria, 'Sì! Morirel de'!… Là turbini e farnetichi', felt a little hesitant.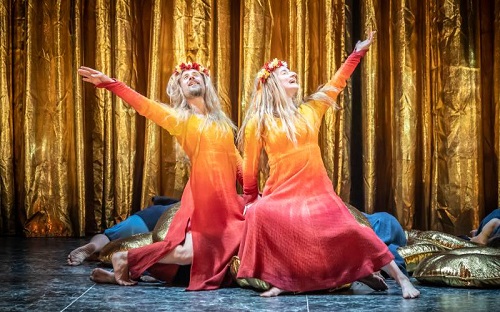 If Medcalf played it safe, it was left to the choreographer Sarah Fahie to attempt to inject some mischief and wit in a Danza delle Ore which seemed far from a representation of the passing hours of dawn, day, twilight and night, and which culminated in a rough-and-tumble tussle of plumped-up gold lamé pillows. Conductor Stephen Barlow drew some lovely playing and colours from the Gascoigne Orchestra – the strings were especially expressive – but the pace was too frequently ponderous and the tempi needed a turbo boost to match the dramatic surges boiling over on stage.
Somewhat oddly, Medcalf meddles with the ending. In the libretto Barnaba flings a bitter boast at La Gioconda's corpse, rejoicing that he has killed her mother by drowning her in the lagoon. Here, La Gioconda's suicidal death throes take rather longer than usual and the dying woman exacts her own revenge, stabbing Barnaba in the back as he exults in his villainy. But, overall, the production, though not especially gripping in itself, is faithful to Ponchielli's bombast and melodrama, and offers much fine singing.
There is one further performance of La Gioconda at Grange Park Opera on Wednesday 13th July.
Claire Seymour
Enzo Grimaldi – Joseph Calleja, La Gioconda – Amanda Echalaz, La Cieca – Elisabetta Fiorillo, Alvise Badoero – Marco Spotti, Laura – Ruxandra Donose, Barnaba – David Stout, Zuàne – Toki Hamano, A Pilot – Jonathan Kennedy, A Singer – Eugene Dillon-Hooper, Isèpo – James Schouten, Dancers – Lauren Bridle, Thomas Goodwin, Bridget Lappin, Arianne Morgan, Ryan Munroe, Luke Murphy, Bailey Pepper, Jay Yule; Director – Stephen Medcalf, Conductor – Stephen Balrow, Set Designer – Francis O'Connor, Lighting Designer – Tim Mitchell, Choreographer – Sarah Fahie, The Gascoigne Orchestra.
The Theatre in the Woods, Grange Park Opera, West Horsley; Sunday 10th July 2022.
All images (c) Marc Brenner