"I am stuck in Heathrow. Flight cancelled and no way, or no one, to tell me to leave the airport." A Tweet by a frustrated passenger caught up in this week's meltdown at Heathrow Airport – as strikes and staff shortages cause 'capacity issues', and force airlines to cancel hundreds of flights, stranding would-be travellers – was a reminder that sometimes opera and real-life cross flight paths. For, it seemed fitting to be heading to the Royal College of Music yesterday for a performance of Jonathan Dove's Flight, inspired by the true-life story of an Iranian refugee who lived at Charles de Gaulle Airport for eighteen years, in which an electrical storm grounds three couples and a woman searching for love in an airport departure lounge for twenty-four hours. Moreover, given that we seem to be living in a world which is reeling from crisis to crisis, with catastrophe beckoning, who doesn't occasionally feel the temptation to throw in the towel and take off – to fly far away, leaving the misery and mayhem behind.
The last time I saw Flight, in 2018, it was performed by the postgraduates then studying at Royal Academy Opera, and the role of the Refugee was taken by Patrick Terry who has since graduated from the ROH's Jette Parker Young Artists scheme and whose performance as Andronico in Handel's Tamerlano I recently enjoyed at The Grange Festival. One imagines that Hugh Cutting, the state-less, passport-less migrant on this occasion, is heading in a similarly stellar direction. The winner of last year's Kathleen Ferrier Award and recently made a BBC Young Generation Artist, the first countertenor to achieve either accolade (Terry won the KFA Song Prize in 2017), Cutting's diary is filling up fast and the next few months will see him perform with William Christie's Les Arts Florissants (Partenope) and share the Wigmore Hall stage with Iestyn Davies, The English Concert, The Nash Ensemble, The Sixteen and La Nuova Musica. Next year the countertenor makes his debut with Opernhaus Zürich.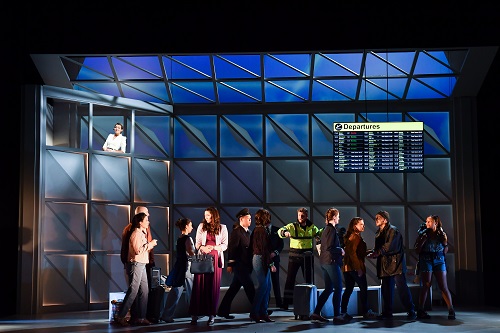 But, if the Refugee is the musical, dramatic and emotional heart of Flight, then it's a role that is at the core of an ensemble which is both diverse and balanced, and at the Britten Theatre Jeremy Sams' production emphasised the human connections, conflicts and conciliations that take place among the stranded sky-scanners, as the departure screens freeze, and imagination and aspiration take to the wing. Caricatures that we recognise from the worlds of G&S and farce these would-be wanderers may be, but Sams' detailed direction – and the cast's uniformly splendid acting and razor-sharp diction (some roles have been shared during the run) – brought forth their essential humanity too. The humour was perfectly judged, the gestures natural, and the moments of emotional honesty incredibly touching.
The unaffected costuming added to the authenticity of the characterisation, and Alyssa Noble's superb blocking and choreography were so precise that one barely noticed how brilliantly slick and persuasive the stage movement was. The ensemble moments – the dance prompted by the arrival of a hen-party in Act 1; the assault on the Refugee by the four women, duped into thinking they alone had been gifted his magic stone; the arrangement of the sleeping figures during the stormy night; the chaotic birthing scene – brought the individuals together into a truly cohesive collective, one which dared to hope and dream. Even as they were grounded, new possibilities, encounters, relationships made them airborne.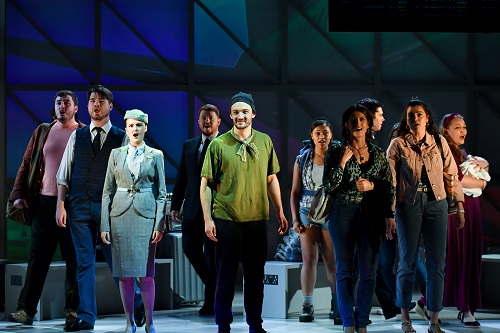 Nicky Shaw's designs, sensitively lit by James Whiteside, were minimal and effective – the familiar commercial blandness of shades-of-grey 'tastefulness' – with one digital screen guiding us towards Gates A and B and another, beneath which Cutting slumped beside his lime-green sleeping bag, directing those needing Special Assistance. A list of imminent departures flickered centre-stage, and the Controller's observation tower loomed on the left, lifting its watchful inhabitant high and affording a vantage point from which to observe the travellers' moral failings and subsequent growth. The Stewards' store cupboard below proved a handy cubby-hole for the randy flight crew's swift sexual trysts – shocking the Cleaner as she went about her business – while back-packers, hen parties, pilots and maintenance men milled about. The busyness of the bustling was complemented by the vivacity of the instrumental playing which was bursting with energy and colour, as conductor Michael Rosewell drew diversity of idiom and tonal character from the nineteen-strong RCM Orchestra.
Matt Powell's video designs were brilliantly judged, highlighting the contrast between the lifeless banality of this commercial place of 'departure' and the potential grandeur of human flights of fancy – whether providing a visual turbo-boost to the travellers' excitement when the plane carrying the Minskman away from his wife took off; drawing us into the driving rain of the lightning storm which grounds the sky traffic; or, conjuring the stars, constellations and fantastical realms that soar above that tempest.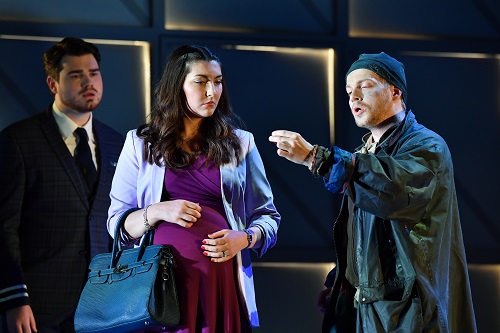 Cutting's resonant, freely projected dramatic arioso captured the Puck-like vivaciousness and optimism of the Refugee as he moved between the travellers, begging for small changes, clothes and a bite to eat, spreading spiritual wisdom and words of love and peace among the bickering couples, and even directing the lustful Steward and Stewardess to a hideaway on Level 2 for a seventeen-minute pre-take off assignation. Cutting's sound bloomed with astonishing relaxation, power and accuracy, sometimes strengthened by a sonic earthiness, sometimes strangely 'other'.
It is the Refugee's final tale of loss and longing that prompts the travellers to embrace reconciliation, and in this closing episode, as the opera's tone suddenly shifted from madcap farce to terrible misfortune, Cutting held the audience – both us in the Britten Theatre and the on-stage passengers shrouded in shadow as they listened to his tragedy – spellbound as he yearned for his brother, "Twin", and recalled the terrible cold of his own 'flight' in melismatic bursts of haunting memory. Restored by his catharsis, the travellers offered mundane gifts of gratitude – a Hawaiian shirt, a book, a wadge of money, a bottle of duty-free Veuve Cliquot – but, granted freedom within the limits of this airport-world, when the Refugee settled down to sleep it was the mythic quality of this man between two worlds that was so incredibly moving.
As the married couple trying to rekindle their romance with a second honeymoon and a self-help manual, Matthew Curtis (Bill) and Lylis O'Hara (Tina) were winningly flawed and funny. When her wish that Bill would be more adventurous came true in ways that she couldn't have imagined – an assignation in the Controller's lookout with the Steward freeing Bill from his inhibitions – the betrayed Tina's rage-fuelled coloratura tirades were as energised as Bill's own wonderous declaration that, far from being "nothing", as the Steward urged his affronted colleague to believe, the night of passion had been "Fantastic!"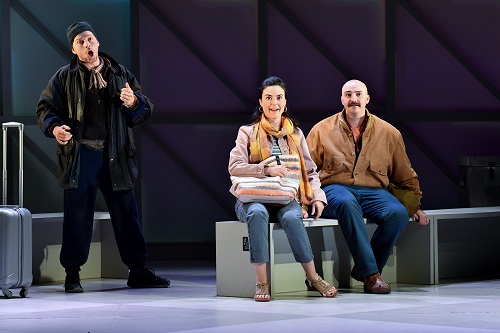 Theo Perry's expansive bass-baritone gave the Minskman presence, while as his heavily pregnant wife, first reluctant then refusing to travel, mezzo-soprano Annabel Kennedy excelled in the Act 2 aria in which she grieves for the freedom her younger self enjoyed, and reclaims both her identify and unborn child: "It's mine." Lexie Moon captured the Older Woman's mental muddle, as she worried whether her colourful blouse and fringed jacket made her too conspicuous and reminisced about nocturnal beach walks with the 22-year-old fiancé she'd met in a bar in Cabrera. But, she revealed her maturity and genuine kindness when she offered to marry the Refugee to save him from the threat of the Immigration Officer's bureaucracy. This was a terrific performance from a singer who has only just completed her undergraduate studies – Moon joins the RCM International Opera Studio next year – and who was making her operatic principal debut.
Edward Jowle was a suave Steward with oodles of warmth, while Phoebe Rayner left us in no doubt about the sardonic Stewardess's vigorous independence.  Together they made an infectiously likable pair, ever smiling, sizzling with sexual craving, charming each other and us with their excruciating clichés, banalities and rhymes: "You have identical eyes."  "You have thighs!"  Bass Jamie Woollard's Immigration Officer thundered with Wotan-like authority, but he softened this gravity with poignant humanity in his account of the frozen man who, like a frozen star, had fallen from sky, thus ending the Refugee's hopes of a fraternal reuniting.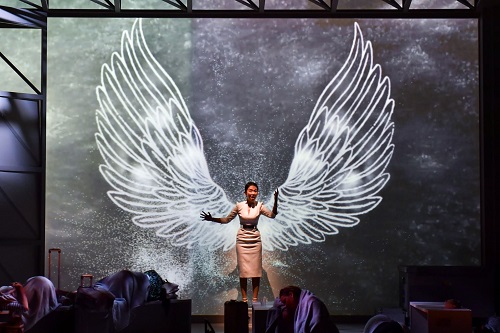 A strong presence in her pure white dress aloft in her look-out, Heming Li's Controller was at times a Prospero-like arbiter, relishing the stillness of the airport at night, intervening to contain and release the travellers, descending in Act 2 to watch their encounters and confessions unfold. At other times, it was Ariel who came to mind, not least during the storm sequence when Li's small figure was digitally embraced by huge swirling wings which seemed to belong to the meteorological thunder – a Phoenix of rebirth or, like Ariel's harpy, a fiend frightening the flawed travellers to address their moral weaknesses? But, this Controller was never clinical or cold. Li soared through the stratospheric arcs with ease, and astonishingly clear diction, the colour and tone immensely gratifying as she reached up to those high Fs in flights of sustained lyricism – like Ariel, giving voice to the more noble and elevated elements of the human spirit.
My allusions to The Tempest are deliberate, for just as Ariel's storm traps the Neapolitan aristocrats on an enchanted isle, so Sams' production creates an imaginary time and place that seems conjured by the Controller's 'magic' – an island of transformation, where the planes are grounded but human hopes can fly. New experiences and understanding lead to forgiveness, reconciliation and – when the frozen departure board splutters back into life – a return of order. The imaginative flights we had witnessed truly seemed to embody what Angela Carter called the spirit of the fairy tale – 'heroic optimism'.
Claire Seymour
Refugee – Hugh Cutting, Controller – Heming Li, Bill – Matthew Curtis, Tina – Lylis O'Hara, Stewardess – Phoebe Rayner, Older Woman – Lexie Moon, Steward – Edward Jowle, Minskman – Theo Perry, Minskwoman – Annabel Kennedy, Immigration Officer – Jamie Woollard, Ensemble – Daniel Barrett, Tia Radix-Callixte, Denira Coleman, Alexandra Cooper, Ross Fettes, Lucy Gibbs, Ning Su, Maria Willis; Director – Jeremy Sams, Conductor – Michael Rosewell, Designer – Nicky Shaw, Lighting Designer – James Whiteside, Video Designer – Matt Powell, Choreographer – Alyssa Noble.
Britten Theatre, Royal College of Music, London; Thursday 30th June 2022.