Every farce needs doors, preferably at least three of them. They must be robust enough to be slammed, frequently, and for characters to revolve through at speed, communications thwarted, connections near-missed, coincidences contrived. It's fitting, then, that the set of the Argentinian director Alejandro Bonatto's production of Donizetti's one-act comédie en vaudevilles, Rita ou Le mari battu (Rita, or the Beaten Husband), at the Charing Cross Theatre is dominated by doors, for this charming comedy swings on its hinges, as husbands come and go, and compete to make a final exit from matrimony.
Sometimes titled Deux hommes et une femme, Rita inverts the standard scenario of two men fighting over one woman – here, the men fight not for her but to lose her. It's the only one of Donizetti's operas that was not performed during his lifetime. Anecdote has it that a chance encounter with his friend Gustave Vaëz led Donizetti, who was without a commission for a new work for the Paris stage, to beg the librettist for some text that he could set. Whatever its actual origins, the resulting one-act domestic comedy, in French and with spoken dialogue, was turned down by the Opéra-Comique. Donizetti had it translated into Italian, but a performance planned for Naple was scuppered when the impresario died. Rita eventually made it to the stage of the Opéra-Comique in May 1860, twelve years after Donizetti's death and twenty years after it was composed.
Domestic battery and bigamy are not usually the stuff of farce, but Donizetti's tuneful score has sufficient charm and sparkle to turn conjugal abuse into insouciant comic absurdity. Rita's first husband, the wife-beating Gasparo, is believed shipwrecked and drowned, and she has remarried Beppe who is firmly under the waspish woman's thumb. But, Gasparo is not dead and believing Rita herself to have perished in a house fire, returns in search of her death certificate so that he can marry the Canadian girl who has caught his eye. Finding Rita very much alive and kicking, he changes tack and asks for his marriage certificate, so that he can destroy it. Meanwhile, Beppe sees a way to escape from Rita's bullying – as he puts it, "Due morti resuscitati! Che bella coppia!" (Two deads resuscitated. What a beautiful couple!) The two husbands play a game, in which the loser 'wins' the right to shake off their wife. After much cheating, subterfuge and an abandoned duel, Beppe resigns himself to being reconciled with Rita and Gasparo bids the 'happy couple' farewell, but not until he's given Beppe some wise words about nuptial niceties – "Puoi picchiar la tue diletta/ Non la dèi pèro accoppar." (You can beat up your beloved, but you mustn't kill her off.)
This production of Rita employs a new, pithy English-language translation and is accompanied by a stylish chamber ensemble orchestration, both by Bonatto. To the three swivelling, sliding doors, the designer Nicolai Hart-Hansen adds just a kitchen table and a rear-screen depicting the terra-cottas, olive-greens and sandy-yellows of the Bergamo environs – domestic interior and dusty landscape deftly delineated. The eleven-strong Faust Chamber Orchestra, conducted by Mark Austin, are positioned behind the screen and provide appropriately light but detailed support.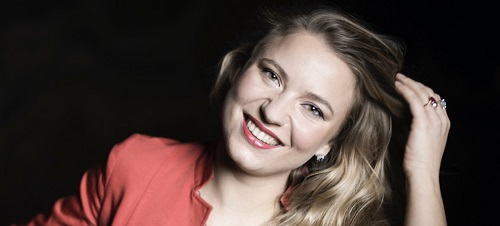 Two of the cast of three are reprising roles that they performed as postgraduate students at the Guildhall School of Music and Drama, as part of a triple bill which was streamed in November 2020. It's always good to see the singers studying in the capital's conservatoires make their first advances onto the professional stage, and both soprano Laura Lolita Perešivana – whose performances in Opera Holland Park's rare staging of Delius's Margot la Rouge and the Hallé's Il tabarro at the Proms have recently given much pleasure – and tenor Brenton Spiteri, who was part of a fine cast in James Conway's recent production of La bohème for English Touring Opera, fully deserve the opportunities that are coming their way, and are exploiting these with characteristic accomplishment.
The numbers are shared equally between the characters: each has a 'defining' aria and they join in duets and the concluding trio finale. Perešivana is no 'soubrette' but her strong and richly coloured soprano was judiciously employed to convey both the ego and fickleness of the feisty Rita – a forerunner of Don Pasquale's Norina, surely. Dressed in a rose-splattered Prom-dress and red shoes, her scarlet curls shining, in her opening aria this Rita delivered a confident and crisp enunciation of feminine wiles, whys and wherefores. This was a vivacious performance from Perešivana; after enjoying her supporting performances, it was good to see her relishing her moment in the spotlight.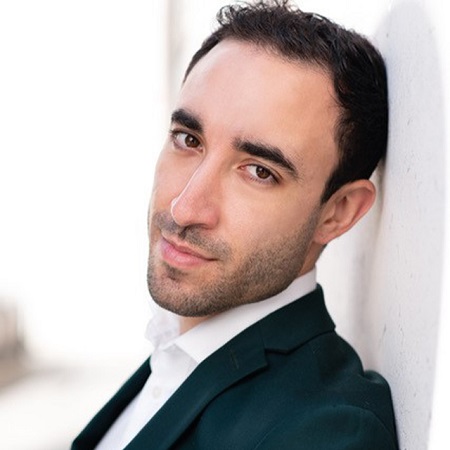 Spiteri has a winning stage presence – one imagines he can do lovable rogue, put-upon dupe and hapless clown with equal aplomb. Here, his dopey submissiveness won one's sympathy, and the challenges of the role – not inconsiderable, especially in his aria of jubilation, somewhat premature, at having broken the chain of marital bondage – didn't unduly bother the tenor. Spiteri knows how to 'do' comedy, too; there was no exaggerated playing for laughs, rather a dead-pan earnestness which effortlessly raised a smile and chuckle, while capturing something of Beppe's emotional veracity and touching upon the opera's submerged 'truths'. Baritone Phil Wilcox was a confident and resourceful Gasparo, a master of the subtle physical or facial gesture, naturally finding the role's comic unscrupulousness and singing with a deep and full tone.
Bonatto treats Donizetti's gentle comedy with a light touch, and his production is neat and nimble.  Perhaps the cast may dare to take a few more risks as the run proceeds.  But, this Rita is merry musical fare for a midsummer evening.
This production of Rita continues at the Charing Cross Theatre until 20th August.
Claire Seymour
Donizetti: Rita
Rita – Laura Lolita Perešivana, Beppe – Brenton Spiteri, Gasparo – Phil Wilcox; Director – Alejandro Bonatto, Conductor – Mark Austin, Production Designer – Nicolai Hart-Hansen, Lighting Designer – David Seldes, Faust Chamber Orchestra.
Charing Cross Theatre, London; Sunday 7th August 2022.