The Proms is the only time many orchestras around the United Kingdom can get to perform in London – and, conversely, the only opportunity critics and audiences have of hearing them. Clearly that was partly what drew such a large audience to the Ulster Orchestra's concert and its inspirational Italian conductor, Daniele Rustioni. A not overly demanding program of Wagner, Richard Strauss and Schumann helped.
Wagner has been a staple of the Proms since its very first season in 1895 when Sir Henry Wood conducted the Tannhäuser overture several times that year. 'Previously at the Proms' (always one of the more fascinating parts of the programme notes) suggests that, along with the Venusberg and various fantasias, this work might be the most played at the Proms with a plausible 300 performances. Very few, however, can surely fall into the great, even probably memorable category. Klaus Tennstedt in his London Phil Prom back in 1992 does – and, I think, Rustioni and the Ulster Orchestra in this Tannhäuser will, too. It was a fabulous performance.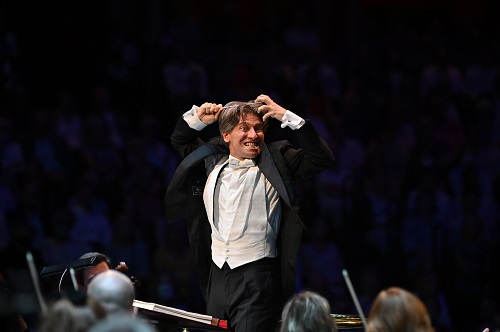 Still just 39-years old, Rustioni eschews a certain kind of firebrand conducting in Wagner; rather, what we got was something sweeping, burnished, romantic and monumental. Listening to Rustioni I sometimes felt I was listening to Riccardo Muti, although not the young version of him. Come to Rustioni's Wagner, however, and the most striking conductor to come to mind was one who rarely conducted his music at all, but when he did he had almost no peer: Stanislaw Skrowaczewski.
What had been so impressive about the overture had been the acres of space he had given his orchestra between the notes. The Wagner horns – which swell so superbly towards the end of the first section – were just magnificent, not just in their security of intonation, but in the tonal beauty of their range and they had all the room they wanted to express this through their instruments to the maximum. In a conductor less skilled in the movement and pace of opera it could have sounded indulgent, it could have faltered and even fallen apart at the seams but with Rustioni it made perfect musical sense. When the horns gave way to a trio of trombones, playing at forte, nothing was lost. And this, too, was where Rustioni was such a master of tension. The dynamics of Wagner's score were just wonderfully articulated, with no loss of power along the way.
Melding the overture and Venusberg music together gives substantial polarity to this piece. In a poor performance the Venusberg music can veer so off course that conductors and orchestras can persuade an audience that Venus has dozed off on her couch and everyone – including the cupids – are thoroughly exhausted. Rustioni, if he knew the dynamic of the rhythms of the bacchanal and the dances of the nymphs, and how to control the pseudo-orgiastic climax, was also willing to be just a tad indulgent with his tempos to bring out the sheer voluptuousness of Venus. Strings were gorgeous, warm but never over-saturated – just as cellos at the beginning of the overture hadn't just arched over the orchestra but had done so with aching beauty. Some may have preferred a deeper sound – and we seemed to be a couple of basses short, although neither the Strauss nor Schumann need eight. It really mattered little in a performance which had managed to achieve rather a lot.
This would, I think, come with more mixed results in the performance of Richard Strauss's Vier letze Lieder. I never tire of listening to this great work in concert although I suspect the sheer number of times I have heard – or reviewed – it has as much to do with that as it does with trying to find that one great, but elusive, performance of it. And elusive they are proving to be.
When Strauss composed these songs he had a particular voice in mind – Kirsten Flagstad. Over the past seventy or more years both the cast of the voice and the model of interpretation have changed considerably. Flagstad's own problems with the work, mostly restricted to 'Frühling', had to do with its high tessitura (although some of it sits uncomfortably low, too). By May 1952, when she sang these lieder in Berlin, Flagstad had removed 'Frühling' from the cycle so restricted had her singing become. Today, of course, sopranos who tackle these songs are technically accomplished enough to get through them all although the problem I have is that interpretations and even the kinds of voices we have today are rarely of the calibre they were several decades ago.
A few decades may well be when I last heard these songs at the Proms when Renée Fleming sang them in her debut in 2001 with the Philharmonia Orchestra and Christoph Eschenbach. The soprano on this occasion was Louise Alder and, having re-read my review of the Fleming concert, a comparison would do Alder no favours. But acoustic, of course, can kill a performance and I do not think the Albert Hall favoured Alder's voice. A hall of this size can, of course, make a soloist fade into the background and even occlude and cover-up their shortcomings; oddly, the opposite was the case here. Alder has a comfortably solid bottom register, so much so that one initially thought this might be a slightly darker reading of these songs than one normally hears. Her top, however, on more than one occasion sounded rather raw with a tendency to hit the top notes and then let them collapse. If there was no noticeable unevenness in her tone, there was enough gristle on the bone of her voice to wash out the colour at times.
'Frühling' did not really recover from these problems, but 'September' sat easier in the cycle. This did in fact play to a more ochre-shaded depth in her voice, and the opening of 'Beim Schlafengehen' had begun well, too. Alder, in common with so many sopranos, struggled with some of her breath control before the soaring climax of the song and just a touch too much literalism allowed her to clip the final note short. 'Im Abendrot' could have done with more amplitude. Alder's chest register lacked a degree of richness that would have been ideal, although she was hardly in the range of the true lyric-soprano either. Just a little off, her voice felt undersized beside the orchestra and tonally bleached besides the horn and solo violin.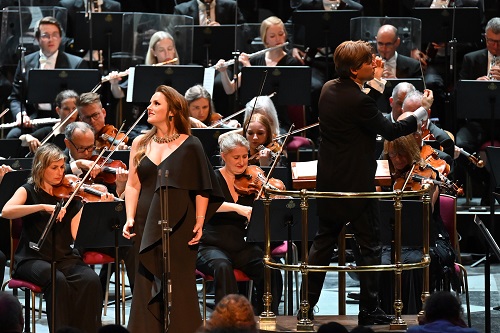 Against a conductor less obviously fluent in making the instruments in his orchestra – in this case the English horn, clarinet and solo violin – sound so extraordinarily full of colour and vibrancy Alder may have come across differently. From an interpretative viewpoint her performance lacked nothing – wistfulness, serenity, radiance and joy all came through in her use of language. But Rustioni and the Ulster Orchestra were somewhat in a class of their own in this Strauss, unfortunately.
Mahler's Blumine seemed superfluous programming, although it was wonderfully played with a superb trumpet solo. The final work, Schumann's Symphony No.4, took us very much back to the Wagner that begun the concert. Schumann certainly wrote the first movement to be ominous and brooding but Rustioni took a much more expansive and menacing approach. So huge were his baton movements that you sometimes felt he was going to engulf the entire orchestra in a single sweeping tsunami. Basses which hadn't always projected much depth earlier now had a striking lava of richness to their bottom. The precision in the violins was astonishing ­– something really only an opera conductor can ever hope to get a symphony orchestra to do with the delicacy, suppleness and rhythmic flow we heard here. Brass edged only rarely towards being unrestrained (as they had in the Wagner) but the security of the playing and the golden, burnished sound was just beautiful. The Scherzo and Trio had balletic lightness – almost skittishness – and the Finale was dashed off with thrilling impetus, very much a musical mirror to Rustioni's own podium style which oozed its own kind of electricity.
As a showcase for the Ulster Orchestra and its conductor Daniele Rustioni this had been a superb concert; only the Strauss slightly disappointed.
Marc Bridle
Louise Alder (soprano), Daniele Rustioni (conductor), Ulster Orchestra
Prom 31: Wagner – Tannhäuser, Overture, Venusberg Music; Richard Strauss – Four Last Songs; Mahler – Blumine; Schumann – Symphony No.4 in D minor
Royal Albert Hall, London; Tuesday 9th August 2022 (on BBC Sounds until 10th October 2022).
ABOVE: Louise Alder, Ulster Orchestra, Daniele Rustioni (conductor) (c) BBC/Chris Christodoulou