The grounds of West Green House in leafy Hampshire drew from director Victoria Newlyn an inspired staging of Donizetti's L'elisir d'amore. Situating this 1832 comic opera on a Mediterranean cruise liner in the middle of the venue's lake made perfect sense, and fully exploited the island location created by necessity in 2021. Newlyn updates Donizetti's cast of village principals and chorus to become crew and personnel of il villaggio, its entertainment deck variously enlivened by the presence of the captain, cleaning staff, clowns and two artistes straight out of the 1980s sitcom Hi-de-Hi!, the whole colourfully attired by designer Adrian Linford.
Marking the difference in social status of the two central characters, Adina (Samantha Clarke) is a kind of high-class entertainment director clad in a figure-hugging lime-green dress, while the besotted Nemorino (John Colyn Gyeantey) is a lowlyelectrician in cheerless grey overalls – recalling Glyndebourne's 2007 production. Differences in height between this unlikely couple add to the overall comic effect, but while Clarke and Gyeantey's characterisations steadily evolve, the notion that a gauche dimwit who doesn't take no for an answer can win round a brittle, independent-minded woman via a love potion remains truly ludicrous.
That the real elixir of love is wealth and status is not entirely lost on Newlyn whose sunny backdrop largely glosses over weighty considerations, allowing Donizetti and his librettist Felice Romani to make the point without interference. Indeed, the light directorial touch of this production shows little sign of taking the plot's love-conquers-all nonsense seriously, its primary colours well suited to exhilarating music and country house diversion. That's not to suggest a lack of emotional depth in well-defined characterisations which consistently hold the ear and eye with no weak link to be seen or heard anywhere across this young cast.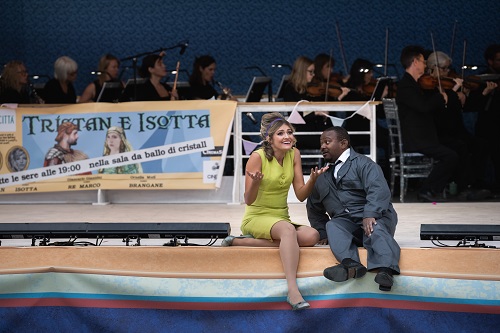 Samantha Clarke made an impressive traversal from hard-to-get minx to lovestruck maid, her sense of superiority gradually thawing, conveyed in the odd backward turn of the head towards Nemorino suggesting a growing affection, later tenderness and then jealousy as his new-found wealth drew the attention of rivals. She could sing too, supplying a stream of bright, technically secure tone soaring over the patter of Dulcamara in their Act two duet and plucking out top notes with no hint of strain, bringing sparkling timbre as her heart slowly melted.
She was well matched by John Colyn Gyeantey's ardent Nemorino, wilfully undeterred by Adina's rejection. From endearing lapdog to master charmer, his burnished tenor (a little uncertain in his opening 'Quanto è bella') glowed in his touching pleas for the postponement of Adina's wedding ('Adina credimi, te ne scongiuro') and finally stole our hearts in an exquisitely rendered 'Una furtiva lagrima' (chest and head voice smoothly integrated), persuading us to believe such an ordinary man might have the sensibility of a poet.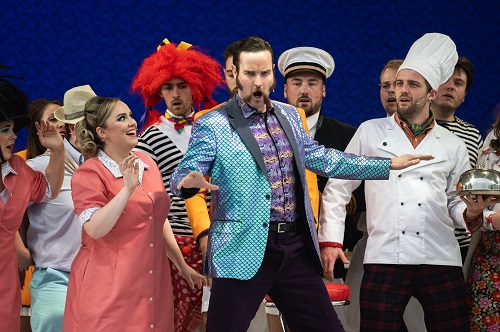 Making a striking entrance in an electric blue jacket was Nicholas Lester whose Belcore struck a balance between man about town (all swagger and gyrating hips), heart-throb and arrogant bully. Lester was a Basil Fawlty to Nemorino's Manuel, yet possessing a coarse sensuality allied to a robust baritone. His bravado was offset nicely by Richard Walshe's rich-toned Dr Dulcamara, the travelling quack who provides the so-called elixir to Nemorino. His arrival by rowing boat before docking alongside the waiting crew was a coup de théâtre, the scene crowned by a flawless patter song advertising his cures. Seemingly urbane in his three-piece suit, his scheming in 'Obbligato, ah si, obbligato!' led to a witty encounter with the naive Nemorino prompting the spoken jibe, 'I've met some idiots in my time'.
Unlike so many of Donizetti's comic operas, L'elisir is free of dull or worthless passages. But if there is any fault it is in the disappointingly small role assigned to Giannetta, sung here with assurance by Armenian soprano Tereza Gevorgyan, often seen on stage wielding a camera in the guise of a high-society photographer.
At the rear of the stage, Matthew Kofi Waldren directed the West Green House Orchestra with flair and, if at times the strings players did not completely agree in their intonation, they brought much brio to this enchanting production. Indeed, no country house opera festival has yet to surpass the magic conjured at West Green. In short, a delightful evening with strong, musical performances.
David Truslove
Donizetti: L'elisir d'amore
Adina – Samantha Clarke, Nemorino – John Colyn Gyeantey, Belcore – Nicholas Lester, Dr Dulcamara – Richard Walshe, Giannetta – Tereza Gevorgyan; Director – Victoria Newlyn, Conductor – Matthew Kofi Waldren, Set and Costume Designer – Adrian Linford, Chorus and Orchestra of West Green House Opera
West Green House Opera, Hook, Hampshire; Saturday 30th July 2022.