A premiere, an outstanding debut and a distinctive symphonic account formed a programme given by the BBC National Orchestra of Wales under its principal conductor Ryan Bancroft in the third of four Proms appearances at the Royal Albert Hall.
The evening began with the first Proms performance of Entr'acte for string orchestra by American Pulitzer prize-winning composer Caroline Shaw. As an expanded version of a piece originally conceived for string quartet in 2011, the work (we were informed) drew inspiration from a harmonic shift within the second movement of Haydn's String Quartet in F major Op.77 No.2. Shaw modelled her structure on the composer's Minuet and Trio and fashioned a series of nervous, playful rhythms that simultaneously pointed towards minimalistic techniques and Classical antecedents. All too frequent refrain-like patterns framed an otherworldly passage of searching, enigmatic phrases, with much whimsical pizzicato and culminated in lute gestures from Alice Neary's solo cello. A work of passing interest that the BBC NOW players made us much of as they could.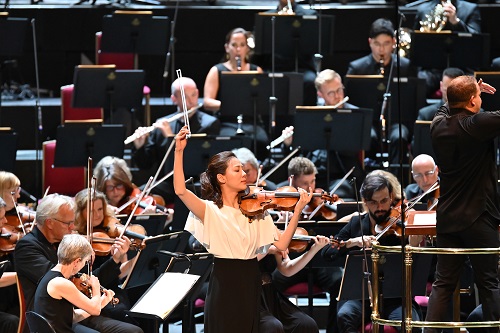 There followed the Proms debut of German-Korean violinist Clara-Jumi Kang in an admirable account of Mendelssohn's Violin Concerto in E minor. It showcased Kang's formidable technique and exceptional musicianship which, in the opening movement, brought together playfulness and rumination delivered with crystalline tone and nicely calibrated dynamics. Intonation was second to none and her tonal variety, whether sumptuous or willowy, was always at the service of the music. If there was a slight tendency to rush in more athletic episodes, there was no denying a sense of spring-like exhilaration. She was beguilingly tender in the Andante (bassoon overly prominent in the link),poised and songful in its lyrical storytelling. The BBC players were splendidly alert collaborators, Bancroft enabling ideal balance and tempi. If there were a few minor ensemble issues in the finale, it was endowed with spirit and sensitivity, liquid clarinets and ebullient horns adding to the movement's unbuttoned character, and its near ceaseless momentum dispatched with aplomb. Regrettably, the positive audience response prompted no encore.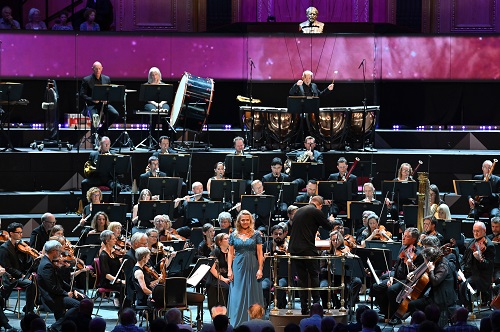 Mahler's Fourth Symphony was given a more emphatic reading than one I've previously experienced, its outward equability darkened by repeated foregrounding of woodwind and some heavy brass.  One of the composer's letters, cited in Stephen Johnson's programme note, suggests why Bancroft chose this approach: 'To my astonishment it became plain to me that I had entered a totally different realm, just as in a dream one imagines oneself wandering through the flower-scented garden of Elysium and it suddenly changes to a nightmare of finding oneself in Hades full of terrors …'  These imaginings were well realised in the work's second movement, set in motion by Tim Thorpe's bewitching horn – sinister evocations later underlined by incisive strings, Leslie Hatfield's scordatura violin and much conspicuous woodwind (the latter less obviously noticeable on the radio broadcast).  Warm, consoling string tone in the idealised Eden of the slow movement came as a relief, earlier garishness making way for serenity.  Its spacious tempo, with eloquent oboe contributions, was crowned by a brief blaze of glory.
On either side of the inner movements, procedures began with a well-judged opening that unfolded with accumulating drama, most vividly in the central development. A fine solo horn led to an unearthly pianissimo before closing with a triumphant flourish. Alas, the finale's child-like vision of paradise was only partially realised in the hall and sounded far more convincing on the radio. Swedish soprano Miah Persson was all charm and smiles but offered little in the way of projection. Hers is not a big voice, hence the decision presumably to position her at the front of the orchestra and adjacent to the conductor. This may have been beneficial for some, but my seat behind the cello and bass section permitted only a limited view, masking much of her singing. Nonetheless, I could detect a lovely Mozartian glow, one that seemed best suited for Mahler's request for a soprano 'capable of singing with a naive, childlike expression, and with particularly good diction!' Mahler once promised that the symphony would offer 'a glimpse of music you do not yet know'. Overall, this performance was less a glimpse of heaven or a celebration of innocence but more an oil and vinegar evocation of light and dark sometimes tantalizingly close to the world of his next symphony.
David Truslove
Shaw – Entr'acte; Mendelssohn – Violin Concerto in E minor; Mahler – Symphony No. 4 in G major
Clara-Jumi Kang (violin), Miah Persson (soprano), BBC National Orchestra of Wales, Ryan Bancroft (conductor)
Royal Albert Hall, Kensington, London; Wednesday, 3rd August 2022.
ABOVE: Miah Persson with the BBC National Orchestra of Wales (c) BBC/Chris Christodoulou