The huge stage (Felsenreitschule) that is carved into the massive rock face that is the Salzburg Festival's backdrop — Bartok's Duke Bluebeard's Castle, Janacek's Kat'a Kabanova (lead photo), and Carl Orff's A Play on the End of Time.
Of the three operas only A Play on the End of Time is of the philosophic weight to fill this monumental space. Carl Orff's 1973 mystery play dramatizes, no less, the angel Lucifer's expulsion from grace, and its consequent day of judgement. Such judgement is questioned, no less, by a group of monks who suggest that God will absorb all earthly evil back into Himself. This does occur, with considerable discussion at the end of time, at a terrifying final judgement resolving in Lucifer's assumption into grace.
Luckily, last month stage director Romeo Castellucci had already exhumed much of mankind at his Aix Festival staging of Mahler's Resurrection Symphony.
Carl Orff became known through his 1937 Carmina Burana, a work embraced first by the Nazi regime in spite of its eroticism, and since then this early work has assumed solid placement in popular culture worldwide. Compared to A Play on the End of Time it is of very modest proportions requiring only a triple wind symphony orchestra with six percussion players, plus mixed chorus and three soloists.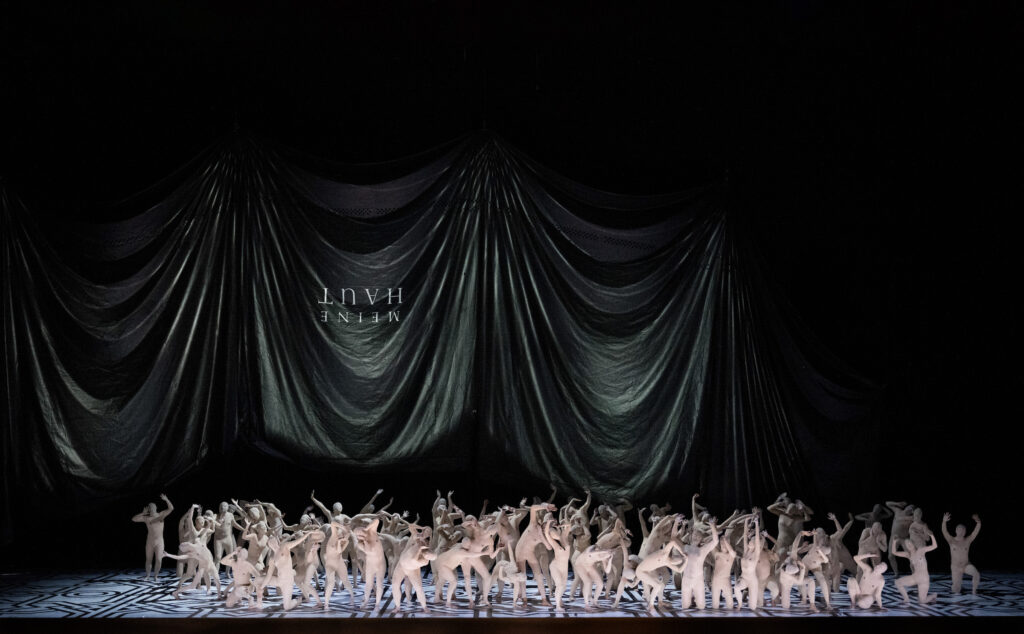 Just now Salzburg, for Orff's 1981 revision of De Temporum Fine Comoedia, his magnum opus, the Gustav Mahler Jugendorchester was modified into 30 or so percussion players (100 different instruments), double triple winds, i.e. six each except eight trumpets, three pianos (2 players each), three harps, organ. There were no violins, violas or cellos but there were 8 double basses plus a quartet of viols. The vocal forces were nine sibyls, nine monks, three mixed choruses (joined finally as the damned), plus a few more roles or so, not to forget Lucifer himself (speaking role).
And then to mention as well the considerable instrumental and choral forces that were required to create the magnetic tapes, massively amplified to initiate the Orff Comoedia (Play) and to intervene from time to time as it unfolds.
Conductor Teodor Currentzis, music director of the Stuttgart SWR Symphony Orchestra, held all this together with remarkable musical aplomb, indeed relentless remarkably precise rhythmic aplomb. More importantly for this Salzburg endeavor Mo. Currentzis is the music director of the musicAeterna Choir, a choral group based in Perm, Russia (a city in western Russia near the Ural Mountains) whose solo and ensemble voices provide the underpinnings of this Salzburg Festival production. musicAeterna is lavishly supported by the sanctioned Russian Bank VTB. May it be said that contractural arrangements surely will have long preceded the Russian invasion of Ukraine, that the sheer artistic momentum of this production was unstoppable, overwhelming all political rationale that should have stood in its way.
Stalwart avant-garde stage director Romeo Castellucci handled Orff's philosophic arguments with remarkable aplomb, creating striking images (the nine sibyls hurling real stones at Lucifer to drive him from heaven), and stagings in minimalistic terms that demanded maximal technical resources (as example, the three choruses [countless numbers] broke through the stage floor [!] to voice, relentlessly, their despair).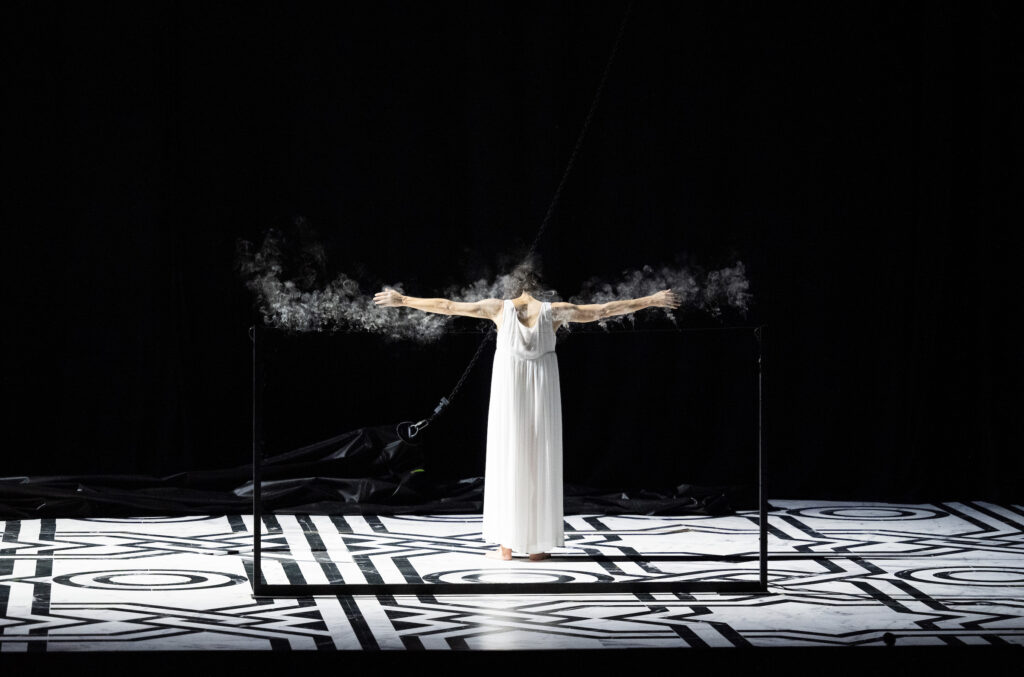 In the end Lucifer, voiceless, achieved his assumption, donning white angelic dress, with remarkable, minimalistic geometric movement of his arms, minuscule motions that brought closure to this gigantic artistic adventure within a brief moment of sublime intimacy.
N.B. De Temporum Fine Comoedia (A play on the End of Time) had its premiere at the Salzburg Festival in 1973. This revival boasts the conglomeration of artistic resources that only the Salzburg Festival has the resources to assemble. Among the countless well performed roles two performers must be mentioned — the Lucifer of Christian Reiner, a speaker of poetry and experimental text (read experimental theater actor), and the first Sibyl, a large role, sung by soprano Nadezhda Pavlova (of the Perm Opera and Ballet Theatre) in a full throated, golden voice.
Romeo Castellucci staged Duke Bluebeard's Castle as well.
The massive stage space of the Rock riding School was covered by a gigantic show certain that gradually took on very pale striped colors. Poetry speaker Christian Reiner (see above) slipped from under it to deliver the opera's prologue in highly measured rhythms and dramatic pauses in very clear, declaimed English (though the opera was sung in Hungarian), admonishing us that what we will be revealed will be real.
The curtain then disappeared revealing nothing more than an infinite, silent black void. We hear a baby wailing, then a mother weeping, auditory images that will haunt us as Judith subsequently unlocks, and opens the doors to the rooms that hide the recesses of her psyche. We come to understand that what she discovers is her world, not Bluebeard's, and that Bluebeard is her protective, even reluctant guide into her inner world.
Duke Bluebeard with his bride Judith first appeared as barely discernible shadows, Judith declaring her love for Bluebeard, wishing to illuminate its darkness. A jet of vertical flames erupted from the stage floor to provide some light, establishing the metaphor of a moth attracted to the flames that will consume it.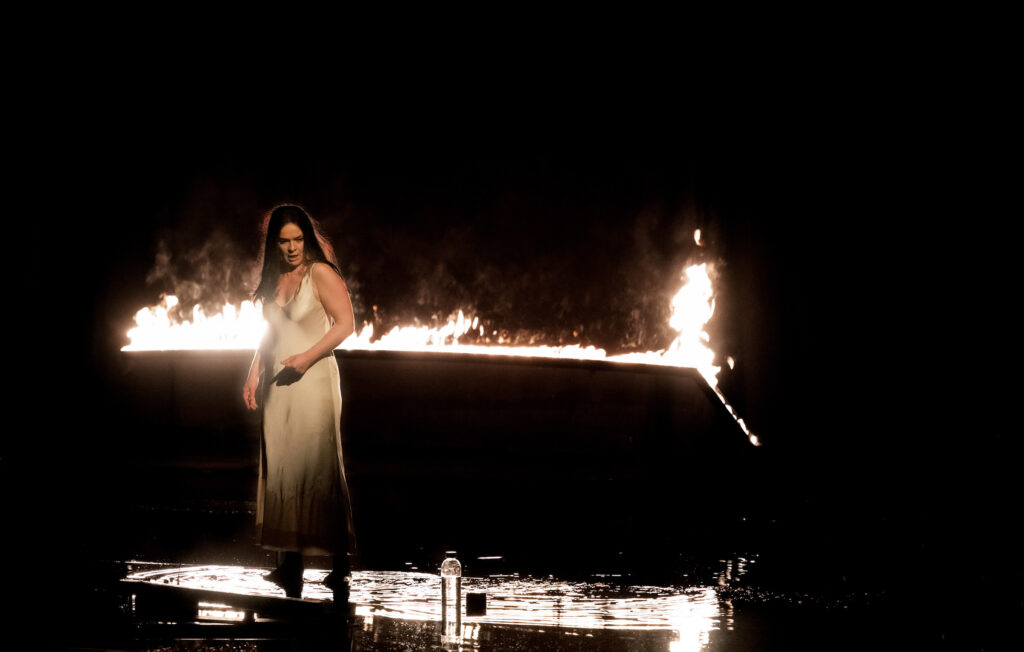 As the doors are progressively opened we see Judith become ever more immersed in Bartok's meticulously defined musical world, jets of flame erupting and subsiding near and far in various shapes, the floor flooding with water into which Judith and Bluebeard fall, Judith engulfed in orgasm. These primal images played freely within Castellucci's theatrical pulses that flowed continuously in the massive darkness of the vast stage.
With the opening of the fifth door to Bluebeard's vast kingdom the orchestra arrives at the famed, radiantly massive C major chord, and the full force of Bartok's expanded orchestra (quadruple winds) flows forth from the pit reinforced by faraway players in the nearby orchestra loft. In Castellucci's blackness we discerned Bartok's musical world in pristine detail and we yearned to hear the infinite colors that we divined, missing from the otherwise able performance by Vienna's Mahler Jugendorchester. Greek born, St. Petersburg finished conductor Teodor Currentzis ably urged the orchestra to create a required musical universe.
Duke Bluebeard was sung by Finnish bass Mika Kares, a singer of immense vocal charisma who rose to embody the unusual complexities of the production — Bluebeard as both a seducer and a somewhat paternalistic presence. Castellucci's Judith was enacted by Lithuanian soprano Austrine Stundyte, the Salzburg Festival's Elektra in its famed 2020 Warlikowski production. Mme. Stundyte is surely the most formidable expressionist diva of this moment, adding full vocal security in an unwavering intensity of voice to a spellbinding presence. This Castellucci production provided her the unique opportunity to create a Judith of exceptional if quite unusual emotional magnitude. 
Kat'a Kabanova is Janacek's most personal opera, an homage to his muse Kamala Stosslova, and homage to his hopeless, unrequited love for her, reasons enough to place this intimate, salon drama by the 67 year-old composer within the vast, hard stone confines of the Rock Riding School.
In the initial moment of silence before music we hear birds chirping, an auditory image that portends escape. We will again hear the chirping birds when Kat'a contemplates a grave for which she yearns, and where she will find, perhaps, some sort of peace.
Stage director Barrie Kosky played with the vast stage space in myriad ways, most striking was the placement of a thousand or so citizens of Salzburg standing in lines across the stage, motionless, their backs to us. This astounding image plus the stone face of Salzburg's mountain were the sole backdrop to encompass a hopeless world.
Stage director Kosky is famous for such in-your-face images (like the Bayreuth Beckmesser balloon).
The first music we hear takes us into Kat'a's psyche as we see and hear in the music her mind and body darting back and forth across the stage. Kat'a was sung by American soprano Corinne Winters in a voice cannily suited to the guilts of a Janacek heroine belying the purity and innocence of her spirit. Mlle. Winters physically embodies such a heroine as well. Though of powerful, and quite beautiful voice she is of petite stature, vulnerable to abuse. As Kat'a she offered little physical resistance to the considerable emotional forces bearing down on her, and at the same time she embodied a very great spiritual turmoil.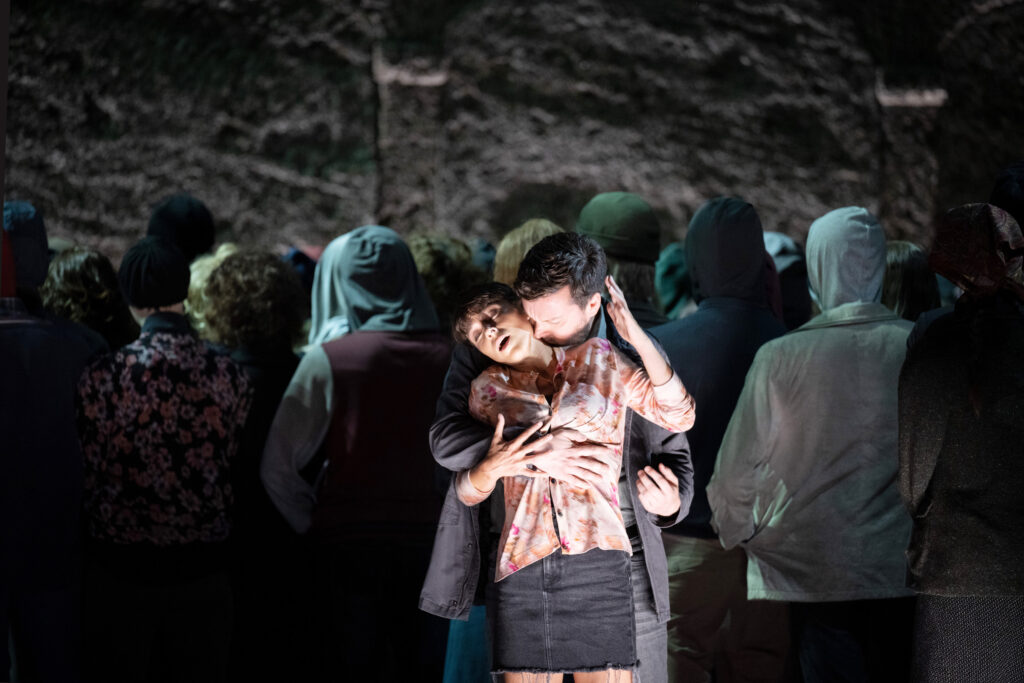 Kat'a's situation is complicated by the young man who has fallen in love with her, and with whom she has had, perhaps, a flirtatious moment. He, Boris, was sung by British tenor David Butt Philip, a singer of beautifully pure voice whose dimensionality of spirit embraces Don Jose, Lohengrin and Grigory, though Janacek's Boris is surely the most emotionally complex role he embraces — Boris is an ardent lover, though he is passive to an abusive uncle. His potential inheritance is more important to him than his emotional fulfillment. He exhibits an amazing indifference to existential suffering.
The most enduring menace to Kat'a's well being is her abusive mother-law, Kabanicha. In Barrie Kosky's telling of Janacek's tale Kabanisha is pathologically abusive, hardly a stalwart guardian of family, social and business interests. This role was assumed by distinguished dramatic soprano Evelyn Herlitzius who made the role about nothing more than abuse, this accomplished by authoritative voice and powerful diva presence.
Stage director Kosky indeed thrusts the story well beyond Janacek's family drama playing out in a small town somewhere, anywhere. There is no salon, encounters occur when actors emerge from the lines of the Salzburg citizens, the love garden is but a huge freed space of the stage, the thousand Salzburg citizens having been moved to one side during an act break. The river into which Kat'a throws herself is simply where Kat'a suddenly falls through the floor of the stage.
Finally the Barrie Kosky production is an existential intermezzo that plays to a huge, indifferent world. N.B. The thousand Salzburg citizens I first imagined to be on the Rock Riding School stage were in fact, disappointingly, dummies (motionless puppets).
Janacek's additional actors orbit these three personalities. The young lovers who escape to Moscow, Varvara and Váñá, were skillfully played by Slovakian mezzo-soprano Jarmila Balážová and British tenor Benjamin Hulett. Dikoj, the abusive uncle as well as Kabanicha's play dog, was gamely enacted by German bass Jens Larsen. Kat'a's drunken, if somewhat sympathetic husband Tichon was convincingly portrayed by Czech tenor Jaroslav Brezina.
The Kosky abstraction of Janacek's drama served to render the delicate emotional tracery of the Janacek orchestral score in high relief. Czech conductor (of Brno origin) Jakob Hruša evoked all possible Eastern European musical magic from a very willing Vienna Philharmonic.
Michael Milenski
De Temporum Fine Comoedia and Herzog Blaubarts Burg, August 6, 2022, Felsenreitschule, Salzburg. Photos copyright Monika Ritterhaus, courtesy of the Salzburg Festival.
Kat'a Kabanov, August 7, 2022, Felsenreitschule, Salzburg. Photos copyright Monika Ritterhaus, courtesy of the Salzburg Festival.