The question of why we should crave immortality is central to Janáček's penultimate opera.  As a composer he defied old bones and enjoyed an Indian summer, finding recognition during his sixties after Jenůfa had triumphed in Prague in 1916.  Forty years later it received its UK premiere at the Royal Opera House.  Welsh National Opera, too, has form with Janáček, not least with The Makropulos Affair which first appeared in Cardiff in 1978 with Swedish soprano Elisabeth Söderström in a staging by David Pountney.  It was later revived some sixteen years later with Josephine Bairstow in the principal role.  Now, Olivia Fuchs' powerful new production gains much from the Spanish soprano Angeles Blancas Gulin and the firm grip of conductor Tomáš Hanus, a Janáček authority who has co-edited the latest edition of the score.
Derived from a play by Czech writer Karel Čapek, The Makropulos Affair concerns a 337-year-old operatic diva, originally named Elina Makropulos. As a teenager in 1585 she had been persuaded by her father to take a potion that would trigger eternal life. After numerous fresh identities, always with the initials E.M., we meet her in the present (in this case the 1920s) as the jaded Emilia Marty. Her search for the potion's formula leads her to an encounter with a century-old legal dispute between two branches of a family – one legitimate and the other not – from where within the contents of the will she will rediscover the means to her immortality. Once it is found, and exhausted by her age and yearning for mortality, she rejects the formula and dies in a blaze of glory accompanied by some of Janáček's most radiant music.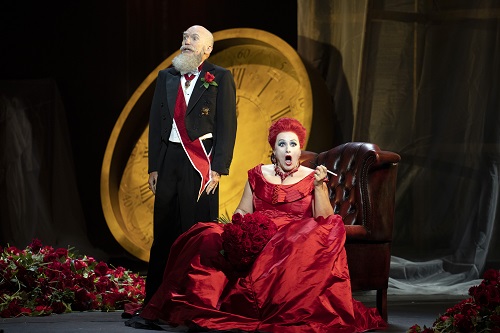 This seldom performed 1925 work does not embrace the lyrical warmth of his earlier operas, nor inhabit a flowing dramatic momentum (the first act is a slow burn), yet WNO make a compelling case for it, assembling a terrific team of singer-actors. On opening night, the orchestra was on blazing form, my only reservation being the plot's spoken explanations by Mark Le Brocq during an extensive scene change between the first two acts – vaguely amusing, but decidedly redundant. Fortunately, Nicola Turner's sets help clarify events across each act: filing cabinets and reams of spiralled legal documents conjure a busy, yet bizarre office environment where the protracted case of Gregor versus Prus is determined in the first. The second reveals a shabby theatrical backstage area adorned by a florist's worth of red roses, and the third act unveils a collection of 'EM' monogrammed suitcases surrounding a massive bed in an all-white hotel room, the whole warmly lit by Robbie Butler and supported by subtle black and white video projections from Sam Sharples.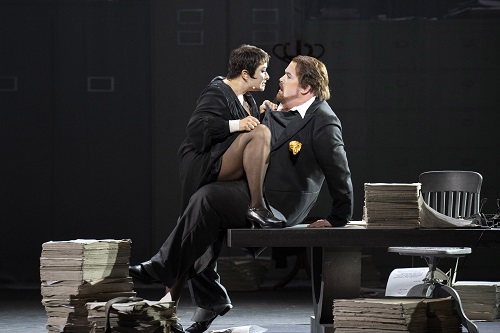 It's an opera that depends on strong, well-defined performances, especially from the soprano engaged to sing Emilia Marty. From the outset, Angeles Blancas Gulin owned the stage, vocally commanding and glamorous in appearance. She brought considerable passion to the role, whether as a charismatic and provocative presence in the offices of Dr Kolenatý, or in her unfeeling, not to say contemptuous, encounters with admirers in the shadowy backstage scenes of Act 2 where one devotee is driven to suicide. Tellingly, Emilia Marty's reunion with a former lover, Baron Hauk, ends with her kissing his neck with all the ardour of a bride of Dracula – its allusion to the living dead from Transylvanian legend never more implicit. She may not have the most beautiful voice, but there's plenty of conviction and power, just what was needed near the close when delivering her earnest line, "If only you knew how easy life is for you". When the visibly aging Emilia declared her soul had died within her, Blancas Gulin enabled us to feel the full force of Janáček's compassion, and we were overwhelmed.
Around her are seasoned performers: Nicky Spence as the smitten Albert Gregor, Mark le Brocq a flamboyant Vítek, and Alan Oke comedy gold as a tottering Count Hauk-Šendorf. David Stout as Baron Prus, Alexander Sprague his son Janek, and Gustáv Beláček as the lawyer Dr Kolenatý made distinctive contributions, as did Harriet Eyley who charmed the ear as the young lover Kristina.
Tomáš Hanus did wonders with the WNO orchestra, coaxing detail and colour from Janáček's terse and abrasive score. Always bringing an acute ear for balance and a feel for momentum, he made its closing paean to mortality surge and soar. You'll find no better champion of Janáček than Tomáš Hanus.
David Truslove
Emilia Marty – Angeles Blancas Gulin, Albert Gregor – Nicky Spence, Dr Kolenatý – Gustáv Beláček, Vítek – Mark le Brocq, Kristina – Harriet Eyley, Baron Jaroslav Prus – David Stout, Janek – Alexander Sprague, Count Hauk-Šendorf – Alan Oke, Chambermaid – Julia Daramy-Williams, Stage Technician – Dafydd Allen, Cleaning Lady – Monika Sawa; Director – Olivia Fuchs, Conductor – Tomáš Hanus, Designer – Nicola Turner, Lighting Designer – Robbie Butler, Video Designer – Sam Sharples, Gentlemen of the WNO Chorus, WNO Orchestra.
Welsh National Opera, Wales Millennium Centre, Cardiff; Friday 16th September 2022.
ABOVE: The Makropulos Affair (c) Richard Hubert Smith