A new production of Richard Strauss's Salomé is playing at Paris's Opera Bastille. Stage Director Lydia Steier, an American working mostly in Germany, has designed it to shock audiences.
In European opera houses over the past quarter-century – not least in Germany – the formula for creating such "shock opera" productions has hardened into a cliché: imagine a grim dystopia, present its inhabitants as psychopaths or trauma victims, display abundant and explicit sex, and splatter blood about the stage. This is modeled, often explicitly, on garish Hollywood horror, police, or fantasy fiction shows or films – and sometimes even on pornography. In short, Game of Thrones without the dragons.
A cynic such as Oscar Wilde – who wrote the play from which Strauss distilled Salomé – would surely point out that for operatic marketing directors, blood and sex are irresistible. During the short walk to my seat in Paris, I overheard two young couples tittering expectantly over the trigger warnings about "violent and/or sexually explicit content" texted out by the opera house – an unimpeachably politically correct step more likely to attract than dissuade members of the public. Succès de scandale productions of this kind also feed the media beast. Music critics love to debate them, not least in Germany, where such efforts are labelled "konsequent," meaning intellectually rigorous or consistent. Even if some critics are less impressed, bad publicity is better than none. Witness this review.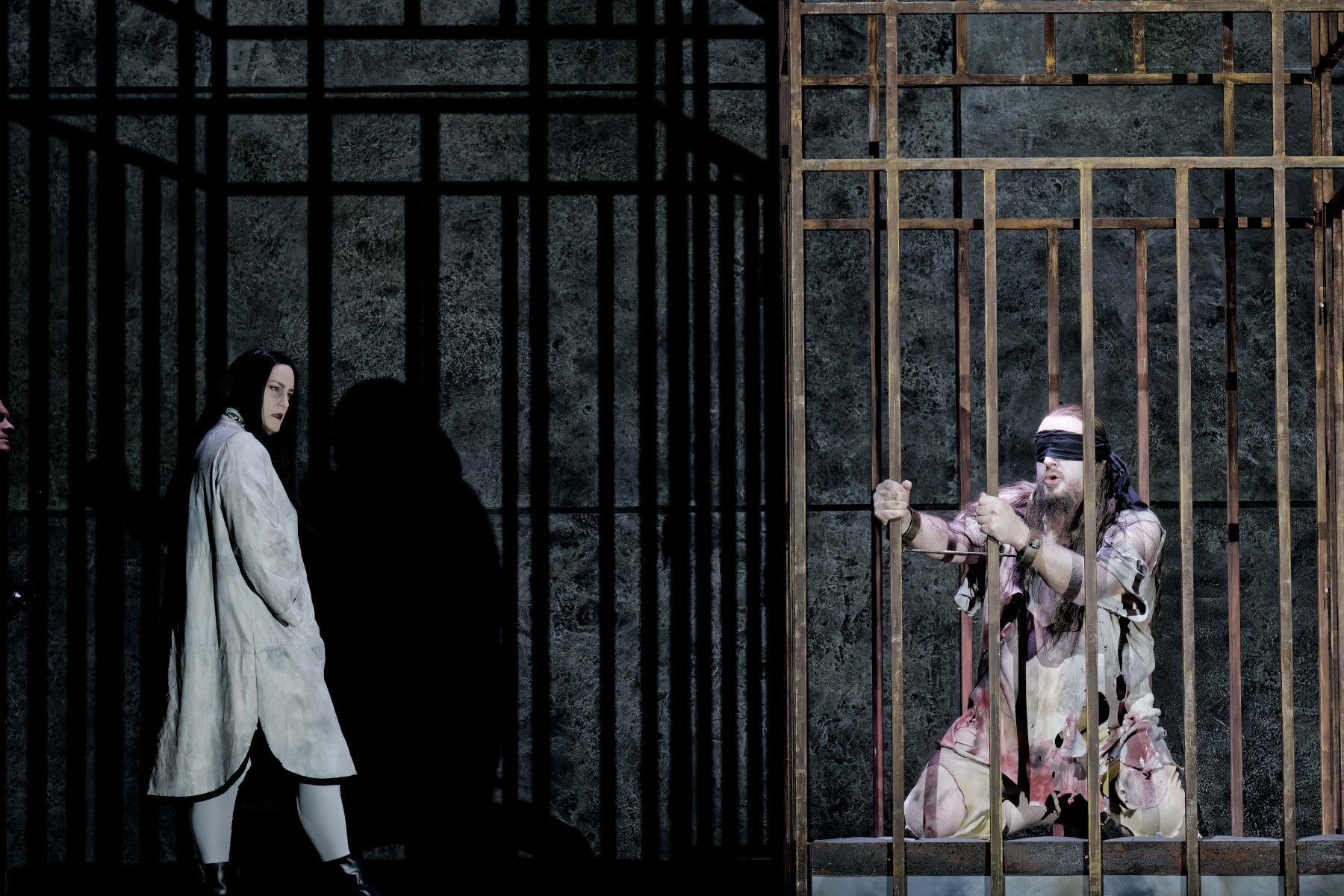 Steier applies this formula to Salomé. (Spoiler alert!) The curtain rises on a bleak inner courtyard of a brutalist building, perhaps in post-apocalyptic times. High above is a large and colorful picture window, through which Herod, Herodias and their courtiers (riotously dressed in aging rocker cum drag queen couture) are seen conducting grisly gang rapes, which culminate in the serial dismemberment of young women. About once per quarter hour, bloody body parts are carried down the stairs, disinfected by men in yellow Hazmat suits, paraded across the stage, and tossed into a pit…whereupon another nubile victim is sent up.
In this palace, Salomé is no glitzy princess but rather a morbidly plain goth teenager. She watches all this masked and silent, then steps outside and encounters Jochanaan (Saint John the Baptist), who first excites and then rejects her.
In exchange for the subterranean saint's head, she offers her father Herod not a strip tease, as in the libretto, but a gang-rape by the king and his pals. This leaves her stunned and bloodied.
In the final scene, a "body-double" Salomé writhes in the darkness next to a plastic bag with Jochanaan's head, while the singing Salomé acts out a chaste love scene with the saint, head still firmly attached. In the final thirty seconds, she dies of her wounds and the "Page of Herodias" (a tertiary character of no significance in Strauss's libretto) stages a "school shooting" style massacre of the courtiers and, finally, Herod himself.
Such over-the-top productions often contain one brilliantly original coup de theatre. Here it occurs in the only scene about which no production of Salomé ever says anything interesting: the Dance of the Seven Veils. Steier reconceives this risqué dance interlude as Herod's rape of Salomé.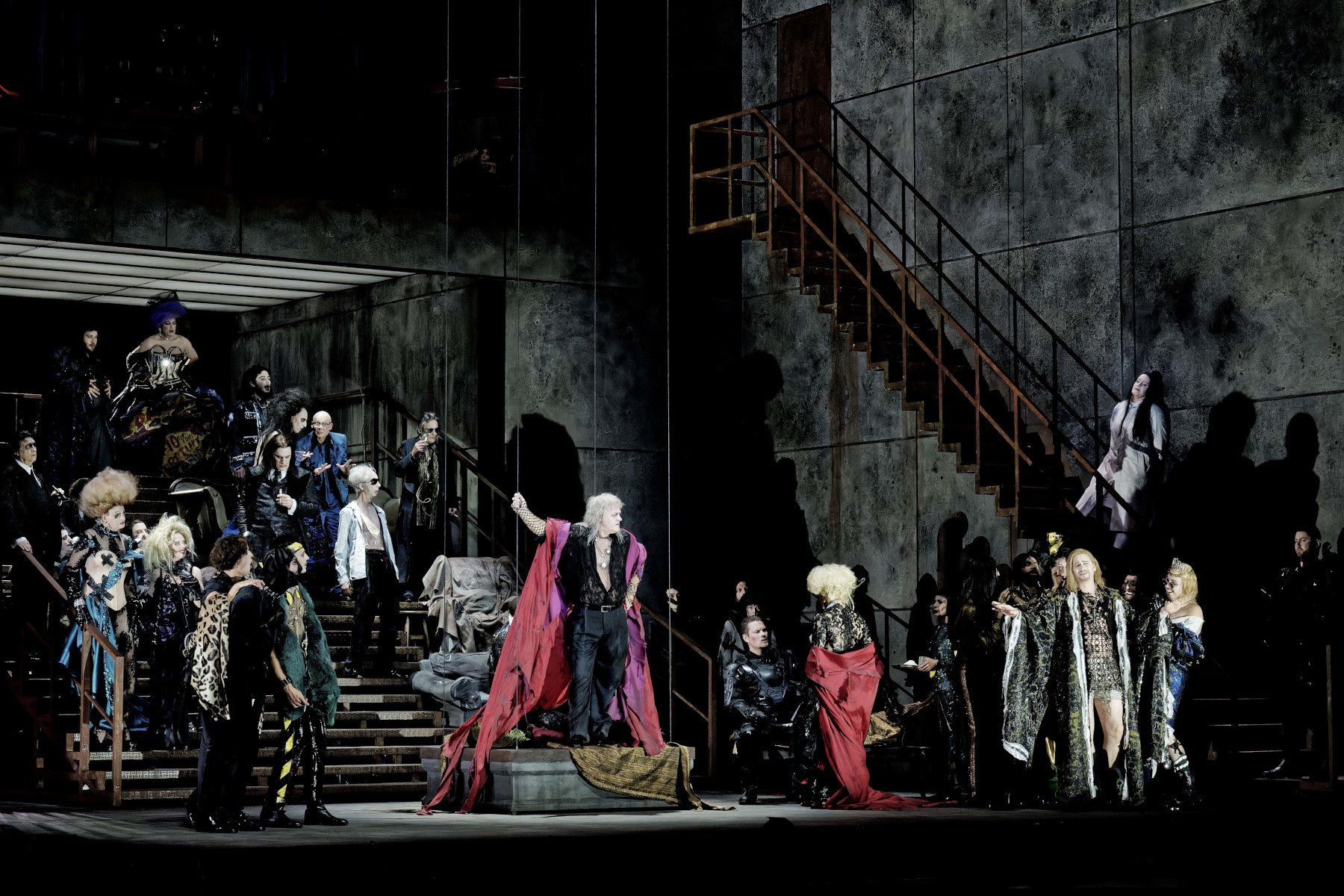 This reimagining seeks to address a central motivational puzzle in the plot as conventionally understood, namely why exactly Salomé turns to necrophilia. Here the implication is not that she is a spoiled rich teenager, nor acting out teenage rebellion against her parents' upper-class lifestyle. Rather, she has been traumatically abused by a weak and psychopathic father: the dance becomes not just a pedophilic murder on Herod's part, but a teenage suicide.
Yet, as occurs too often in shock opera productions, Steier violates the prime directive about how to portray sex and violence in art: less is more. Were the reimagined dance just a single explosive event, the reimagining would have far more impact, perhaps a revelatory one. But two hours of non-stop gore dulls the dramatic thrust, political significance and even the musical beauty of this opera.
Beyond creating sensory overload, departures from the written words and music create contradictions that obscure any hard-won insight into Salomé's motivation. In this production, I could not really register whether I was meant to pity, admire, envy or shun her. Is she a victim who is crushed, a child who apes her parents, or, as Steier seems to want to suggest, a revolutionary who fights back? If the latter, then why does Salomé submit to abuse rather than pull the trigger herself – given that semi-automatic weapons seem so widely available in post-apocalyptic Judea? And why did she believe murder-suicide would change anything?
This lack of dramatic clarity is particularly troubling because Steier, like many earnest advocates of shock opera, defends the liberties she takes with librettos as the only way to restore opera's societal and political relevance. Shortly before debuting as Salomé in this production, South African soprano Elza van den Heever admits that the production had at first made her uncomfortable. Yet she now accepts the director's view that we must "delve into the ugliness of humanity" to "show what's happening around us right now" in a modern society beset with "raging war and climactic upheaval." Many who advocate this "épater la bourgeoisie" approach explicitly aim to dislodge what they view as prevailing bourgeois complacency, romanticism and conservatism.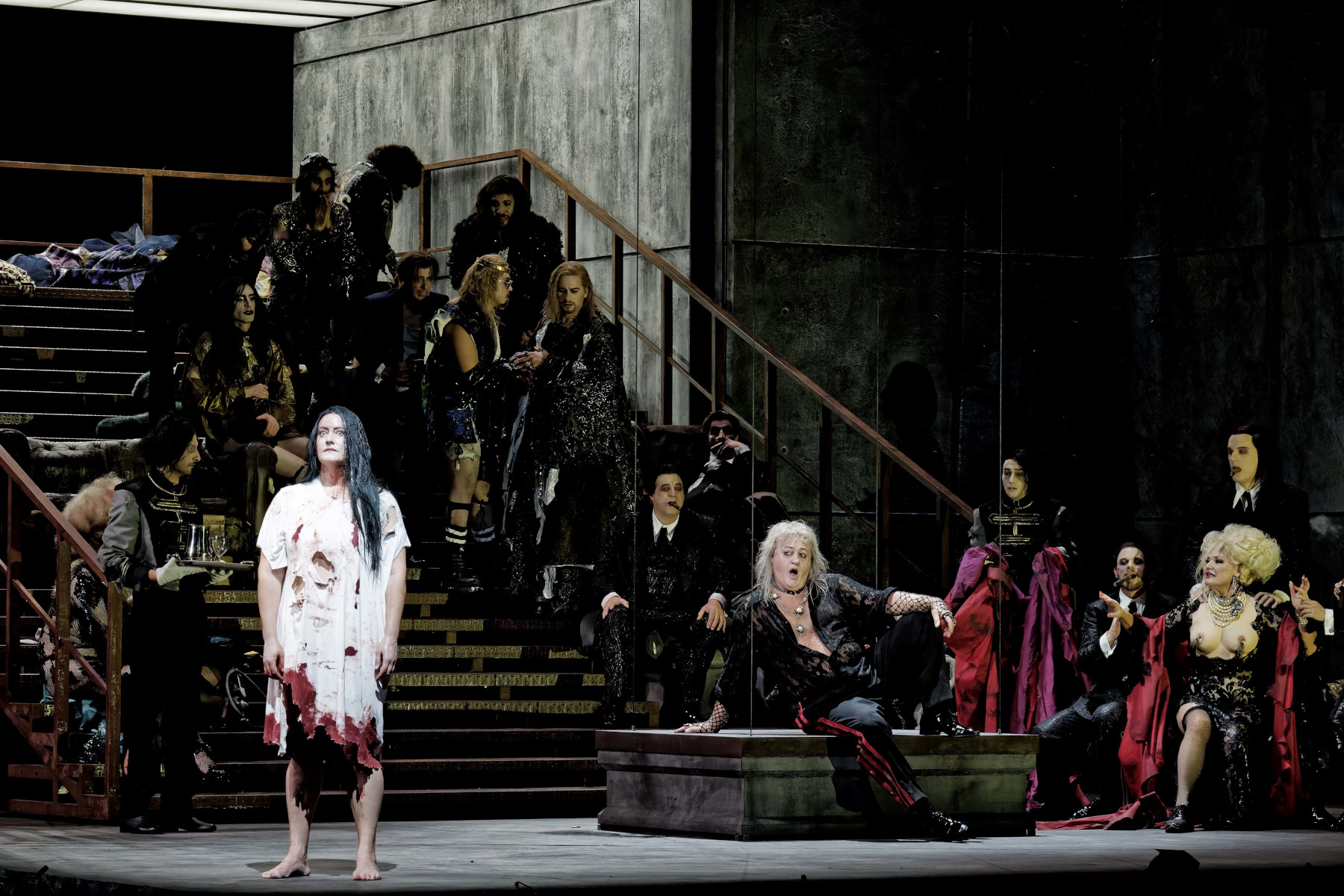 Yet if this is Steier's goal, then she must really wish Salomé to be a different person than she is, perhaps a harbinger of political and social change, or a believer in the 1970s "the personal is the political" mantra. The more one thinks about this production, the less plausible this claim to relevance seems and the less real-world content it seems to have.
Neither the opera, nor this production of it, makes the slightest effort to say anything even distantly relevant to environmental degradation or war – and its relevance for the treatment of women is at best unclear. And whatever social problem is bothering Salomé, does Steier really mean to imply that the solution is anger? Or that individuals should solve social problems by staging mass shootings – or, in 2021 terms, by locking, loading and storming the Capitol? To pretend to pose serious political questions without any effort at crafting a coherent or sophisticated answer seems to me at the very least self-indulgent and perhaps even politically irresponsible.
In response to my confusion, I eventually tried to ignore the plot entirely and focus on the music. Salomé is, after all, perhaps the most nearly perfect of orchestral scores, in which Strauss displays a virtuosity in manipulating the texture, color, harmony and pace of a massive orchestra that is unrivaled. Yet I found that the chaos distracted me even from the music.
The production seemed to affect the musical direction. Simone Young is an experienced and technically sovereign conductor who knows this opera well and delivered a remarkably lovely and transparent account of it. At this performance, I heard some things in the score I have never noticed before. And yet, she seemed to preside over a brighter, thicker and louder rendition than one normally heard. Was the purpose of playing Salomé as if it were Elektra to offset the bleakness of the interpretation? To match the chaotic stage action? To suit von den Heever's dramatic delivery? Hard to know.
The loss in superficial beauty and distance is significant. Strauss uses the music's quicksilver external beauty – its glittering bejeweled surface, its spooky decadent hollows under moonlight, beneath which we glimpse the stirrings of psychically sick minds – to encode the dramatic irony central to all of Wilde's fiction: appearance belies reality. A seductive and innocent appearance belies psychotic sensuality within.
Despite all that was going on in the production and the orchestra, the opera was impressively rendered by singers with voices big enough to stand up to the raging orchestra – not to be taken for granted these days. John Dasdak's Herod dominated the stage. His penetrating tenor with a dose of metallic Sprechstimme is ideally suited to roles such as Herod, Loge (Das Rheingold), and Tambourmajor (Wozzeck). His German is uncannily clear and his varied phrasing perverse and insinuating. Bouncing about the stage dressed like an aging rocker, he projected a manic energy and even an oddly sympathetic side.
Karita Mattila, once a formidable Salomé herself, sang Herodias with much voice, if a bit less focus or verbal clarity, while matching Herod's sartorial audacity in a (faux) topless outfit. As Jochanaan, bass-baritone Iain Patterson projected well, though without the prophetical warmth and ease that would have made his director-mandated transformation into an imaginary boyfriend more plausible. Berlin-born and Turkish-raised tenor Tansel Akzeybek, who used to specialize in the lyric repertoire but is now moving into Wagner, sang Narraboth with unusual weight and brilliant clarity. A special highlight of the evening was the small role of the (now homicidal) Page, sung with sharp focus and contralto resonance by Katherina Magiera, a company singer at the Frankfurt Opera – of whom I would like to hear more.
This leaves van den Heever's debut outing as Salomé. She has all the notes, except very occasionally in the lower middle of the voice, plus near-perfect intonation and adequate German diction. No eerie hint of a little girl here. She sang to her own vocal strengths – and to Steier's conception of the role – by projecting full out from beginning to end, with bright and thrilling emphasis on the top notes. Overall, it was an impressive outing, though I imagine that as she reprises this role, she will develop more dynamic variation, nuanced phrasing, and dramatic nuance.
On opening night, the audience greeted the final curtain with the ambivalence it deserved: strong applause for the singers and musicians, and a barrage of boos aimed at the production staff, partially offset by belated cheers of support. For those with access to a French television feed, this production will be telecast on 27 October.
Andrew Moravcsik
---
Salomé
Music composed by Richard Strauss
Libretto based on Hedwig Lachmann's translation of the play Salomé by Oscar Wilde
Cast and production personnel:
Salomé: Elza van den Heever. Herodes: John Daszak. Herodias: Karita Mattila. Jochanaan: Iain Paterson. Narraboth: Tansel Akzeybek. Page der Herodias: Katharina Magiera. Erster Jude: Matthäus Schmidlechner. Zweiter Jude: Éric Huchet. Dritter Jude: Maciej Kwaśnikowski. Vierter Jude: Mathias Vidal. Fünfter Jude: Sava Vemić. Erster Nazarener: Luke Stoker. Zweiter Nazarener: Yiorgo Ioannou. Erster Soldat: Dominic Barberi. Zweiter Soldat: Bastian Thomas Kohl. Cappadocier: Alejandro Baliñas Vieites. Ein Sklave: Marion Grange.
Conductor: Simone Young. Director: Lydia Steier. Set design: Momme Hinrichs. Video: Momme Hinrichs. Costume design: Andy Besuch.
All photos by Agathe Poupeney courtesy of OnP.