The habit among composers of almost excessive self-criticism has been a curiously French phenomenon over the last century, typified by Dukas, Duruflé and his younger, more progressive contemporary Henri Dutilleux. No less a perfectionist is Henri Duparc (1848-1933), whose admittance to the great pantheon of French song writers is based on sixteen solo songs and a single duet, this last conspicuous by its absence on this disc. Perhaps his modest output was influenced by his teacher César Franck who insisted his pupils must "write little but make it extremely good". By the time Duparc was in his mid-thirties he abandoned composition owing to a nervous disorder, subsequently destroying many of his unpublished manuscripts and later orchestrating a handful of his songs before dying at the age of 85.
Despite a long compositional silence, his songs (the best of which are mini masterpieces) have continued to find new audiences. Who cannot be stirred by 'Extase', the greatest song Wagner never wrote? Or moved by the Fauré-inflected 'Phidylé', or the shimmering languor of 'L'Invitation au voyage'? There are, however, one or two exceptions to the romantic longing, as the carefree 'Sérénade' and the gothic intensity of 'Le Galop' suggest. Yet a pervasive melancholy seems to occupy the work of this "Prince among French song composers" (courtesy of Graham Johnson), who claimed that his settings, with their mixture of lyricism and dramatic recitation, came from "from the heart and speak to the heart".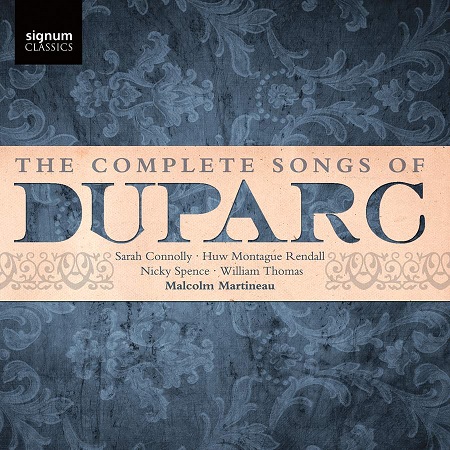 Notwithstanding Ravel's observation that Duparc's songs were "imperfect but brilliant", they have been moderately well represented on CD. Of the discs devoted exclusively to his mélodies, starting with Gérard Souzay's 1953 mono recording on Decca (variously too from Calliope, Hyperion, Naïve and Naxos), only Signum places them in chronological order. While Malcom Martineau is a constant accompanying presence, this compilation brings together an acclaimed roster of British singers: Dame Sarah Connolly (mezzo-soprano), Nicky Spence (tenor), Huw Montague Rendall (baritone) and William Thomas (bass). One might ask why a soprano was not added to the line-up considering Duparc's songs were intended for and published as songs for the "high ranges". While the listener already may have preferred past performances, I suspect there's something for everyone here with its wealth of colour, delivery and expression.
There's a certain sumptuousness of tone with Sarah Connolly who commands attention in 'Chanson Triste', her voice effortlessly ardent and yearning to match the text of French symbolist poet Jean Lahor. She's thoroughly at home in the expressive richness of this song and soars across the stave unlocking every ounce of emotion.  She's equally bewitching in the melting lines of 'Extase' where, amid evocations of 'exquisite death', her tiny pauses mid- phrase create a special intensity within its Tristan-esque rapture. One almost has the impression she can hardly bear to join one note to the next when she arrives at "comme le mort".  The result is spine tinkling.  Passion and regret are nicely conveyed in 'Romance de Mignon' and longing is well defined in 'Au pays où se fait la guerre', its introduction seemingly transferred some twenty years later into the opening song from Mahler's Lieder eines fahrenden Gesellen. To my ears Connolly's voice is too fulsome for the dreams of 'L'Invitation au voyage', but ideal for the emotional torment in 'Testament'.
Nicky Spence brings plenty of drama to his trio of songs. Timbral variety and world weariness are evident in 'Soupir', especially affecting at "Ne jamais la voir ni l'entendre" (Never to see or hear her), and his final "toujours" is utterly beguiling. His is a rich, well projected voice not lacking in warmth, though slightly strained (for my taste) above the stave. No sense of strain inhabits the wistful contentment of 'Sérénade Florentine', nor the easy-going 'Sérénade' where he draws on a softer grain in keeping with the poet's good-humoured confessions.
A rich mahogany tone (if slightly too covered) is harnessed to dramatic effect by William Thomas, undeniable in 'Le Galop' (with its echoes of Schubert's 'Erlkönig') where the urgency of horse and rider are superbly conjured. 'La vague et la cloche' feels over-egged, its nightmare dramatically captured but undermined by some intrusive vibrato and wayward tuning. More successful is his rendition of 'La Vie antérieure', where his cavernous voice envelops the poet's nostalgic vision of the Orient. Thomas finds room too for a gratifying half-voice to conjure "les voluptés calmes".
There's nothing calm about the opening to 'Le manoir de Rosemonde', its dramatic portrayal vividly outlined by Huw Montague Rendall who dispatches its high baritone with tremendous authority, reducing his tone for the plaintive "Lamento".  He delivers even more restraint in 'Phidylé', here at his most intimate and passionate, spinning out its silky lyricism and catching the text's tenderness and mounting ecstasy to perfection.  His acute sensitivity to music and text is a constant delight, as is his mezza voce and textbook legato.  One can only admire too the generous musicianship of Malcolm Martineau, himself a Prince among accompanists, whose ever-sensitive collaborations make this disc an essential addition to the Duparc discography.
David Truslove
Sarah Connolly (mezzo-soprano), Huw Montague Rendall (baritone), Nicky Spence (tenor), William Thomas (bass), Malcolm Martineau (piano)
Complete Songs of Duparc: Chanson triste, Soupir, Romance de Mignon, Sérénade, Le galop, Au pays où se fait la guerre, L'invitation au voyage, La vague et la cloche, Extase, Élégie, Le manoir de Rosemonde, Sérénade Florentine, Lamento, Phidylé, Testament, La vie antérieure
Signum SIGCD715 [60:04]