Operas sometimes seem like the proverbial London bus: you wait at the stop for ages and then three come along at once.
This year, the bus's destination has been Alcina's island – a barren wasteland populated by the eponymous enchantress's discarded and petrified lovers, who have been spellbound as animals, rocks and trees, and where Bradamante (disguised as her own brother Ricciardo) seeks to rescue her beloved Ruggiero, who has succumbed to the sorceress's charms. In the spring, Tim Albery battled to tame Handel's artifice at Opera North; in the summer, Francesco Micheli opted for sumptuous excess in Glyndebourne's first staging of Alcina, transforming Alcina's illusory Arcadia into a revue show at the Teatro Lirico in 1960s Milan. Now, as the year draws to a close, the director Richard Jones brings his new version of Handel's glorious music and preposterous plot to the Royal Opera House. How, or if, he untangles the musical necromancy will be intriguing to see.
One knotty sub-plot involves Alcina's sister, Morgana, who, besotted-at-first sight when she encounters 'Ricciardo', casts aside her lover Oronte. It's a role which prompted Winton Dean to suggest (in Handel's operas 1726-1741) that, 'Handel had a soft spot for coquettes, to judge from the music with which he endowed them'. In this ROH production, Morgana will be sung by the soprano Mary Bevan. The role marks her first return to the main stage at Covent Garden since 2013, when she made her house debut as Barbarina in David McVicar's Le nozze di Figaro – though she has since been 'out and about' with the ROH, performing (in 2015) at the Roundhouse in Monteverdi's Orfeo (Euridice/La Musica) and taking the title role in Luigi Rossi's Orpheus at the Sam Wanamaker Theatre at Shakespeare's Globe, and creating the title role in premiere of Mark Anthony Turnage's Coraline, at the Barbican in 2018.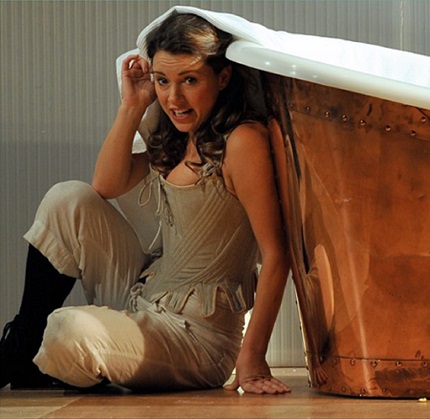 "It is good to get back onto the main stage," Mary tells me, "and to work again with Richard Jones [she was Zerlina in his 2016 Don Giovanni at English National Opera] and Christian Curnyn, who is a good friend. Things felt really comfortable and secure from the first day of rehearsals, though, of course, there have been challenges everyday – though in a good way." As our conversation continues it's clear that the six-week rehearsal period has marked a real turning-point for Mary. "During covid I changed vocal teachers. I wanted to 'turn the heat up'. I felt I had a few technical problems, largely from doing too much work, often in my comfort zone, and so had developed a few bad habits. I wanted to challenge myself, particularly to sing high. So, after two years, Morgana has given me the opportunity to put the hard work into action. The role is high, but even more so in this production, which is being sung at concert pitch, not Baroque pitch."
After weeks of rehearsals and with the dress rehearsal for Alcina scheduled for later that day, Mary feels that "it's worked … though I'm never not learning, and always seeking to push higher into the next zone. But, I've gained in confidence and I am now just going to enjoy it, and focus on what I can do, which is acting, and leave the singing to take care of itself".
Mary's commitment is both impressive and guilt-inducing! She explains that for the past month or so she's stopped drinking alcohol – "usually you have the odd glass of wine in the evening, or a beer after a rehearsal, and you don't really notice, but this is a big opportunity and I want to throw everything at it" – and joined her local gym. "Richard has made one of Morgana's arias, at the end of Act 1, a dance number ['Tornami a vagheggiar' in which Morgan exults in her belief that Ricciardo loves her]. On day three of rehearsals, I realised I needed to get fit – I couldn't be huffing and puffing all over the stage! And, I've been making sure I have early nights too."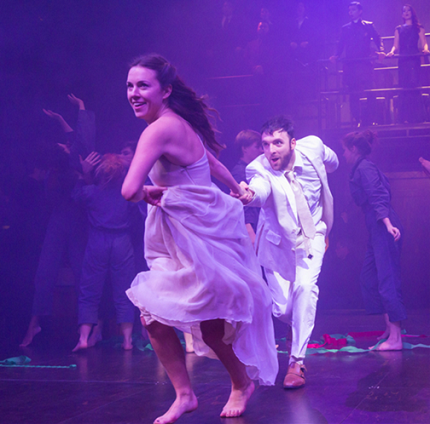 Working alongside the American soprano Lisette Oropesa, who sings the title role at Covent Garden, has clearly been hugely influential and inspirational for Mary. "She has a different level of focus and work ethic. In the UK we tend to be self-deprecating and play down how much work we've put in, but Lisette doesn't shy away from saying that she's been working at the role of Alcina for five months. And, she was perfect from day one. But, from the outside you can see that there is no cutting of corners; she never lets herself off the hook. I realised what one can do if one puts one's mind to it. After covid and the lockdowns there were two ways things could go: I could meander along, or I could have a change of mindset."
Clearly, Mary chose the latter path and, as she says, "Things have started to happen". In December there's more Handel: Israel in Egypt with Richard Egarr and the Scottish Chamber Orchestra at Edinburgh's Usher Hall; a Messiah with the Philharmonia Orchestra at the Royal Albert Hall; and, in Antwerp, Il de lirio amoroso with Peter Whelan conducting the Saint Carolus Borromeus. Mary will also present a recital, How Cold the Wind doth Blow, at Wigmore Hall with the tenor Nicky Spence tenor, the pianist William Vann and the violinist Jack Liebeck violin, marking Ralph Vaughan Williams' 150th anniversary and following a four-disc series of recordings of the composer's folk-song arrangements on the Albion Records label.
But, in 2023, Mary has two significant debuts to look forward to. She'll begin the year by re-joining the Hofesh Shechter Company at the Philharmonie de Paris, working again with the team that premiered LIGHT – a sequence of solos and ensembles by J.S. Bach interwoven with dance – in May 2021 at the Royal Danish Theatre in Copenhagen. Then, March will see her taking the title role in David Alden's production of Cavalli's La Calisto at Munich's Bayerische Staatsoper. I ask Mary if she feels that her role in Alcina has opened up new opportunities and collaborations? "Well, I worked with David in 2021, in Ariodante at the Bolshoi in Moscow, and these things all add up over time. I'm standing in for Louise Alder who will be on maternity leave. But, yes, if one's working, other things do seem to start happening." And, the following month she will perform the role of Euridice in Pier Luigi Pizzi's staging of Gluck's Orfeo ed Euridice at the Teatro La Fenice in Venice.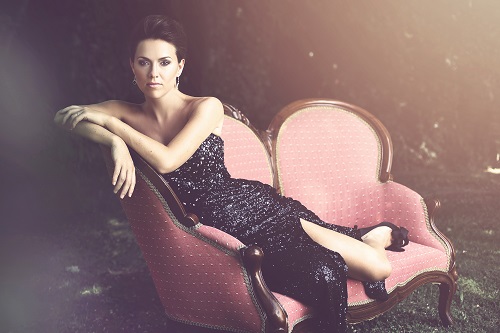 I remark that there's a lot of Baroque repertory on the agenda for the coming months. "I make sure that the repertoire that I sing is the music I love," Mary explains, "and I don't want to be pigeon-holed. In any case, anyone who sings Handel will tell you that his operas are the hardest to sing, and the best training to do other, 'bigger' stuff. You can't half-sing Handel." What roles would she like to perform in the future? "I'd like to do more Mozart – Susanna, for example. And, I'd love to do Anne Truelove. Also, some French roles, such as Mélisande. I think it's possible to quickly change the way one sings – to train oneself to sing in a certain style."
One recent project that has obviously given Mary enormous pleasure and satisfaction is an album of French songs, accompanied by orchestra and chamber ensemble, which will be released on the Signum Classics label in February 2023. "I recorded a disc, Voyages, with Joseph Middleton in 2017, for Signum, of songs set to poems by Baudelaire and Goethe, and I was keen to sing more French repertoire. This new disc, Visions illuminées, is ensemble-led, there's no conductor, and it comprises new arrangements of songs by Debussy, Ravel, Duparc, Chausson and others. The music is very luscious and Romantic. The central focus is Britten's Les Illuminations, alongside which there are orchestral arrangements of well-known songs such as Duparc's 'Chanson triste' and Fauré's 'Clair de lune', as well as new arrangements of Debussy and Ravel by Robin Holloway. There's also a song by Chabrier that has never been heard before: the music was almost destroyed when the composer's publishing house closed, and it's been rescued by French scholars. This is the first recording."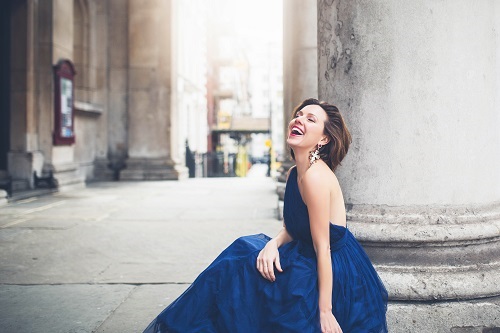 During our conversation, it's clear that Mary's energy and commitment to music and performance are boundless. And, during the pandemic lockdown, she was characteristically inventive, resourceful and generous, founding Music at the Tower in Hornsey, giving work to 128 musicians and raising over £10,000 for Help Musicians UK. When I suggest that this was quite a major endeavour, Mary replies modestly. "At the time it didn't feel 'major' – it was just an opportunity to have some fun. I had amazing support from the cellist Jonny Byers, who lives nearby and is a good friend. I had the ideas and called on other friends for favours; he drove the van, made the signs, fixed the coffee machines. It wasn't so much that I wanted to sing myself, but I missed the interaction with other musicians, the social element of the job. And, I was sorry for my colleagues in the orchestral world: it was awful that they had no income so I wanted to try to create some opportunities that would also be fun to watch. We put on eleven concerts in twelve weeks, and they brought much happiness; it was truly worth the effort." I wonder if Mary has further plans to develop the venture. "Now, people are working again, so it's not such a financial necessity. And, I would need to find time to do required fund-raising. But, I think it is something that the area needs so, yes, in the future we might put on further events."
I end our conversation by asking Mary if she always knew she would be a singer – if it was an essential part of her 'identity'?  "Singing was second nature in my family, but when I left school it seemed too obvious a choice – though I guess in my mind it was a 'fallback plan', if university and academia didn't work out.  I studied Anglo-Saxon, Norse and Celtic at Cambridge, because I was interested in medieval history, and I had a fantastic time.  I did some singing at university although, in fact, treble recorder was my main instrument; and I did reflect on studying that further.  But, I also wanted to be an actress. I had so many opportunities as a child, singing in a children's chorus, and in the family opera company that my mother established.  I was always a dramatic child – when I was at Cambridge I thought I would be a television presenter!"
"But eventually the path became clear, and singing brings together all the things that I love. But, my identity is not tied up with being a singer. I'm a person – a sister, a mum, a friend: that's the reason for living. I don't put too much pressure on my career to make me happy. Of course, I'm always looking for new potentials and I have a healthy concern for my career. But, if for some reason it was taken away, I'm sure I would find other things to do."
I don't think there's any doubt about that.
Alcina will be performed at the Royal Opera House, Covent Garden, from 8th-26th November.
Claire Seymour
ABOVE: Mary Bevan (c) Victoria Cadisch