Giuseppe Verdi's early masterpiece Ernani returned to Lyric Opera of Chicago in a production featuring several outstanding singers. The role of Ernani is sung by Russell Thomas, the part of his beloved Elvira by Tamara Wilson. Don Ruy Gomez da Silva, uncle and expected future spouse of Elvira is Christian Van Horn, while the third suitor, Don Carlo, is sung by Quinn Kelsey. The Lyric Opera Orchestra is conducted by the company's music director Enrique Mazzola and the chorus master is Michael Black. The director of this revival is Louisa Muller with set and costume designs by Scott Marr. The lighting is designed by Duane Schuler.
During the overture a pantomime depicts the previous generation's relations between King and nobility, a time during which Ernani's father was killed and the family's wealth was lost. As the curtain rises on a mountain landscape the male chorus of bandits and mountaineers sings praise to wine and to gambling. As the followers of Ernani the men are here sensitive to his mood and attempt to distract his sadness. Mr. Thomas begins Ernani's entrance, "Mercè, diletti amici"("Thank you, beloved friends") with confident top notes and an admirable sense for legato over Verdi's decorated verse. Thomas injects an emotional urgency into his line as he relates the dilemma of Elvira at the castle of her uncle. Thomas interacts convincingly with the crowd, although movement and blocking of groups is not a strength of this revised production.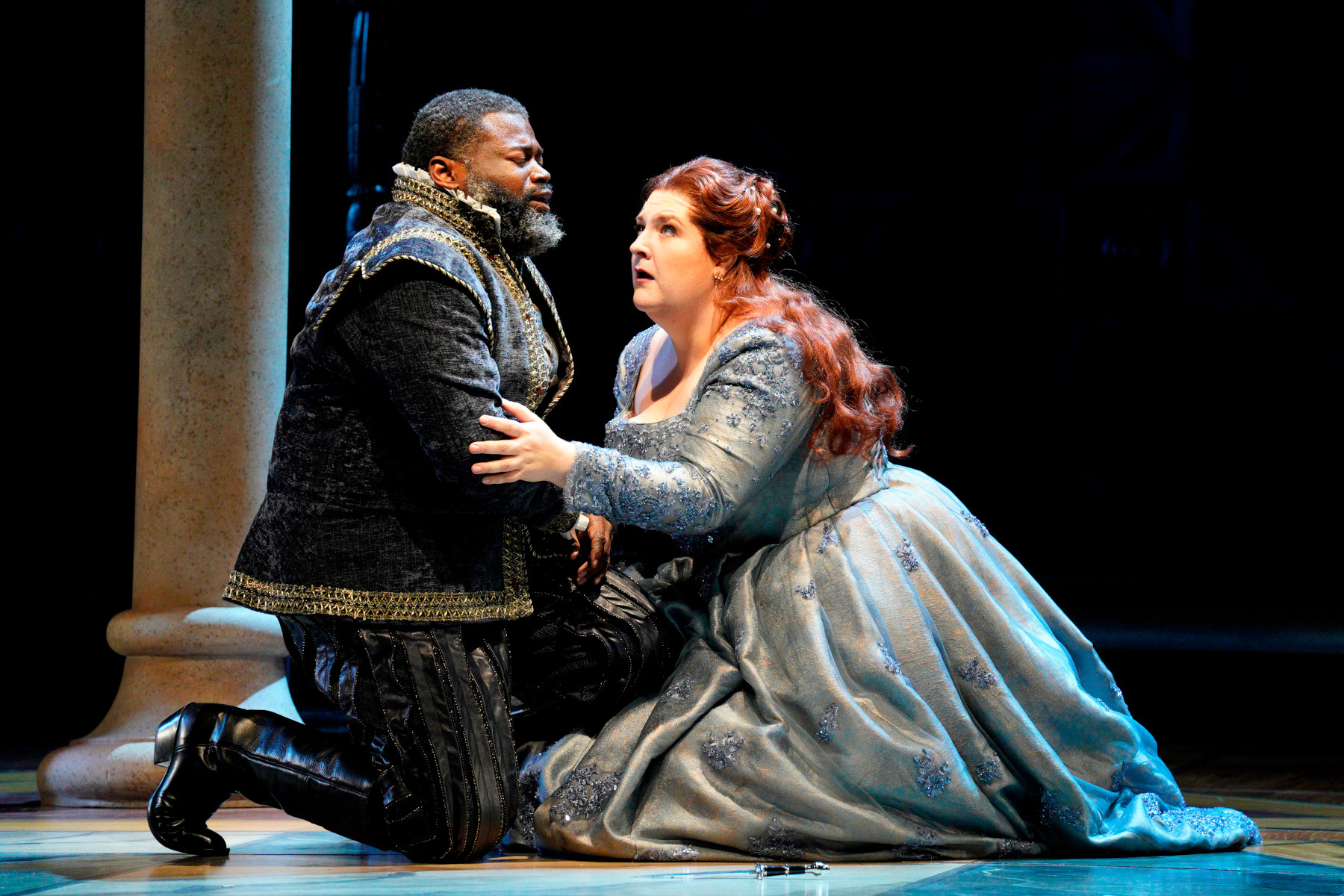 After several panels have shifted, the interior of the grandee Da Silva's castle reveals a sumptuous apartment. From the first words of her entrance Ms. Wilson projects the mix of emotions plaguing Elvira's immediate fate. Most notable in Wilson's characterization is the remarkable flexibility of her voice and the dramatic sensitivity she applies in the service of Elvira's dilemma. Her scene and aria beginning "Surta è la notte" ("The night has risen"), delineating Elvira's dread of her uncle Silva's continued advances, is expressed with emotionally charged low pitches. As she gains determination and thinks ultimately of Ernani as her salvation Wilson's voice rises to a crescendo in anticipation. In her subsequent aria, "Ernani involami" ("Ernani, carry me away"), Wilson soars with lyrical beauty through the musical line. Her individual decoration underscores Elvira's excitement at the thought of escaping her uncle's plans together with Ernani. While musing dreamily of "Un Eden di delizia" with her lover, Wilson concludes with a sustained note of devotion. In the cabaletta "Tutto sprezzo" ("I scorn everything") Wilson's line shimmers with the introduction of pointed, individual notes in a rising series. Her distinguished trill is used as both a transitional pause in her thoughts and an encouragement to "tempo" ("time") to pass more quickly.
In much the same way Mr. Kelsey applies his rich, rounded baritone to good effect in portraying the role of Carlo in his first confrontations with Elvira and Ernani . When Carlo is admitted unexpectedly into Silva's palace, Kelsey uses his voice to approach Elvira seductively, prompting in turn dramatic pitches of indignation and defense from Wlson. Once Ernani arrives at the palace to fulfill Elvira's dream of escape, he is confronted by a vocally different Carlo, one through whom Kelsey emits an unforgettable stance of the king's authority.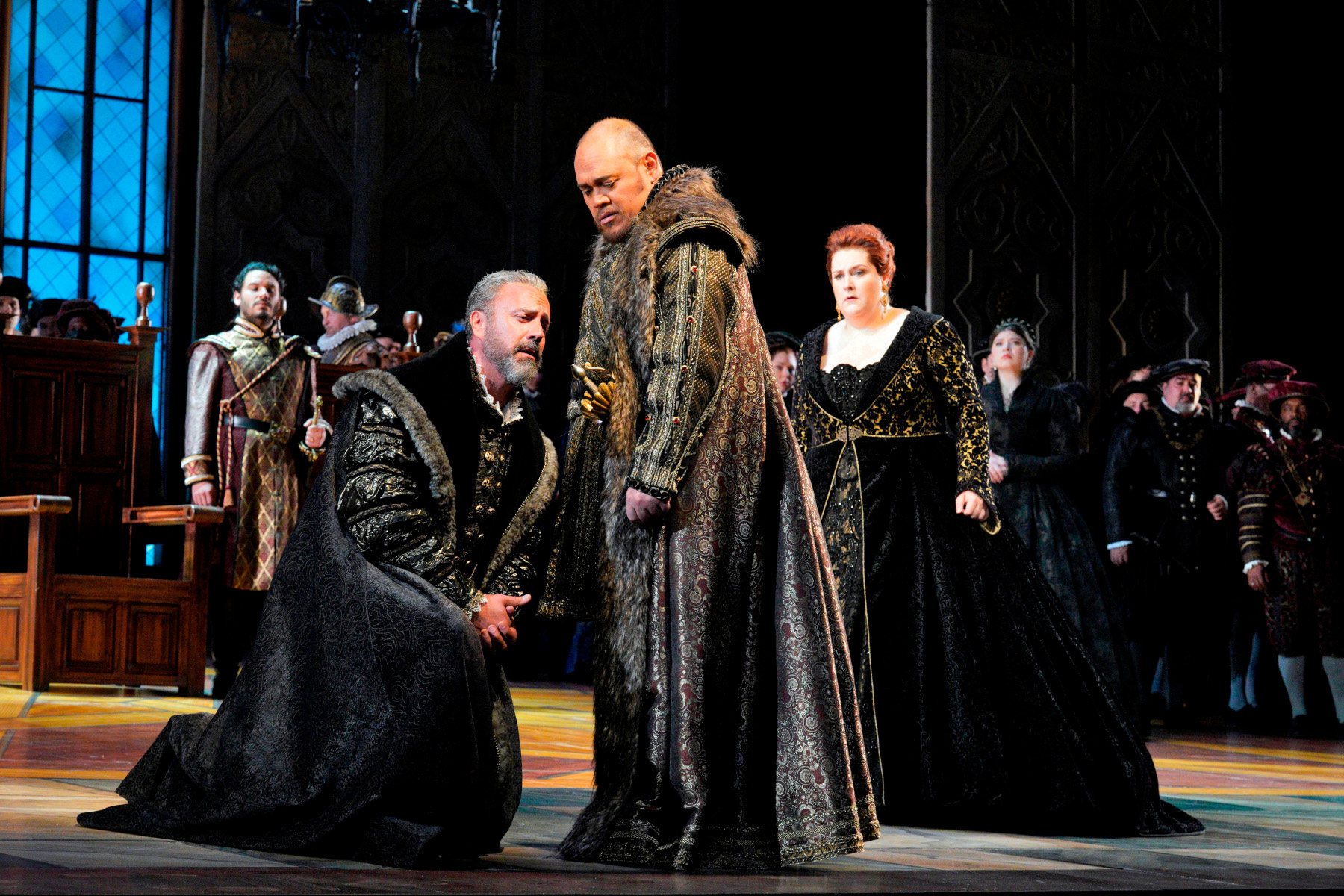 This dramatically charged trio is rightly interrupted by the nobleman Silva, who is incensed to find no less than two potential seducers in his niece's chamber. At this entrance Mr. Van Horn cuts an imposing figure clearly motivated by tradition. In his self-reflective aria, "Infelice, e tuo credevi" ("Unhappy man! And you believed") Van Horn draws on an admirable vocal range to express the realization of his shattered expectations for the love of Elvira. His smooth transitions between phrases and emphatic color added to words such as "Ah, perchè" ("Ah, why") lend an unforgettable sense of pathos to this touchstone aria. Once the identity of the king is revealed and the danger of Ernani's presence revealed, Van Horn's tone is modified to one of deference and the need to protect his domain.
In the following two acts critical moments draw on the tensions already established in the first, extensive act. On the day of Elvira's bridal festivities Silva's adherence to the traditions of hospitality and the sacred value of his given word cause him to extend protection unwittingly to Ernani. Van Horn's believably staunch refusals to divulge the hiding-place of Ernani lead to the king's mortal threats and his abduction of Elvira. The unexpected alliance between Silva and Ernani with the hope of recovering the niece and beloved is well sung yet here awkwardly staged, as the knights move off to their goal with lingering rather than energetic procession The third act at the tomb of Charlemagne provides the baritone with rich vocal opportunities and Kelsey makes the most of these. His introspective lyrics on the false dreams of his youth prepare for the magnificent ensemble of forgiveness at the close of the act. Kelsey's "O sommo Carlo" ("O great Charles") imparts virtue and forgiveness while recalling his ancestor. The tragic ending of the final, brief act becomes all the more ironic when Silva sounds the horn for Ernani to honor the pact that they had made.
Salvatore Calomino
Top image courtesy of The Lyric Opera of Chicago.
All photos by Cory Weaver courtesy of The Lyric Opera of Chicago (unless otherwise indicated).