Some twenty years ago Finnish conductor Mikko Franck, then in his early 20s, was considered classical music's Next Best Thing: his debut conducting disc with the Swedish Radio Symphony Orchestra won a Grammy in 2001 for his "Bold, perceptive Sibelius".  Amongst the press notices he was proclaimed "an interpreter of immense promise" and hailed as "possibly the most brilliant … of gifted Finnish conductors to have passed through the Sibelius Academy".  A handful of recordings followed (including three discs devoted to Einojuhani Rautavaara), but thereafter a barren decade from 2007 to 2017 came to an end with his exploration of Debussy's L'enfant prodigue (Erato).  Since then, Franck has begun to reclaim his earlier standing with recordings of Strauss's Tod und Verklärung, The Rite of Spring, and violin concertos by Bartók and Prokofiev, all with L'Orchestre Philharmonique de Radio France with whom he has been Music Director since 2015.  His initial contract has been twice extended, itself suggesting a partnership based on mutual respect and warmth.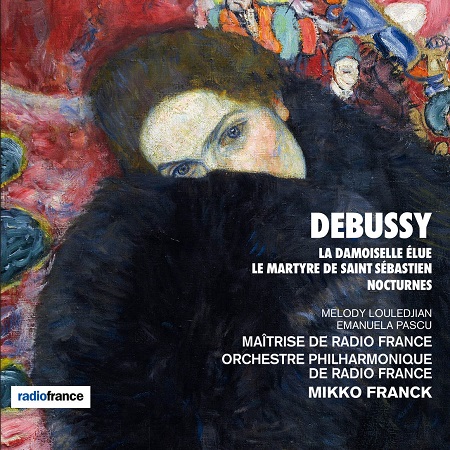 Mikko Franck's follow up Debussy disc (Alpha), also with Orchestre Philharmonique de Radio France, came out earlier this year and brings together three works from different periods of the composer's career: the seldom-performed La Damoiselle élue (1888), the three Nocturnes (1899) and the four symphonic fragments from Le Martyre de Saint Sébastien (1912) fashioned by André Caplet who had earlier collaborated on the work's orchestration. All are affectionate and involving accounts with playing and singing that is detailed and polished.
Generally considered to be his first truly characteristic large-scale work, Debussy's Damoiselle was termed by the composer as his "little oratorio in a mystical and somewhat pagan vein". Scored for orchestra, soprano, mezzo-soprano and four-part female chorus, this charming work sets Gabriel Rossetti's evocative poem of 1850.  In it the chaste Damozel, waiting at the "gold bar of heaven" yearns for the arrival of her earthly lover.  The music's glowing and unsettling sensuality raised eyebrows at its 1893 premiere, the audience no doubt taken aback by the notion of a Christian afterlife redolent of such human passion.  Its musical language (a heady cocktail of Franck, Massenet and Wagner) is a perfect match for the poem's imagery, and both are well defined in this recent account from Franck and his Radio France forces.  The work's understated manner is fully realised yet Franck does not over play his hand and allows Debussy's ear for colour and imaginative sonorities to speak for themselves.
Rossetti's ideally virtuous young woman is sung here with affecting tenderness by soprano Melody Louledjian and much sensitivity from mezzo soprano Emanuela Pascu.  Elsewhere, the fifty plus singers of the Maîtrise de Radio France bring superb control, consolation and passion conveyed in equal measure. Muted strings melt the heart in the diaphanous opening paragraph, its celestial rapture lovingly evoked. Mikko secures a refined response from all concerned, not least in the ecstatic culmination and luminous conclusion.
A similar sense of religious rapture inhabits the incidental music for Le Martyre de Saint Sébastien, a score originally written for a five-act mystery play by Gabriel d'Annunzio. At five-hours, it's no surprise complete performances are extremely rare. These symphonic fragments are for orchestra alone and while there's much to enjoy from Debussy's harmonic and instrumental colouring, the sawn-off version loses much of its impact without the choral and solo contributions which outline Sebastian's martyrdom, killed by his own archers. If you really want to get to know the work in all its glorious detail, then the Michael Tilson Thomas recording (Sony 1992) is highly recommended. That said, this version from Alpha is fastidiously prepared, and handsomely played with beguiling clarity.
However, I enjoyed far more the Nocturnes, a much-recorded triptych with strong competition, variously from Boulez, Haitink, Monteux and Previn et al.  Orchestral sound is marvellously clean in the opening 'Nuages', dazzling in the central Fêtes (its procession coming from afar) and the closing 'Sirènes' is poised and gently alluring in its mystery.  The girls of the Maîtrise de Radio France are secure in pitch and smooth toned throughout.  But it's the freshness of their voices that is a sheer delight, their finely blended and well-balanced sound beautifully caught by the Alpha engineers.  On the strength of the Nocturnes, this disc is well worth exploring. 
David Truslove
Claude Debussy: La Damoiselle élue, Le Martyre de Saint Sébastien, Nocturnes
Melody Louledjian (soprano), Emanuela Pascu (mezzo-soprano), Orchestre Philharmonique de Radio France, Maîtrise de Radio France, Mikko Franck (musical director)
Alpha-Classics.Com | Alpha 777 [68:54]