One of opera's most awesome scores came, finally, to the the War Memorial Opera House stage, arriving with flying colors in stage director Matthew Ozawa's fine new, bigtop-like production.
An oxymoron that worked, abetted by a conductor from the Irish National Opera and the Irish Baroque Orchestra, Peter Whelan who found, somehow, Straussian (almost) orchestral colors in this 1762 score, maybe because it was rendered by modern instrumentation (oboes and clarinets instead of cornetts and chalumeaux). Current early music conductors relish such opportunities to create surprising colors, and this maestro did just that.
The setting for Orfeo ed Euridice was a ring — a circular revolving disk — that lighted up from time to time like a kaleidoscope (which is why we sat in the first tier rather than in the orchestra section from where the stage floor was less apparent). Orfeo wore brilliant red, Eurydice brilliant blue, and Amore topped it all off, draped in flowing gold.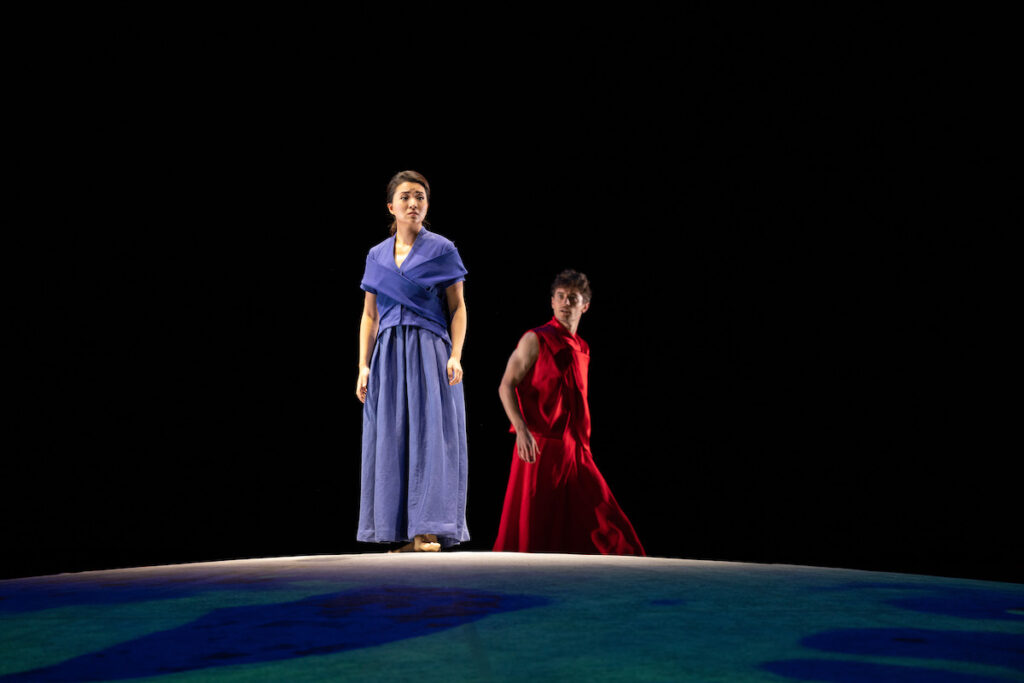 It was not the classical underworld, though my envisioning a circus metaphor (see lead photo) is probably not stage director Ozawa's intention.
Gluck's cheerful overture was danced by Orfeo and Eurydice and three more Orfeos and three more Euridices. It was where Orfeo did his act — spectacular breakdance moves that set this countertenor apart from, surely, all other countertenors in the world. Though Orfeo is is not always a countertenor, as Orphée in Gluck's French version he is a tenor or a haute contra (very high) tenor, the Parisians not enamored with Italy's castrati as were the Viennese.
Polish countertenor Jakub Józef Orlinski brought an ephemeral presence to mythological tragedy's most notable hero, his initial cries "Euridice" nearly covered by Maestro Whelan's orchestra, even though they sounded amplified (they were not). The quirky acoustic of the War Memorial Opera House gave Mr. Orlinski's uniformly colored voice a big, pervasive presence throughout the evening.
In Gluck's reform opera Orfeo has two famed arias, his initial "Chiamo il mio ben cosi" and in the end his "Che farò senza Euridice," both arias of extraordinary histrionic challenge given that both are simple songs, sung, however, over the dead body of his beloved. Mr. Orlinski did not find the gravity of these moments. He did find a couple of ecstatic breakdance moves at Euridice's re-animation.
Though Orfeo ed Euridice is largely a one man show (if you discount the huge role of the chorus) the more moving part of the evening occurred when the Euridice, sung by Merola Opera Program graduate, Chinese soprano Meigui Zhang, let loose with her "Che fiero momento" reproaching and misinterpreting Orfeo's cold response to her as they find one another, the stage ring (disk) turning and turning in stage director Ozawa's abstracted, circus-like world.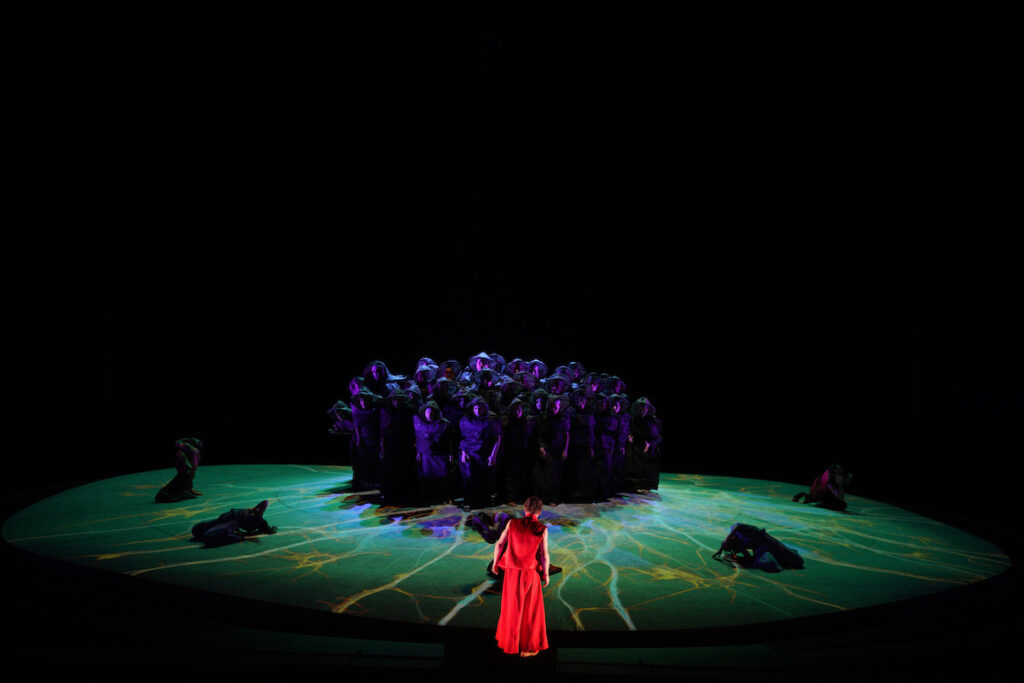 The other felt moments of the evening were created by forty-one San Francisco Opera choristers who, sometimes in white, sometimes in dark robes, intoned a surrounding world, from its light to its darkness. Beautifully sung in San Francisco, these choruses were Gluck's triumph, exploiting a uniquely French choral element to create atmospheres well beyond those illustrated by mere scenic elements, or just now in San Francisco substituting for any actual scenery. 
As well Gluck sought to bring dance into his reformed tragedies (of these only Iphigénie en Tauride has found its way to San Francisco). Though dance in Gluck is meant to enrich the storytelling, it is now often used to fill a perceived void left by the unadorned, ornament-less vocal lines, which is to say replacing virtuoso Baroque displays of voice with modern dance movement.
Such was not the case for Mr. Ozawa's production with its three Orfeo/Euridice doubles. Choreographer Rena Butler offered a complex choreography for the overture, including Mr. Orlinski's virtuoso break dancing and Miss Zhang's less spectacular but convincing movement. Mlle. Butler added her six dancers to the complex staging choreography required to detail Orfeo's avoidance of turning to Euridice in dance choreography that integrated smoothly into the complexities of the lovers' duet "Vieni, appaga il tuo consorte," intensifying the considerable artistic tension of this beautifully realized scene.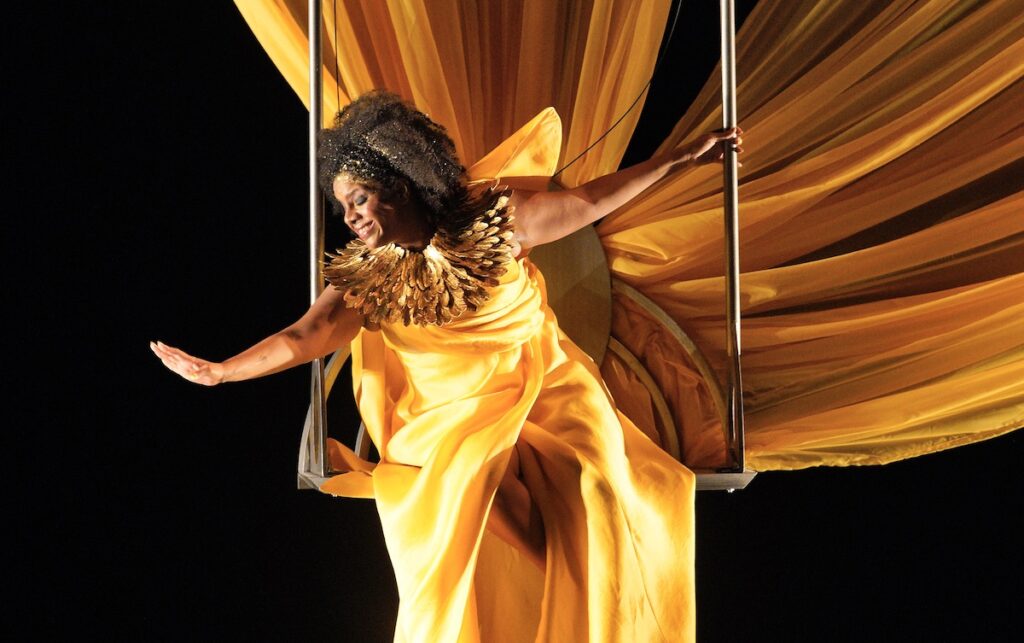 Cherry atop the cake was Amore, sung by richly voiced Texas soprano Nicole Heaston, a humor filled, mature matron in place of the petite Adler Fellow who would normally have been cast. She made both her entrances aerially (suspended 20 or 30 feet above the stage floor), adding a fine Baroque deus ex machina touch to the staging, and at the same time, dressed in flowing gold, adding the imagined peak to a virtual circus tent.
Matthew Ozawa's production tread a fine line between the deadly artistic seriousness of Gluck's opera, and the fun of creating a contemporary theatrical world for it. That Gluck's opera survived the assault attests to its inherent artistic stature, and the delicacy, finally, of the staging overlay.
Stage director Ozawa was supported by a very talented production team. Costumes were designed by Jessica Jahn, lighting was effected by Yuki Nakase Link, the superb setting (at least for tiered seating) was designed by Alexander V. Nichols.
Michael Milenski