Pity the modern European stage director confronted with Lohengrin. The music is famously seductive, but the plot is abhorrent. What is one to make of a saint who arrives on a magic swan, demands unquestioning obedience to religious dogma, punishes his innocently loving wife for flunking the test, and then leaves? Does it mean anything at all in the modern world?
Kornél Mundruczó, a fashionable Hungarian director of everything from film to opera, is a thoughtful and cultured man who recognizes these problems. Tasked with a new production at the Bayerische Staatsoper, he commits to one consistent principle: in his own words, to "avoid all existing clichés." The house cleaning is total: no religious symbolism, no supranatural swan, no fairy tales, no medieval nostalgia, no son-et-lumière in blue and silver, nothing at all.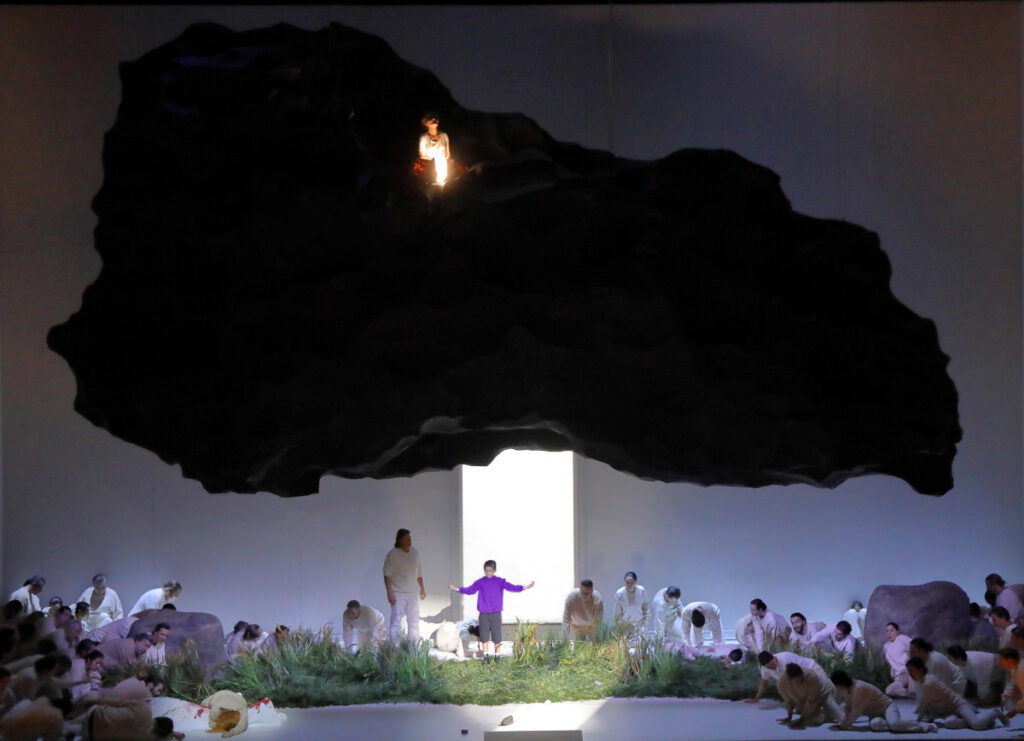 And what remains? A bare white room…and no concept. Instead, Mundruczó scatters the stage with fragmented elements drawn from modern dystopian films and fiction – which means, ironically, that they are (mini-) clichés of post-modern Wagner productions.
All the singers appear in (remarkably unflattering) white sweat-suits. Telramund becomes a whimp and King Heinrich a tyrant. Ortrud vamps while Elsa loses her mind and smears herself with an unidentified white cream. And, through it all, Lohengrin seems confused why he there at all. Sometimes, rather improbably, the King's herald (the lowly "Heerrufer") seems to be manipulating everyone else on stage, especially the gullible chorus, which responds by dutifully waving various branches, flags and other objects. Perhaps because this production is shared with Shanghai Opera, red ribbons and fireworks also make unexpected appearances. For this, Lohengrin is incongruously obliged to don safety goggles. And, like many refugees from film direction, Mundruczó cannot resist imposing unmusical stage action during Wagner's orchestral preludes.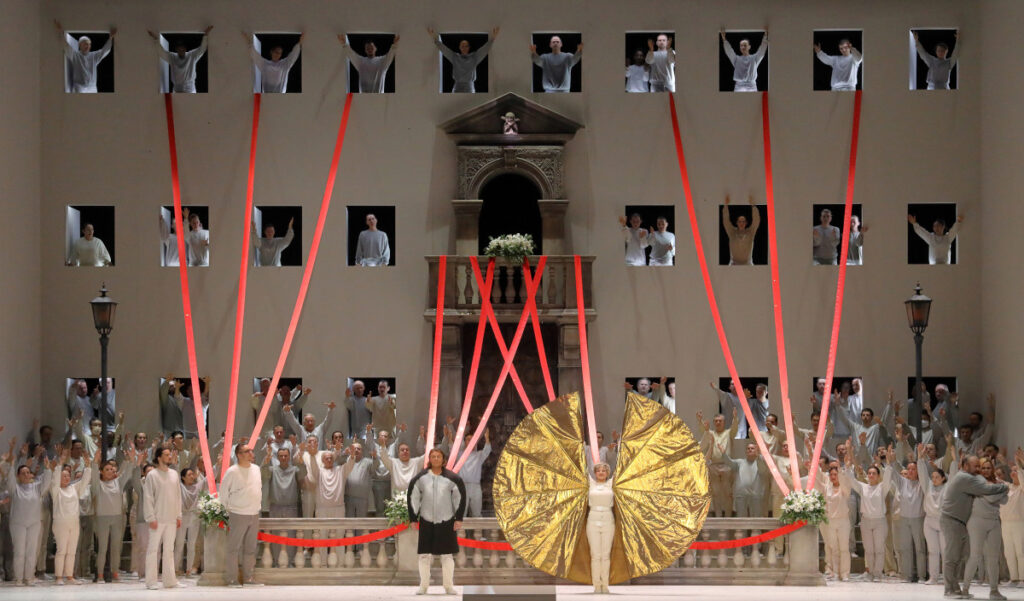 And then there are the meteorites. During the first two acts, small extraterrestrial rocks litter the stage. Then, in lieu of the return of the swan in Act Three, an enormous black meteor almost as large as the proscenium descends and hovers over the stage. Lohengrin and Elsa embark on this the mother ship and sing, then disembark and die – along with everyone else.
What does it mean? Mundruczó's lengthy program interviews offer no clarity. The great rock, he says, is an art object, or maybe a symbol of implacable nature, or perhaps a reference to environmental concerns, or an indication that Lohengrin does not really exist at all, or, most puzzlingly, "so to speak, Wagner himself." A friend it recalled the pre-apocalyptic film Melancholia.
All this makes little coherent sense and, according to Mundruczó, that's just the point. Since the opera is inconsistent anyway, why not create a series of evocative and suggestive visual tableaus and let the audience make what sense of it they can? Spectators may differ as to whether he succeeds or the clutter simply distracts from appreciating the words and music. Amusingly, the response of many critics has been to label it conservative and comforting – which just goes to show how far out there German opera direction is these days.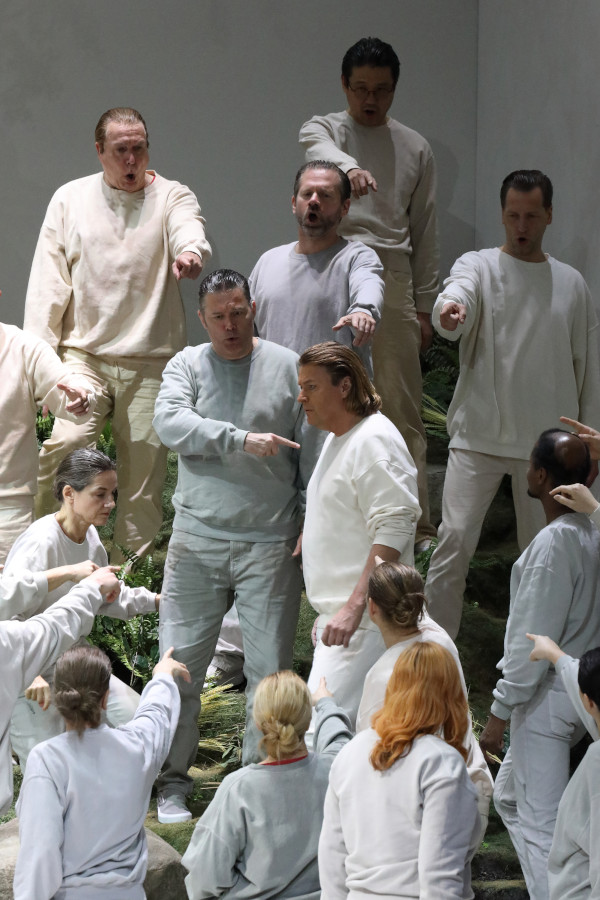 Yet the shallow room-like set itself does have one clear virtue: it pushes singers forward, as in a concert performance, and reflects of their voices out into the hall. They sound stronger, though also – from my seats, at least – a bit harsh. (When shallow sets are combined with large flat panels and right angles, as in this production, loud or thick sound typically creates sonic interference.) Still, on balance, the result is impressive – especially with lower voices.
Finnish bass Mika Kares booms forth authoritatively as King Heinrich, filling the house with ease – even if a bit less pressure might have better conveyed regal dignity. Young Italian baritone Andrè Schuen nearly matches him as Heerrufer. Neither is German, yet both sang perfectly intelligibly.
Though lacking the steady and darkly brooding timbre many associate with Telramund, Danish baritone Johan Reuter came through when it mattered most in the first scene of Act Two. As Ortrud, veteran German soprano Anja Kampe used power and some force to portray an over-the-top horror queen more than a lonely defender of a dying pagan religion.
The audience Saturday night enthusiastically cheered Dutch Soprano Johanni van Oostrum, though she manifestly lacks the purity and evenness of vocal emission, especially at low volume, essential to Elsa's unique otherworldly innocence. Klaus Florian Vogt, a known quantity as Lohengrin, offers the opposite virtues. His choir-boy voice is a miracle of purity, yet over three hours it lacks the variation in color and power required to transform Lohengrin into a musically or dramatically interesting figure.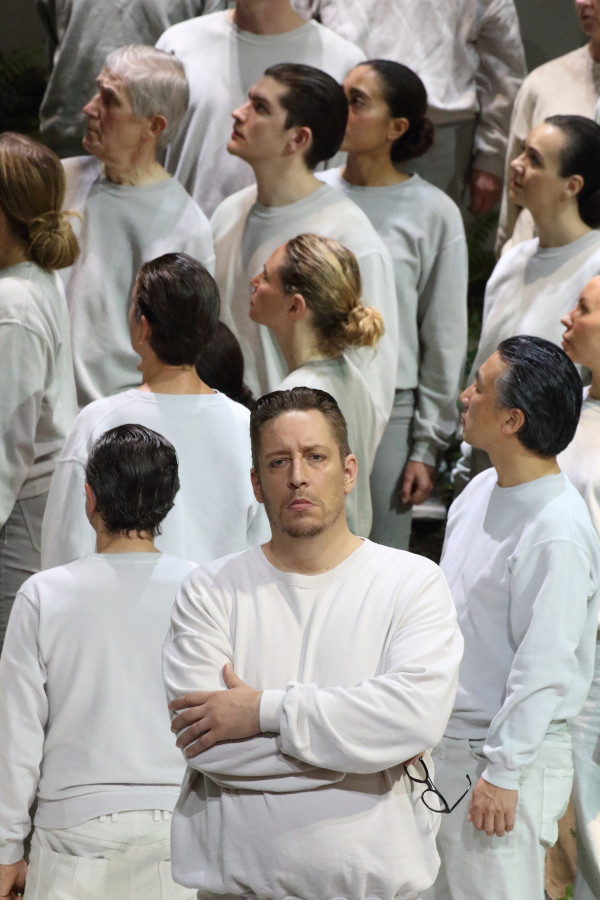 Some might have found the swift, transparent reading elicited by Conductor François-Xavier Roth, a performance-practice specialist, to be somewhat bright and thin, even for this glimmering score. Yet these qualities were balanced by exceptional attentiveness to internal voices.
Overall, this solid but not particularly memorable performance leaves one asking whether Munich – the city of Ludwig II and Lohengrin, but also a city whose opera is in a bit of fiscal trouble – really needs yet another new production of this work.
It remains available, in recorded sound that differs in some ways from what I experienced in the house, here.
Andrew Moravcsik
---
Lohengrin
Music composed, and libretto written, by Richard Wagner.
Cast and production staff:
Klaus Florian Vogt (Tenor): Lohengrin. Johanni van Oostrum (Soprano): Elsa. Johan Reuter (Baritone): Friedrich von Telramund. Anja Kampe (Soprano): Ortrud. Mika Kares (Bass): Heinrich der Vogler. Andrè Schuen (Baritone): Heerrufer des Königs. Chorus and Orchestra of the Bayerische Staatsoper. François-Xavier Roth (Conductor). Kornél Mundruczó (Stage Direction).
Performance date: 3 December 2022
All photos © Wilfried Hösl courtesy of Bayerische Staatsoper