"Words mean more than what is set down on paper", the poet Maya Angelou has written. "It takes the human voice to infuse them with deeper meaning". These assertions may refer to the spoken performance of a poem, but they might just as easily suggest the transforming power a singer might generate from a text, especially when words and music form a perfect partnership. Add to this the sensitivity, communicative ability and beauty of tone of Ruby Hughes and you have an unquestionable winning formula. Hers is a voice of expressive tenderness so well suited to this hour-long collection of century-spanning songs, that it's hard to imagine a singer better matched to the purpose. Indeed, it might seem as if words and music were expressly conceived for her.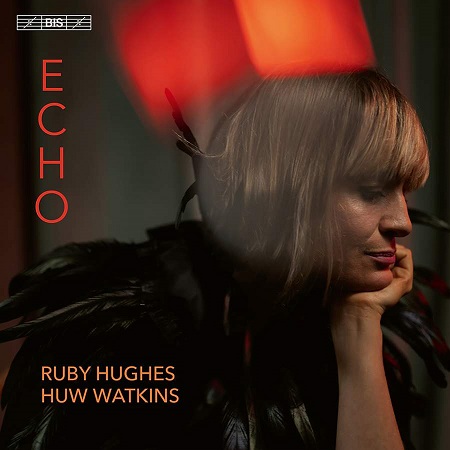 Sure enough, the album's title piece, Echo, was written for Hughes by Huw Watkins and was first performed at New York's Carnegie Hall in 2017, the year of the song-cycle's completion.  Lasting some 15 minutes, the work sets poems by Christina Rossetti, Emily Dickinson, Philip Larkin, W.B. Yeats and David Harsent, and the overriding preoccupation, as for the CD, concerns grief, loss and transience.  Hughes responds to the poignancy of the opening 'Echo' with a restrained rapture, its yearning intensely felt.  A bittersweet mood pervades 'For each ecstatic instant' (Dickinson), love touchingly glimpsed in explosive piano textures and floating vocal lines.  Pleas for emotional release are movingly expressed in 'If grief could burn out' (Larkin) and regret shapes 'When you are old' (Yeats), Hughes now broadening her dynamic range to match the music's restless energy.  Lastly, 'Baby blue' (Harsent) forms a disturbing portrait of a mother and her dead child.  Throughout, Hughes and Watkins imbue every gesture and phrase with expressive meaning.
Echo recently became the centrepiece for a recital given by Hughes and Watkins at the Wigmore Hall on Sunday 18th December 2022(see review by Claire Seymour), an event occurring shortly after the release of this recent BIS recording. The disc is an expanded version of the Wigmore concert and combines Watkins's work with snapshots of three contemporary composers, reworkings of traditional songs by Britten and a pair of Purcell arrangements. In addition, there's a trio of spiritual songs by J. S. Bach, realised by Britten for performance at the 1969 Aldeburgh Festival. This collection therefore comprises a musical dialogue between past and present, yet the prevailing mood allows only a limited tonal palette from Hughes (though not exclusively), with a recurring dynamic mostly confined to a soothing mezzo-piano, seducing the ear for its palliative quality.
That's not to suggest any sense of sedation, although in the second of the three Bach songs, 'Komm, süsser Tod' (Come sweet death), Hughes applies her delicate, bone china tone to such beguiling effect that by the time she reaches the words 'Welt, darum gute Nacht' (So World, I bid good night), we are already 'beside the angels'.  Rarely have I heard such compassion conveyed so memorably on disc. It's wonderful too, the way Hughes floats the occasional high note (admirably achieved in 'Gedenke doch, mein Geist, zurücke'), and spins lines of heart-easing fragility in 'Liebster Herr Jesu', yet with no frailty of technique.  There's something unfathomable in the piano accompaniments (sensitively played by Watkins) which add a contemporary, yet nostalgic dimension in Bach's three keyboard pieces, the two Sarabands providing urbane rumination.
Purcell's songs can also be performed with piano accompaniment without any loss of integrity, recognised here in Thomas Adès's realisation of 'By beauteous softness', and then in 'Music for a while' courtesy of Walter Bergmann and Michael Tippett.  Both performances are the last word in sensitivity with Hughes captivating in her ease of expression.  No less enthralling is her rendition of three folk songs, of which 'I wonder as I wander' is distinctive for the twinkling interludes between verses, and the stunning poise of Hughes's final phrase is beyond beautiful.  Her silken control is put to good use in the startling piano gestures and ethereal vocal lines of Deborah Pritchard's 'The World', the ecstatic mysticism of Henry Vaughan's lines amply realised.  A darker mood is explored in Cheryl Frances-Hoad's 'Lament' (2012), an elegiac setting of an anti-war poem by Andrew Motion where halting phrases and minimal piano support increases the intensity of the grief expressed.  Heartache turns to a kind of wintery hope in Errollyn Wallen's evocative Christmas carol 'Peace on earth' (originally conceived for unison voices in 2006), where its repeated bell-like figuration and simple vocal patterns provide some measure of hope in the bleakness of winter.  Musical consolation as involving as this should be on prescription, and Angelou's notion that "Words mean more than what is set down on paper" resonates no more tellingly than on this inspirational disc.
David Truslove
Ruby Hughes (soprano) Huw Watkins (piano)
J.S. Bach – Sarabande from Partita No. 4, BWV 828; Sarabande from French Suite No. 3, BWV 814; Corrente from Partita No. 6, BWV 830; Five Spiritual Songs (ed. Britten) – No. 1 Gedenke doch, mein Geist, zurücke; No. 3 Liebster Herr Jesu; No. 4 Komm, süsser Tod; Watkins – Echo (premiere recording); Purcell – By beauteous softness (realised by Thomas Adès), Music for a while (realised by Bergmann and Tippett); Trad., arr. Britten – I wonder as I wander, Dafydd y Garreg Wen (piano version by Colin Matthews), How sweet the answer (The Wren); Deborah Pritchard – The World; Cheryl Frances-Hoad – Lament; Errollyn Wallen – Peace on Earth.
BIS 2568 SACD [63:33]