"Organised chaos!" is how the Dutch conductor Antony Hermus describes the first production rehearsal of the Prologue of Ariadne auf Naxos, when he chats to me from his hotel room in Leeds during the first week of rehearsals for Opera North's new production of Strauss's opera, which Antony will conduct in February and March.
It's late December when we meet online, and I remark that there seems to be quite a generous rehearsal schedule for the production, which is directed by Rodula Gaitanou and stars a superb cast including Hannah Hipp as the composer, Elizabeth Llewellyn as the prima donna and Ariadne, Erin Caves as the tenor and Bacchus, Daniel Norman as the dancing master, Jennifer France as Zerbinetta, John Savournin as Truffaldino and the Major-Domo and Daisy Brown as Naiad. "It looks more than it is," replies Antony, "what with Christmas, and January will fly by. It's a healthy amount of time, though, to really get it into one's system."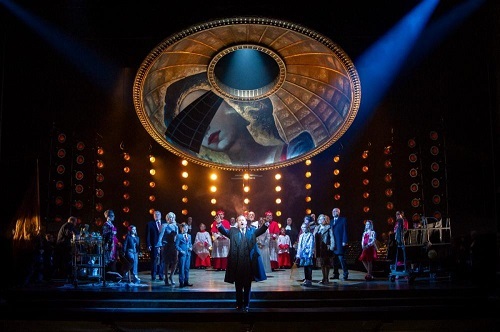 Antony was appointed as Opera North's Principal Guest Conductor in 2019, following the tremendous success of his debut with the company with Tosca in 2018. He describes it as one of his most fulfilling opera experiences. "My collaboration with the director [Edward Dick] and the cast was very natural, and I had an instant rapport with the orchestra. I felt at home immediately. I've spent a lot of time in the German system – in Hagen [where he was appointed Music Director at the age of 29] and Dessau [where he was Music Director from 2009 to 2015, ending his tenure by conducting the company's first Ring cycle for half a century], and I was very grateful for the opportunity this gave me to develop my craftmanship. But, one has to work in a certain way, where there is often little time for rehearsal. Here, at Opera North, I have time and can focus on solutions, not problems!"
Working with the same people allows deeper exploration of the work, reflecting on the collaboration between the music and the stage, Antony explains. "There's no 'egomania' – though that's probably the wrong word. It's a collaborative process, with strong personalities coming together with a willingness to explore." As Principal Guest Conductor, Antony conducts one production each season with the company, although this year he's doubled that commitment, conducting Gluck's Orfeo ed Eurydice in autumn 2022. "Gluck is not typical repertoire for me as I normally conduct the more romantic pieces, but the work represents a key moment in the development of opera, so I really wanted to conduct it – and am happy that Opera North trusted me to do so!"
I ask for some advance hints about what we can expect from Ariadne in February? "It's such a special opera. And, I am a Strauss addict! His writing for both voice and orchestra is just flawless. In the Prologue he handles the orchestra of 35 players so carefully, creating such a refined sound, exploiting different orchestral colours – the celeste and harmonium. And, the Prologue and the Opera are so different, the conversational idiom giving way to lyricism and dance. The speaking rhythms for the singers in the Prologue are quite challenging for the singers; they don't have a lot of freedom but as long as they sing what is written, they can begin to figure out the exact rhythm – what Strauss wrote is perfect. I can't say much but the staging will be a film set, with lots of Fellini references …"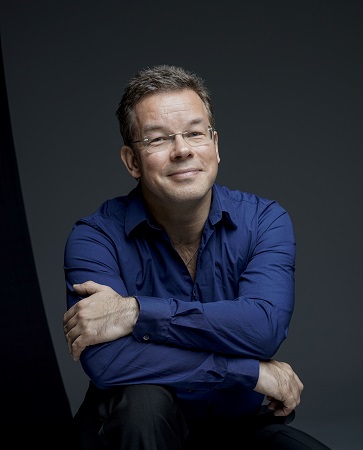 To say that Antony is an evangelist for classical music is a huge understatement.  His conviction that music and opera should be at the heart of society – "not something elite, rather a vehicle for culture and not the cherry on the cake" – is evident in everything he says and does.  He sees Opera North as embedded in its community: "Art should be in society, not above it."   For example, Opera North is involved, too, with the Leeds Piano Competition and Leeds Conservatoire, and such activities make him feel connected to the community when he is living in Leeds.  "Classical music and opera are handicapped by their names.  Some people assume that 'classical music' must be boring, or that you have to dress up to attend the opera, and they decide, 'It's not for me'.  But, it's how classical music and opera are 'framed' that is crucial." 
Antony gives an example. "Shortly before David Bowie's death there was an exhibition which toured across Europe and was seen in Berlin, Paris, Amsterdam, London, Cologne and in the north of the Netherlands. When it reached Groningen, where the North Netherlands Orchestra [of which he is Principal Guest Conductor] is based, it was decided that a concert would be held. Bowie loved classical music, so we came up with a programme 'What's on David Bowie's iPod? Bowie was a John Adams fan, so we played Short ride in a fast machine, along with Philip Glass's Heroes Symphony [echoing one of Bowie's greatest hits] and Strauss's Four Last Songs. There were two performances, and both sold out. There were 1500 people at each concert."
Since spring 2021, Antony has also been Chief Conductor of the Belgian National Orchestra and he speaks animatedly about a similarly innovative and engaging programme that he recently performed at the Ars Musica Festival of Contemporary Music with the BNO. "The theme of the festival was 'Big Science' and the programme was to include the world premiere of Celestial shadow, the first symphony by Brussels composer Jean-Luc Fafchamps. What could we put next to it? I talked to the festival director, Bruno Letort, and since Fafchamps also wrote music for films we decided to perform Strauss's Also Sprach Zarathustra in the second half, and to include John Williams's Close Encounters of the Third Kind and Jerry Goldsmith's music for Planet of the Apes. We titled the programme 'Fiction Science' as it had the film music of science fiction films as its focus. 2000 people came – again, it was a sell-out."
So, it's about 'framing' and believing what is possible, Antony continues. "Everyone loves classical music," he insists. "But, some people just haven't found out about it yet. People need experiences. With opera they can become immersed in the story and feel part of it. And, I think it's important to make personal contact with audiences; it's why I speak to audiences before concerts."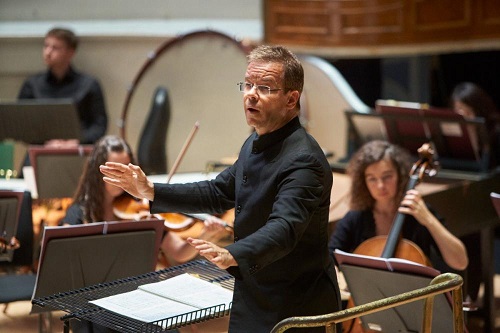 Antony divides his time equally between conducting opera and symphonic repertoire. "My teacher used to say that if you do a symphony it's like walking in a forest, but if you do an opera it's like walking through a forest and to the top of the hill which affords you the most beautiful view." With the Belgian National Orchestra he has the opportunity to explore new symphonic repertoire. "The orchestra is the house orchestra for the Queen Elisabeth Competition, and it's based in Brussels, the capital of Europe. It's a real luxury to be there – it's very high energy! And, the musicians are eager to think about new ideas. I'm a collaborative person – I'm not Napoleon! A good leader has to have vision but also be able to make other people powerful, to give a framework in which others can flourish, and to recognise that different people need different things." He recalls some advice given to a friend by Sir Colin Davis: "Make them want to play for you." "It's about inspiring, giving a framework: the musicians have to do the work, they have a responsibility. A conductor has to make sure that they combine and cohere to a certain vision."
One composer whose work Antony is eager to perform and promote is Unsuk Chin. "She's influenced me a lot," he explains. "We first met in 2012, when I was conducting the National Youth Orchestra of the Netherlands – another of my passions! She was composer-in-residence, and we played one of her works, Rocaná. She has her own very distinct sound-world, and the work called for the strings to produce these really difficult harmonics – the young musicians knew that it was difficult, but not that it was almost 'too hard'! So, they just practised and worked really hard with the coaches. When she heard our first rehearsal of Rocaná, Unsuk said it was already better than the concert in which one of the US top orchestras had performed it!"
In February, Antony will conduct world premieres of two works by Unsuk Chin – Le Silence des Sirènes and Puzzles and Games from Alice in Wonderland – alongside, Francesco Filidei's Cello Concerto and Hoquetus Animalis by Théo Merigeau – with the Orchestre Philharmonique de Radio France during Radio France's 2023 Présences festival at the Philharmonie de Paris. Before that, in between Ariadne rehearsals, he will conduct L'Élue, prélude pour orchestre (2022), a prelude-companion piece to Stravinsky's Rite of Spring by the Dutch composer Bram Kortekaas, with the Netherlands NYO at the Concertgebouw in January. It's enormously important to Antony to perform the work of living composers, who are at the heart of society: "Classical music isn't a museum."
Opera North present a new production of Ariadne auf Naxos, 18 February – 24 March 2023.
Claire Seymour
ABOVE: Antony Hermus (c) Claudia Heysel