Like the Biblical cosmos, that of the Ring offers more than one creation myth, perhaps not entirely consistent with one another. Therein lies the dramatic rub. Richard Jones's new production of Das Rheingold brings the second creation myth to the fore before the first, the generatio æquivoca of the Prelude, is heard—at least for those mature enough not simply to laugh uproariously at the mere sight of a naked man. (Disruptive audience members who seemed throughout, without evident justification, to believe they were watching Carry on Rhinegold may have been better advised to stick to Donizetti, but doubtless we should 'respect their choices'.) What the primæval figure does is the thing: he carries wood hewn from a tree across the stage, the wood diminishing in size (and distancing itself from life) in proportion to the civilised clothes he acquires. The World-ash tree and Wotan's act of ecopolitical violence against it are placed centre-stage—and then, E-flat…

A hallmark of Jones's staging is the clarity of its narration. Where Keith Warner's late Royal Opera staging clearly had ideas, many extremely worthy on paper, the director struggled, so it seemed, to bring them to visual clarity (not to be confused, necessarily, with simplicity) and much seemed confused rather than complex. There may not be much in the way of conceptual complexity; this will not, it seems, be a Ring that changes our conception of the work. But it – the Rheingold, anyway – is as well shaped as Martyn Brabbins's conducting of the score, both (greatly to my surprise) transformed out of all recognition from the miserable preceding excursion for Die Walküre. The Rhinemaidens' amoral hedonism is evoked by their fitness wear and activities, a cruel contrast with a clearly unfit Alberich. The golden cyber-child they guard – not very well – is the Rhinegold, original state and potential for capitalisation imaginatively conveyed. And, as throughout, the deed of violence in its theft furnishes a due moment of dramatic horror. It is straightforward rather than reactionary, but in many ways none the worse than that; it certainly compares favourably with the listless soap-opera inconsequentiality of Valentin Schwarz at Bayreuth last summer.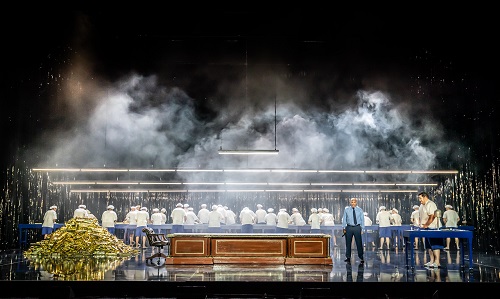 Objects, a crucial, far-too-often overlooked aspect of Wagner's drama are well dealt with too. The spear, hewn in turn from the ash-wood, appears properly centre-stage. Those new to the drama will see that it is important and be aided in understanding why; more experienced Wagnerites will connect it with the rest of the action and ideas of their own. The Tarnhelm and ring, as well as the hoard more generally, are likewise clearly represented and, just as important, their role in the drama is clearly delineated. Nibelheim's essential basis as a modern factory is immediately apparent – excellent sound design helps beforehand, in bringing the sound of its anvils immediately before our ears – and Alberich, transformed out of all recognition into a horrifying dictator of modern capital, wields his capitalist 'whip of hunger' (George Bernard Shaw) over Nibelung kinsmen with immediate and clear effect. His further transformations, courtesy of the Tarnhelm, again make their point starkly: first, he truly is, as he tells them, 'everywhere', his forms multiplying in surveillance and punishment (sorry, 'incentivisation'); second and third, metamorphoses into dragon and toad are handled simply and without any of the attendant usual confusion. (Again, quite why some engaged in bellyaching laughter at the moment of Alberich's capture, I cannot imagine. Strange, at best.)
The final scene makes for powerful dramatic cumulation, well supported by keen Personenregie. Erda's appearance in pyjamas, keen to resume her sleep, sand of time spraying from her hands, makes a number of important points without fuss; so too does another point of violence, Wotan kissing her—and seemingly changing all. Schoolgirl Norns in attendance may (or may not) know. Freia's deep affection for Fasolt, in the light of his for her, is moving, not least on account of deeply sympathetic performances from Katie Lowe and Simon Bailey. That Freia, as well as Loge, wishes to dissociate herself from the entrance into Valhalla is also genuinely moving, likewise the mounting of the gold to hide her form in the giants' removal lorry. Rainbow lighting evokes Froh's bridge with a delightful sense of the aesthetic that is yet not spectacle for its own sake. When furious, desperate Rhinemaidens, heard offstage, return to the stage to demand return of their gold, Wotan battens down the fortress hatches. The die is cast—as Loge, his bag packed, knows only too well.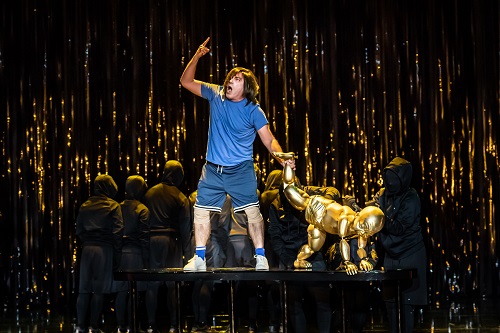 Loge is always a character well-placed to steal the show. Frederick Ballantine's quicksilver portrayal certainly did that, securely poised on what might otherwise be a tightrope between personability and tales of political alienation. Key to his success, and to that of many other cast members, was crystal-clear diction, enabling the truths of John Deathridge's excellent new singing translation to hit home with force – the truth that Wagner requires us to think for ourselves, his text a springboard rather than our dramatic destination not the least of them. John Relyea's Wotan captured, in another strikingly mature portrayal, so many of the nuances and contradictions in the god's complex, world-winning (perhaps) personality.
Leigh Melrose's Alberich was, quite simply, spellbinding. The shift from repressed dwarf to would-be world-dictator owed much to costumes and make-up, but was ultimately his. We sympathised, though not too much; the erotic urge (liebesgelüste, Wagner's lower case) Wagner noted in Alberich's case in a letter of 1851 was already a menace. We cowed, with the Nibelungs. And we felt, through his work and the orchestra's, the ominous power of the curse. Indeed, every member of the cast contributed to this overall success. Madeleine Shaw's uncommonly sympathetic Fricka, Christine Rice's surprisingly deep-toned Erda, James Creswell's contemptuous Fafner, among them. This trio of Rhinemaidens, for instance, would aurally adorn any house.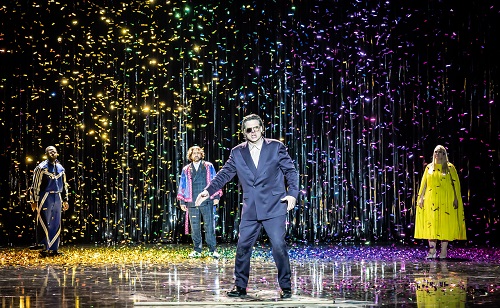 The innermost core of Wagner music drama lies, we all know, in the orchestra, his Greek chorus. ENO here likewise had little to fear from the most august of comparisons, not that one felt compelled to draw them. For a signal virtue of this Rheingold was that one sensed how all aspects had come together as so much more than the sum of their considerable parts; had the production been different, so would the singing, and so on. Brabbins's collegial, structurally comprehending – and communicative – conducting presented itself above all as an enabler of dramatic action and was well experienced as such. I can only imagine orchestral and sung contributions will go from strength to strength over the course of this run.
What a difference, then, fifteen months make, and how great a pleasure it is to report so. When ENO's new Ring opened in November 2021, oddly with its second instalment rather than its first, neither staging nor performance induced much enthusiasm. Now, at a time of existential concern for the company's future, its presentation of Das Rheingold proves in most respects a triumph: a vindication for those fighting the philistine atrocities perpetrated by the Arts Council – sorry 'Arts Council England' – and the 'government' it all too readily serves. Roll on England's Götterdämmerung, in more than one sense.
Mark Berry
Woglinde – Eleanor Dennis, Wellgunde – Idunnu Münch, Flosshilde – Katie Stevenson, Alberich – Leigh Melrose, Mime – John Findon, Wotan – John Relyea, Fricka – Madeleine Shaw, Freia – Katie Lowe, Froh – Julian Hubbard, Donner – Blake Denson, Erda – Christine Rice, Loge – Frederick Ballentine, Fasolt – Simon Bailey, Fafner – James Creswell; Director – Richard Jones, Conductor – Martyn Brabbins, Designer – Stewart Laing, Lighting – Adam Silverman, Movement – Sarah Fahie, Video – Akhila Krishnan, Orchestra of the English National Opera.
English National Opera, Coliseum, London; Saturday 18th February 2023.
ABOVE: ENO The Rhinegold 2023, ensemble © Marc Brenner