English Touring Opera opened its Spring 2023 season with a revival of James Conway's fine 2017 production of Handel's Giulio Cesare. The production was revived in 2020, but that run was inevitably cut short, so this tour (with nine performances in total) was something in recompense, and the production has influenced the whole shape of the season. All three operas will be presented with the Old Street Band, ETO's period instrument ensemble thus giving us period instrumental performances for Donizetti's Lucrezia Borgia and Rossini's Il viaggio a Rheims, whilst both these operas will have productions presented in Giulio Cesare's gilded box set.
James Conway's production of Handel's Giulio Cesare opened at the Hackney Empire on 25 February 2023, with Sergey Rybin conducting the Old Street Band. Francis Gush was Cesare and Susanna Hurrell was Cleopatra, with Alexander Chance as Tolomeo, Carolyn Dobbin as Cornelia, Margo Arsane as Sesto, Edward Hawkins as Achilla, Kieron-Connor Valentine as Nireno and Edward Jowle as Curio. Designs were by Cordelia Chisholm.
The production sets the opera at the time of its writing with the Romans as the English constantly fascinated yet repelled by the French court (the Egyptians), and this works remarkably well, partly thanks to the clarity and beauty of Chisholm's designs and the imaginative direction from Conway. The focus is on character, which places the onus on the singers, but the benefit is a focus on the opera rather than gimmicks.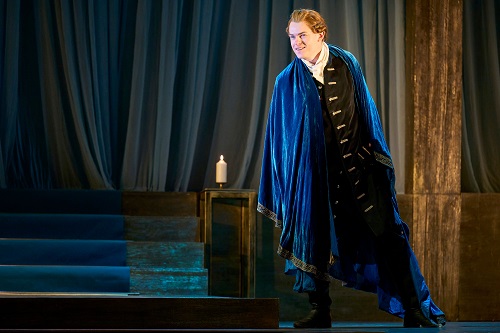 Counter-tenor Francis Gush was relatively late casting in the title role as he replaced the planned mezzo-soprano. Having a second counter-tenor lead naturally gave the whole a different balance, but thankfully Gush and Chance are two very different stage animals. Gush has a finely upstanding stage presence, combined with an admirably secure technique with a lovely evenness of tone across the range. He is young, and this came across as a youthful Cesare, not so much because Cesare was inexperienced (he clearly wasn't) but because he responded to Hurrell's Cleopatra with engagingly youthful passion. There was a gentleness to much of Gush's singing, a sort of reticence, but in moments like the great 'Va tacito e nascosto' in Act One, Gush brought a real sense of steel to the voice. His moment contemplating Pompey's ashes was finely done, but I would perhaps have liked a greater depth of tone and emotions here. As a lover, Gush was delightful, mining a vein of English reticence dazzled by French style. When the plot really got going, Gush had a chance to show us his range. Inevitably, his performance of the role will develop, and I will be interested to hear him again in the role in the future. As it is, he brought a lovely sense of moral uprightness and entitlement, this Cesare was definitely Oxbridge educated.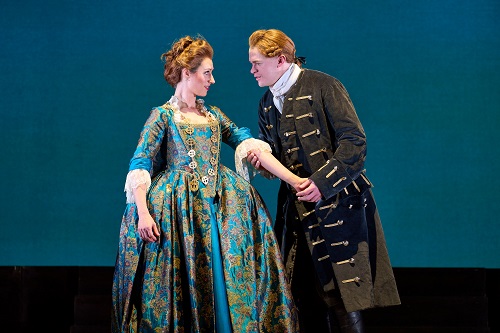 Returning the role she sang in the aborted 2020 tour, Susanna Hurrell still delights as Cleopatra. She manages to be one of the most well rounded and engaging Cleopatras I have seen recently. Nothing about her performance was specifically about display, yet all the arias were finely done with plenty of musical and canary fancying delights. In Act One, she was nicely sharp and sometimes amused, this Cleopatra was definitely no soft touch, yet in the seduction scene she was finely engaging (and Cleopatra's appearance as the Virgin Mary still causes a ripple). In the pit here, Rybin really brought out Handel's colours here with the array of instruments. 'Piangero' and 'Per pieta' were both beautifully controlled, all the better for the way Hurrell performed them with great simplicity and directness, helped by the clarity of Conway's production. And her final number, when her ship comes in, was of course a total delight. What I enjoyed most was Hurrell's ability to be changeable in the constantly fascinating of roles.
Alexander Chance as Tolomeo really mined the vein of comedy with which Conway surrounded the character. This Tolomeo was a bit of a dick, yet had an entirely different self-image, to great comic effect. Perhaps Chance overdid the comedy, but in a long opera (three hours including one interval part way through Act Two), this was understandable. Chance managed to bring a nice sulky tone to Tolomeo's music as well as relishing the Act One by by-play with his sister (the suggestion of incest even strong than usual here), whilst in Act Three he was sulkily cruel to her. I thought that Chance did not quite, yet, have the gift of being able to put sufficient steel in his tone when needed, but this was a fine debut performance.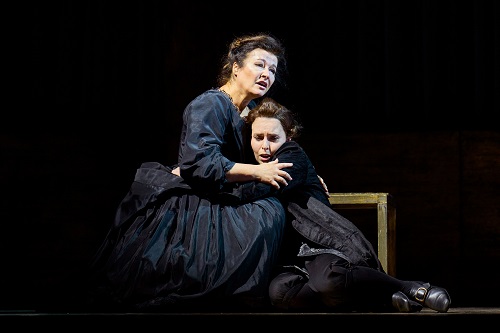 Carolyn Dobbin made a strong and uncompromising Cornelia, at times the strength coming over as almost an Italian mamma. There was nothing weak-willed or weepy about this Cornelia and Dobbin started as she meant to go on, with fine, strong tone. It was a terrific performance, and a well sung one. Whilst Cornelia doesn't really have any of the works showpiece arias, you enjoyed Dobbin's contributions for their fine theatricality and musicality. It was a coherent and well-rounded account of the role, full of character.
As Sesto, Margo Arsane was all youthful excitement and anxiety. Faced with such a tiger mother, all this young man could do was cower, and Arsane's Sesto seemed to be constantly shying away or steeling himself to act. Musically, Arsane was very fine indeed, and made Sesto's arias finely flexible and fluid, creating a real sense of contrast with the other medium voices. It is worth bearing in mind that there is only one soprano in the cast, so each singer needs to find their own distinctive tone and approach. Perhaps Arsane was a bit too eager in projecting Sesto's anxiety and youthful apprehensions, but when done with such great musicality and style, you could not help but love her.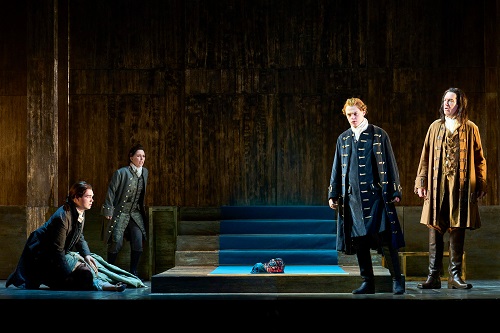 The smaller roles were well taken. Edward Hawkins returned as a rough-hewn Achilla, singing his two arias with aplomb, and giving the character due complexity. There is something naively trusting about the man, he actually believes Tolomeo, and Hawkins managed to make this believable. Kieron-Connor Valentine made a wonderfully oily Nireno, here Cleopatra's oily confessor completely with a wonderful wig, whilst Edward Jowle made a nicely upright Curio.
Sergey Rybin is perhaps better known to people as a pianist with some fine recordings of Russian music, but here he showed himself entirely in sympathy with Handel. Speeds were on the fast side, but the singers didn't seem to complain, and all managed the high-speed passagework well. And this meant that Rybin was able to keep the opera flowing, yet it never felt rushed, there was always time for things. And in a score full of riches, he allowed his instrumentalists to shine.
The beauty of ETO's approach in this production is that we get the choruses in Acts One and Two, whilst never needing an extra vocal ensemble on stage. Instead, at each venue a local choir provides the chorus and here the Hackney Empire Community Choir sang with engaging character and great aplomb.
This was the third time I have seen this production, and it never pales. James Conway has now retired from English Touring Opera, but I do hope that he has not retired from directing Handel.
Robert Hugill
Handel: Giulio Cesare
Cesare – Francis Gush, Cleopatra – Susanna Hurrell, Tolomeo – Alexander Chance, Cornelia – Carolyn Dobbin, Sesto – Margo Arsane, Achilla – Edward Hawkins, Nireno – Kieron-Connor Valentine, Curio –Edward Jowle; Director – James Conway, Conductor – Sergey Rybin, Designer – Cordelia Chisholm,
Hackney Empire Community Chorus, The Old Street Band.
English Touring Opera, Hackney Empire, London; Saturday 25th February 2023.
ABOVE: Cast of ETO Giulio Cesare (c) Richard Hubert Smith