La folle journée is the title of the second play in Pierre Beaumarchais's 'Figaro trilogy' and, duly, the single 'mad day' on which the wedding of Figaro and Susanna takes place is a chaotic maelstrom of misunderstanding, mistaken identities and mishaps, which defies attempts at coherent summary or explanation. Or, I should say, 'usually' defies articulate reasoning, for in this production of Mozart's Le nozze di Figaro at the Royal Academy of Music, director Stephen Medcalf makes the interlocking intrigues and reigning craziness seem perfectly cogent and 'right'.
Neat pre-Act captions mark the passing of the hours. And, the tree silhouettes on the back-wall are cleverly lit by Simon Corder to chart the progress from Act 1's pale grey dawn – as Figaro measures the floor of the garret room bestowed upon him by the Count prior to his marriage to Susanna – through the rose-pink patina which warms the Countess's bed chamber, to the deep, glowing indigo of the night-time garden scene during which confusion and conflict are transmuted into compassion and companionship.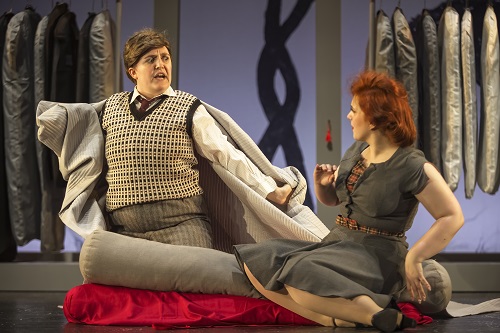 Doors, entrances and exits are expertly manipulated to facilitate machinations and manoeuvrings, and to provide dramatic structure. Two unsupported door frames mark stage left and right – a nice reminder of Susanna's misgivings about the 'convenience' of the bedroom, adjoining his own, that the Count has given them – and these frames do especially excellent service in Act 2, as well as contributing more generally to the persuasive fluency of the action. Moreover, the incessant 'ins and outs' serve to emphasise the porousness of vows made by lovers and the inconstancy of human morals and feelings.
Designer Jamie Vartan's fairly abstract designs are economical and effective, with just a few props required to define the various settings. Two clothes-rails and two lines of shoes – masculine leather boots stage-right, female silk pumps stage-left – mark the boundaries of the Act 1 garret. They are also a neat allusion to the Countess's bedroom closet, so that what's onstage goes backstage for Act 2. A luxuriant bed signals the Countess's domain; an imposing desk, the Count's. The muted colours of the costumes and set highlight the flashes of colour – red shoes, a red mattress or bedspread, Susanna's rich auburn hair, the Countess's lip-sticked mouth.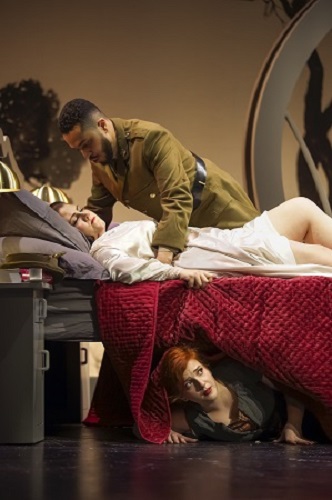 The production and design do not neglect the opera's zanier qualities, though. At the end of Act 2, the characters' surreal slow-motion progress, which sees the indignant Antonio dancing a strange departing twirl with a flowerpot, is bathed in a lurid green glow. The stage 'pause' brilliantly complements the suspense which the woodwind repetitions articulate, as Figaro runs through possible 'get-outs' of the pickle he's in. Similarly, the comic centrepiece of the opera – the discovery that Marcellina is actually Figaro's mother – is here made heart-warming rather than absurd. And, I think for the first time ever, I actually understood the Act 4 quiproquos without struggling to unravel the crossed threads or think too hard about what it all might 'mean'.
What's striking about Medcalf's conception is how 'real' it feels. These are 'real' people in 'real' relationships. Figaro and Susanna seem genuinely, very much in love. The Countess is taken unawares, struck to heart by Cherubino's declaration, 'Voi che sapete'. The Count, while dallying with his servants, is still driven by passion for the Countess, pinning her passionately to her bed. Marcellina and Bartolo are credible plotters and partners-in-mischief. The result is that the ensemble moments really make an impact. The Act 3 sextet, for example, is no facile farce but taps into deeper emotional truths.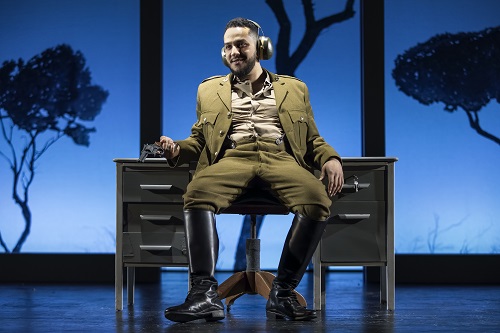 The cast (on 21st March) were superb, but the vocal honours went to Vitor Bispo's Count. Whether attired in a soft silk dressing gown or martial black boots, the Brazilian baritone exuded musical and dramatic authority – both charm and menace. But, it was also evident that the Count's sexual (and thus political and patriarchal) domination of his court was under threat, the revolutionary context highlighted by the production's understated but subtle interrogation of social tyranny and privilege abused. He might wield axes, to hack his way into his wife's dressing room, and revolvers, but this Count's bristling machismo both reflected the opera's sexual tensions and signalled that the number was up for his droit du seigneur. 'Vedrò, mentr'io sospiro' was masterly, Bispo's baritone beautifully supple and strong, and his command of the stage consummate, while the Count's honeyed plea for forgiveness in Act 4, often an ambiguous moment, here persuaded.
Michael Ronan was an amiable and appealing Figaro, displaying a smooth tone and a wide range of vocal expression, as well as confidence with the text and an easy stage presence. As Susanna, Luiza Willert was a veritable bright spark, her recitatives terrifically vivacious, her arias poised and self-aware. Her twilight serenade, 'Deh, vieni, non tardar', was both a 'performance' and 'real', as she drifted from a diegetic display of love and dalliance with Figaro's affections into sincere, eloquent dreams of desire. Willert saved her opulent vocalism for this musically nuanced moment. No wonder, in 'Pace, pace, mio dolce tesoro', Ronan's Figaro was able to recognise his beloved by her voice alone.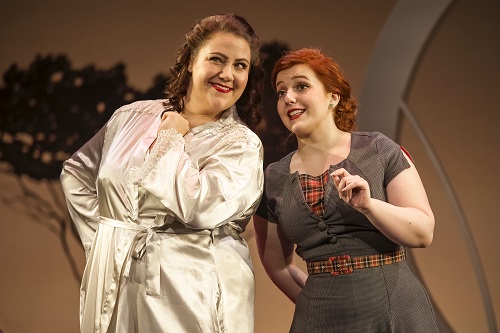 Willert's letter duet with Madison Horman's Countess, 'Che soave zeffiretto', expressively conveyed the developing relationship between the two women, too. Horman's 'Porgi amor' was a little tentative but her reflections on her failing marriage in 'Dove sono', were tonally rich and long-breathed – contrasting with the effervescence of the wedding-day intrigues, and offering sombre, soul-interrogating eloquence on the nature of post-nuptial love.
Georgia Mae Ellis's Cherubino was a boyish bumpkin, swapping his knitted tank top for army khakis. Ellis's timing and tone were spot on – Cherubino's offer to pretend that he hadn't heard the Count's prepositioning of Susanna was wonderfully droll – and she excelled in the moments of physical humour too, stumbling about in thick socks and red stilettos, or posing a menace with a rifle. 'Non so più' bubbled along, but 'Voi che sapete' was a knockout, as Cherubino found, momentarily but winningly, poise and maturity and emerged from adolescence into nascent adulthood.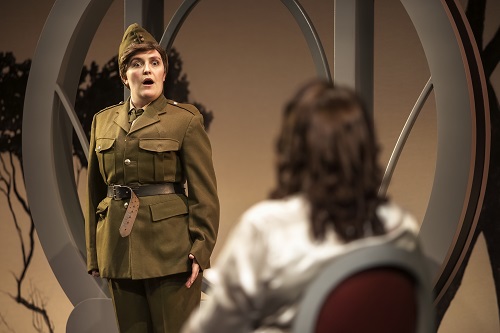 I heard Wonsick at last year's Oxford Lieder Festival, and the power and precision of his bass that impressed on that occasion was similarly evident in his patter-perfect rendition of Bartolo's 'La vendetta'; I'm sure that with time he will find a more natural ease on stage. Chloe Harris was a delightful Marcellina, attractive, lively and witty, and Oleksandr Ilvakhin a genuinely funny Antonio, never overplaying the idiocy or inebriation. Clara Orif made the most of Barbarina's Act 4 arietta about the lost pin – and her lost innocence, perhaps? In the comprimario roles, Magnus Walker (Basilio) and George Curnow (Don Curzio) completed the accomplished cast, and the soloists were matched by bright, buoyant singing in the opera's few choral ensembles.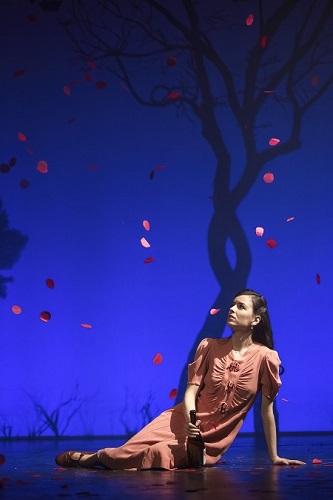 Led by conductor Alice Farnham, the playing in the pit was crisply defined, nimble and had a lovely 'bite', the instrumental lines weaving together spiritedly and cleanly. There was a sense of spaciousness, too, in the arias, despite the general animation and vitality of the production.
"Che cosa è amore?" This is the metaphysical question which troubles Cherubino throughout the whole opera. And, for all the sexual tension and conflict, this production of Figaro retains its romance. There's a sense that everyone is having tremendous fun and the confetti-strewn concluding scene, in anticipation of three weddings and a 're-marriage', is a fine culmination of the spirited interplay we've enjoyed. In Medcalf's production commedia dell'arte meets sit-com and is transformed into something light, lucid and absolutely lovely.
Claire Seymour
Count – Vitor Bispo, Countess – Madison Horman, Susanna – Luiza Willert, Figaro – Michael Ronan, Cherubino – Georgia Mae Ellis, Marcellina – Chloe Harris, Bartolo – Wonsick Oh, Basilio – Magnus Walker, Don Curzio – George Curnow, Antonio – Oleksandr Ilvakhin, Barbarina – Clara Orif, Bridesmaids – Cerys MacAllister, Clover Kayne; Director – Stephen Medcalf, Conductor – Alice Farnham, Designer – Jamie Farnham, Lighting designer – Simon Corder, Royal Academy Chorus and Sinfonia
Susie Sainsbury Theatre, Royal Academy of Music, London; Tuesday 21st March 2023.
ABOVE: Le nozze di Figaro, Royal Academy of Music (c) Craig Fuller