Québécois director François Girard probably seemed an obvious choice to design the Met's new Lohengrin. His recent opera stagings are as celebrated as his music-obsessed movies, including the classic Thirty-two Short Films on Glenn Gould. His 2013 Met Parsifal was both visually beautiful and conceptually clear, with scenery and costumes recalling a sensuously decadent Franz Stuck painting, and stark gender-separated choral blocking conveying the inhuman rigidity of religious dogma.
So why is this Lohengrin such a muddle? There is some clever stagecraft, but neither the mélange of projected astronomic images, nor action in a virtual cave surrounded by dead tree roots, nor the repetitive blur of color-coordinated choral costume changes—nor anything else on stage—suggests any deeper reason why we should care about this opera.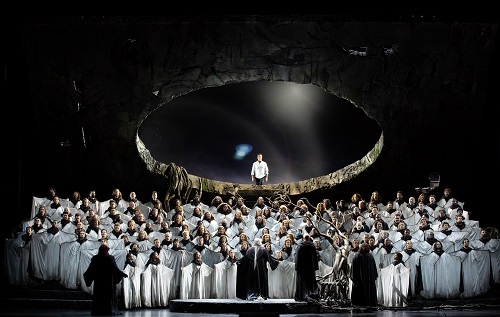 Worse, these machinations sometimes seem tone-deaf. While "staging" orchestral overtures is generally unwelcome, the distraction is even greater in Wagner's famous Prelude to Lohengrin—as ethereal a piece of music as has ever been written. To his credit, Girard's initial instinct is not bad: a shimmering hyper-realistic moon rising imperceptibly. So why speed the process until multiple moons are chasing each other across the stage, followed by an exploding supernova? This clashes with Wagner's long concluding decrescendo, and for what? The half-century old cliché of setting Wagner in vaguely post-apocalyptic worlds in which medieval knights brush shoulders with singers in modern-dress offers neither new insights nor even, as Robert Wilson's previous Met production did, a challenging visual schema rigorously attuned to the score.
Still, these shallow sets have the virtue of reflecting voices out into the hall and squeezing action into an intimate space. The result resembles a (somewhat gloomy) oratorio, with soloists lined up facing the audience, backed by a relatively static chorus—thereby allowing the music to shine through. And it does so more satisfyingly than most Met shows these days, even if nothing poses a serious challenge to performances of decades past.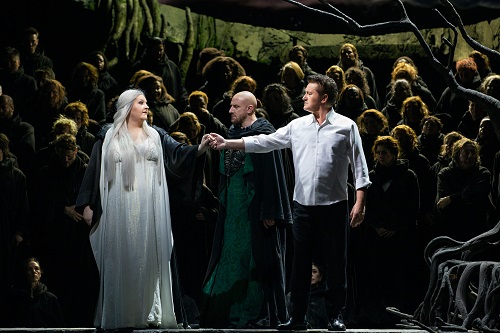 Polish tenor Piotr Beczała has sung the title role for seven years, at Bayreuth and elsewhere, and does so today much as he did the first time. His voice rings forth firm and clear, not least in some spectacular high notes. He conveys the German text with sober intelligence. He cuts a youthful figure on stage. Y et Beczała's tone can turn metallic and when strained, notes sometimes sail sharp or are approached from a third below, in the manner of a Neapolitan tenor. Absent entirely are the honeyed head tones and resonant pianissimi that makes some Lohengrins truly otherworldly.
American Tamara Wilson has already moved on from Elsa to Isolde—for which she has garnered considerable acclaim. Her focused soprano can fill a large house while conveying something of Elsa's innocence and isolation. While the line sometimes recedes in lower passages and quavers at piano, in ways I do not recall a decade ago, Wilson projects the text clearly and finds creative ways to portray Elsa's growing anguish—a mode in which she appears more comfortable.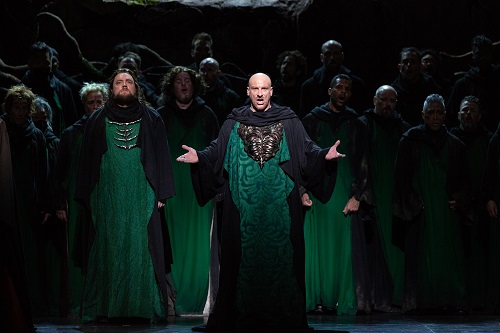 The male political establishment in Brabant offers solid, if not quite commanding, support. Austrian Bass Gunther Groissböck sings with sculptured elegance, though without the regal resonance King Heinrich can invoke. As his sidekick, the Herald, Brian Mulligan utters proclamations with a substantial voice and considerable dramatic involvement. The night I attended, American baritone Thomas Hall, whose career flourishes in smaller German houses, filled in for an indisposed Evgeny Nikitin. He sings Telramund with requisite vocal color, if less distinctive expression—and he certainly looks the part.
Christine Goerke dominates every scene in which she appears. Possessing a voice that easily fills the hall, she judges her expressiveness carefully, suggesting an underlying obsession without screaming, sliding off pitch and rendering the text unintelligible, as some do. At this stage in her career, her warm and broad voice lacks only the knife edge at the top with which Ortrud's pagan curses can steal a show.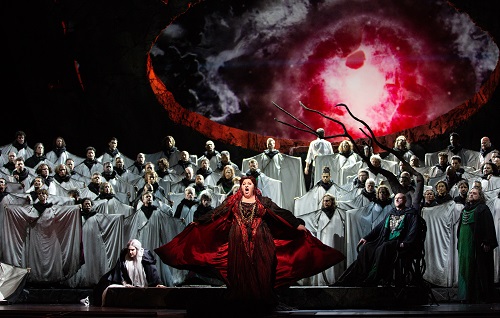 The Met orchestra played brilliantly throughout, and the chorus, so much improved in recent decades, made the most of Wagner's set pieces. Yannick Nézet-Séguin knows the score inside out and conducted as compellingly as I have heard him do in the house—with generally exciting results. That said, his approach fully embraces the modern tradition of slow, precise and rubato-laden Wagner, always present in the moment but less concerned with the work's broader architecture and flow. Having taken the trouble to blend strings, winds and chorus into a lovely whole, it seems a shame he does not do more to allow the music's momentum to build slowly and sweep forward across longer periods.
This production will be broadcast live on March 18 in cinemas and on the radio, and runs in the house early April.
Andrew Moravcsik
Wagner: Lohengrin
Elsa – Tamara Wilson, Ortrud – Christine Goerke, Lohengrin – Piotr Beczała, Telramund – Thomas Hall, King Heinrich – Gunther Groissböck, The Herald – Brian Mulligan; Director – François Girard, Conductor – Yannick Nézet-Séguin, Designer – Tim Yip, Lighting Designer – David Finn, Projection Designer – Peter Flaherty, Choreographer – Serge Bennathan, Orchestra of the Metropolitan Opera.
Metropolitan Opera, New York; Sunday 5th March 2023.
ABOVE: A scene from Act I of Wagner's Lohengrin with Tamara Wilson (center) as Elsa. Photo: Marty Sohl / Met Opera