Whenever Hänsel and Gretel comes around, it's always an opportunity for a director to bring a fresh perspective on the Brothers Grimm fairy tale.  Humperdinck's 1893 stage work, hailed by Richard Strauss as a 'masterpiece', is often regarded as an opera for children. For some it's an ideal Christmas diversion, but its dark undercurrents of poverty, child abuse, cannibalism and schizophrenia, at least when the roles of Mother and Witch are doubled, make for all-age entertainment. The gruesome plot provides richly disturbing ingredients for a director's vivid imagination. Mercifully, at the Hafren Theatre, Newtown, it was presented without emotional trigger warnings.  Across the UK in recent years, we've had its forest scenes played out on a council estate (Opera North), within a supermarket (Glyndebourne) and situated in Germany amid the collapse of the Berlin Wall (Royal College of Music).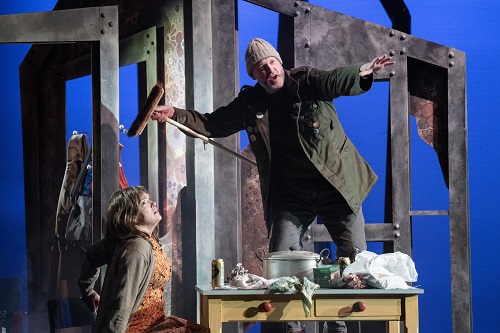 As the final stage of its fairy tale season, this new production from Mid Wales Opera situates the work within 1980s Britain – a decade of social and political unrest when the prime minister Margaret Thatcher was instrumental in reducing the power of trade unions, forcing pit closures and creating rising unemployment for miners in England and Wales. Director and Designer Richard Studer takes aim at Thatcher, 'milk snatcher', and views Humperdinck's stage work through the lens of Wales's once-prized industrial heritage. His mining locale is loosely identified by a set comprising a disused pit wheel (forming a background to a run-down family home), gloomy forest and a gingerbread house placed above steel girders. Studer cleverly extends the coal industry theme for the Act 2 dream sequence where local children, evoking the fourteen angels, creep around the sleeping siblings equipped with miners' lamps – neatly illuminating this nocturnal scene with a special brand of magic.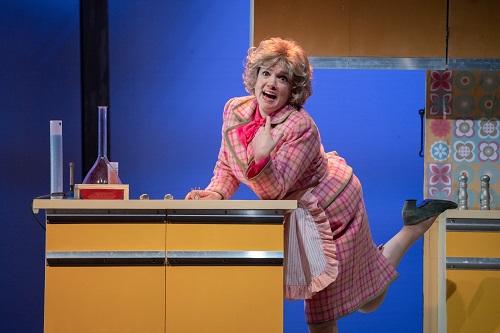 In Studer's perception, Hänsel and Gretel are the victims of Thatcher's savage treatment of the miners, leading to the family's reduced circumstances, complete with a drunken father and a depressed mother who struggles to feed everyone.  During the Prelude the stage reveals an unkempt kitchen (stained cooker and empty shelves), with bailiffs arriving to remove a television that the children are watching with excited innocence.  If Humperdinck's colourful score belies the brutal honesty within Grimm's original seriousness, Studer's resourceful production shows it's still a delicious piece of confectionery, notwithstanding the macabre death of the Witch.  But that event is hilariously achieved, as she inserts herself into a huge shredder with all the appearance of a coal mining truck.
Casting is particularly engaging in the title roles. Charlotte Badham (a boyish Hänsel) and Alys Mererid Roberts (a winning Gretel) discover danger in the murky forest where bleak iron uprights, representing leafless trees, intimate and heighten their sense of vulnerability. Vocally assured and providing complementary timbres in their respective contralto and soprano voices, Badham and Roberts are perfectly poised throughout, most notably in the Angel's Prayer, and generate a believable chemistry. Indeed, there's plenty of unconscious physical language suggesting these adults have not entirely forgotten how to be children, especially when confronted by Rebecca Afonwy-Jones as the Witch. Not perhaps as threatening as she might be – in her pink two-piece outfit she looks like a cross between Imelda Staunton as Doleres Umbridge and Barbara Cartland – nonetheless, she brings fun to the role. Afonwy Jones is more convincing as the children's irritable mother, her fulsome tone well matched by Philip Smith as her drunken husband – excelling in his exuberant 'tra, la, la-ing'.
Elsewhere, Beca Davies and Siân Roberts as Sandman and Dew Fairy deliver their cameo roles with aplomb, and the local children from the MA Stage School, Newtown are all equally pleasing. In the pit, Jonathan Lyness is a rigorous guide for the 13-piece Ensemble Cymru, directing his own artfully reduced version of Humperdinck's Wagner-sized orchestration with an acute ear, enabling its changing sonorities and tempi to flow in an unbroken span. Now on tour across Wales until March 23rd, this show will charm and captivate, especially when words are more distinct. That said, Mid Wales Opera has done it again and delivered a corker of a production.
David Truslove
Gretel – Alys Mererid Roberts, Hansel – Charlotte Badham, Mother /Witch – Rebecca Afonwy-Jones, Father –Philip Smith, Sandman – Beca Davies, Dew Fairy – Siân Roberts, Chorus – Beca Davies Siân Roberts, Erin Fflur, Rachel Morás, School children, Director/ Designer – Richard Studer, Conductor – Jonathan Lyness, Lighting designer – Elanor Higgins, Ensemble Cymru
The Hafren Theatre, Newtown, Powys; Saturday 4th March 2023.
All photographs (c) Matthew Williams-Ellis