For over five centuries, the service of evensong has inspired countless musical settings of the evening canticles.  Its continuing development from composers working within the Anglican tradition (and without) shows little sign of diminishing.  Settings of the Magnificat and Nunc Dimittis have been well represented on disc, with Priory Records alone recording 73 settings by 66 composers in 21 volumes. This recent compilation from the Choir of St John's College, Cambridge – the third from Signum – brings together 7 settings, all from English composers whose contributions were mostly conceived within a 20 year period between 1945 and 1965.
While the timeframe does not traverse the entire disc, the selections are thoughtfully interlinked. Five of the canticle settings reflect the post-war stylistic transformation, beginning with the restraint of George Dyson's unassuming service in F, progressing via two settings belonging to Herbert Howells, through to the exuberance of works by Kenneth Leighton and Bryan Kelly – these last mirroring the mood of the swinging sixties. Thereafter the timescale goes beyond these parameters to include an early setting by Charles Villiers Stanford (1879), one by Philip Moore written for the Choir of St John's for Ash Wednesday (2006), and a stand-alone Nunc Dimittis by Pavel Chesnokov (2014) representing Russia's pre-revolutionary choral tradition for which he wrote some five hundred sacred works.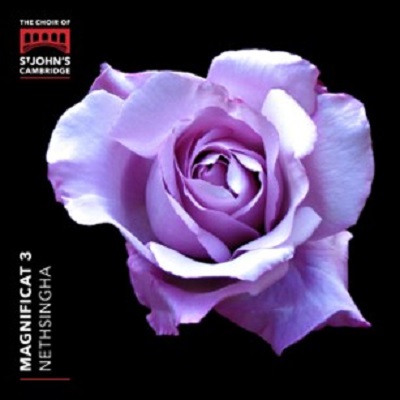 If the latter's inclusion feels oddly out of step, then it provides an opportunity to hear the wonderfully sonorous bass of Thomas Butler – recent winner of the Clare College Song Competition – whose charcoal tones soar over the a cappella chorus of the Nunc Dimittis with great distinction. It's fascinating to read within Nethsingha's booklet reflections how Chesnokov sought to encourage choral excellence in his 1931 book The Choir and How to Direct It, advocating 'a complete, organic unity among the singers … intuitive communication and adjustment between individuals in the choir' – qualities admirably achieved most of the time by the choir on this disc.
In one or two instances – notably the Amens of Howells' St Paul's service, where the choir does not sing with 'a complete, organic unity' – one section of the choir is audibly 'burning rubber' much to the detriment of the overall account. That said, Nethsingha brings a marvellous sweep to the Magnificat, with well-judged tempi and thrilling support from organ scholar George Herbert. The trebles are exceptionally good and raise the roof in the final bars. I particularly like the way the Nunc Dimittis unfolds and then dazzles with a startling sforzando at 'and to be the glory'.
There's a danger Philip Moore's more intimate setting can seem bland, wedged as it is between Howells and Leighton. But this affectionate homage to the verse services of the 16th and 17th centuries works well, and the alternating solo and tutti choral passages are beautifully rendered. Some forty years earlier in 1965 Bryan Kelly would have shocked the congregation at Chichester Cathedral when his daring setting in C was first performed. It's one of several compositions commissioned by Dean Walter Hussey and is striking for its use of Latin American rhythms. Opinion is still divided about its unbuttoned (and for some irreverent) manner. A good sense of line is required from the choir to counterbalance those ostinati in the organ part, and this performance happily supplies that. The 'Gloria' of both canticles is vividly captured here, its pent-up excitement magnificently controlled and gloriously lit in the closing bars.
Elsewhere, Stanford in B-flat has plenty of drive about it, but the Magnificat is only really uplifting in the closing bars when the organ reeds enter with dramatic effect. There's a certain nobility about its neighbour, but this rendition is short on atmosphere. Not so in the tenderly sung Dyson canticles, both blessed with two fine soloists. Howells' Westminster service and Leighton's Collegium Magdalenae Oxoniense are characteristic of their respective composers. Both accounts generate involving performances with much to enjoy from Howells' fluid contrapuntal lines, the sense of majesty disturbed only by straining tenors. Leighton's rhythmic energy can sound overwrought at times, but here is managed well here, its dynamism never sounding pugnacious.
With one or two exceptions, this disc is a worthy successor to volume 2 in the series. The uneven singing is not helped by recording sessions three months apart with different groups of choral scholars. The CD comes with excellent booklet notes, including a forward by the Revd. Lucy Winkett and an illuminating essay on Howells by Andrew Reid. Images of handwritten manuscripts provide rare glimpses into the compositional processes, and add scholarly value to this highly collectable disc.
David Truslove
Pavel Chesokov – Nunc Dimittis from Six Choruses for Six Voices, Op. 40; Herbert Howells – St Paul's Service; Philip Moore – Sancti Johannes Cantabrigiense; Kenneth Leighton – Collegium Magdalenae Oxoniense; Howells – Westminster Service; George Dyson Magnificat & Nunc Dimittis in F; Charles Villiers Stanford – Magnificat & Nunc Dimittis in B flat; Bryan Kelly – Magnificat & Nunc Dimittis in C.
The Choir of St John's College, Cambridge, Andrew Nethsingha (conductor) George Herbert (organ)
Signum SIGCD742 [62:58]