Beowulf is an archetypal heroic text of the medieval age: warriors and kings, the sea and craggy cliffs, monsters and myths: the bright gleam of the hero's ceremonial armour juxtaposed with the demonic depths of the mythic 'Dark Ages'. The eponymous hero is a statesman, a man seeking peace for his kingdom. Yet, the poem is violent: it brings together vicious acts past, future and graphically, gorily, occurring in the present. The violence is 'real' – families and tribes are at war – and also 'fantastical', as men and monsters wage bloody battles.
Seamus Heaney, who made a creative translation of this old English poem on Scandinavian subject matter, described Beowulf as a 'big thing'. And, Iain Bell's newly commissioned retelling of the ancient poem is certainly 'epic' in scale, composed for two hundred-strong orchestral and choral forces, with a solo tenor and spoken narration. Triple woodwind with bass clarinet, saxophone, contrabassoon, four percussionists and a large expanse of brass timbres offered potential for dizzying heights, depths and terrors. But, at its premiere at the Barbican Hall – performed by the BBCSO Symphony Orchestra and Chorus, conducted by Martyn Brabbins – Bell's Beowulf felt decidedly underwhelming.
This is literature of the 'North'. Here, there was a 'southern' brightness' and 'lightness'. Where rawness, growling depths, gruff textures and statuesque heft are required, Bell gave us percussive brightness, wafting female voices – harp flourishes and triangle tinkles, not brutal hews or sinew-slicing slashes. Beowulf offers striking narrative contrasts; but while there were changes of mood, the overall ambience of Bell's 45-minute, four-movement 'symphonic narrative' was flatly uniform.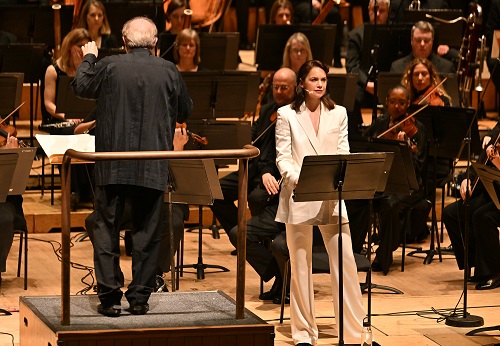 Bell has drawn his text from R. M. Liuzza's translation of the Old English text, which the composer describes as 'clear and direct' – and which is about as far from Heaney's 're-creation' of the original poem as can be (they were both published in 2000). Taking into account that Heaney's is a creative enterprise which absorbs scholarship into vivid personal response whereas Liuzza foregrounds such scholarship and concerns itself with an academic audience, perhaps the difference between these two texts is essentially one of poetry versus scholarship? Why mention this here? Well, poetry and drama are one and the same in Old English texts, and Beowulf surely calls for both? Bell's text – which he describes as whittling the original 'down to its bare bones' – lacks alliterative, metrical and rhythmic theatricality. There's none of what Heaney called 'the thumping beat of Anglo-Saxon'; of the freedom and fantasy of the medieval poet's inventiveness.
The four movements present succinct stages in the narrative. We begin with a Prelude and Grendel's arrival in the great Mead Hall, before taking a dive to the depths of Grendel's mother's underwater lair so that Beowulf may avenge the killing of one of the king's favourites. Then, some years later, we witness Beowulf's encounter with a kingdom-ravaging dragon, and finally reflect on Beowulf's death.
The compression of the narrative led Bell to decide that narration was required to thread the movements together: 'The narrator would set atmosphere and initiate drama an the chorus would take the baton from there, handing it to the soloist at moments of highest climax'. No lesser light than actor Ruth Wilson was marshalled for this task, but the considerable talent that she brought to the role was wasted as, though amplified, her words (the narration was not accompanied by surtitles) were absolutely inaudible, drowned and absorbed by the wash of the female chorus and surging strings and woodwind.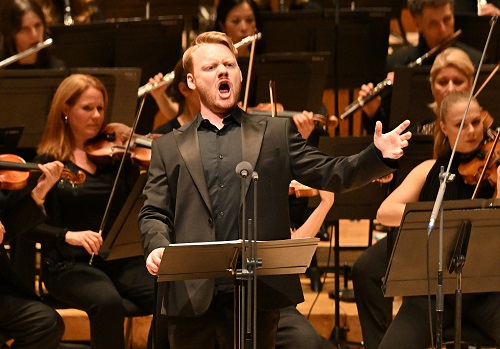 The tenor solo was written for Stuart Skelton – and consequently has many Wagnerian heldentenor moments – but, in the event, laryngitis felled the 'hero' and, like Gawain, the 26-year-old Charles Styles stepped into the breach. And, what a performance he gave, his confidence impressing as much as his vocal excellence. He had no problem scaling the peaks, projecting with pinging, powerful assurance, and finding expressive nuance amid the climaxes – Beowulf's parting reflections were particularly poignant. We'll no doubt be hearing much more from him.
Martyn Brabbins conducted the large forces with urgency. And, apart from some sloppy pronunciation at times from the Chorus, the BBC musicians and singers were committed and did what they could with what they'd been given. Something was missing, though: the Beowulf poet uses his Scandinavian subject matter to make a political point, encouraging his Anglo-Saxon audience to see that they might learn from the past. Bell surely missed a trick here.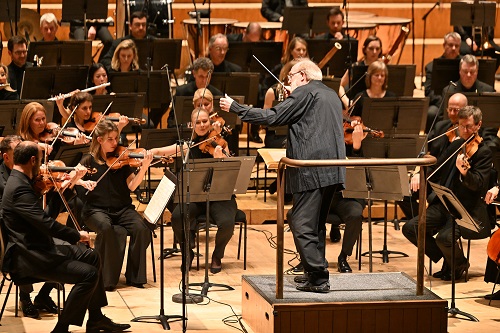 It seemed apt, then, that the second half of the concert presented Vaughan Williams's Job – a 'masque for dancing' – in which everything, melody, timbre, harmony, seems to grow organically from the past, and to do so with both subtlety and variety. Now we had true music-drama. For, Vaughan Williams vividly brings to life William Blake's 1826 illustrations, drawing on their musical symbolism and translating the visual into the realm of the aural, tactile and kinetic.
Brabbins tapped into the kaleidoscopic tableaux with discerning nuance of mood: 'Elihu's Dance of Youth and Beauty' was graceful, quasi-rapturous; the vision of Satan, spine-tingling; the 'Galliard of the Sons of the Morning', a bed of sweet softness. There was musical and expressive clarity here, and heart-warming dignity as Job's spiritual education was depicted with lucidity, the apex reached in leader Igo Yuzefovich's ecstatic explorations. The Epilogue was beautiful, offering soul-salving serenity. The narrative didn't need spelling out; it could be felt.
Beowulf will be broadcast on BBC Radio 3 on Saturday 18th April.
Claire Seymour
Charles Styles (tenor), Ruth Wilson (narrator), Martyn Brabbins (conductor), BBC Symphony Chorus, BBC Symphony Orchestra
Barbican Hall, London; Friday 17th March 2023.