Out with the old and in with the new is the modus operandi for aspiring operatic directors. In this new production of The Magic Flute Daisy Evans takes her prerogative to a whole new level. Modern interpretations and individual approaches are always welcome, but this new staging, whilst in the spirit of Mozart and Schikaneder's blend of popular theatre and pantomime, aims not just to accommodate 21st-century sensitivities in airbrushing any racist, masonic and misogynist references, but shows a determined effort to rework the libretto with as much colloquial English as possible including lines such as Pamina's "I just want to see my mum".
If the latter doesn't jar, then there is the near ceaseless activity with an exhausting parade of birds, neon-lit orbs and Star-trek style glow sticks that assail the eye at almost every opportunity.  Too many moments when the hyper-activity, most obviously when Jake Wiltshire's puppeteers accompany Papageno and Papagena, directs the energy of the performance away from the music.  In a score that fundamentally tells you all you need to know about the personae through its musical characterisation, one wonders if the music here has been overwhelmed by spectacle, which includes Loren Elstein's funky primary-coloured costumes.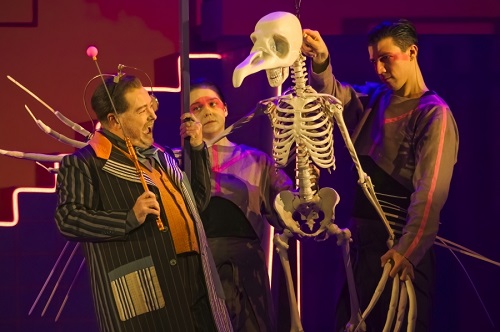 While keeping the boy-meets-girl narrative, Evans's contemporary approach brings radical changes, with the Queen of the Night and Sarastro cast as estranged and eventually reconciled parents to Pamina. They rule, so Evans informs us, respectively over Night-time ('a place for liberation of thought, imagination, fantasy and total freedom') and Daytime ('a place of logic, reason and clear rational thought'). Within these parameters the central conflict is worked out and flows more or less in straight lines, its communication at times hampered by the bewildering detail. In her attempt to balance the work's comic and serious elements (pure comedy often in short supply), the whole feels muddled and ultimately loses much of its power either to entertain or provoke deeper thoughts.
Evans's need to in-fill the Overture is vaguely satisfying with its backstory for Tamino and Pamina who are remoulded as old school friends who encounter one another following Pamina's capture by her 'father'. If there is one major disappointment it is the absence of laugh out loud moments and, in particular, the role shaped for Papageno whose gagging in the opening scenes by the Three Ladies is inadequately explained and whose demeanour Evans decides to cloak with 'a real, fundamental depression'. So no joy there. His magic bells are glow sticks wielded around without any obvious rhythmic connection to the music.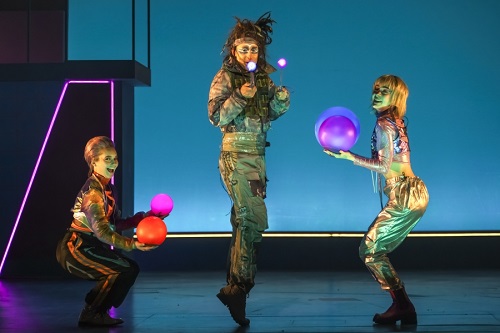 Performances are generally of a high standard: Trystan Llŷr Griffiths is an ardent and strong willed Tamino, if not quite a match for Raven McMillon's fiercely spirited Pamina whose despairing 'Ach, ich fühl's' was the evening's emotional high-water mark. As Queen of the Night, Julia Sitkovetsky prompted enthusiastic applause for her agility and pitch perfect rage aria, and at the lower end of the stave Jonathan Lemalu brought benevolence to a bewigged Sarastro, intermittently filling the stage with his cavernous low notes for the revised text of 'O Isis und Osiris' – altered to 'sun and sky'.
Alun Rhys-Jenkins was a diverting Monostatos, reshaped as a camp science professor in charge of a group of mindless acolytes.  Not so much a repellent monster than someone to be ridiculed.  Tamino's guides Sophie Williams, Carys Davies and Llinos Haf Jones (roles more often assigned to boys but renamed here as Young Ones) made for a winning trio.  No less compelling were the Three Ladies, Nazan Fikret, Kezia Bienek and Claire Barnett-Jones whose differentiated voices were finely tuned.  At a different remove was the partnership between Quirijn De Lang's Papageno and Jenny Stafford's Papagena, both roles pleasantly sung, but without the means to stir the emotions.
In the pit, there was plenty of lively movement, in a pacy, yet stylish rendering under Paul Daniel, who somehow managed to negotiate his way through the score unhampered by a myriad of distractions in his sight line.
David Truslove
Tamino – Trystan Llŷr Griffiths, Papageno – Quirijn De Lang, Queen of the Night – Julia  Sitkovetsky, Monostatos – Alun Rhys-Jenkins, Pamina – Raven McMillon, Sarastro – Jonathan Lemalu, Papagena – Jenny Stafford, First Lady – Nazan Fikret, Second Lady – Kezia Bienek, Third Lady – Claire Barnett-Jones, First Young One – Sophie Williams, Second Young One – Carys Davies, Third Young One – Llinos Haf Jones, Speaker of the Temple – Chuma Sijeqa, Armed Man – Thomas Kinch, Armed Man – Laurence Cole; Director – Daisy Evans, Conductor – Paul  Daniel, Designer – Loren Elstein, Lighting – Jake Wiltshire, Puppet & Movement Director – Matthew Forbes, Orchestra and Chorus of Welsh National Opera.
Welsh National Opera, Wales Millennium Centre, Cardiff; Sunday March 5th 2023.
ABOVE: Jonathan Lemalu (Sarastro), Raven McMillion (Pamina) (c) Craig Fuller