As an inscription to his 1925 oratorio Sancta Civitas, Ralph Vaughan Williams drew on the words of Plato: 'A man of sense will not insist that things are not exactly as I have described them. But I think he will believe that something of the kind is true of the soul and her habitations, seeing that she is shown to be immortal, and that it is worthwhile to stake everything on this belief.'
The son of an Anglican clergyman, the great-nephew of Charles Darwin, the co-editor of the 1906 English hymnal, for all his agnosticism and religious doubts, Vaughan Williams was a man of deep spiritual values, who saw life as a spiritual journey or 'progress'. Nowhere is this more evident than in his opera – or, as he preferred, 'morality' – The Pilgrim's Progress, to which Plato's words would form an apt epigraph, and which is based upon John Bunyan's Nonconformist allegory of a Christian's journey from the City of Destruction to the Celestial City.
First performed in 1951 at the Royal Opera House as part of the Festival of Britain, Vaughan Williams's The Pilgrim's Progress has not rivalled the ubiquity of Bunyan's allegory, the latter having been translated into over two hundred languages and adapted into countless musical, dramatic and cinematic retellings. As Bunyan himself noted in the prologue to The Second Part of The Pilgrim's Progress (1684), his 'little Book' had, to his surprise, 'travel'd Sea and Land'. Professional productions of Vaughan Williams's opera have been rare. So, it is welcome news that this July, as part of their celebration of the 150th anniversary of the composer's birth, the Three Choirs Festival will present The Pilgrim's Progress in a joint production with British Youth Opera.
The semi-staged performance in Gloucester Cathedral will be conducted by Charlotte Corderoy, and in conversation with Charlotte I suggest that it will surely feel like going 'back home'? "Yes," she laughs, "it's basically where I grew up! I was at school in Stroud, and then Cheltenham. I joined the Cathedral Youth Choir, and later I became the Junior Organ Scholar at the Cathedral, so I was involved with the Festival every year." Charlotte is also 'returning' to British Youth Opera where last summer she was Assistant Conductor for the company's production of Vaughan Williams's Sir John in Love at Opera Holland Park.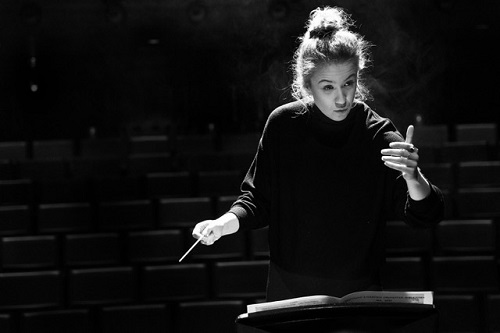 Vaughan Williams's operas have not enjoyed popularity outside Britain, and even in his native country – while there have been exceptions, with ENO presenting Riders to the Sea in 2008 and, four years later The Pilgrim's Progress itself – the operas have most often been seen in productions by student or amateur companies. (BYO itself presented Riders to the Sea in 2015.) The premiere in 1951 was not well-received. Critics judged the production to have been poor, but Vaughan Williams commented that the absence of a heroine and love duets made it unappealing to its Covent Garden audience. Two years later he told Michael Kennedy, 'the Pilgrim is dead'. But, encouraged by the praise and advice of the former Professor of Music at the University of Cambridge, E.J. Dent, Vaughan Williams made revisions, and when the opera was staged at Cambridge University in 1954 it was greeted with a more positive reception.
I ask Charlotte if she thinks that the association of his operas with student companies is related to Vaughan Williams's reputation among some critics for 'amateurishness'? She suggests that Vaughan Williams's critical reputation may have been influenced by a natural comparison with his musical contemporaries, and that, in her opinion, The Pilgrim's Progress lends itself well to "experiment and new imaginings" and to what she describes as the "curiosity of youth".
The Pilgrim's Progress had a long gestation. Indeed, Vaughan Williams worked on music for John Bunyan's allegory in various contexts over 45 years, beginning with incidental music for a dramatisation in 1906. Fifteen years later came a one-act opera, The Shepherds of the Delectable Mountains, which eventually found its way into Act 4 of the full-length opera, and he set various episodes to music between 1925 and 1940, including Mr Valiant-for-Truth's speech as a motet for mixed chorus. Some of the opera's music was also integrated in the Fifth Symphony of 1938, and there was more incidental music, for the BBC's dramatisation of the book in 1942.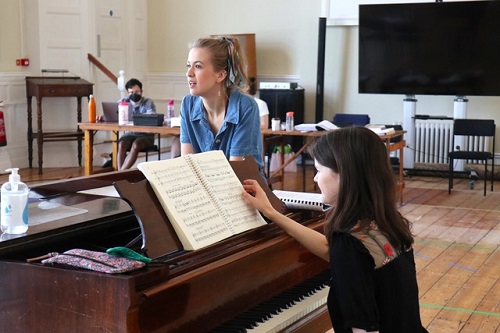 "When you think of how long it took Vaughan Williams to compose the opera, it's clear it must have been such a huge part of his life," Charlotte comments. "My heart breaks for him, to think it was so poorly received at first, after all that hard work!'. I wonder, was he the same man when the work was finally finished as he had been when he started? "It was a labour of love and a labour of his mind. Although we might assume he eventually reached a place of agnosticism, one might argue that he thought of life as a spiritual journey or 'progress', and the opera seems grounded in very personal views, a process of self-discovery."
Vaughan Williams adapted Bunyan's text himself, interpolating episodes from the Bible and some verses by Ursula Vaughan Williams. He renamed Bunyan's protagonist, Christian, as simply 'Pilgrim' which universalised the work, and he excised Christian's companions, Faithful and Hopeful. Their long theological disputations well might have been 'undramatic', but the result of these and other changes is that the structure of the opera is rather episodic, a series of tableaux, as the solitary Pilgrim's encounters various characters in succession.
Does Charlotte find the episodic structure problematic? "Vaughan Williams's opera does present some exciting challenges," she replies, "largely relating to matters of pacing. It feels to me explosive in places, but in others elongated, so you have to balance the musical and dramatic pacing and think about how to sustain the momentum. These fluctuations in momentum may well be a result of the sheer length of time he spent on it; it ebbs and flows as it presents different chapters of one person's life."
Reflecting further, Charlotte suggests that the episodic structure is in fact similar to the way audiences watch things nowadays: "Films and television episodes are so often not linear, but are presented in fragmented structures that challenge audiences and leave questions. So, perhaps today's audiences are more willing to engage with narratives presented in fragmented ways?" At the close, in the Epilogue, the chorale first heard in the Prologue returns. "Yes, we go full circle. Does the journey have an endpoint, or do we just keep moving forwards, beyond the music coming to an end?" Given the long period of time over which it took shape, I wonder whether the opera has a consistency of style? Charlotte comments that the Vaughan Williams 'sound world' is unmistakable, adding that the work contains both the pastoral lyricism and the darker modernism present in his work: "I think the opera is a mixed pot of the best of him."
Recalling the heavy symbolism that had been employed by the director Yoshi Oïda in his production for English National Opera in 2012, I ask Charlotte if she knows what approach director Will Kerley plans to adopt in Gloucester. She explains that she can't reveal too much yet, but remarks that the work may well feel more "stripped back" in comparison to recent stagings, such as ENO's, when it's presented in Gloucester Cathedral. "It's a semi-staging. Obviously, there are some restrictions on space – the orchestra won't be in a pit, for example, and it's a new venture for the Royal Philharmonic Orchestra too. If you think about the space inside the Cathedral, though, the performance will be very close up and personal, the young singers incredibly 'present', within proximity of the audience. In fact, the 'restrictions' present a lovely challenge, of working with the space in a new way, of using it creatively. The atmosphere can be strikingly simple, the episodes seen in a different way."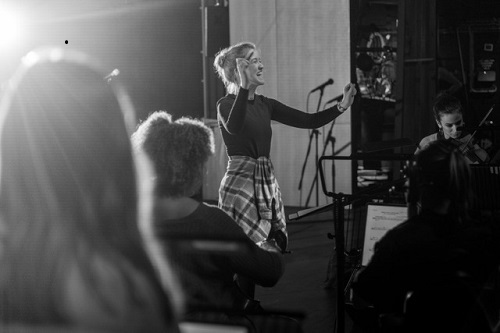 "It's incredible to think of this youthful, modern venture taking place in such an old space. The project is a juxtaposition of opposite ends of a scale: the old building and ancient story and values, alongside young performers and before a contemporary audience. The social context is so important too. It's such a difficult time for the arts. We're have to find ways of achieving more with less, and doing things in new ways."
The connotations of the setting have the potential to be very powerful, I suggest. "Yes, if one thinks about what the Cathedral serves to offer its community, on a daily basis. As a child, I didn't have a hugely strong faith, but I always had enormous respect for the building and its mission, and how it touched people's lives. It was, and is, a place of refuge, of calm, of escape – and that's so relevant today."
As well as working as a freelance conductor, Charlotte is currently studying with Sian Edwards at the Royal Academy of Music where, in September 2022, she was appointed Musical Director of the Academy's inaugural Junior Musical Theatre Department. Indeed, her musical interests are wide. As an undergraduate student at Oxford University, she was the Organ Scholar at Hertford College as well as Principal Conductor of the Oxford University Philharmonia and the Oxford Contemporary Opera Society, while also holding the Conducting Scholarship of Schola Cantorum, Oxford's leading chamber choir. More recently, she was Assistant to Barbara Hannigan for a new recording of Stravinsky chamber works with the musicians of RAM and Juilliard.
I wonder how her interest in musical theatre came about, and whether she sees herself pursuing that passion. "It was always a huge hobby when I was growing up. Sometimes, as a young professional it's easy to feel there's a need to define one's professional 'identity', to establish what one field you want to work in. But, in the last couple of years I've enjoyed indulging in my love for more than one thing. You can bring the same attitude and energy to different fields. Sometimes the same skills are relevant to different genres – there's more that unites them than that sets them apart."
So, this summer, Charlotte is delighted that as well as returning to Opera Holland Park to work on a new production of Hansel and Gretel, she'll also be Music Director for NYMT's production of Kiss Me, Kate at the Curve Theatre in Leicester. "Given the current problems facing Arts' funding, it's important to be versatile. It can be scary coming out of education, having felt one had security for so long. But, you can only trust, work hard, take an interest in other people, and hope things then unfold!"
Is she interested in continuing to develop her work as an orchestral conductor, or is opera and the stage where her future lies? "That's a tricky question! What I will say is that I love, when working in opera, being part of a bigger team, collaborating with people in a diversity of roles, each of whom offers something of their own but also facilitate each other in the team."
Returning to The Pilgrim's Progress I ask Charlotte if she feels that the opera is 'of its time' – composed after the Second World War to promote 'Englishness', encourage post-war nationalism, and to commemorate resilience shown by the nation during the war – and whether it has relevance today? Can it have dramatic interest for a post-Christian, multicultural audience? "It has a beautiful simplicity at its core that is very human. It explores vast, complex themes which might seem difficult to relate to nowadays, but if one explores deeply so much of it is universal. One need only read the news today to recognise that the idea of a journey is incredibly relevant – a progress from one place to another, and all the challenges this involves, leaving behind one life, it's not a straightforward journey. Think too, of the 'Vanity Fair' scene, facing its constant temptations, materialism, frivolity, all distracting from the pursuit of truth – we see this today in our culture, in art, in politics – in everything really!"
I reflect that one's early experiences and encounters are so crucial in one's own musical journey. "Yes, when I think back to my time at Gloucester, I appreciate now that it was such a careful, delicate time and that it affected me in such positive ways that I didn't realise. One of the loveliest benefits of this project so far has been re-establishing contact with Adrian Partington – Director of Music at Gloucester, and Artistic Director for the Festival this year. Adrian played such an integral role in my development as a musician, but also as a person. Those were very formative years. I'll never forget him taking me to one side after a rehearsal and telling me, 'Charlotte, you won't get very far if you don't learn to answer your emails!' – I've been a fast(ish) replier ever since!"
"It'll be very special to share a musical space with Adrian, and all of the wonderful staff at Gloucester again. I already know that the fantastically kind and progressive team at British Youth Opera are going to fit right in!"
The Pilgrim's Progress will be performed in Gloucester Cathedral at the Three Choirs Festival on Monday 24th July.
Claire Seymour