There was Tosca at Berlin's Volksbühne sung by actors (not singers), there was Tosca at the Aix Festival documenting the demise of an aged diva. But mostly Tosca is the domain of big artists with all the trappings of big opera, be they traditional or progressive.
Opera San José (California) is a modest company in a small tech city of about a million inhabitants that lies in the shadow of San Francisco [population 900,000]. It has a season of four operas performed in a restored 1927 vaudeville theater (1200 seats) in the city's historic district. There is a lobby pipe organ to serenade your entry with nostalgic tunes. Its orchestra pit comfortably holds 50 players.
Tosca,  the final offering of the 22/23 season that included The Marriage of Figaro, Falstaff, and Cinderella, was a modest, nicely designed evocation of the grandeur of baroque Rome with homey touches — a very pastel portrait of the Marchese Attavanti in Act I, a four poster bed in Act II and a vintage writing desk and chair atop Castel Sant'Angelo in the end. 
Stage director Tara Branham seemed to be de-glorifying the political mess of Rome at that moment (the 1806 defeat of royalist forces by Napoleon's army), turning it into a messy moment in the Tosca Cavaradossi romance, incidentally complicated by the maniacal ego of a municipal employee. In fact in the opening moments of the opera we saw Cavaradossi, a lithe young man with long hair, chasing a very pretty Marchesa around a small chapel within the basilica Sant'Andrea della Valle.
Angelotti burst in, a disheveled, rough-voiced, finely enacted, real-life like fugitive, adding a striking intimacy of situation to the already delightful intimacy put forth by the sacristan (though marred by a cameo performance of mime-style antics by an assistant).
The opera's trio of larger-than-life protagonists soon dispelled all feelings of intimacy, working hard to effect the big voiced, famed numbers of this Puccini masterpiece. The showpieces of the opera were indeed well realized, soprano Maria Natale as Floria Tosca, a resident artist of Opera San Jose, exposed a fine range of dynamics in a beautifully sung "Vissi d'arte." Canadian tenor Adrian Kramer as Cavaradossi found many of the requisite Italianate gestures in his two show-stopping arias (and earned the biggest ovation of the evening). Korean baritone Kidon Choi as Scarpia substituted bluster for libido in his "Tosca è un buon falco," though the aria was marred by a disassociation with its orchestral accompaniment.
Of this trio only tenor Kramer found some depth to his character, his relative youth coming through as a high spirited young artist and prolific lover, stage director Branham finding a delightful moment in Act I where Cavaradossi touches up the arched Mary Magdalene's eyebrows in a flourish of brushstroke echoed in the Puccini score.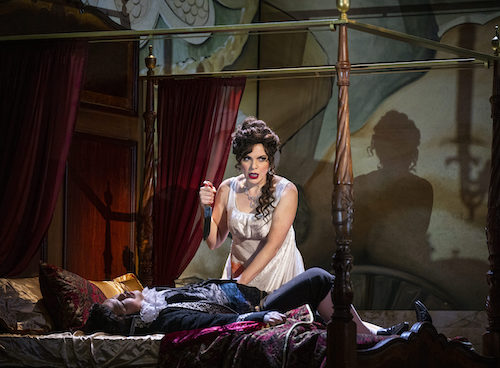 Soprano Natale remained aloof from her character, never finding a depth of emotion in her vocally well wrought performance. Though she showed unleashed relish in her savage murder of Scarpia — a fine directorial touch — she was unable to project the dramatic flair that moves Tosca to ceremoniously place candles by Scarpia's body. Tosca did find time to stop off on her way from the Farnese Palace to Castel Sant'Angelo to change into a fine gown for her suicide.
The "Te Deum" was the finest moment of Scarpia's evening. Baritone Choi gave his thunderous all to be heard over the full-forte orchestra, buttressed by magnificent tones of a huge organ. Except there were no thunderous tones from an organ, there was no organ at all, even though not one but two organists are listed among the Opera San Jose orchestra personnel.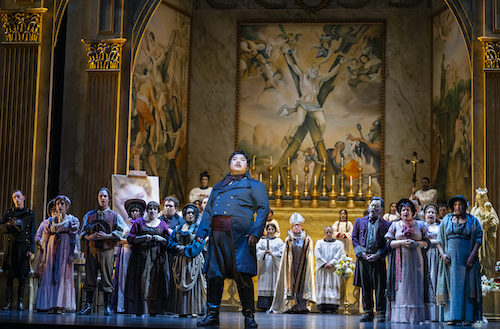 Opera San Jose music director Joseph Marcheso gave a fine, idiomatic reading of Puccini's score, his orchestra (8/6/4/4/2 strings) well able to satisfy the needs of big opera, though big opera had not been the intimate intentions of stage director Branham. The clarinet solo in "E lucevan le stelle" was particularly beautifully played.
Baritone Robert Balonek and Brazilian baritone Ego Vieira contributed the fine performances of Angelotti and the Sacristan respectively. Andrew Fellows was the Jailer, Alexander Scheuermann was Spoletta, and Joshua Hughes was a soft voiced Sciarrone. The Shepherd Boy (evidently there were pastures in Rome back then) was sung by Justin Vives, exhibiting the community involvement that was evident in the Opera San Jose chorus and children's chorus. In a bow to current gender fluidity the super-soldiers were both male and female.
The sets and costumes were designed by Steven C. Kemp and Elizabeth Poindexter respectively, both frequent Opera San Jose artistic contributors.
Michael Milenski